Fashion Friday: House of Mirrors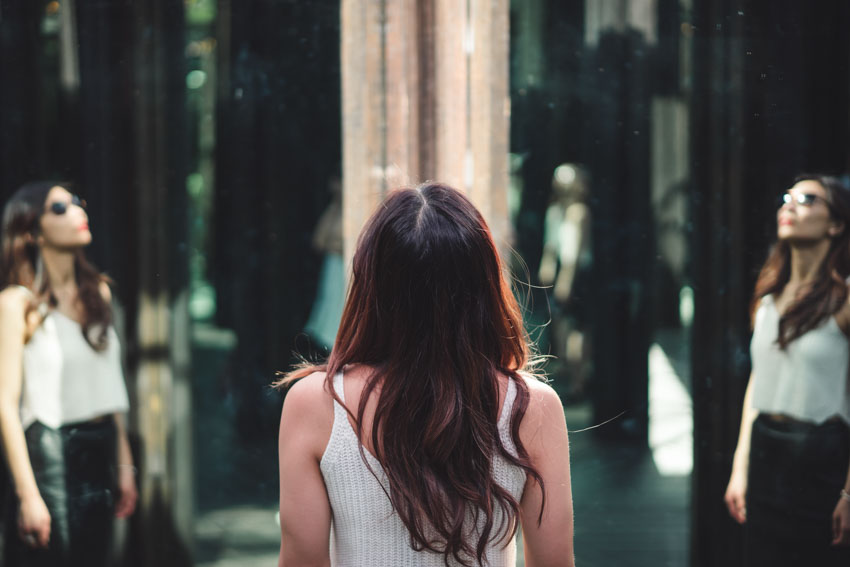 Hi everyone! For the first Fashion Friday outfit of the year it was Pat's turn. We didn't have anything specific in mind, but he had recently been to the House of Mirrors installation in Hyde Park, which is a temporary installation for Sydney Festival. We decided to do a "different" kind of shoot there. It was just $10 to enter so we dropped in at around opening time. There were many people there already!
The whole thing was like a maze, and it was easy to get tripped out by some of the mirrors. They seemed to be cleaned regularly so you couldn't see people's fingerprints as clues to where the real pathway was. At first you think you're going the right way but you can also run into dead ends.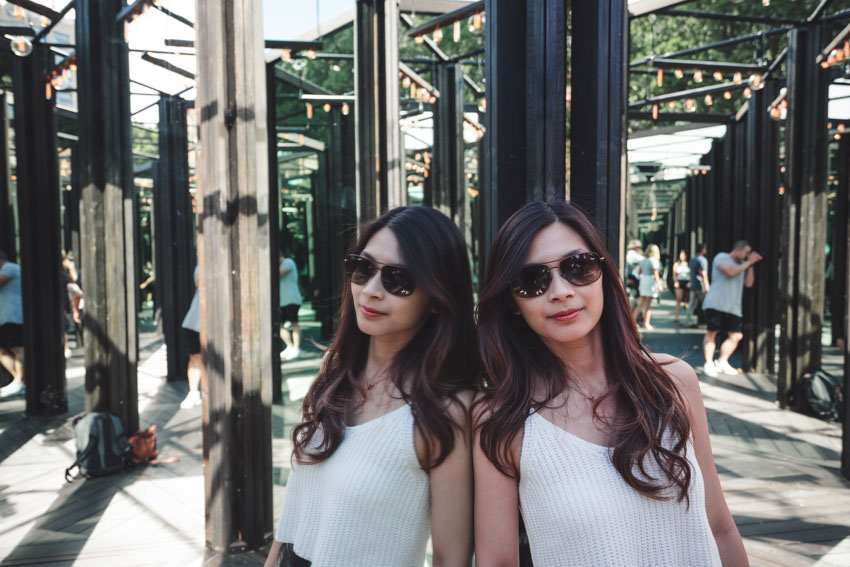 The House of Mirrors recommended allowing thirty minutes to go through the maze. Pat said that you can look up if you get stuck because it gives a few clues as to where the correct direction is, without you running into a mirror. It was a lot of fun exploring it. Apparently at night-time you can see some creepy characters in the mirrors and some music playing. 😦
No coincidence that this Fashion Friday post was due on Friday the 13th, either…
Speaking of that, though, I've been battling a sore throat, sneezing, and now a cold, since the beginning of the week, so bleh! It doesn't make sense to be having a cold in this heat.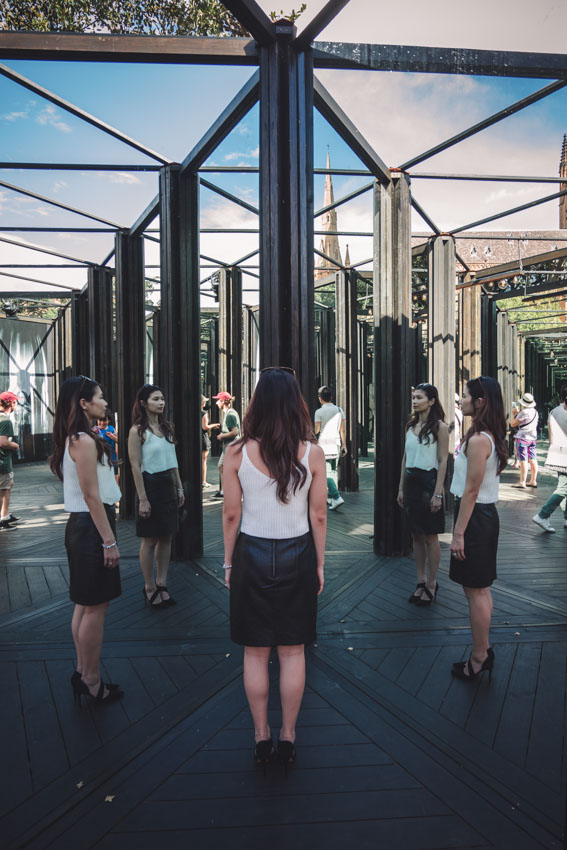 I bought the skirt recently from ASOS. I have only ever bought from ASOS once, and I find the ASOS-branded clothes to be pretty poor quality. This skirt is sold by ASOS but it's from UK brand Warehouse. I bought it mainly because of the pockets and the style. I love anything with pockets because I'm pretty tired of women's clothing not having pockets or having "fake" pockets. I was after a pencil skirt that wasn't too short and this one stuck out to me. It's actually a little bigger than I'd like, but it sits pretty nicely on my lower waist so it's not too bad. This easily replaces at least a few skirts I have in my wardrobe that are similar but outdated or too big, and I do like replacing existing clothes, haha.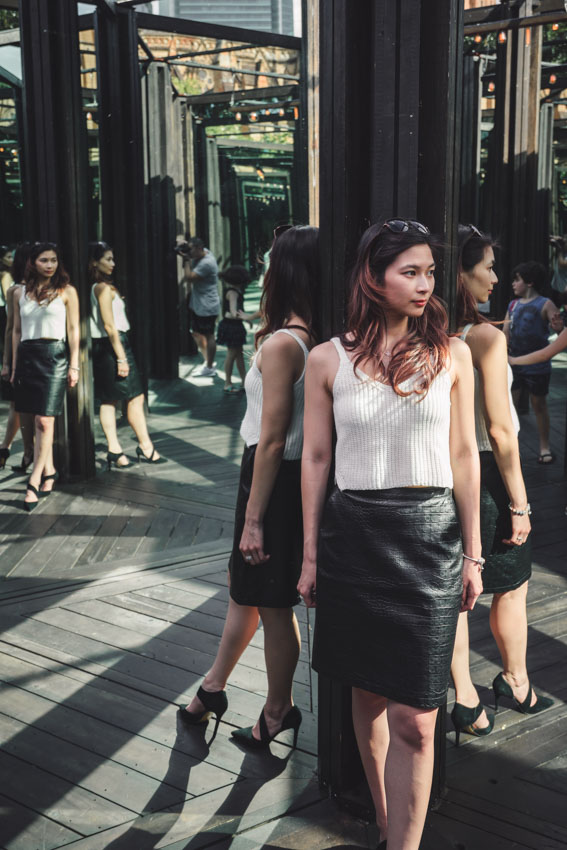 It was seriously almost a gross 40ºC (100ºF) or something, so I went for the same crop top I wore in White on White or Jasmine. I had paired the crop top with a white skirt and white shorts those times. Because the top is knitted, you'd think it would make me too warm, but it's actually not too bad.
I always get compliments on these shoes! I love them and they look great but they are quite high and don't have a platform, which makes them a little sore to walk in after a while. The inside is also of a soft leather, which is good and bad… it's comfortable, but makes my feet sweat more than they should. Really weird, I know. Or maybe it's because they are so high that my feet are working harder? 😂 Help me out here, guys.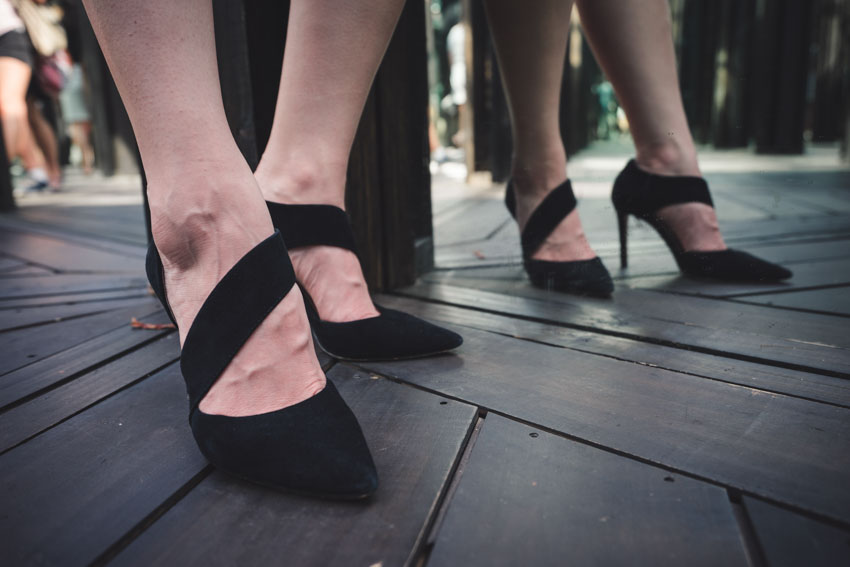 I styled my hair with a hair curler to make it a little wavy. My hair tends to stay clean for days, so I only wash it twice a week. My whole life I've only ever washed it once or twice a week and I've never had any problems. 🙃 Second-day waves are not too bad, either – these waves still looked pretty good for a few days after I did them.
Oh and yeah, my purple hair has pretty much faded completely. :( It looks a little dark blonde now, a bit of a dirty brassy colour. I don't even think there is a hint of purple-ness to it, or even red. Purple does fade fast and loses its vibrance very quickly. I guess the upkeep for purple hair is pretty high so it's sad that unusual unicorn colours just don't last that long. I'll be happy to go colour my whole head my natural dark brown once I rack up the funds and can really be bothered.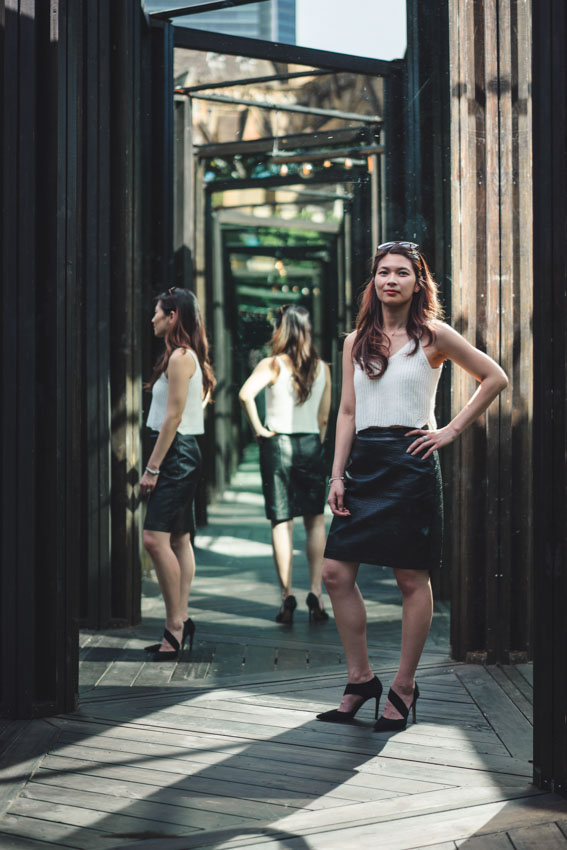 I bought a new Pandora bracelet a few months ago and I've been filling it with some of my newest charms, which I got as Christmas presents. I got the ballerina one a long time ago but Nick bought me the strawberry charm. I'm incidentally eating strawberries right now! 🍓 They are one of the fruits I really enjoy even though they can be quite sweet.
It may be a bit hard to notice the Cinderella pumpkin coach charm but I love that one. Without going into detail about my opinions on some of the Disney princesses' stories, Cinderella is the one I find the least stereotypical and possibly has the least controversy (and maybe Princess Jasmine, but anyway). I enjoy the story of Cinderella and I adore the pumpkin coach, which Nick got me for my birthday once!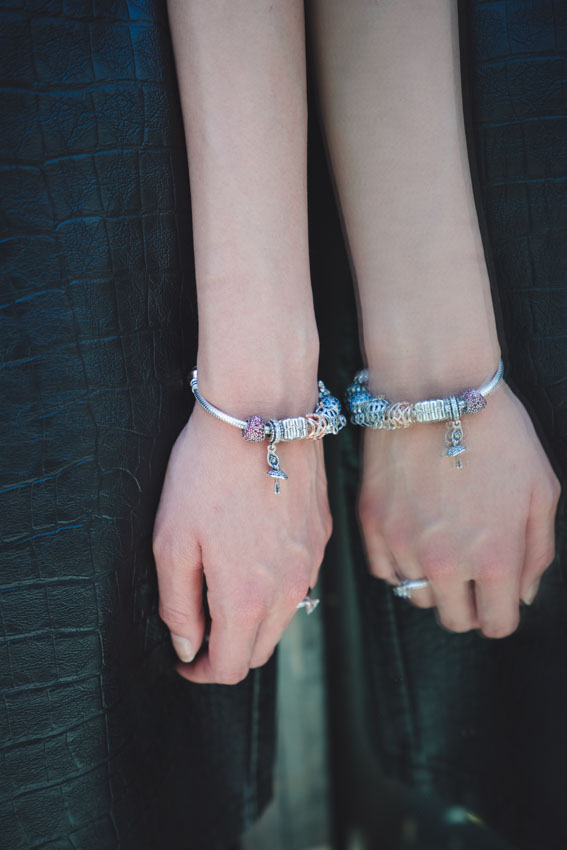 The rose gold earrings and necklace were bought for me by Holland as a Christmas present last year! I organised a Secret Santa between me and some of my blog friends and it went pretty well. I didn't know who got who, since I got Nick to help me out there. ;) But I'm very happy with the present from Holland, I still have a thing for rose gold and I adore Japan, so the paper cranes are only appropriate. The rose gold earrings go with my other ones too. The Etsy seller who sells this jewellery also creates them by hand, and it's stainless steel so it lasts a really long time. :D I'm also opting for shorter necklaces since some of them go well with certain outfits as opposed to long necklaces.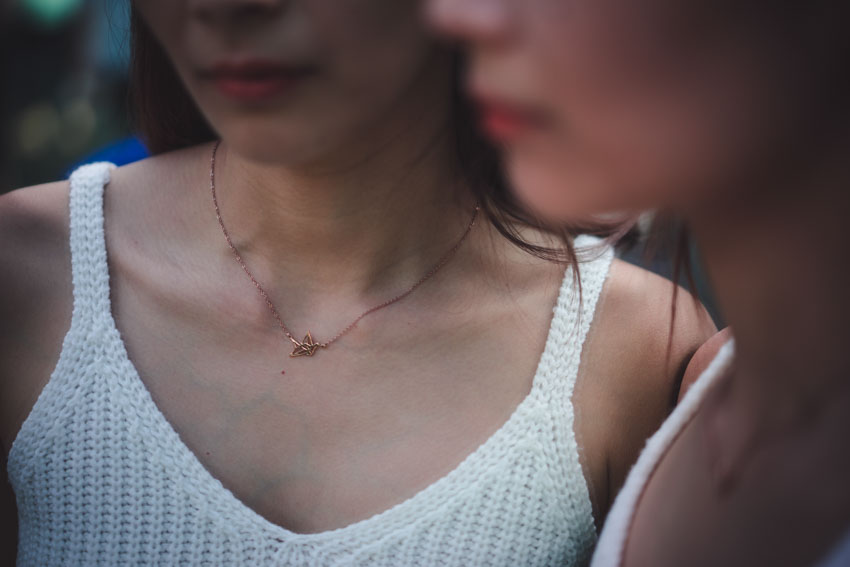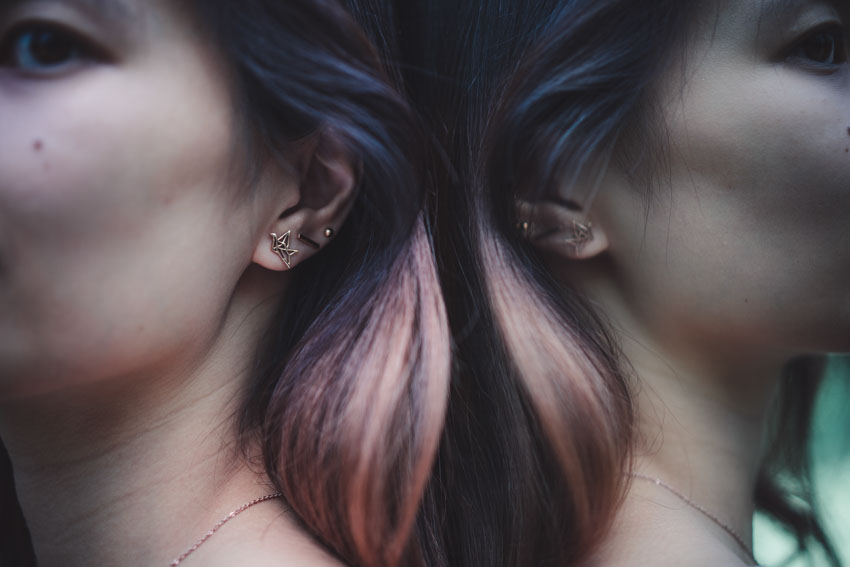 📷 All photography by Pat Kay.
Outfit details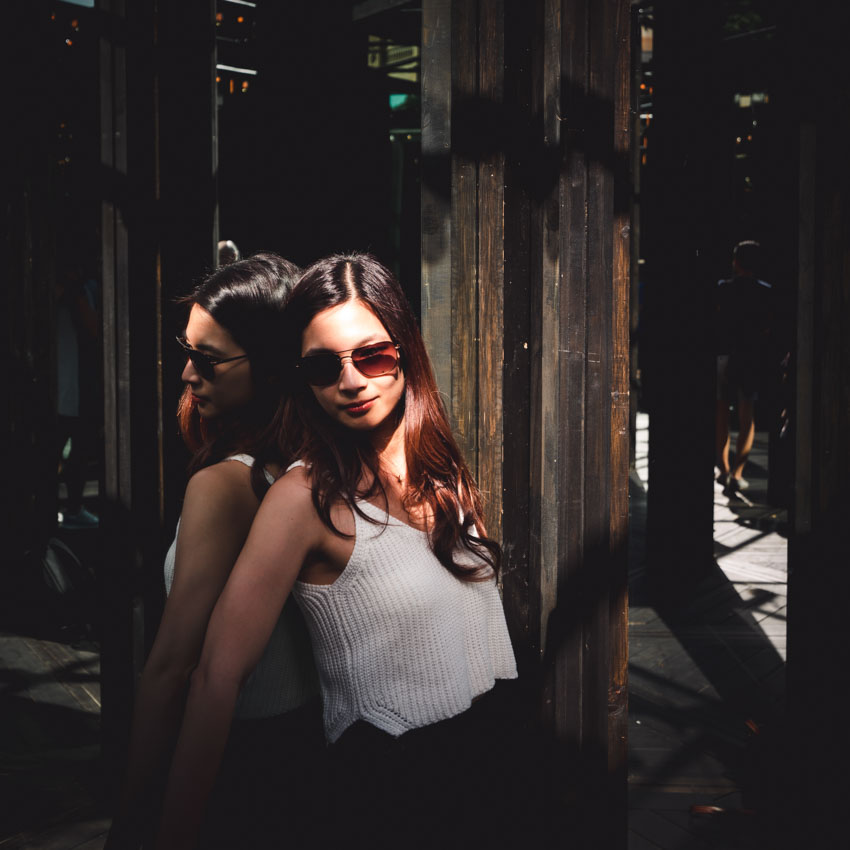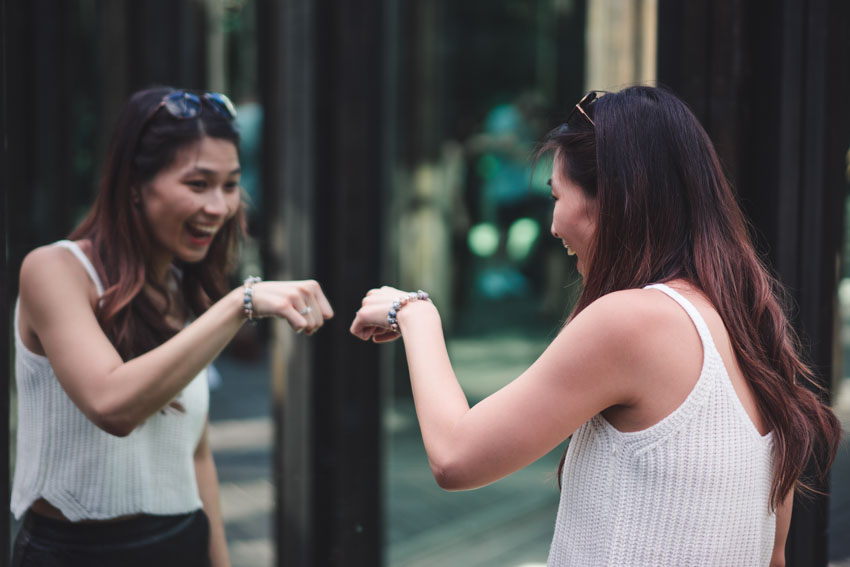 Who is the evil twin, me or my reflection? 🤔
What's your take on the House of Mirrors? What do you think of the outfit and the photos from this shoot? :D