The Georgie Gazette #11
Hey everyone! I just wanted to say thank you for your get well wishes but also your compliments on the photos from my last Fashion Friday post. I will be sure to pass on the comments to Pat (he's on leave in Singapore at the moment). I guess that outfit and the photos will be super hard to top! 😅
In related news, Seb has been having computer troubles so his shoots will be sporadic from now until he gets his computer replaced later in the year. :( We're down one photographer, but the outfits will still keep coming.
Nick's mum's birthday
It was Nick's mum's birthday last week. We got her a Pandora Essence bracelet, which she really liked. I picked out the standard chain (not the ball one, since the ball one looks like it's a bit edgy and I don't think that's her style), along with two charms: a friendship charm and a balance charm. The charm that represented balance was very lovely, it was like a pearl mosaic in a blue-ish sort of colour. ☺️
We went out for dinner on Friday with just Nick's family, and on Saturday with his grandparents as well. Friday was Italian at a restaurant we've eaten at a few times, and on Saturday we went to a Chinese restaurant I've never been to. I ordered really nice scallops in black bean sauce. The black bean got stuck in my teeth but whatever, it was yummy. Haha.
Battling a cold and several nosebleeds
I had a sore throat last Monday that turned into a pretty brutal dry cough. I took Strepsils for a while and the sore throat disappeared, until one day it felt like I had terrible hay fever as I was sneezing every few minutes and finding it hard to keep my nose from running.
On Friday morning I felt quite unwell so I took the day off work and got a few more hours of sleep. It was pretty hard to deal with the heat on this side of the world (up to 40ºC/~100ºF) whilst at the same time getting the air conditioning to play nice with my poor body. As a result, I had a few surprise nosebleeds, two of which happened whilst we were out eating. 🤧 It happens when I go between hot and cold temperatures too quickly. My nose freaks out.
I had a few hard sleeps but felt a little better yesterday. My nose isn't really runny anymore, but I'm coughing a lot. I'm making sure I have a lot of fluids. I drank more orange juice on the weekend than I usually do in a year! I figured it would do nice things for my immune system.
I'm also trying this herbal tea made from lemongrass, ginger and berries, that Nick's mum gave me some time last year. I usually don't like herbal teas but this one is nice. The berries offset the very "herbal" taste that the ginger has. :)
Catchup with Dylan
Nick and I had dinner with Dylan earlier tonight. We thought it was time for a smaller catchup since last time we saw him there were quite a few people at his surprise birthday party! We went to The Emporium, which is a pretty fancy restaurant at night (as Dylan learned) but otherwise a pretty ordinary eatery in the morning (as Nick and I learned).
I ordered some earl-grey tea cured salmon (!!!! how cool does that sound?!), which was interestingly presented with some slightly sweet lemon sago and lemon curd. All the flavours meshed together and it was pretty delicious. I had a feeling it was a small serving, so I got a salad as well. The salad filled me up more, but for the enjoyable dish the salmon was, it didn't bother me. :D Dylan filled himself up with chicken and some veggies, Nick got some ocean trout with salad (he said the fish was good but the salad was not amazing).
I took some photos of the food on my phone but it was pretty dark so they turned out horrible. I didn't try. :P I've taken this photo from the restaurant's website so you can get an idea of how snazzy their food looks!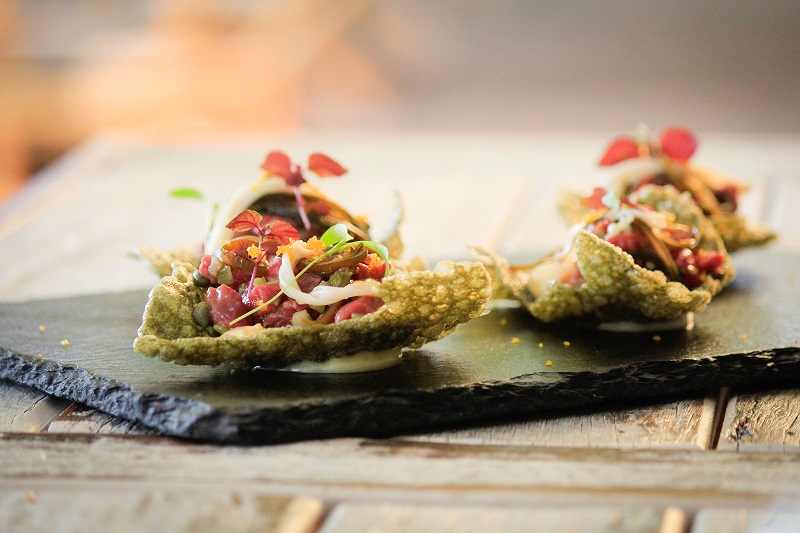 It was a good catchup, we talked about some strange things like donating organs, but also some normal things like work and life. ;p
Jewel
Jewel, the artist behind hits like You Were Meant For Me, Hands and Intuition, is an artist who has seemingly disappeared to most people in the past decade. I'll be honest, I continued to listen to her music until she released Goodbye Alice in Wonderland in 2005. I loved that album to pieces (haha – that's a pun, for one of her albums is indeed titled Pieces of You). Jewel's albums may not have charted very high, but her sweet country voice still won me.
I'm not too great at keeping up with artists' new albums unless I am a die-hard fan. But even then, there are so many great bands out there that it can be hard to keep up, and you can often miss a new single or album.
I was reminded of Jewel earlier tonight when I found myself humming her song Good Day, from her 2005 album. I decided to listen to that album tonight. I am not sure if I will get around to listening to her newer stuff yet. It also surprises me that that album is twelve years old. At dinner tonight we were just talking about how some of our favourite Maroon 5 songs are about the same age. D: Time really flies.
Until next time. 💗