Fashion Friday: In Rainbows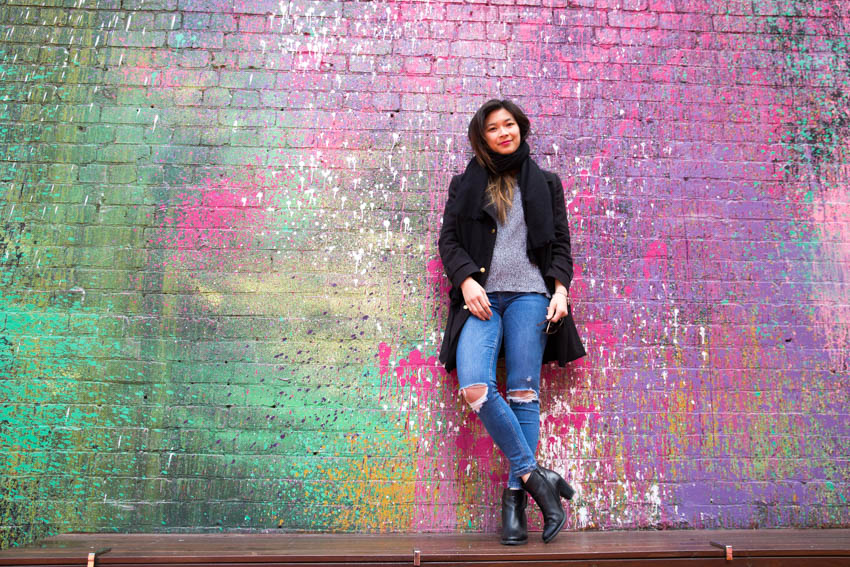 Yay we're back! After a several-month long break. 😄
As most of you know, I was super busy the past few months ramping up my fitness routine, as well as changes at work, wedding planning, doing some contract work on the side, going to meetups, and overall feeling really tired. Blogging took a backseat and so did my Fashion Friday series, even though I've managed to keep it up in the past during times I travelled and was not always available.
Nick helped me photograph this outfit when we were in Melbourne last week. Nick had to go there for work early in the week, so I popped by over the weekend for a quick getaway.
We took these photos next to a basketball court a couple of blocks away from the main street. We actually knew this wall next to the basketball court existed, because we had come across it over a year ago on our last visit to Melbourne. I thought it would make a great Fashion Friday backdrop, but the weather was not that great at the time. That resulted in the shoot being at Brighton Beach instead, and that outfit appeared in The Rainbow Connection.
We spent ten minutes trying to remember where the basketball courts were, and we saw some construction going on nearby, so we were hoping it was not closed down or destroyed. It was still there in all its glory!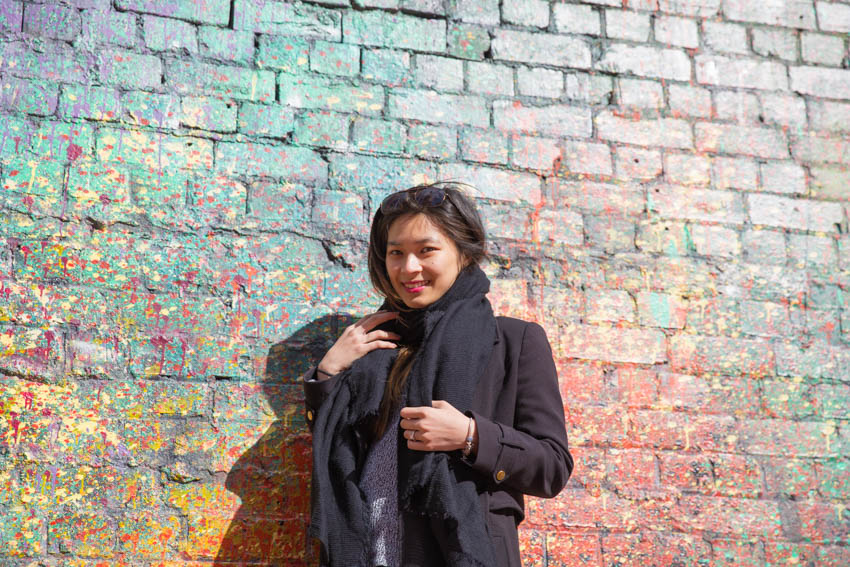 The painted wall is actually the wall that sits behind the bleachers, and that's where all these photos were taken. Part of the bleachers was really messy and had rubbish all over it. We had to kick a couple of bottles out of the way to take some photos.
Since it was fairly cold in Melbourne I decided to bring my black coat and know it would go the distance. I stuck with a couple of warm tops and brought my new black scarf.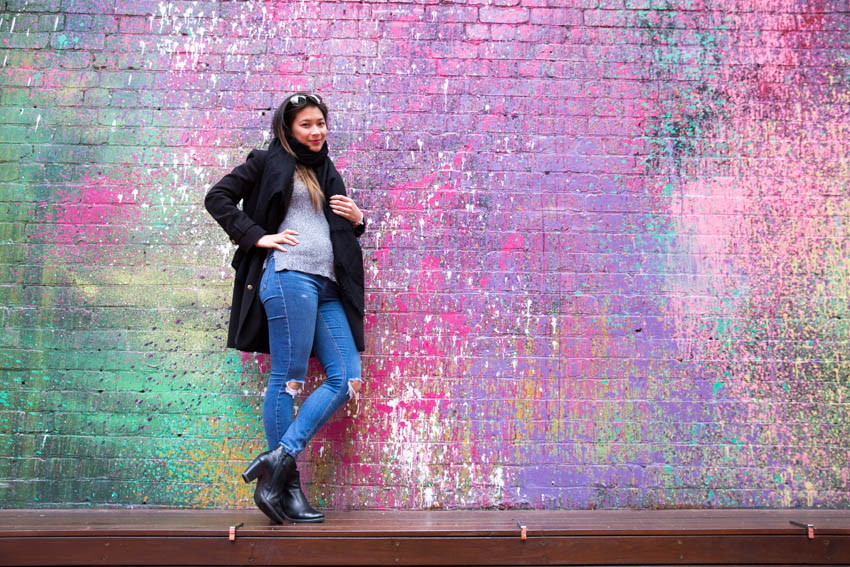 I got my mum to order my black scarf from Myer. I wasn't sure what to expect as the photos on their website were not very clear and the resolution of the images was not high enough to see the detail. The measurements were written as being quite large and I was looking for a large black "blanket" scarf. I have a lot of black ones that are quite short or thin. I was quite impressed with this scarf, the quality was great and the scarf looks good.
The one thing I do really like about it is the fabric. I am not usually a fan of knitwear so the acrylic blend of this scarf is pretty comforting. It is less thick and easier to shape, despite it being large. There is a bit of a ribbed pattern on some of it.
These jeans hardly ever let me down; I do like them very much because of the fit and style. The only minor things that bug me about this pair of Topshop Jamie jeans is that they stretch a lot so they are now a size up from the original size I bought them in. I was not aware at the time so I just got a pair that fit me just right. Either that or I really did lose some inches from my waist? 😆
The rips in the jeans give it edge and make it pretty edgy, but there are days I want just a plain pair of blue denim jeans. So I actually went to Topshop and bought another pair in the same Jamie style (except I sized down).
I got the long-sleeved top from H&M in a sale. I think it was only 10 or 15 dollars. I don't have a lot of casual and versatile winter tops so I found this was a good steal. The sleeves have a small split in them and do do the sides. The back also dips a little low. I have a few pieces from H&M but I find the quality of some of their stuff to be sort of lacking. This top, on the other hand, is pretty good quality. It's not scratchy like other knitted clothes, and does keep me warm.
I chose to wear the top because it goes well with most colours, including the jeans. Not to mention it would keep me warm in Melbourne!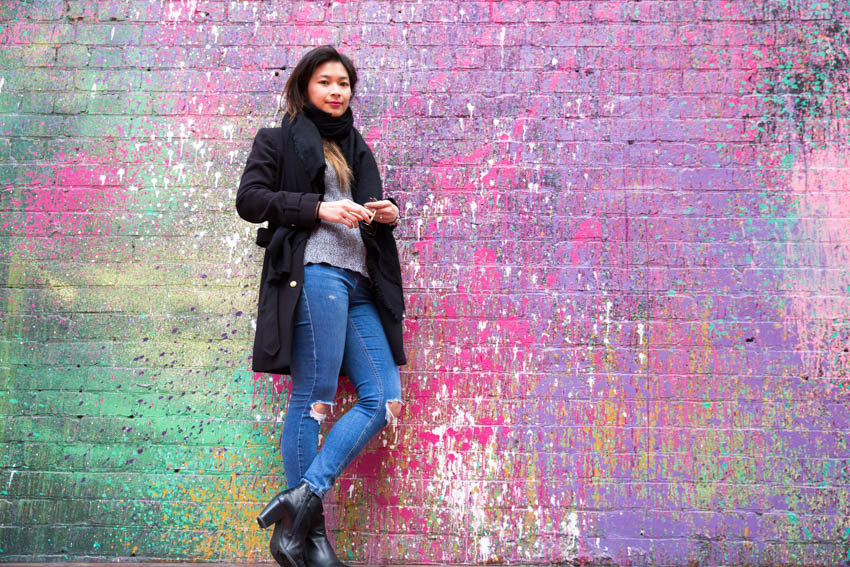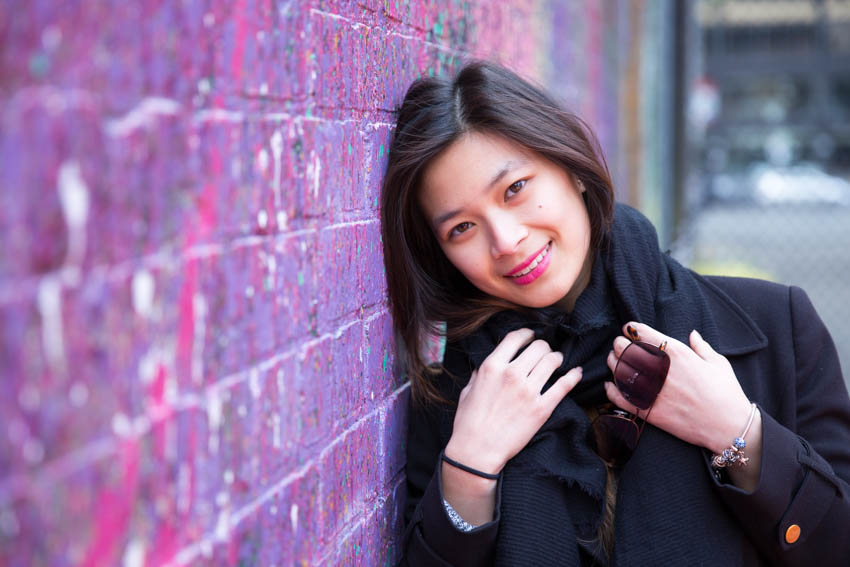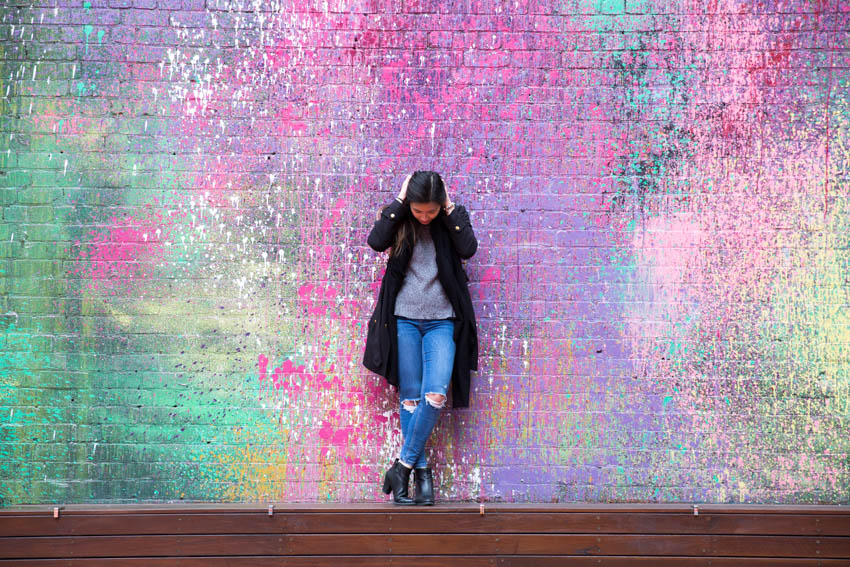 I took my black boots to Melbourne because they can be dressed up and dressed down, and they are also super comfortable. I have been craving buying another pair. I seem to go through black heeled ankle boots often. 😅
I like how the outfit looks against the coloured wall and glad I picked out some pretty basic colours
I named this outfit In Rainbows after the Radiohead album of the same name.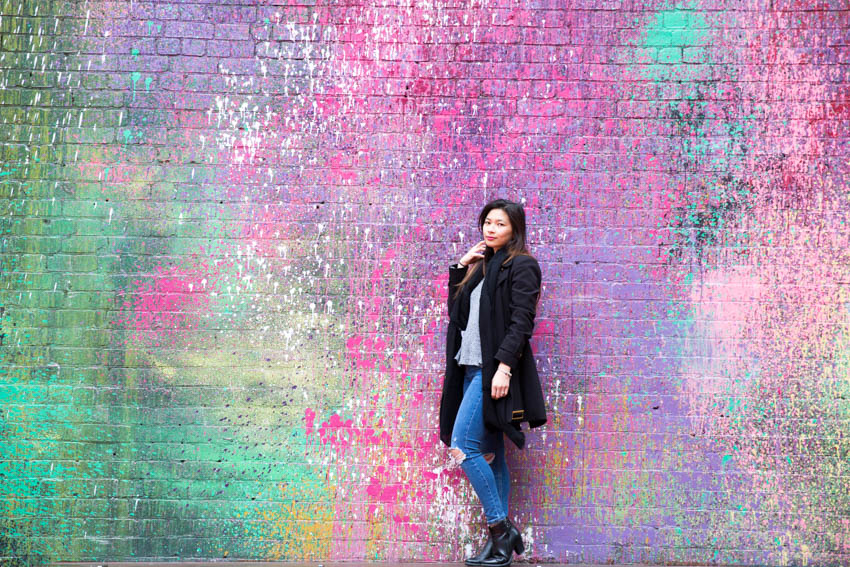 📷 All photography by Nick. ❤️
Outfit details
Top: H&M
Coat: Basque Petite (available at Myer)
Jeans: Topshop (Jamie Moto Petite ankle grazer)
Shoes: Sandler "Yates" Black Glove Boot (available at Myer)
What do you think of this outfit as a comeback? 😆