Fashion Friday: Focus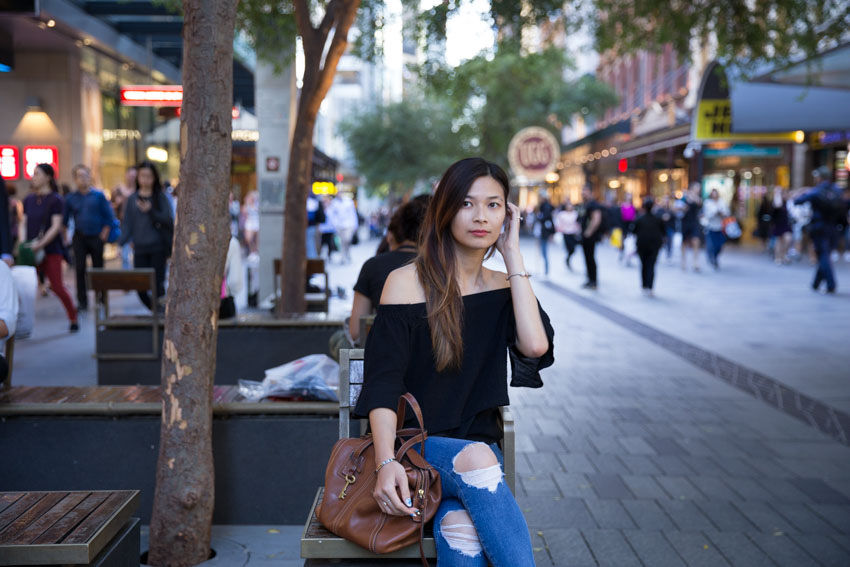 You know trends? Yeah, I always said I didn't follow them, but I lie… sometimes I do. But I only follow trends that I believe look good on me. Like off-shoulder tops. I think that they look good on me and I feel confident in them. Apart from the grief associated with strapless bras coming down, nipple covers falling off and not noticing until you get to work and you are wearing a white top (yes that totally happened), or the whole top likely falling off the shoulders, I do like them. I also like my shoulders. 💪
Off-shoulder tops are trendy now and they may no longer be trendy in a matter of months. But I'd hope that 99% of the time in the next few years, if I maintain my shape and figure (and my nice shoulders), off-shoulder tops will continue to look good on me. I bought this black top in Perth, from a boutique store that actually sold items from Melbourne designers (haha). It was a little on the pricey side at $59 but I couldn't resist. I tried on a couple of other tops and dresses in a similar textured cotton material, but they didn't look quite right. I like the blend of materials in this top, and that the bottom half is made from chiffon. The top half of the top ends at just the right length. I think it'd look odd if it ended at a longer length – I'm short, so clothes cropped above the hip are better.
That said, I was a little worried about the dipped back, because of my height. Tops and dresses have to be at just the right length so I don't look short if the vertical line "cuts off" at the wrong part of my leg. I find that most unaltered pieces of clothing require me to wear heels to offset the "short" look they give me. (I also don't like spending money on alterations.)
‼️ Wait, look closely! If you have a look at the photos in the post, one of them is actually Photoshopped. A girl walked right past as Nick was taking the photo and I was in between poses, so it would have been the perfect shot, had she not walked right into it, and photobombed by grinning excessively. I was practically fuming as we looked through the photos because we didn't get another shot of me in exactly the same pose, and none were good, so, well, after almost crying, I took to Photoshop to erase the girl from the photo. I will be sharing the original photo at the end, so you can try to guess which one is Photoshopped.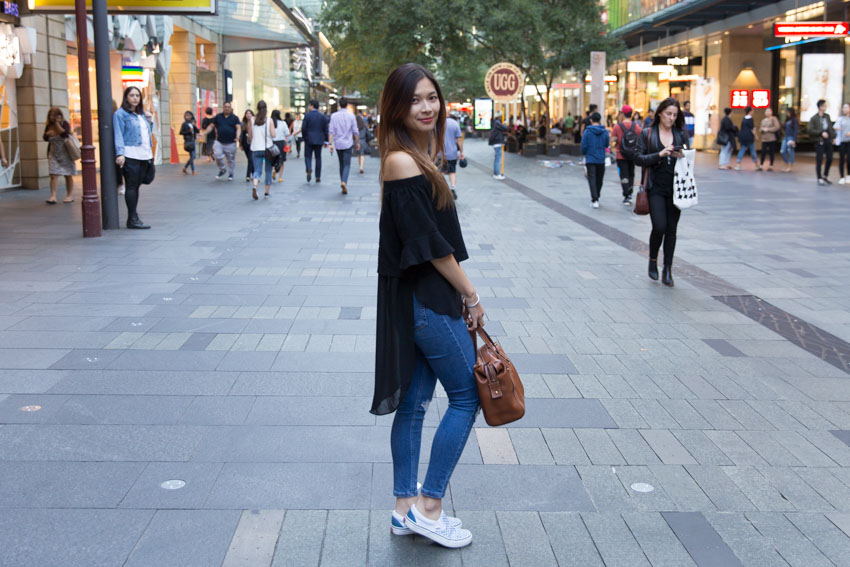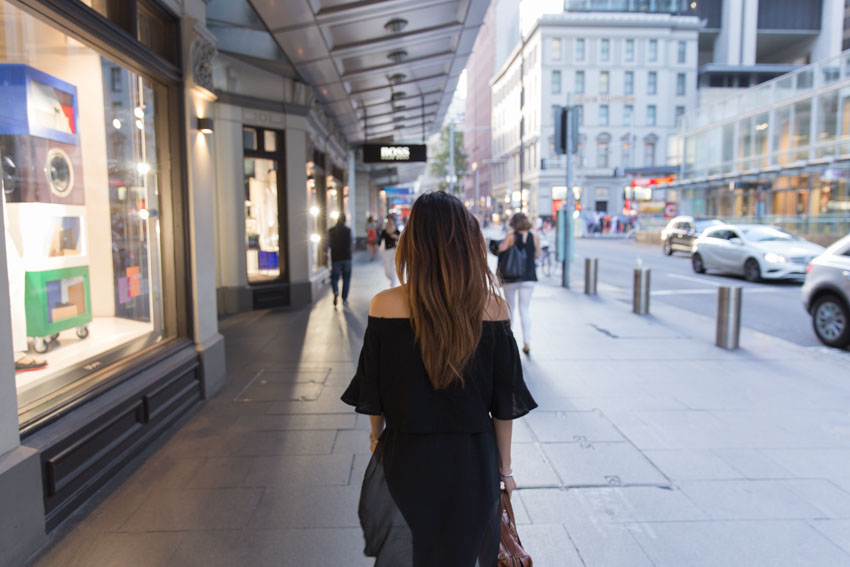 But I liked this top and I was totally willing to work with it. I favoured the asymmetrical hem as I have my cat-print top just like it. And I love that the sleeves have a bit of a structured bell shape to them, without being too much. The body of the top is also rather fitted, compared to other similar off-shoulder tops I have seen that have an A-line or are "baggy". It's a bit more flattering.
I got a haircut earlier this week. My hair was just giving me so much grief. I am growing it out for our wedding but I am also looking forward to cutting it at shoulder length (or shorter) afterwards. I would like short, manageable hair for a change! I went to the hairdresser I usually go to for my cuts, a Korean place in Sydney. There are always new employees there, though. A lovely lady cut my hair and she was very good. She was confident and she knew exactly what to do when I explained what I wanted. She layered my hair so well! 😍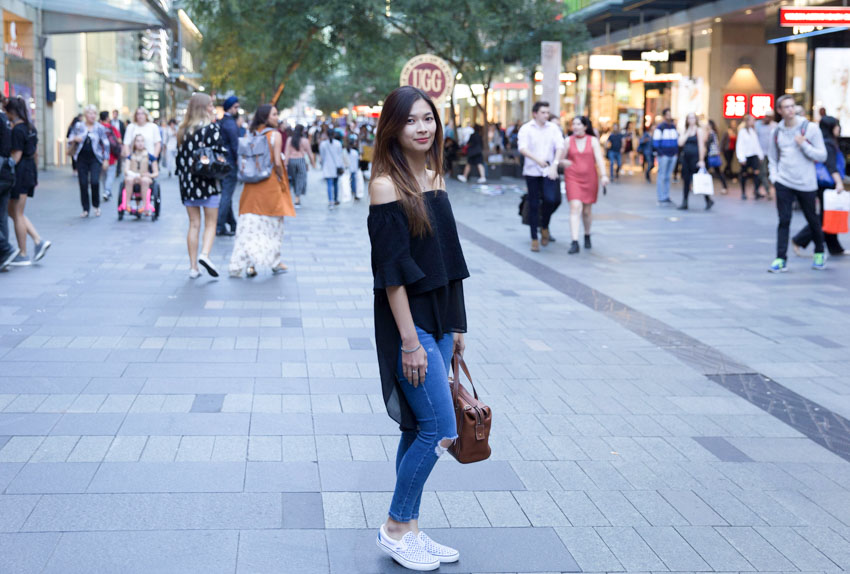 I love these custom Vans I got from Campaign Monitor. I love them so much, even small scuffs and specs of dirt got me down. I am trying so hard to keep them fresh, white and clean. 😊 They are so comfortable to walk in and wear. I had a pair of heels under my desk at work that I was planning to change into, but these wouldn't budge from my feet! 😂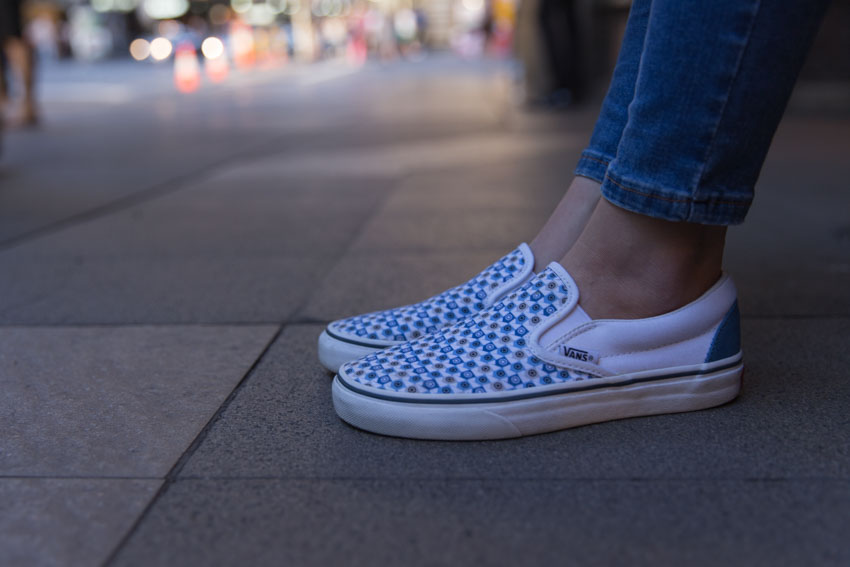 It's probably not even worth mentioning my Topshop jeans again – they have made far too many appearances in the past six months. They are still super comfortable and stretch just enough. The only minor gripe I have is with the elastic in the rips – they stretch because naturally your pants stretch at the knees – but it results in slight odd bagginess of the elastic sometimes. Then again, ripped jeans are ripped jeans… so… 😅
We forgot to take a proper photo of my nails, hence the strange indoor picture. 😆 I got these in the limited edition Monthly Mani Kit from Scratch. I might pause my subscription for a couple of months as I want to use polish for a little bit, and I have some wraps to last me for a couple of months down the track.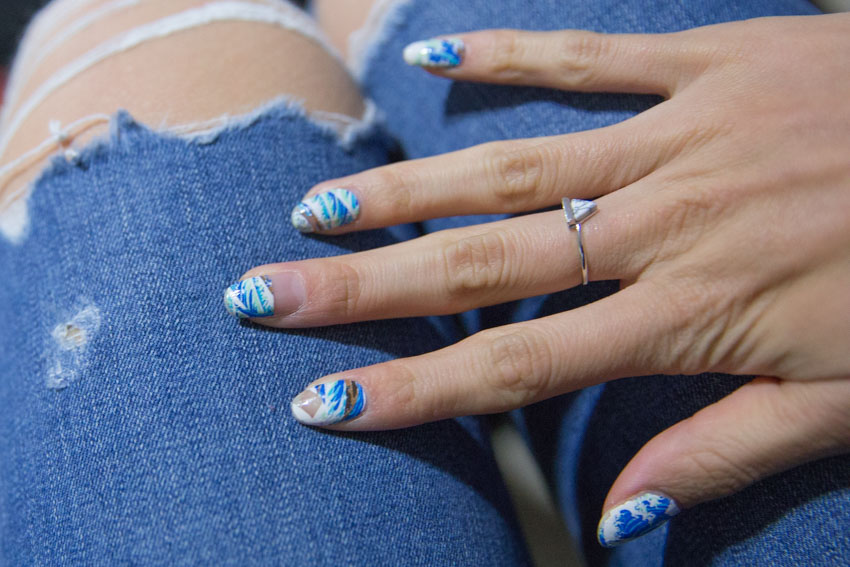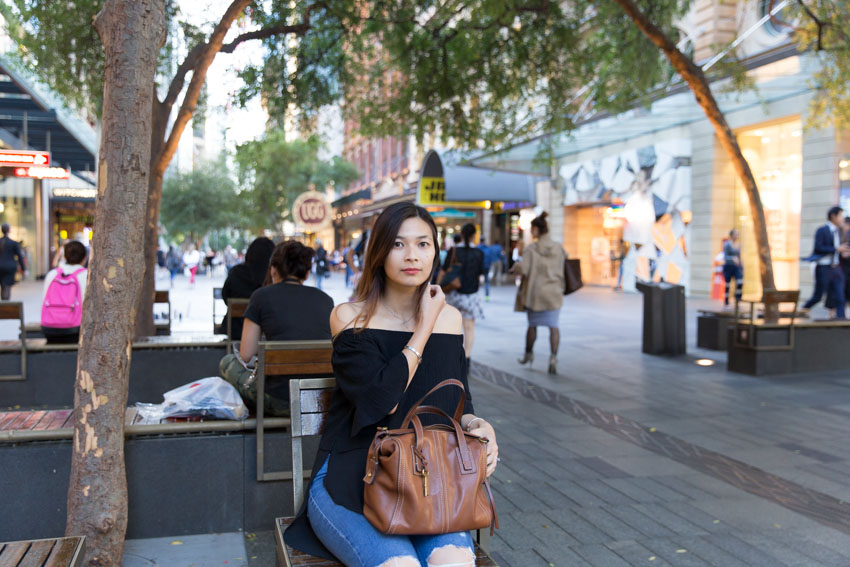 A hundred thanks to Liz for coming up with the name for this outfit: "because it draws attention – the style of the top; the ripped jeans; the bright shoes". It's all too true. Every item would draw attention on their own (even the earrings – you didn't think about that, did you?), but as a whole, they work pretty well, too.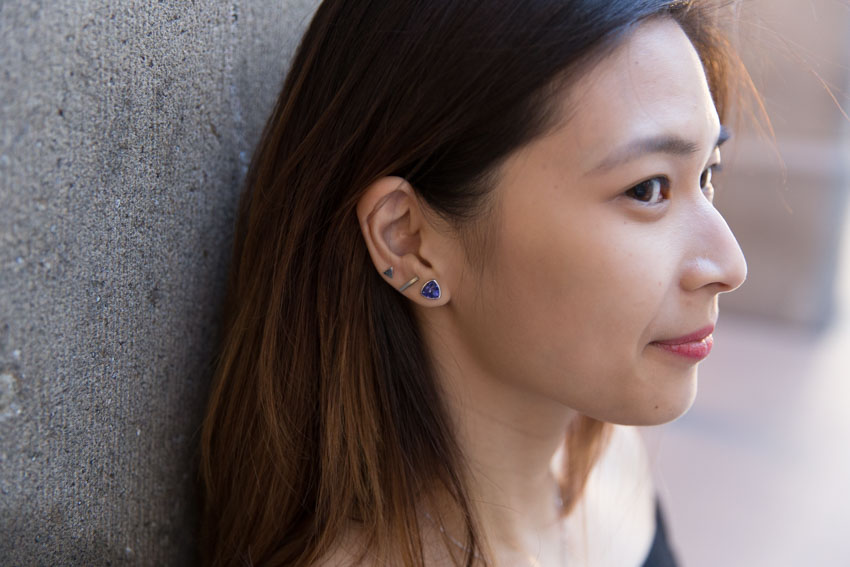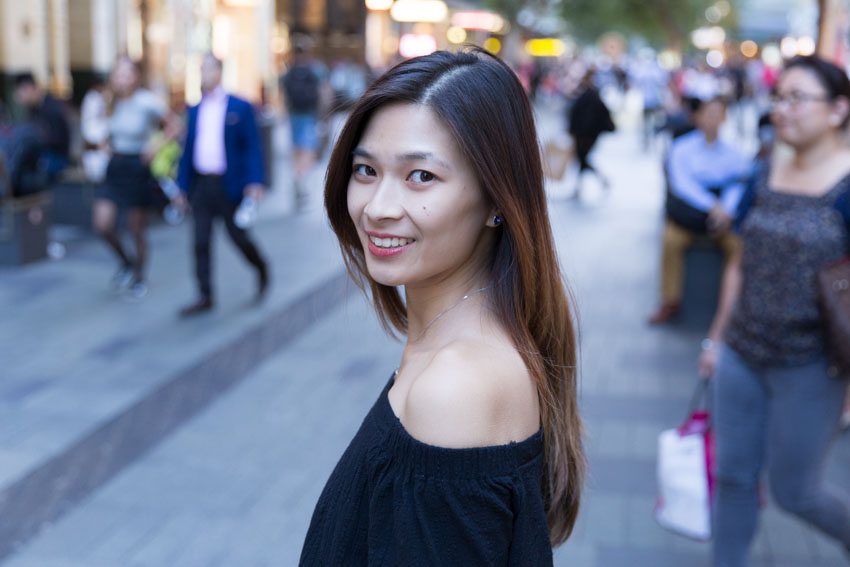 📷 All photography (except shot of my nails) by Nicholas Cooke. ❤️
🖌 Photoshopping thanks to my shitty artistic skills.
Outfit details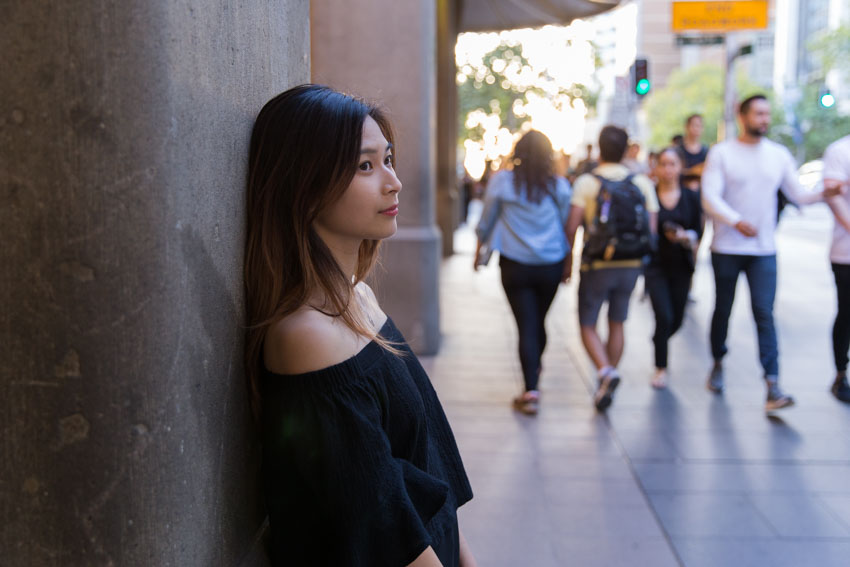 Here is the non-edited photo with the photobomber, that I posted on Twitter:
She fucking ruined a perfectly good photo ?

(?: @nicholascooke) pic.twitter.com/BsPZsSSWEA

— Georgie C. Cooke ? (@georgiecel) March 10, 2017
You can probably now tell which photo is Photoshopped. It took a good forty minutes to fix it up, and my Photoshop skills are really not that good. In fact, I'd say this was a challenge for me, haha.
Edit: From the one photo, it might look like an innocent photobomb, but we were standing there for five minutes getting the same shot in the same place. It was obvious from the other photos Nick took in the same time window that she was not considerate of a photo being taken of a subject. She was grinning in all the shots in the background even when she was further away, and she walked in the background of the photo without staying to the side or even moving. She had no remorse for walking right through the shot and made it a point of walking very close to me.
Serious question: Did you spot the photo I 'shopped?
Second serious question: Just how good is my Photoshopping out of 10?