Fashion Friday: Canyon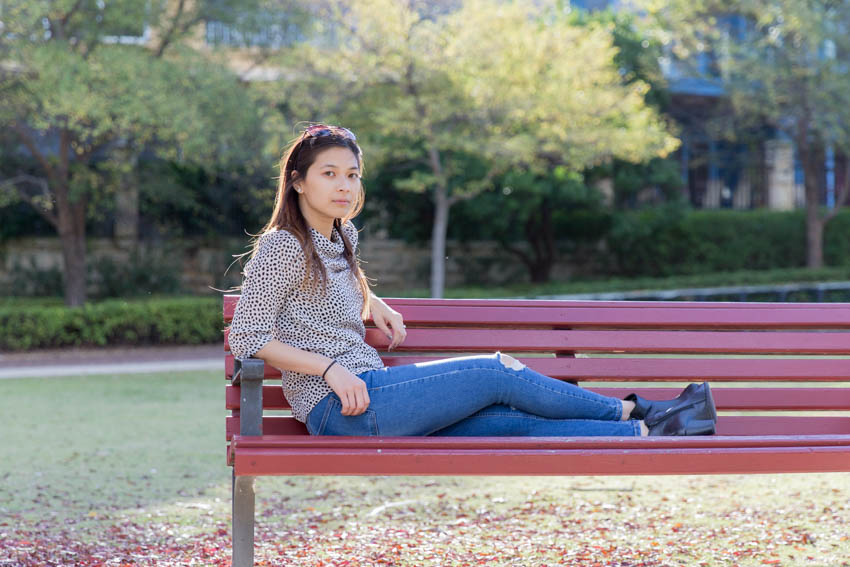 Nick helped me photograph this outfit in Subiaco, a suburb in Perth. I've yet to write more about last weekend though, and how eventful this week has been so far too. I'm also still catching up on reading blog posts. ☺️
Since I am only in Perth for two weeks, I packed very lightly. I only packed two pairs of jeans and five tops. I thought, well, I'll survive. Normally I would bring a dress or a skirt, but a week in, I'm doing fine. The clothes I brought with me all tend to mix-and-match well, except one of my jeans is grey so that doesn't really go with the blue or tan tops I brought. It does go with the two tops that are black and white though. 😆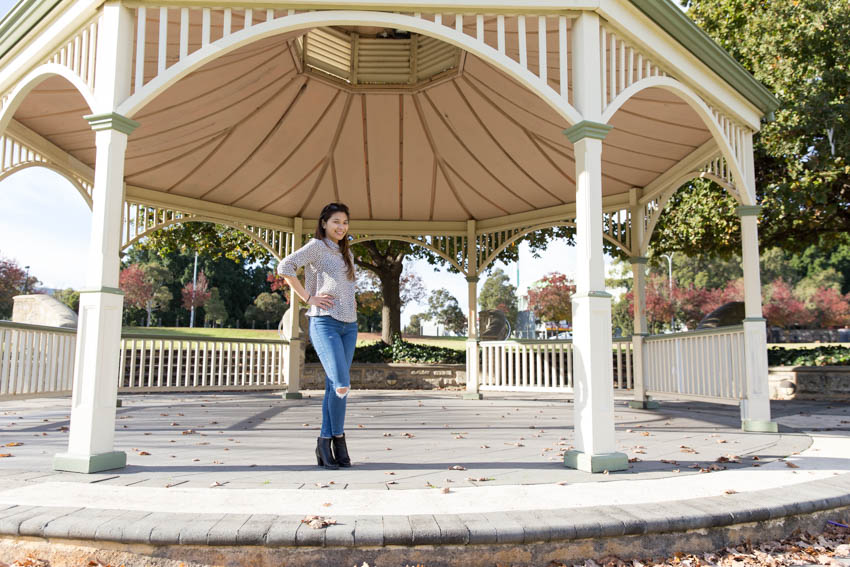 I think it is important to pack lightly when travelling. I like to be fashionable, but at the same time, you don't really need to take that many clothes. I have to admit, my gym gear and running shoes took up most of the room in my suitcase, as well as my pre-workout and protein powder. 😂
Of course my favourite pair of blue jeans make the cut again. Oftentimes I'll feel that the blue is too bright (thus I can't really wear blue with blue because it's too much blue) or I will wish I bought a pair without ripped knees, because the holes in the knees are stretching out and they are not such a great idea for smart-casual attire. But then I realise these jeans are super comfortable and they're getting a lot of wear, and I guess I make do with the jeans the way they are.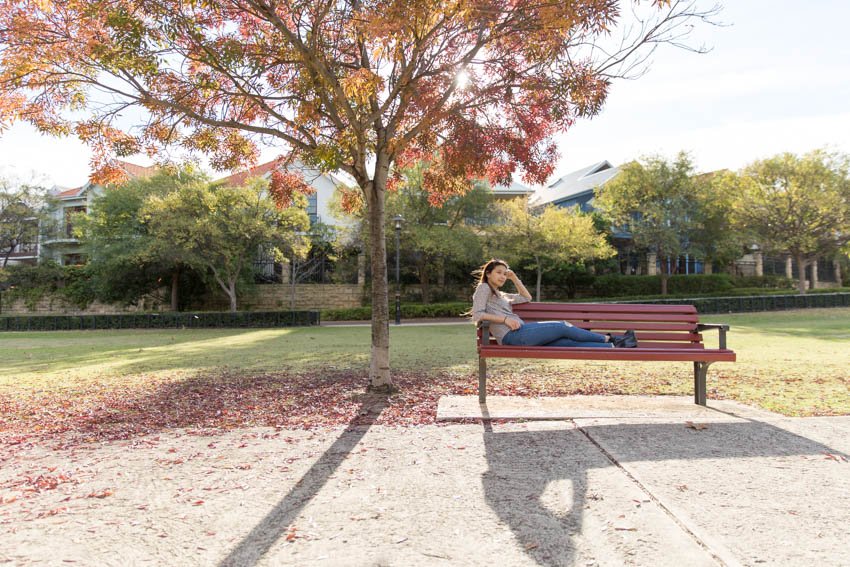 The weather has been really nice in Perth – fine days. I've learned that even in cooler months, the sun can be really hot once you have been sitting in it for some time. And at night, it is deceptively cold. It actually cools down. In Sydney, in the summer, it doesn't really get cool. It stays hot.
The top has fast become one of my favourites as well. I don't care much for leopard spots, cheetah spots, or spots in general, but I love, love, love the cut of this top. I love the cowl neck and the longer length sleeves. And you guys know that I love prints as well, especially small-scale ones, so this top felt like it would be perfect for me.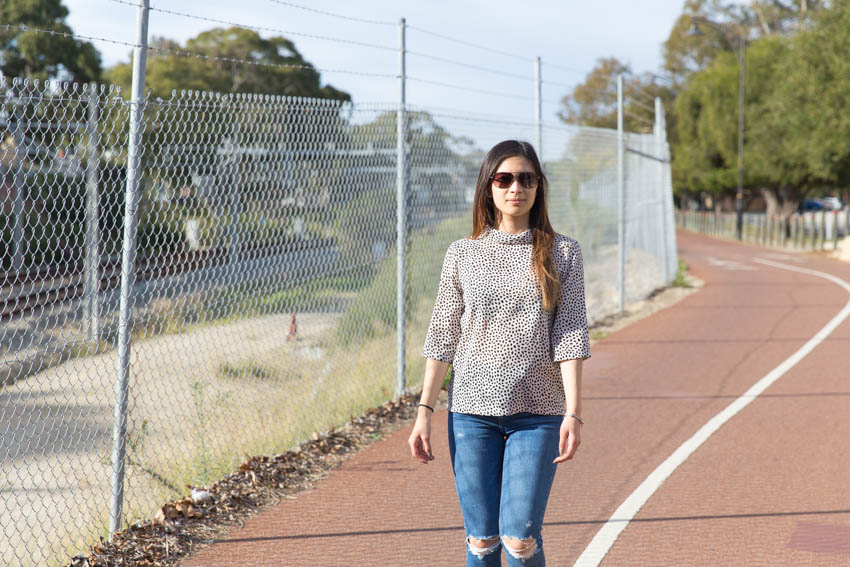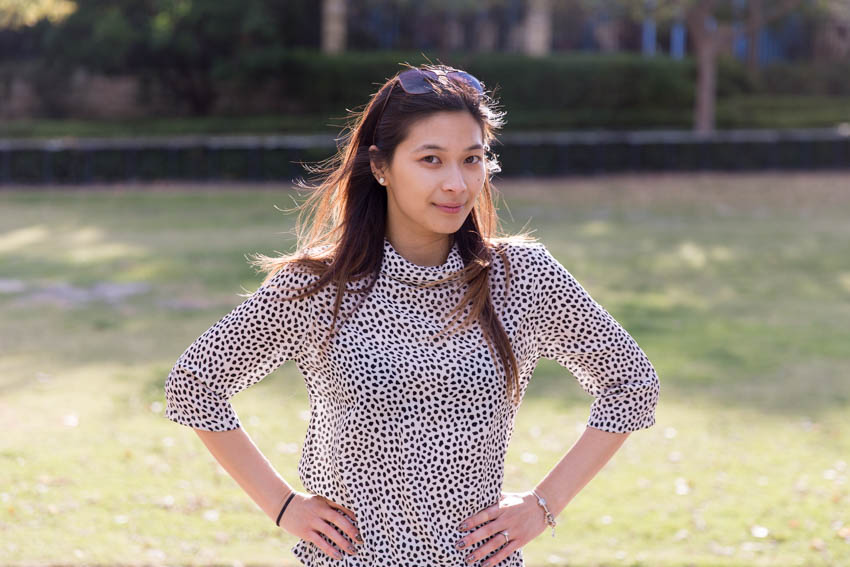 I was absolutely thrilled with it when I got it. It was light, comfortable, but also kept me warm because of the sleeves and the neck. One of my bag straps got caught on it and pulled some of the threads, though – it is a delicate top – I spent a couple of hours one night using a needle to pull the threads back into place, using the colours and patterns as a guide. 😰 I cared about and love this top that much.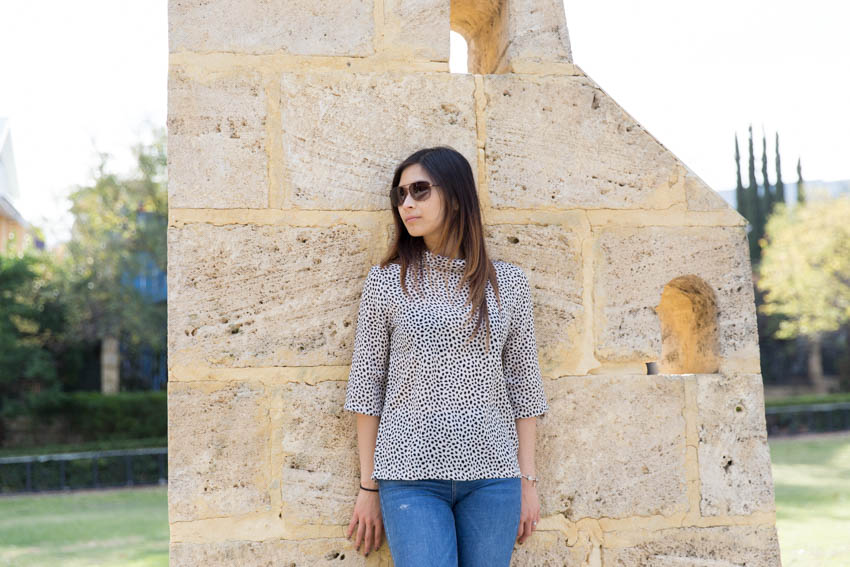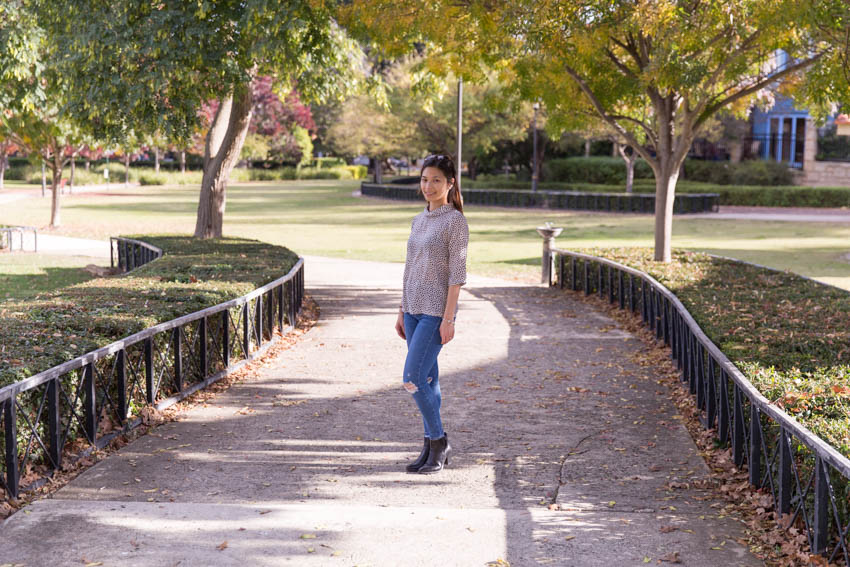 The boots were in my last Fashion Friday post. They're actually the only shoes (apart from my running shoes) that I brought with me. I already mentioned that they are comfortable, and Nick and I walked a lot while he was still here, and my feet did not get sore. I'm so happy with them. I hope I find more ankle boots like this. The comfort is one thing, but it's also amazing that they give me a bit of height without the pain. Win-win situation.
I didn't accessorise much in this outfit, however, to keep my earrings simple yet interesting, I wore these moonstone studs. I have bought my fair share of dangly earrings from By Invite Only, so I felt like I needed some prettier studs. For those days when I don't want to wear anything too fancy and just want something simple.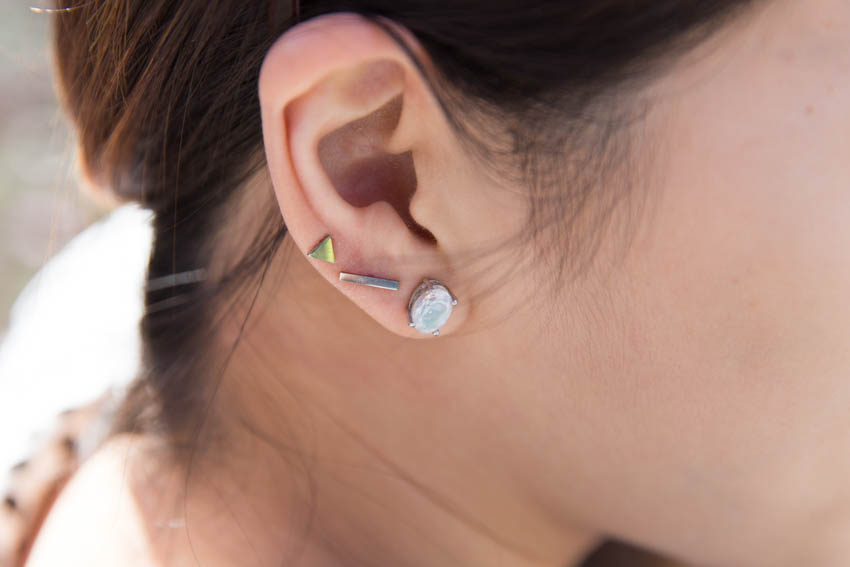 I named this outfit Canyon. I felt some of my expressions and the themes of the photos were relaxed and almost like I was in another world; the cheetah print makes me think of being in hiding but I feel that I conveyed the opposite. And it felt like the image of a canyon fit well – it made me think of animals in the wild just getting on with their lives.
📷 All photography by Nick. ❤️
Outfit details
Top: Rut & Circle Cora Blouse
Jeans: Topshop (Jamie Moto Petite ankle grazer)
Shoes: Sandler "Yates" Black Glove Boot (available at Myer)
Earrings: By Invite Only (Silver Moonstone Oval Studs)
Wristwear: custom Pandora bracelet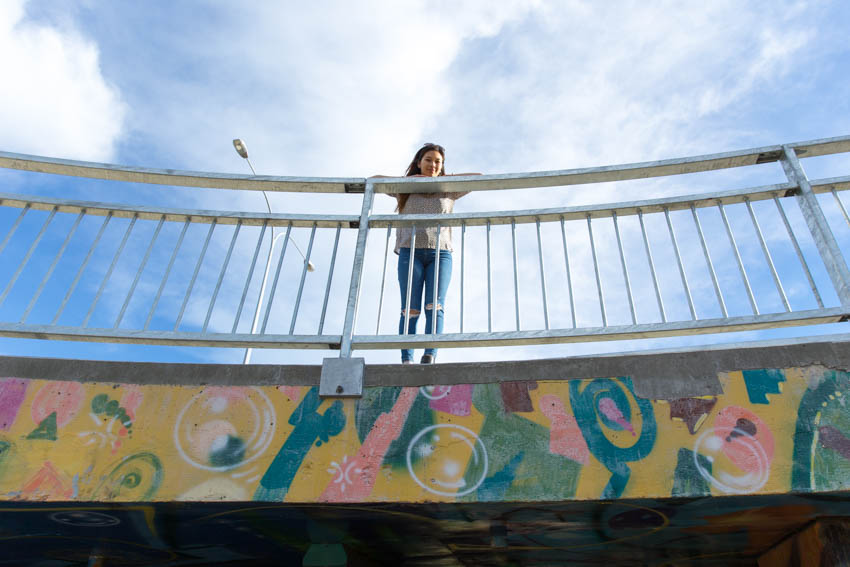 What do you think of the top? Do you like it as much as I do?
What are your packing habits when it comes to clothes?