Fashion Friday: The skirt-turned-dress, and 1100 concert photos
I actually took these photos last week before I coloured my hair black. I will be sure to post a photo of me with black hair soon. It doesn't look that much different, to be honest, because my hair was pretty dark before. I am looking forward to colouring my hair purple haha.
Notably, it's actually Saturday today, but seeing as I am in a wicked timezone, it is still Friday in some places. I wish there was a way of renaming Fashion Friday to incorporate the weekend, but I have no idea. And I am also a bit pedantic because I am fond of alliteration. Fashion Funday?
In this particular outfit, I wore a really long skirt as a dress. I got this skirt a few years ago but it sat on my hips, rather than my waist, and I wasn't fond of long skirts, so I wore it as a strapless dress. It fit quite alright, then, with no problems. I haven't actually pulled this skirt out of my wardrobe in a very long time. I remember occasionally wearing it as a long skirt on colder days, thinking, "Yep, I must have grown by now, I can just wear it as a skirt", even though I still am not such a fan of long skirts.
I was really surprised to find that it actually still fit me as a dress. I was probably more confused than surprised, actually. It's not something I like to talk about, so I'm just mentioning it in passing, but I have had a lot of eating problems and problems with digesting food since I graduated high school in 2008. I'm quite a bit slimmer than I was in school, and I suppose, naturally, what they call "puppy fat" is gone. I suppose it is also strange to think about how a skirt could possibly fit me as a dress, but it wasn't until a few months ago that I bothered to actually take measurements and realised my body shape isn't quite a pear shape as I have been saying all these years… but I actually have an hourglass figure. My friend said that she refused to believe she had an hourglass figure herself, because apparently only 8% of women have that kind of body shape. But my bust and hips have about the same measurement, so… @_@
I really hate talking about my body. Most of the time, anyway.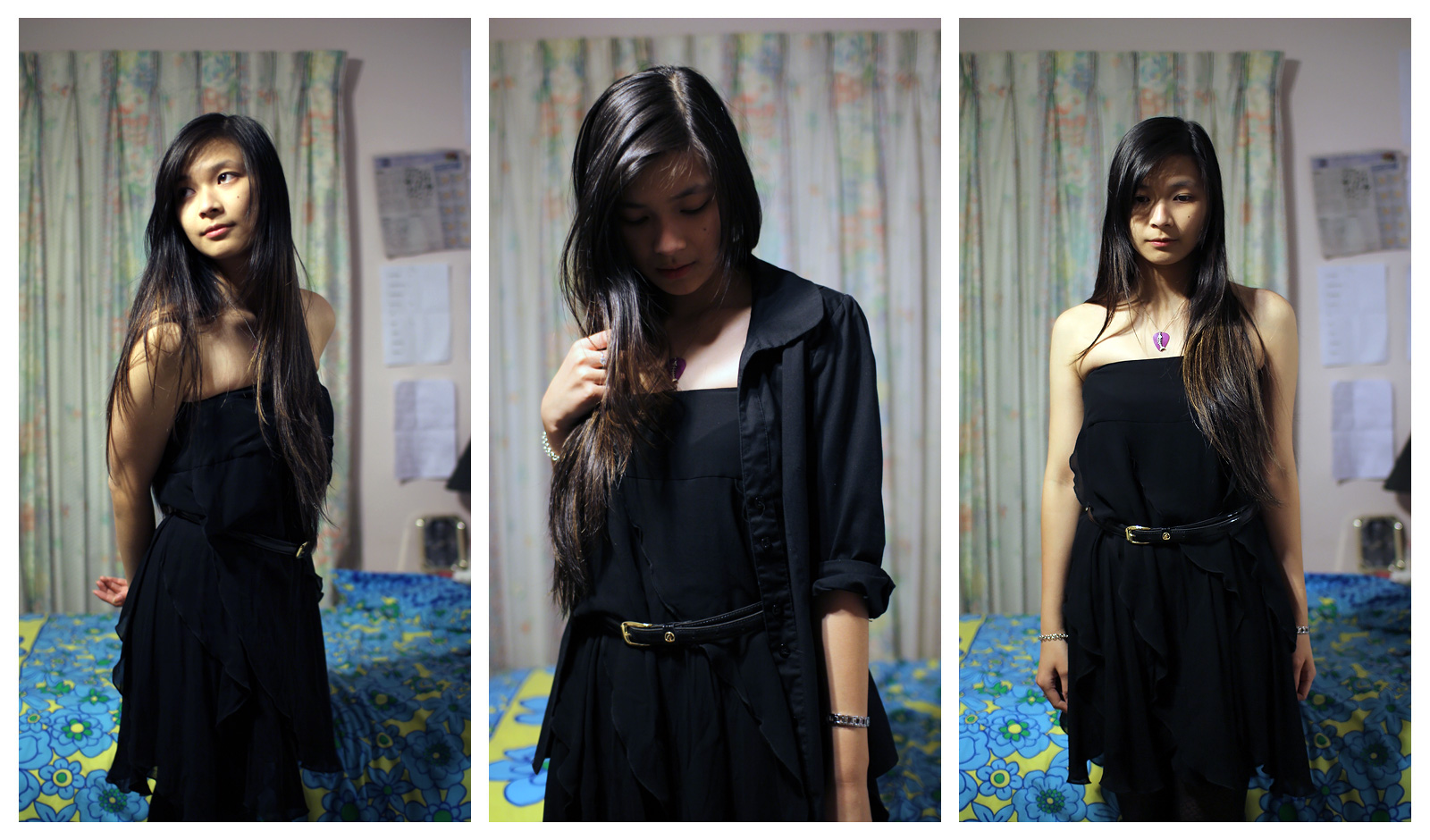 I didn't really like the way the skirt floated out so I wore a belt. Sadly the belt didn't have enough holes so I had to wear it pretty loose and it wasn't holding the dress in as tightly as I wanted. Oh well. I also didn't feel like wearing the dress without something over it so I just wore a large collared shirt that I featured in my previous Fashion Friday post.
I wanted to share the following story last time but I didn't get to. I hope it doesn't fill up too much of this post!
That time I photographed two gigs in one night
Last Saturday was purely hectic because I had to photograph two gigs. I purposely double-booked myself, knowing full well that if I got accreditation for both gigs, I would be running up and down the street shooting both gigs at once. But I really wanted to photograph Palms even though I had already been assigned The Delta Riggs. But, well, because I'm superwoman, I applied for both and got accreditation for both.
So Saturday night was crazy crazy crazy. Starting at The Standard, one of my favourite venues, I was ready to run back and forth between the two venues based on this schedule:
The Standard
The Mountains: 8:30pm – 9:00pm
The Walking Who: 9:20pm – 10:00pm
The Delta Riggs: 10:30pm – 11:30pm

Brighton Up Bar
The Guppies: 9:00pm – 9:30pm
Unity Floors: 9:50pm – 10:30pm
Palms: 11:00pm – 11:45pm
I knew things would not really run according to schedule but I was glad I got my hands on the set times to have a rough idea of when each band was on. I was lucky that there were two things in my favour: both venues were about five to ten minutes' walk from each other, and they were also lenient (being small bars), so I would not be limited to photographing the first three songs. I had been told to move away from the stage after the first three songs at the Palms gig, but I sort of bent this rule…
I had told the security guards and the door men that I would be going back and forth between the venues to photograph, and they were very nice about it — I just showed them my entry stamp. One of them introduced himself as Michael and continued to say "welcome back!" when I returned.
After shooting The Mountains, I dashed up to Brighton Up Bar for The Guppies but everything had been pushed back half an hour, which meant that things were not going to go to plan. After sitting for a while, considering waiting for The Guppies, I decided to just head back to The Standard and shoot The Walking Who. I was quickly done with that, knowing that it would be more important to make sure I got a ton of photos of The Delta Riggs, as they were the headlining band. So when I decided that the lighting for The Walking Who's set was trash, I left and just caught the end of The Guppies' set. I stuck around for Unity Floors, photographing them a little while, before making the same decision about their lighting as I did for The Walking Who, and walked back up to The Standard.
It was quite full and The Delta Riggs were already into their third song but I gently pushed through the crowd when they finished, and made my way to the front to take photographs. I was initially worried I wouldn't get any shots of them because there were so many people, and I didn't really want to squeeze around the crowd. But I'm happy with the outcome. I really enjoyed watching the band as well. I had never really listened to their music and I was blown away.
Of course, I wanted to stay, and meet the band, but I eventually had to run back to Brighton Up Bar to catch Palms. I caught the end of their set, lucky that was enough for me to get some photos, including some photos of a girl who was having a ball at the front of the crowd, throwing around the glitter confetti that flooded the stage. Palms were, of course, excellent, and I made sure I said hi to the lead singer Alex, who remembered me from the last time I said hi to him.
Going through my three sets of gig photos last Sunday evening, including Hey Geronimo and Deep Sea Arcade, I realised my Deep Sea Arcade shots turned out pretty good! I am really proud of them. And of course, I went all glassy-eyed over how wonderful my Hey Geronimo ones were; I think I am truly blessed to always have gorgeous lighting when I photograph them.
After many long hours I also went through the 1100 photos I took on Saturday night, picking out the best. My Palms gallery and The Delta Riggs gallery are now online and I am insanely proud of the Delta Riggs one because I got some amazing shots. I know I never get paid for my work, but it is extremely rewarding. /love