Do You Hear: An evening with Cub Scouts and Millions
Yeah, alright, so I clearly prefer Cub Scouts to Millions – but both bands are terrific. This afternoon I went to an all-ages gig at the Metro Lair to see these two lovely Brisbane bands, the former known for their catchy melodic pop pieces and the latter known for their tunes inspired by garage rock. They were supported by Sydney rock band Pear Shape, who are just as cute as their name!
Having seen Cub Scouts already, and for the first time practically a year ago supporting Ball Park Music, I really wanted to see them again, so they were my main reason for going. Other factors that made me want to go to this gig was the fact that I hadn't been to an indie-music gig in well over a month (my last being Hey Geronimo), and I wanted to drag my camera along to a gig again, and I really enjoyed the last couple of times I was at the Metro Lair.
It was a challenge taking photos around all the people. The show had actually sold out a few days ago, but the Metro Lair has a small capacity, so it really didn't seem like the place was filled up. It was comfortable, and the balcony area was filled with a bunch of people, though not too many. As it was an all-ages show, young teenagers eagerly waited at right in front of the stage for the show to begin. This made it difficult for me to really bumble around with my camera, and it doesn't help that at 5 foot 2, I'm ludicrously tiny. There was a very tall girl who walked around me a few times, and I had no choice but to just move and creep around the edges of the stage instead.
Most of my photos were taken at unusual (unusual for me, I suppose) angles from the side of the stage or from the stairs at the side. It's a change from my regular closeups, and it's fine stepping out of my comfort zone. After all, I was really there for the music.
Pear Shape played a quick, playful set, with the frontman amiably mentioning that most of their songs were in the same key, so they sounded the same. It might not have made any of their songs easy to remember, but I'm super keen on diving into their music because it was certainly fun and certainly my kind of music.
Cub Scouts were wonderful, and just as I remembered them. I loved their song Hands, which singer Tim Nelson actually wrote about a girl in his anatomy class who was so into the cadavers they were working with. It's such a lovely song even though the lyrics are so literal and dark. I have to say, it amused me a little when I found out what the song was actually about.
I watched her tear your heart
Right out of your chest and it made me start
To think that maybe its not fair
Though I know you're not aware
It's definitely one of my favourites, along with Do You Hear, which has a terrific music video. I remember hearing this song the first time I saw them, and the keyboard was what I remembered so distinctly from the song. I adore Tim's ability to write about such unique topics but put them in a song in such a lovely, serene manner.
The highlight of Cub Scouts' set was probably their medley/cover of Destiny's Child (Say My Name and Jumpin Jumpin) and Beyonce (Crazy in Love). It sounded amazing with Tim's vocals and with the band's iconic use of keyboards, and it was proof that Cub Scouts aren't your ordinary pop band. They've got such a unique sound, such catchy tunes and are impossible not to love. I had a chance to meet the band later and got them to sign my copy of their EP. From following the band on Twitter and Instagram, I just knew they were lovely people with such vibrant and lovable personalities.
In real life they were much the same but ever so modest.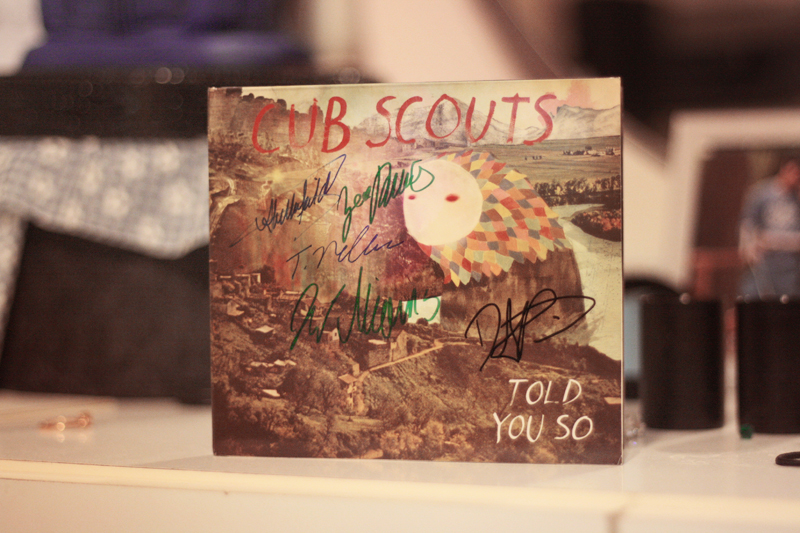 Millions played an awesome set to finish the evening, and got the crowd dancing and jumping up and down. I have to say I enjoyed Cub Scouts more, but Millions are definitely a band I'll be looking into as well. I allowed myself to listen to some of their music throughout the week and I was quite impressed. They aren't exactly the most unique band on the planet what with the amount of garage-rocking Brisbane bands but they are a band that play well live, enjoy it, and make everyone else have a great time.
Did I mention they're also kind of cute and charming? ;)