The Ocean at the End of the Lane
Last Friday I went to see world-famous author Neil Gaiman with my good friend Seb. I've never been to an author talk before, and if it weren't for Seb telling me about the event, I would well have missed the once-in-a-lifetime opportunity.
Neil Gaiman is author of best-selling children's book Coraline, comic book series The Sandman, and novels Stardust and American Gods. The event, titled 'An Evening with Neil Gaiman', was held at the City Recital Hall in Sydney, in Angel Place – where a lovely display of bird cages hangs between two tall buildings. Although Neil Gaiman was not there to autograph books or for a meet-and-greet of sorts, he was there to share and read to us excerpts from his upcoming novel The Ocean at the End of the Lane, and children's book Fortunately the Milk.
Words are extremely difficult to express the beauty of what was performed in words, but it was such a magical experience listening to Neil Gaiman read. I was so enthralled by his personality and the way he read and expressed himself whilst reading The Ocean at the End of the Lane. It was wonderful and I was completely drawn into the book. I could have closed my eyes and been taken away, but the dim light was enough to make me feel alright watching Neil Gaiman telling his story from his small podium on the stage. I really admired him. After the intermission and during the second half of the evening, Neil read part of Fortunately the Milk. I am absolutely in love with the title of the book. During this segment he was supported by string quartet FourPlay, and they added a wonderful depth to his storytelling, as well as playing the Doctor Who theme song.
I'm definitely looking forward to Neil Gaiman's two books come mid-year and will definitely get my hands on them. I definitely have a different view of audiobooks now, and punnily enough shouldn't have judged a book by its cover considering I have not heard an audiobook from start to finish. In a question-and-answer segment at the end of the evening, Neil answered a number of questions from people who had attended. He said that he does like audiobooks because as opposed to actual books, you cannot skip ahead and it sort of forces you to really be a part of the book (in a good way). Someone had asked him, "Did you know that American Gods is an anagram of creaming soda?"
This resulted in an echo of laughter throughout the hall, before Neil asked who actually asked the question (it was someone at the back). He said, "Well, I do now." XD I was so glad that Seb had a good time as well, he even wrote a blog post after months of not writing. :D
We got a new car today to replace the one that got smashed. The new one is a Toyota Camry Atara and it's mega. I was amazed that I could use Bluetooth to connect my phone to the car and answer phone calls and play music from my phone using the car. In comparison to our old car, there is a lot more room. It seems like there's a lot more room, at least. The black interior is so lovely compared to the ugly grey we had before. I felt inclined to edit these photos because I've never once thought a car was cool until now.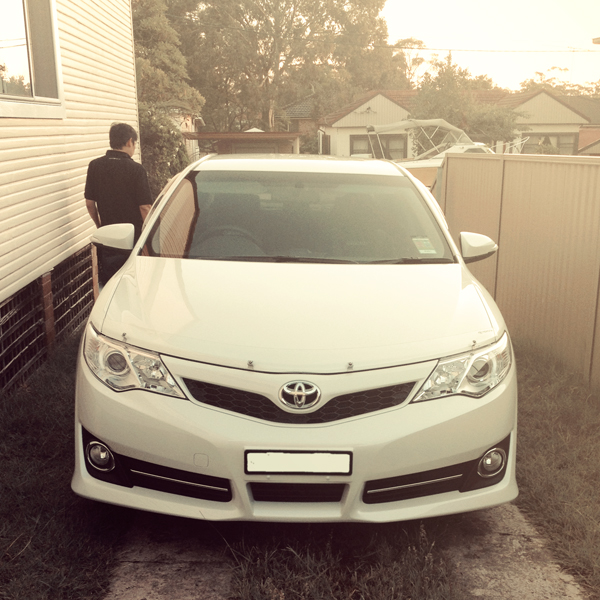 My dad's in that photo above. I swear he wasn't admiring the car, just checking out the door. (He isn't a young and hip dude who shines his car every morning.) In the following photo – I was just gobsmacked seeing that I could play music on my iPhone right from the car. My mum was inside the house and I texted her just to tell her how awesome this car is. She and my dad are still getting used to the car because it's very different from our old one. The location of buttons and gears and brakes is enough to make them a little puzzled.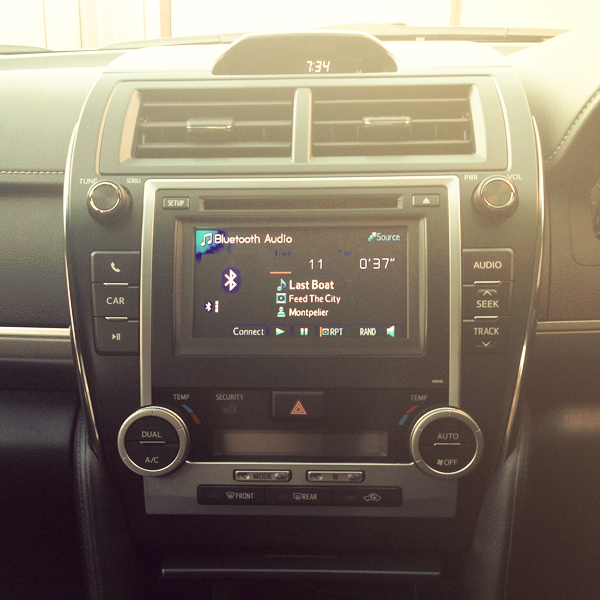 Last week I went to see Hey Geronimo twice. As usual they were wonderful. I enjoyed Thursday's set more than Wednesday's – there were a lot more people attending, they played more songs, and it was nice to see the audience having a good time. I had the honour of sharing some of my photos and writing a review of the two gigs for Canadian music blog A Music Blog, Yea? and you can view my post on their site. It sums up my two nights pretty well and in more depth than I will here! I also enjoyed Thursday night because Dylan was able to accompany me. It also occurred to me that I've dragged him to more Hey Geronimo gigs than any other band, and he's seen them nearly as many times as I have (seven, cough).
It was lovely to see the guys performing again that night, with just as much energy as the night before. I was genuinely surprised when Pete introduced a new song One Way Driver (it's not actually new – it's new to HG, but it was performed by Pete's old band at some point) and said, "This one's for you, Georgie." /love
So, here's one of each of them.