More dinner dates
Last year, there was a response to my blogging survey that mentioned my lack of blogging about dates with Nick compared to my dates with my ex(es). 😕
I think that was the same person who said that I had been rude to them and that they still read my blog even though they don't talk to me anymore, and I admitted to being a mean person on the internet many years ago and that I'd now like to put that behind me. I didn't particularly like that the person brought up my past relationships (perhaps because they also happened to not be on good terms with me) but in hindsight, I was just being bitter. Anyway, in my reflections on the survey responses, I sort of brushed that comment away and wrote about how changes in my relationships had been tough.
I decided that I would like to write about dates more, in particular dinner dates. Writing about Lilian's and my best friend lunches (or dinners) got me started on writing about food and restaurants again. Nick and I do go out for lunch or dinner quite frequently and we try new places. I don't consider myself a foodie because what I eat isn't very diverse and I can't be bothered taking food photos like I did a few years ago, but I like trying new restaurants as much as the next person. 😋
On New Year's Eve we went to Yebisu Izakaya, a Japanese restaurant that I have been to quite a few times recently. I did go there with Lilian on our last couple of catchups, but Nick hadn't been at all.
I got him to try the lotus root chips, which I am super obsessed with. They really just taste like tasty chips (Nick says that too), but I like them. I took these photos on my phone, so they are by no means amazing, and I didn't put in much effort to make them look presentable!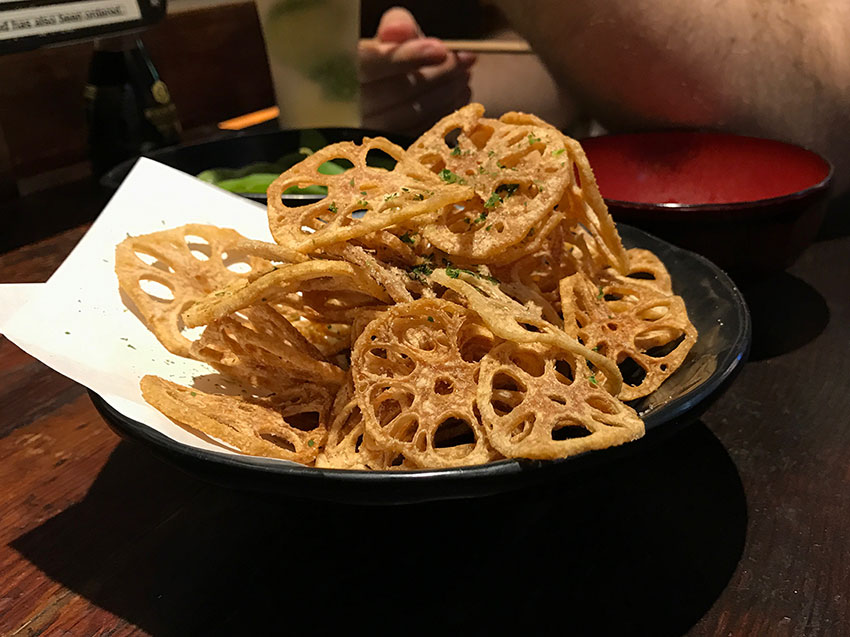 Nick got some pork gyoza which he downed before I could even take a photo. I kid – he didn't eat that fast, I was just too engrossed in the lotus chips. ;) I used to take a photo of everything on the table, back when camera phones were still "new", but these days I only take a photo if it's worth looking at later or if the food is particularly appealing.
I got a drink called China Blue, which I got at the Japanese BBQ restaurant we went to in December. I love blue drinks… anything with blue curaçao just gets me. 💙🍸 Nick got a mojito, that's definitely one of his favourite drinks.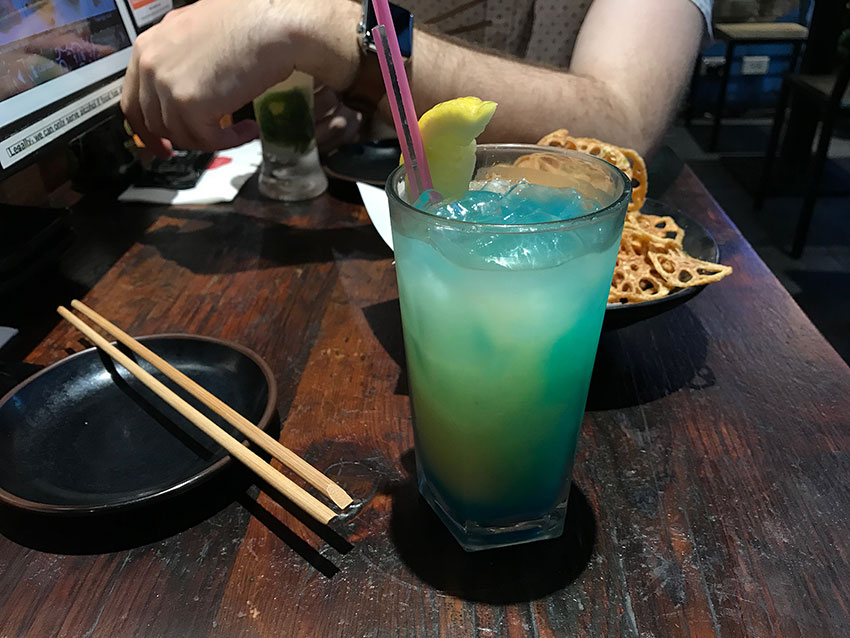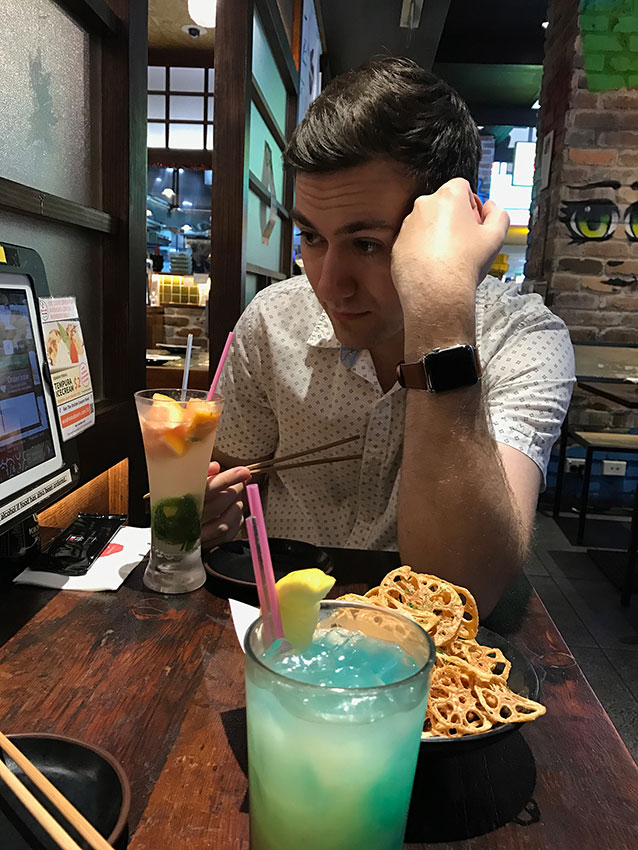 I couldn't go without sashimi, so I got a mixed plate of that. Nick has always thought that sashimi tastes like nothing, but I sorta got him into it, and he had some from this platter. I have loved sashimi since I first tried salmon sashimi, the texture just felt really good on my tongue. Sashimi is raw delicacies, and raw seafood doesn't float everyone's boat, but the interesting thing is that it doesn't really taste as fishy as the real thing. I think some people may disagree with me there, but many people have indeed pointed out that it "doesn't taste like anything" because it's mainly eaten for the texture. Some raw fish tastes good to me and some doesn't. For instance, I am not a big fan of raw snapper.
We got some aburi (grilled!) sushi, which is our favourite. Grilled salmon sushi always tastes good. We got a plate with grilled kingfish and grilled scallops too.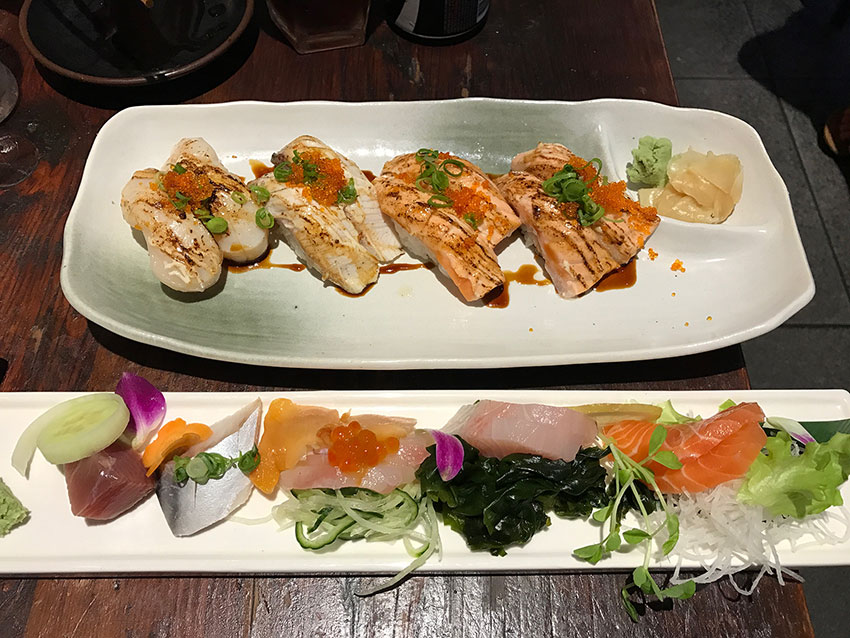 It's funny how sushi fills you up quite quickly! You'd think you could eat a lot because they are small but the rice makes you full. After we ate, we took the photos I shared in my last blog post and then headed to my office where it was briefly open to show the 9pm fireworks in Sydney. Our office is on the 38th level so we got a pretty good view. It was hard to get a good photo, but I'm sure our fireworks get a lot of worldwide television coverage. 😆🎆
We escaped home to watch the midnight fireworks on television. After trying to see them a few years ago in the city, I was pretty turned off by the crowds and how long it took to get home. I definitely prefer to see them on the screen. 😜
I'll probably try and write about my outings more, so hopefully you'll see more of what I'm up to. I may or may not review the food, though it might come naturally if I'm trying out a new place. I just aim to write more about restaurants, so I don't have a strict format as of yet.
Hope you are having a great week!