Delicious
I went to James's house today. It was a really cold day. I thought I'd remembered everything when I walked out the door of my house. When I was waiting for him to pick me up at the station, though, I remembered… I remembered that I forgot something. :P
I didn't bring my digital camera. I know I have a camera on my iPhone but I like being able to use a proper camera because naturally, the quality is so much better, and I really like how the photos turn out compared to photos from a phone.
It was a stray pair of green gloves that someone just left on the ground. Poor gloves. Some poor person was also suffering with cold hands.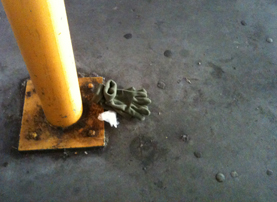 Anyway. We bought some groceries because we planned to make savoury muffins. It's been a while since I've made muffins, since I'm not much of a cook. /um The last time I made them was in school when I was about thirteen years old. They were so delicious and from that day, I preferred savoury muffins to sweet ones.
Since we hadn't had a proper breakfast, we had eggs. James tried to fry them but they didn't turn out right. We ended up having scrambled eggs. :)
We did laundry. James apologised for it, except I didn't see it as much of a problem. I was already grateful that we were spending time together after not seeing each other in so long. James is probably the only person who makes chores fun. Most of the time at home, chores get really lame. Don't tell anyone that. ;)
Our muffins turned out to be spectacular. We used mushrooms, ham, cheese, celery, and onion. Some of the ingredients we just chose on a whim. We didn't even think of celery until the end, when we realised it was going to be super weird not having any green vegetables. :P And we randomly decided to put some raw salmon into some of the muffins, and we topped all the muffins with cheese.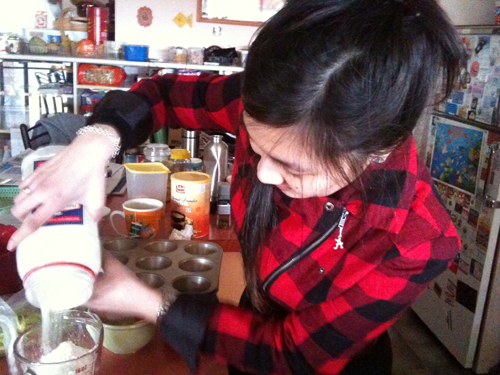 When they came out of the oven and we tried them, they were soooooo delicious. /drool The ones with salmon had a really interesting taste. All the muffins were delicious!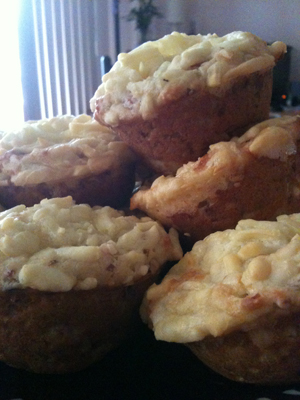 It was very fun making the muffins. /bounce I'm going to post more photos on my photoblog soon, so watch out for that.
James got me my ballet exam certificate yesterday. The one I had been waiting seven months for. Since last December when I took the exam. I feel really proud because I got Honours, the highest grade possible. For my last ballet exam too, I am so glad. :) And I owe James for picking it up for me. ♥️
I'm feeling really exhausted, I haven't really gotten around to comments yet. Sorry. /um