Counting The Hours You're Awake
Ooh, whee, yay, huzzah – I passed. I passed my first semester of university! /brow ✌️
Okay, so for my three subjects, I got a Pass and two Credits. Which isn't bad, but I could have done better. It just happened that I got better marks for assessments with a lower weighting. Not cool. :P
I'm going to try harder next semester. Now that it's getting closer I'm a bit worried though. Worried that I will lose it and spiral downwards again. I have to cut back on the website work when I go back, which means I'm going to be working hard now!
My timetable is a lot better; I don't have to come back home at 7:00pm on Tuesdays anymore, so I won't be sitting in class losing concentration at 5:00pm, and seeing James before I go running for the Lithgow train at 6:10pm. Especially in a subject I don't like. :D
James and Lilian also passed so congratulate them please! ♥️ Also, James finally managed to fix up his dodgy internet; I haven't talked to him properly in a while. He should be home soon, yay!
Many of you were really excited about my scribble portfolio, and I'd love to give out the URL, but it's really not finished at all. I would like to thank Vivien, Rachel and Lilian for helping me out so far! I still have over a hundred scribbles to scan and everything so it might take a while. At this rate I should be done before I go back to university though. :) And if you're lucky I might open it earlier. I just have a lot of works from 2007 and 2008, that's all.
I would just like to make a quick note on the website. I have a lot of reviews to do, and I know I seem to be able to do a lot, but I might not be able to get them done that quickly, so please be patient.
Also, I will be moving some of my domains and registering new ones for certain projects. I have a photography website planned, as well as a possible advice site, and of course a domain collective for my many domains. If anyone can think of more ideas, do let me know.
I have a giveaway planned for October, which is Heartdrops' birthday. There will be a few domains given away and possibly some cash, so keep an eye out. I won't be having a referral contest though. This one will be a bit more interactive and will probably require a bit of advertising for Heartdrops and/or my other domains. I will probably be asking some of my close affiliates to help out and get involved. I will also pop in a bit of creativity like my last movie-poster contest. /pirate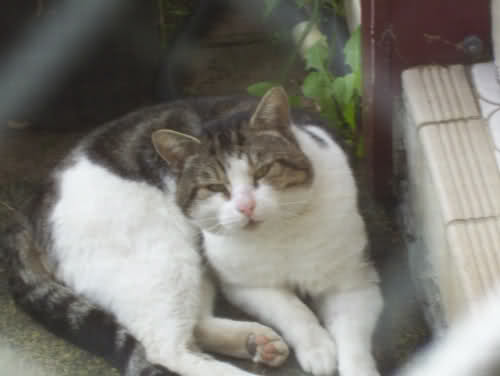 Who remembers the fat cat I blogged about last week? The one who left shit on my lawn? Well, if you need a picture to help you visualise the evil cat, I have included one.
This same fat cat came back. Yes, that's right. I was chatting to my mum and she pointed at the door and started saying, "Cat! Cat!"
I turned around to see. Shock horror. I was outraged. This same cat had come by again, and there was no way in the world I was going to let this furball shit on our lawn again. No way in the world. I rapped on the glass to signal it to get the heck out, and then it began walking away.
Good.
I got a picture of it walking away. Fully sick, huh? :P