Condolences to the unknown
The other day I successfully broke the "B" key on my laptop. /poo I was vacuuming my room (like a good girl) and decided to give my laptop, Fin, a nice clean, too. Unfortunately I have a sick habit of not using a compressor and just pulling out all the keys, being a daredevil and hoping they won't break when I do. Then I vacuum out all the dust bunnies, because, what the hell are they doing there?
Unfortunately, I couldn't stand typing with the B key constantly falling off, so I made the decision to swap the broken bracket with a working one, from another key. I chose the key with the backslash… so now, since I got annoyed at my finger brushing against the key and making it flip every time I hit backspace, I just put it aside. There is a visible hole in my laptop keyboard. But so far, I haven't needed to use the backslash symbol or the separator symbol (the secondary symbol) on there. :D Regardless, I'm getting a new keyboard for my laptop. Hooray for replacement parts. I am probably going to replace my keyboard only when this one has completely worn out. I should stop pulling out the keys to clean them though.
Today I had photography class again. It's been hectic lately, and in a week, I have two assignments due. I've got to do some research and also take photos, and process and print the rolls of film. I really enjoy photography and I'm glad I'm taking some photography subjects next semester too. I had to talk to the class about the photos I chose to print. One was of James, and the other of my guitar. I just described the pictures as "my boyfriend, who is a pretty quiet person sometimes. I like him in this jacket, and I took it in a park because we really like going to parks together so it's a pretty meaningful place", and "my guitar which I got seven years ago. I think the shadow gives it some personality, because I always like naming my stuff but I was so ambiguous with my guitar, I kinda just called it Max…"
Surprisingly my tutor liked my photo of the guitar. I didn't think it was fantastic, but he liked the interesting shadows on it. He did a demonstration on my photo of James, because it was a good example of a photo that needed some minor manual editing. When we were all in the darkroom, he said, "I can see the midtones in James's hair". After a pause he asked, "Is that his name? James?"
"How did you know his name was James?" I asked, surprised.
"Ohooo Georgie, I knew there was something creepy going on in here!" my friend Addison replied.
"Yeah… I just said 'my boyfriend', I didn't say his name was James though."
Psychic tutor. @_@ XD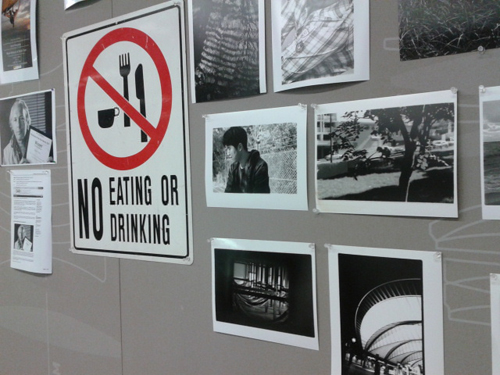 Today I was listening to Last Friday Night by Dave Days. I popped it onto my iPod this morning. I couldn't resist. It was the only song I listened to all day. At the train station, after buying some film and photo paper, I was waiting for my dad to pick me up and a young man next to me asked me a question. I had to pull out my earphones to hear him. The poor guy had lost his wallet and was waiting for a friend to give him some money. He had no identification on him either, and his mum wasn't able to send him money without him having ID. He seemed pretty frustrated too.
We had a nice conversation, apparently he had a job interview that didn't go too well, and he was planning to move to my area too. Eventually we got to talking about studying and music, and it turns out he was in a band and plays the guitar as well. He was really polite. He even asked if I minded that he smoke. Well, I just tried hard not to breathe in while he did (ugh, really hate the smell of smoke), since I didn't want to be rude and say something like 'no you cannot smoke in this completely open space you idiot'. But it's not often that you have a friendly conversation with strangers, really.
After my dad arrived to pick me up I just waved him off and wished him good luck… well, what in, really? I just said "good luck". I guess sometimes I assume what people think I'm referring to. Good luck in an exam. Or best wishes in the ultrasound or x-ray. Or good luck in the performance. Or good luck getting something done at the gym. Or have fun. Have fun ice skating. Have fun out with your girlfriend.
As I learned in photography, we have a rapport with different people. There are always minor things that are special to your relationship with someone, that are non-existent in relationships with other people. No one else will understand high school jokes and muffin love and enjoy adventure and "herb" and "ngege" and "nad" and "tahee" and the language between me and James. No one else will understand "bolor" that exists between me and Rachel. No one else will read my mind better than Lilian. No one else will have the same connection me and Sebby have with the music of Plain White T's. No one else will have the same experience that I've had with Mike, of taking endless random pictures and just talking about the most random things under the sun or watching each other eat.
"It's not the same". It isn't. That is why there are so many things irreplaceable.