🏁 27 by 27: Checkpoint #1
Hey everyone! I feel like I haven't written a post about what's been going on on a daily basis, and there was a whole week I didn't post at all because I was really busy with meetups, wedding planning and work. Today I am going to write about my progress with my 27 by 27 goals list and start writing regular checkpoints.
Gym progress
Related goals:
💪 Achieve a physical result of a more visibly toned abdominal area.
🍑 Achieve a physical result of more shapely glutes!
With the goal of achieving a more visibly toned abdominal area and a more shapely butt, I have been adding squats to all my gym routines and this entire month of May I have worked out my abdominal muscles for an average of 5-10 minutes a day. This was better than 5-10 minutes a week! I'm looking at Darebee, an online fitness resource, for inspiration. I started doing a daily ab challenge but halfway through the month got bored and started to mix it up a bit by combining some other exercises. I find some abdominal exercises to feel better than others.
I'm starting to see some more definition under my ribcage – they say upper abs are much easier to get than lower abs. 😆 But I'm happy with the progress and took a few photos, though I don't want to share them just yet until a bigger change is visible and the progress is more obvious. Same with my butt, haha – not quite sure how I feel about sharing photos of that kind of progress on my blog just yet.
Cholesterol levels
Related goals:
🍎 Lower my cholesterol to be at a level of 5.0 or less.

I got my cholesterol levels checked a couple of weeks ago and sadly it's gone up from 5.8 (six months ago) to 5.9. It's a little disappointing but my doctor did up my medication from 5mg to 10mg, and said we'll check again in three months to see if it's working. I'm also trying to exercise an extra day a week. I usually do three times a week but I have been trying to do four or five.
On top of that, I am trying to watch what I eat and add better things to my diet, whilst cutting out the junk. I've been looking to add healthier snacks such as celery, and started to eat more high-fibre cereal for breakfast instead of always going for hot eggs. I also ate baked beans today – I love myself some beans!
Meetups and that learning JavaScript thing
Related goals:
🎤 Do a presentation on something JavaScript related at any meetup.

👩🏻‍💻 Comfortably learn enough JavaScript to be able to stop considering myself just a beginner.

I am not really much closer to getting a JavaScript presentation going but I did grab a coffee with Dan Siepen who co-founded Coder Factory Australia. He spotted me at the SydJS(J) meetup a month ago and wanted to hear more about my history with coding. He invited me to do a talk at an upcoming SydJS(J) and even talk to the next cohort of Coder Factory students. He said I'm a good example of someone who isn't a master at everything, and still learning JavaScript even though I have excellent skills in other areas – and yet still work for a great company (and worked for great companies in the past). With many people, women especially, talking themselves down, I might be able to give them a different perspective by being an example of someone who owns what they are good at but works on what needs work.
Although I'd love to do something technical with regards to a JavaScript talk, I think my running joke on "I don't know JavaScript" is well exhausted and I should do a new talk to address that, maybe something like, "hey, I know JavaScript now 😉".
I have also enlisted the help of my colleagues such as Chris to help me with JavaScript one-on-one or in a very small group. Putting aside an hour a week to learn things from someone more experienced is really helpful, and they can serve as a mentor to your learning.
I've also found a handful of Node Girls and Women Who Code meetups which are JavaScript oriented. On Saturday I went to a JavaScript workshop and had fun building a sort of bot (check out my Twitter Moment that summarises it!). I enjoyed the experience even though I didn't take away much that I could use at work.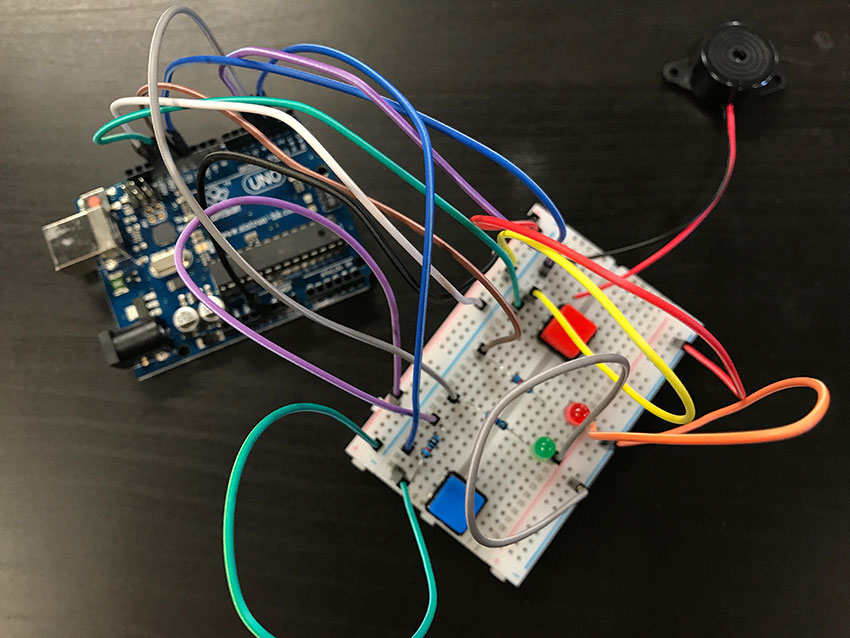 Catching up and getting to know people
Related goals:
☕️ Get to know at least five people in a one-on-one over coffee/tea.
 (3/5)
In late April I grabbed coffee with Leanne. Leanne runs Next Level Escape, an escape room in Sydney. She designed one of the rooms in there and there are more to come! I met her at the Girl Geek Sydney meetup where she gave a talk about debunking myths related to finding and working with your passion (she is also an author!).
In May I met up with Christle, whom I met at SydJS(J) and who messaged me after I did an announcement at Girl Geeks (about finding cosplayers or fashionistas to photograph – related to one of my other goals!). We grabbed lunch and had a good chat mostly about finding work and work experience. She also told me that I could stop buying yuza tea for $5 at Caffe Tiamo and instead buy a big jar of yuza citronella for $5.50 at the Korean supermarket!
I also met up with my friend Gwen this month. I would say she would count as a friend I haven't seen in over a year, but I think she counts better as getting-to-know. We went to university together but only had one class together. We always bumped into each other at the same concerts and are both into concert photography. Recently when purchasing tickets for Mayday Parade (a band we both like), I shot her a text and suggested we meet up because we've known each other for ages but don't really know each other all that well!
Gwen and I had a lot of loooooong text message as of late, as we've found we have quite a few things in common! We spent maybe like 3-4 hours chatting over dinner, which is hilarious. 😂 Definitely looking forward to more catchups with this awesome gal 👌
So that crosses off three people already, out of five. I think I should have given myself a bigger challenge with this, because it's actually not hard to approach someone and say, hey, I'd like to get to know you better since we always bump into each other – how about coffee?
🏁 Have a look at my 27 by 27. See you at the next Checkpoint.