Why I decided to own less than 20 physical books

I love reading, and I read a lot during my school years, but I haven't been reading much recently. I read almost any book that I am recommended, and am open to most genres. Like music, I give all books a chance. Recently, though, I have enjoyed reading about design, web development, business, and product development – non-fiction books, over fiction ones.
One of the last fiction novels I tried to read (on my old iPad) was Red Mars by Kim Stanley Robinson. It must have been about three years since I tried to read it, but I found the content so boring, and discovered that I possibly didn't like political-style science fiction very much anymore. It took me six months to struggle through 300 of the 600 pages. It was a defining moment in my reading, because since then, I don't remember reading many more novels until I discovered non-fiction.
I got my first iPad about four years ago and was addicted to reading books on it. I am not sure if I prefer a physical book, but nothing about them bothers me, and reading off a screen doesn't bother me either. Perhaps I don't like carrying around a six-hundred-page book (and I don't mind those) on my travels, but I am happy to sit down and read one.
However, the day came when I looked at my physical books and decided that… it was time. It was time to let some of them go.

The History of the Library and the Notion of the Pre-loved
I had a dream to own as many books as I could. I was a fan of many authors and many series and wanted to own a lot of books so I would have a visible collection. But what my 'collection' consisted of was about two hundred books which I liked, but I didn't love every single one.
Books are expensive to buy. Even though I love to read and used to love purchasing used books, many of these books eventually stopped being read or touched. Even if I read the books two or three times, the books simply took up space.
I liked to make use of the local library to find books to read. As Manda recently discovered, having a library card gives you free access to an absolute plethora of books that you can simply borrow and feel zero obligation to keep or find space for.
As I loved to buy pre-loved books because of their affordable price, I knew that my books wouldn't go to waste because someone else would love my books.
With all these things in mind, I went through my bookshelf and picked out the books that weren't my favourites, and posted a list online in case anyone wanted to buy any.
Finding a better home for the books
I was able to give a handful of my books to Seb, who found some books from my collection that he wanted to read and own a copy of. Further than that, here is a list of things I did to get the best homes for my books.
I called up local libraries to see if they were interested in taking my books. Some did not accept (even though I didn't want money!), and required someone to go through the titles because they were picky about what they wanted.
I asked second hand bookshops. This was a similar situation to the library. They only took certain titles, but it's still worth asking because you may get lucky.
I donated to charity. Vinnies and the Salvation Army were happy to take some of these for free. You might have something similar in your area.
A donation bin may accept books. These were fitting for children's books in particular.
You could have a garage sale to sell your books either individually or in bulk.
You can use classifieds like Gumtree or Craigslist to sell your books in bulk and someone in your area can pick them up.
You can try selling them on Facebook or social media as well, which seems to be quite common these days.
It was difficult letting go of books that I had spent money on, but knowing that they had good homes made me feel much better. Knowing that I had spent time reading them and enjoyed having them was enough to let them go without regret. I also knew that if I wanted to read a book again, I didn't have to own the book. I could borrow a friend's. Or borrow the library's.
I could even buy an e-book to have a digital copy. You can possibly get a PDF if you don't have an e-book reader. Although I didn't have a physical copy, I was still able to re-experience the feeling I got from reading the book itself.
A shelf of favourites
Don't get me wrong, cleaning out my two hundred books took me about two years. It must have been about two years ago that I gave Seb those books. After that, I was able to realise what my favourite books were. Every time someone asked for a book recommendation, I would recommend a handful of books, and I owned all of them in a physical copy. Those were my favourites, and the ones that I decided to keep. I got rid of any other books.
If I didn't feel like a book was worth recommending or raving about, or if I felt like some were worth talking about more than others, then they were favourites and others were not.
I had two shelves of favourite books until I cut it down to one.
A list of the books I currently own
These are the eighteen physical books I currently own, in alphabetical order by author. I can easily say that some of these are my favourites, or they bring back memories because of where I bought them.
The Book of Tomorrow, Cecelia Ahern
One Hundred Names, Cecelia Ahern
The Time of My Life, Cecelia Ahern
Black Hearts, Arlene J Chai
And Another Thing…, Eoin Colfer
Brother Fish, Bryce Courtenay
Matthew Flinders' Cat, Bryce Courtenay
The List of My Desires, Gregoire Delacourt
The Great Gatsby, F Scott Fitzgerald
Fortunately, The Milk, Neil Gaiman
The Ocean at the End of The Lane, Neil Gaiman
Mother of Pearl, Melinda Haynes
The Earthquake Bird, Susanna Jones
The Catcher in the Rye, JD Salinger
The Pilot's Wife, Anita Shreve
Sun At Midnight, Rosie Thomas
The Book Thief, Markus Zusak
The Messenger, Markus Zusak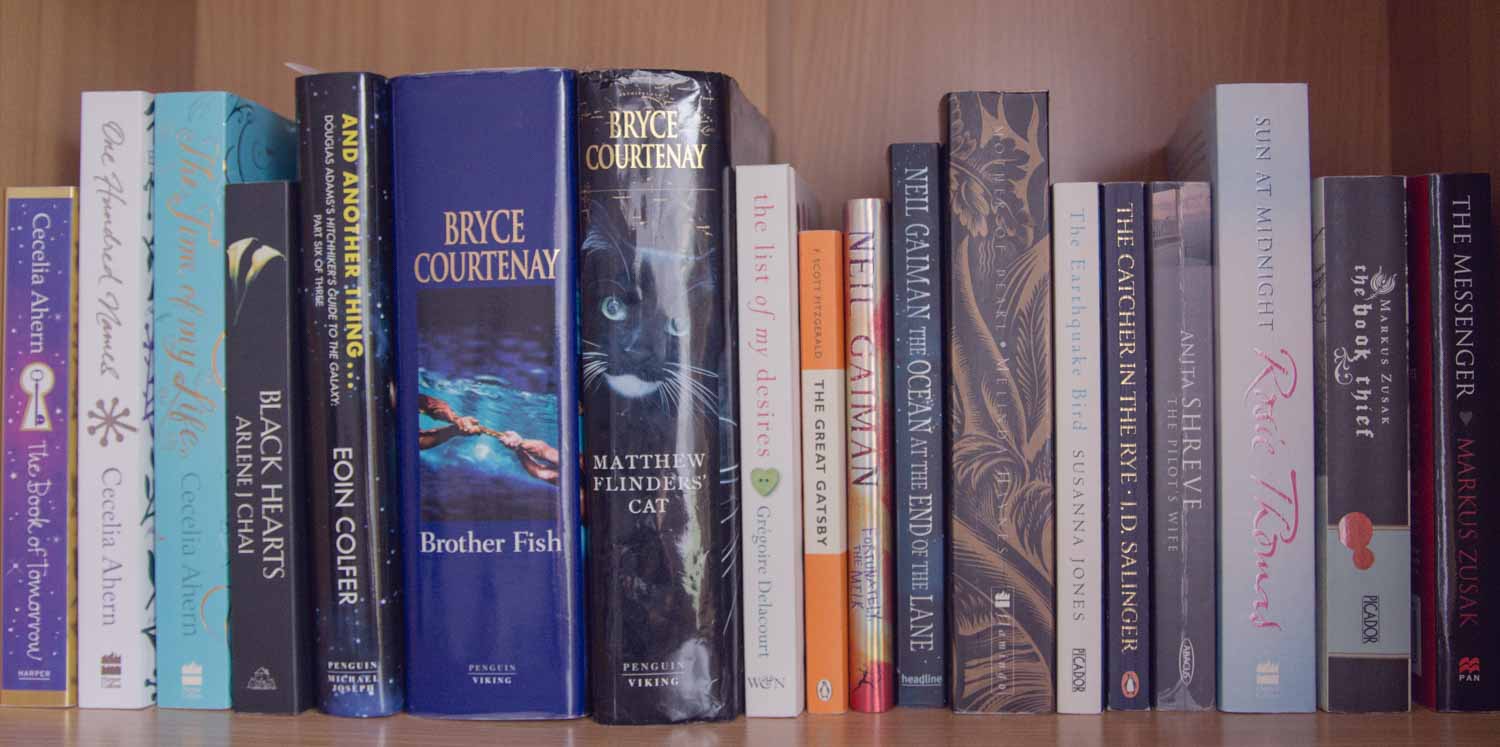 There are some books that I consider my favourites, but I don't own physical copies of them. It doesn't mean I like them any less. I still remember that they are my favourites.
Have you ever tried to pare down the amount of books you have? What strategies do you have to declutter your books?
Related posts