2 minutes and 40 seconds with Arian Xhezairi
After promising to have him first in line for 2015, developer of blogging engine Chyrp, Arian Xhezairi, says, "I bet I've been the most undisciplined interviewee you had to deal with". I've still given him the honours of being the first in 2015, and forgive him for his delayed response in answering these questions. No doubt we all have a life to tend to outside of the internet!
Having been a previous user of Chyrp (I currently don't use it too often), I was honoured that Arian stepped forward to express interest in an interview. Also working on things other than Chyrp, Arian has supplied a short-and-sweet profile, and a photograph of himself.
Software Engineer with a craving passion for Web and Mobile technologies. Ex military lieutenant. STS analyst. Father of a newly born precious princess.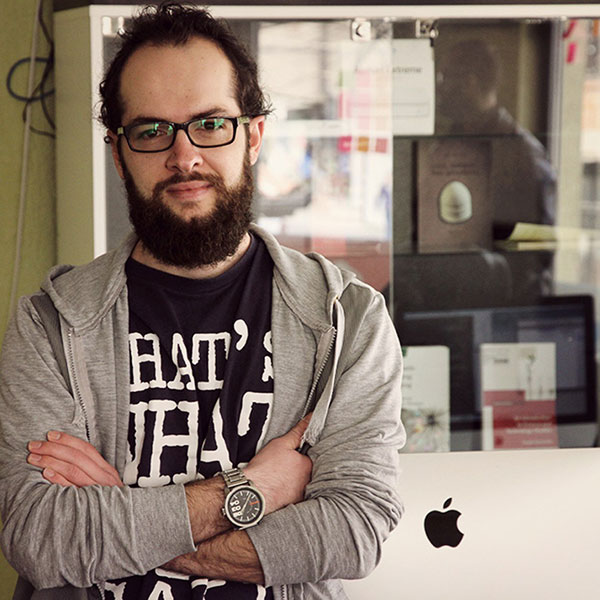 Here are the questions I asked Arian, which I am very grateful that he took the time to answer. As today was the next available day I had to post, we can thank Arian for letting every second Wednesday (instead of Thursday) be the publishing date for new interviews. :D
What is one thing you would like as a gift this year?
Either of the two: MacBook Air 12-inch or GoPro Hero 5
If you had a potato as your best friend, what would his or her name be?
Gülaydin
If you were at a bar, and you had to order two of the same drink for yourself, what would you order? (Can be non-alcoholic if you don't drink.)
Tonic Water
What is your favourite vegetable?
Hungarian wax pepper
What is your favourite item of clothing to wear?
T-Shirts
What song reminds you of your daughter the most?
Ramadan Krasniqi – Dy Të Dashura
Imagine you are skating on ice and you are quite good at it. Someone yells out to watch where you are going. Would you rather trip and fall on the ice or crash into a group of people and knock them over?
Crash into a group of people and knock them over. With pleasure.
If you could choose, would you rather spend time playing board games, going on an inflatable jumping castle, or going to a pool with a giant slippery slide?
Definitely a pool with a giant slippery slide.
Would you rather have arms of strawberries or m&ms?
Strawberries all the way.
Would you rather sleep in a bed of half-boiled eggs or sleep in a giant box of cornflakes?
The giant box of cornflakes sounds more like an Alice in Wonderland adventure. Don't dare missing such an adventure.
Would you rather drink water from a shoe that has just been removed from someone's foot, or eat from the bonnet of a car?
Yuck. Not the shoe, lol, no. I'd rather eat from the bonnet of a car.
Pick a number. Multiply by nine. Divide by six. Subtract two. Add twenty-six. Multiply by two. The number is how much money you have to spend on a night out for dinner. How much is it?
66.5€
What will you buy for dinner, if you have enough money? If not, what will you cook at home?
Recall one embarrassing moment you will never forget.
After finishing a meal with a friend at a restaurant, unintentionally we went out through the Emergency Exit door which set off the fire alarm. You can imagine the rest of the reaction that took place at that moment. :)
If you could be anything you wanted to be in life, realistic or imaginary, what would you be?
Superman.
You can catch Arian at: