Velociraptor: My latest obsession.
I'm not talking about the dinosaur. I'm not talking about any kind of regional cuisine. I'm not talking about flying dinosaurs. I'm not even talking about flying octopi, so you know that when I'm obsessed with something called Velociraptor, I've actually gone really mad, or just loopy, or probably had too much chocolate, or probably tried to eliminate white sugar from my diet.
Or all of the above. I did have too much chocolate last week, and I just decided to pound my chest like Tarzan and announce to the world that I'm yet again not going to eat junk food for at least a month (which is something I seem to do every five months).
Anyway, what do you get when there are twelve people in a band? I used to think, a royal mess. Why do you need so many vocalists, why do you need this, why are there twelve people, does one person take one string of a twelve string guitar, does one person take a snare drum… nope.
Garage rock ensemble Velociraptor is a twelve-piece band hailing from the place I wish I lived in – Brisbane. If it isn't obvious how much I love Brisbane bands, I hope that the sheer magnificence of this band makes it so.
I first heard of Velociraptor about eight months ago, when I heard about their new record, one of their shows in Sydney, and the fact that they had twelve people in their band. My reaction was, "what?" Of course, as I've known from a lot of the music that I've heard: it tends to sound better live. It also tends to sound better the second time around. (Hey Geronimo, sound familiar?) The first song I listened to by Velociraptor was Hey Suzanne. It's something I can just sing along to all the time. It's ridiculously catchy, and I dare to say it's probably more than catchy. And it's insane after a glass of vodka. It's got hollering and yelling of the sharpest kind, and it's got twangy, crunchy guitars and lyrics that are perfect to yell back at the band when you see them live. And that's exactly what bands love.
However, I can't keep going on like this, just telling you about how awesome Velociraptor are. And while it may have been fate that I got a rather oversized Velociraptor shirt dress when we worked on Label State at work (they sell cool tees – support bands, check it), well, I went to see the damn band on Wednesday because by then I was dying to see them live.
I've probably disappointed you now because I can't really think of words to describe how it was. If you want to know what twelve people on a stage look like, here's a basic idea (photo from Beach Road Bondi's Facebook).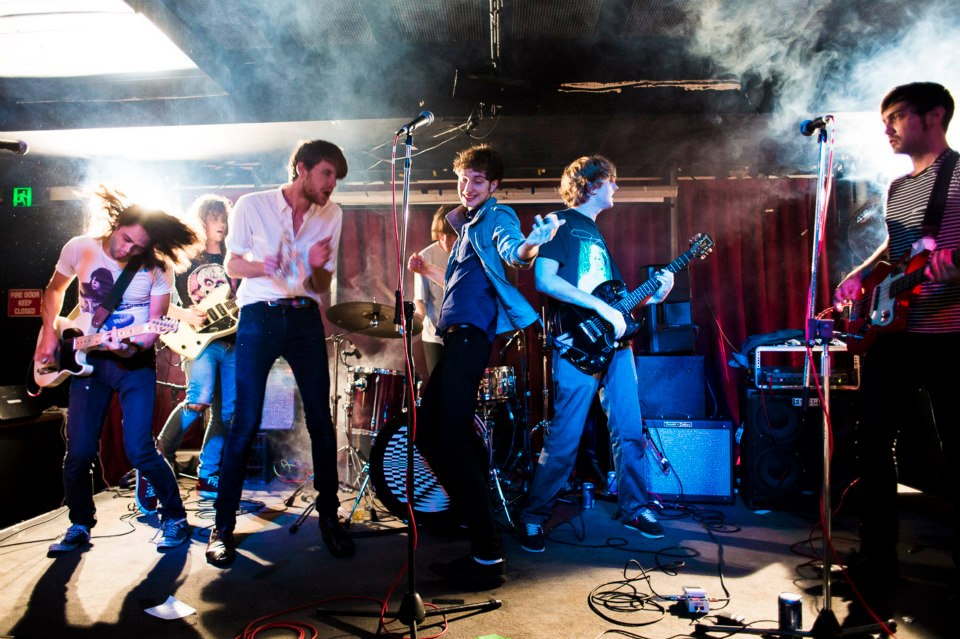 And of course there are only seven of them, but having the extra five probably wouldn't have made any difference to how they performed. Now, I like metal music, and I like playing music loud, so I was expecting an environment somewhere in between. I adore garage rock a little more than I care to admit, and often it sounds shit on recordings. I suppose that's why I had to see Velociraptor live. They were bound to put on a crazy, energised show, and the fact that they sound pretty good on recordings made me want to go and see them even more. And they really did not disappoint.
The band that played before Velociraptor was City Riots, a three-piece band that plays what I'd call "dreamish" pop. They were pretty good!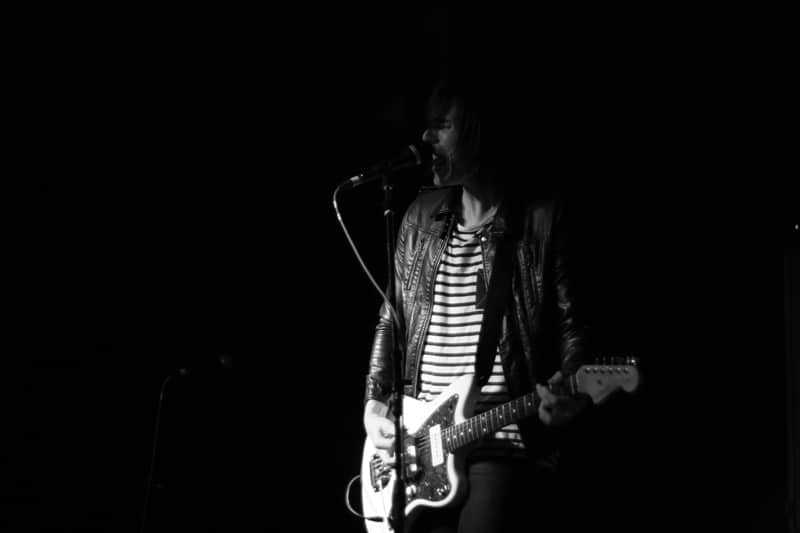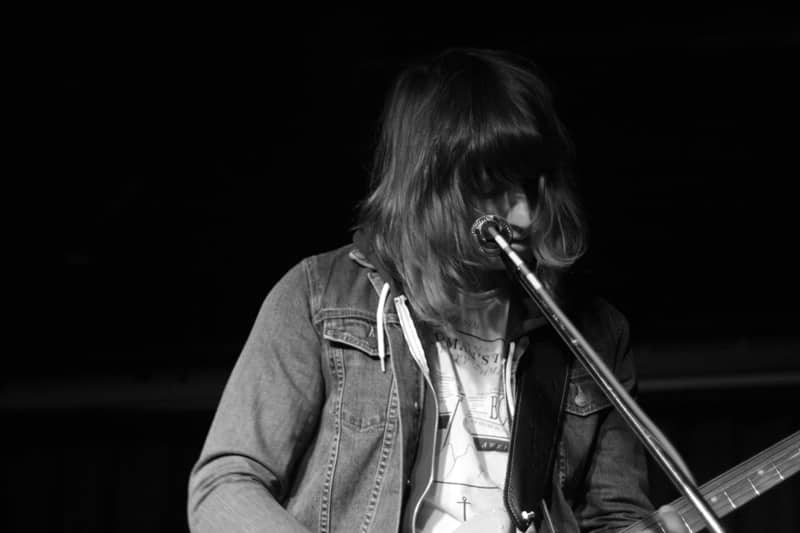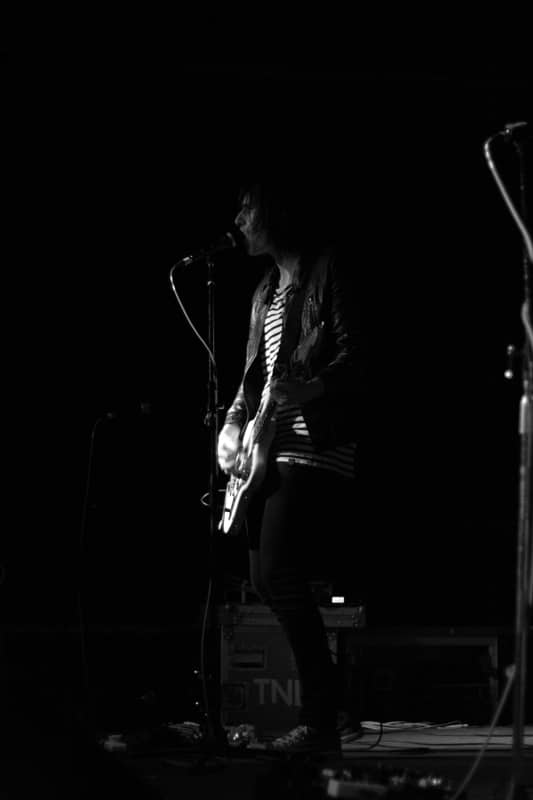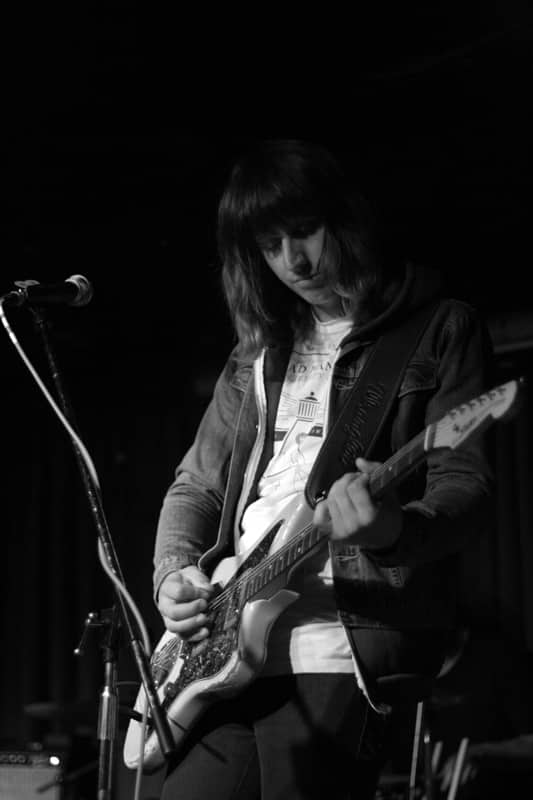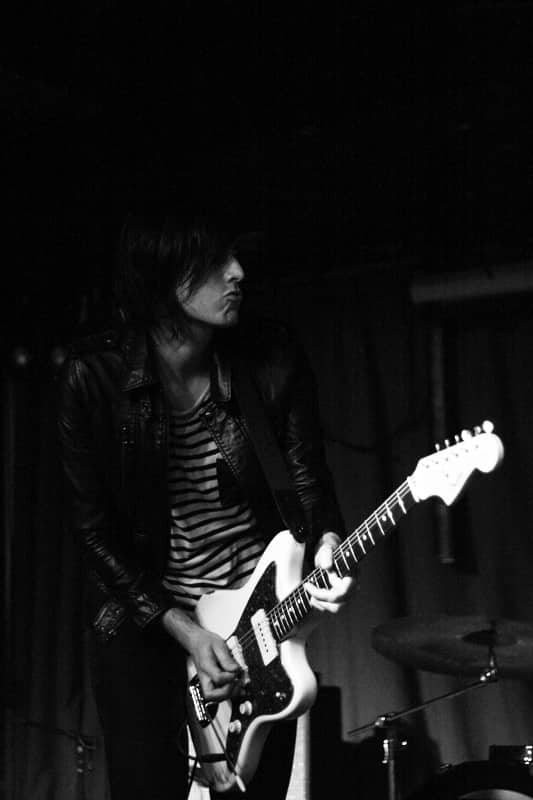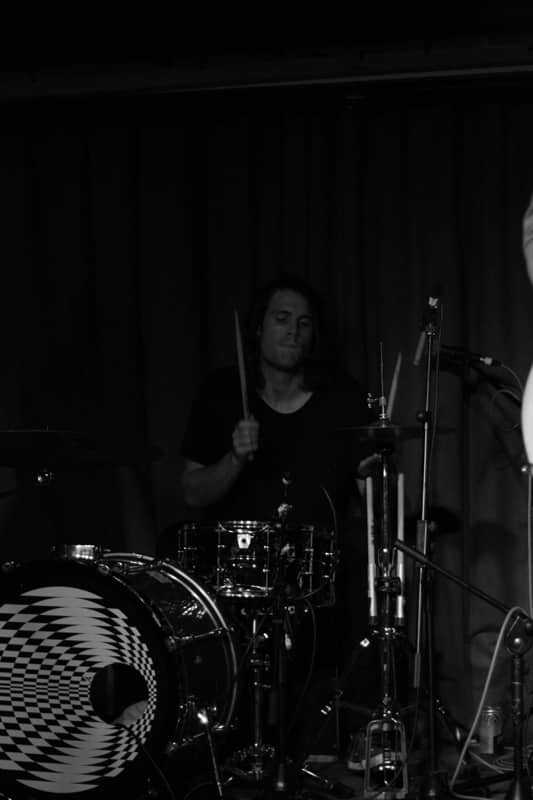 I brought my prime lens so there was severe lack of zoom on my part, and I couldn't capture everyone in Velociraptor (or at least, the members who were present on Wednesday) with my camera. They were stupidly insane and amazing at the same time. Garage rock really is better live, but Velociraptor even more so because of the energy they have while playing. I was thrilled that they played Hey Suzanne first, because I had made a pretty poor effort to listen to more of their The World Warriors mini-album (it only has eight tracks). I ended up buying the CD after the show and I got to say hello to lead singer Jeremy too. :)
It was really nice to hear some of their older tracks, especially them ending with In The Springtime, because I very much fell in love with their earlier music. There is no denying that The World Warriors contains some very good music too, especially the 60s-like Cynthia and the really catchy singalong Riot.
With most garage rock bands, I've seen them live, and afterwards, have really disliked their recordings in comparison. I don't feel the same with Velociraptor. Their recordings are great. Or maybe their aura has just been so majestic, it resonates into the music every time I hear it. Seeing them live was a great experience. I used to be bothered that it took me two hours to get home from Bondi, but Beach Road Hotel has become one of my favourite venues, and even though I nearly missed the last train home, Velociraptor's show was well and truly worth the effort.
I've left all the pictures for last. I had so many; I had a hard time culling and choosing an acceptable amount to post, not to mention they're all so good-looking.