Tuesday is the new Monday
An irresponsible man maimed our car today. Congratulations mate, you've caused a complete inconvenience in our entire family. My brother has to wake up even earlier on school holidays to make his way to tutoring. My mum has to completely rethink her schedule this week because we don't have a car. On days she finishes late, to avoid spending bucketloads of cash on a taxi, she has to wait for forty minutes in the dark for the next bus. My dad works night shift and has to leave home for work three hours earlier because he has to catch two buses and two trains and walk, because his office is by the highway and far from any public transport, and you know that there are less trains and buses at night. I have to catch a bus back home in the evenings, which makes for a longer commute, and on days I had planned to be picked up late at night from gigs, I've no option but to take a taxi.
Can I just add that this irresponsible man escaped the crash without so much as a scratch on his stupid Mazda?
It was about 8:50am this morning and I was feeling a little nauseous – too nauseous to walk to the bus stop – so I decided to wait until my brother was ready and my mum could drive us both to the train station. Brandon has had tutoring for the past week, even though the school term hasn't started, so it's like a summer class. I was running a little late to work already, but I decided that I'd feel a lot more refreshed by the time I got there because I would be able to power nap.
Well, the universe decided otherwise.
My mum was driving, and I sat in the back seat because Brandon got to the car first. We don't argue over seats, and I don't mind sitting in the back. I usually like the back because there's more room and I can just put my bag next to me instead of in my lap. There was a car in front of us, and it began to slow down and veer towards the curb of the road (we Australians drive on the left). Eventually it stopped, so my mum decided it was fine to drive past this car and go on our merry way.
Well, no. By the time we were right next to the car, the driver decided they would attempt to turn right. Clearly, this idiot didn't notice us right next to him and turned and rammed our car from our left. My mum lost control of the steering wheel as our car rotated slightly, but sharply, to the right. The impact was enough to make us all jump, but me immediately scream.
Many years ago I was hit by a car reversing into a pedestrian crossing – it wasn't enough to hurt me but I was nearly knocked clear over – and my first instinct was of course to scream. It seems to get the attention of driving maniacs.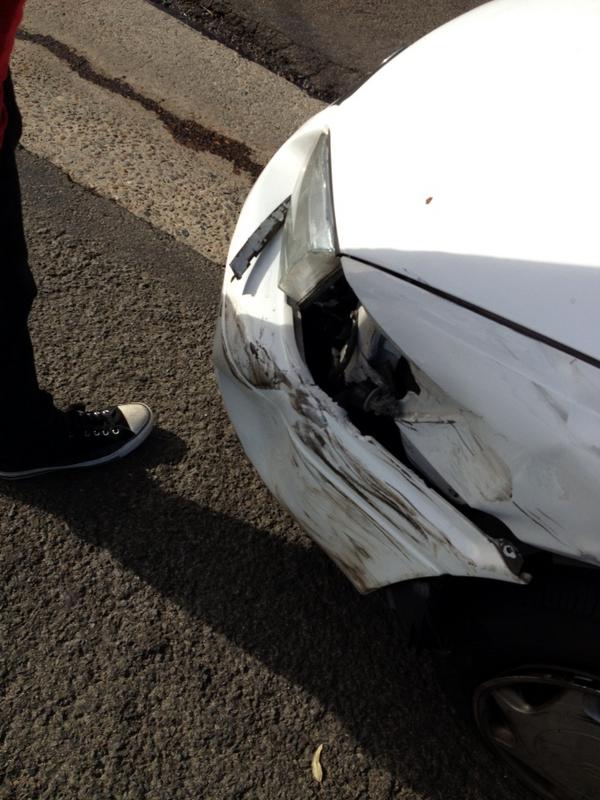 Anyway, after I realised what exactly had happened, I started shouting expletives. I was so angry I shouted a number of "fuck"s and "stupid"s. My mum got out of the car immediately and the man in the other car reversed his car out of the way. He seemed pretty chill when he got out, and my mum snapped at him right away, asking why he didn't even indicate he was going right. I think my mum does pretty well in these situations, she stays calm and collected, but I know I'd be the type to snap. I got out of the car once I felt calm and listened briefly to my mum's conversation with this guy, and he asked why we overtook him.
"You stopped your car," I snapped. He retaliated, so I said, "No, you had stopped your car, how would we have any idea you were turning right? From right there near the left hand side?" My mum continued to repeat that he didn't indicate or signal that he was going to turn or move right. The man seemed intimidated by two women telling him he was wrong, because he said he didn't want to argue and would just let the insurance deal with it. He exchanged details with my mum before he went on his way. He was actually turning right into the house that was right there, just behind where our car had stopped following the crash. /hmph
Our car was so busted. I didn't get a good picture of it because I didn't want the guy saying, "What, taking photos to post on Facebook? Huh? Huh?" or some other crap, so I did it really discreetly.
There was also a really long line down the body of the car and pieces of headlight and crap down the road. As I said, this guy escaped with barely a scratch. He said, "It's okay, we're both in the same shit".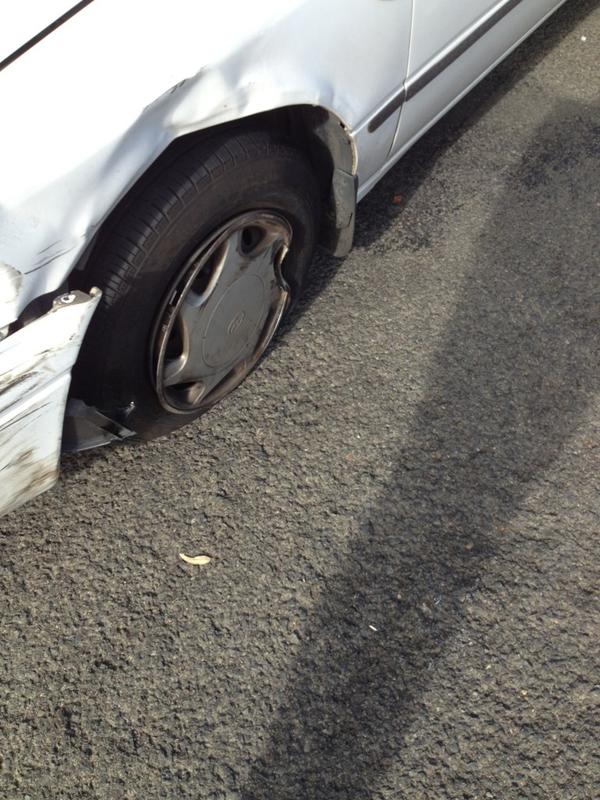 Haha no not really. Because you're not inconvenienced by this and you don't have to buy a new car.
Yes, our car got written off because the repairs were going to cost three times as much as the car is actually worth. So now we're on the hunt for a new car. Sadly it can't be a red Beetle like my dream car, but it's going to be a much better family car than the fifteen-year-old one we've had. After a sagging roof lining and a broken lock and rear windows that won't open all the way… I think it's safe to say it was finally time.
We won't be getting much from insurance because the car wasn't worth much anyway, but at least we can put some towards the cost of a new car.
I was on my way to work, after walking all the way to the nearest bus stop, and waited twenty minutes for the bus only to have it fucking drive past me. I got really upset, and my headache immediately came back at that point. I had signalled long before the bus came by and it just drove right past me. Like I don't give a fuck if you're full, I'm borderline anorexic and there was room for me on that bus. Thanks to you, I didn't go to work, you ruined my day, and you can eat socks dipped in rotten cheese.
Back to work tomorrow where I will surely have a better day. I swear I hate Tuesdays.