Things I Miss: Pixel Art
'Things I Miss' is an occasional segment on my blog about things that I miss. It could include places I have been, things I bought as a child, things I used to do, things that have become obsolete or are no longer produced like old television shows, foods, toys, and the like. Other posts in this segment are under the Things I Miss category.
Today is James's birthday, happy birthday James! ♥️
A while ago, Cat asked me if I miss my previous websites. Of course I do. I don't miss them for their quality, really, because my skill in graphic design was extremely basic, and I built things in MS Paint. The reason for this was because my website was mostly centred around pixel art and I didn't really need anything fancier to paint with.
My pixel art was not very good, but I think that is mostly what I set foot in. I was terrible at designing a website, and I would use crappy backgrounds and photographs, but I did try to use my own photos and personalise my website as much as possible. Pixel art just became a thing I did on the side, and a small section of my website (merely a page or two) was dedicated to the sub-hobby.

This is a very old website layout I created in about 2005, based on simple lines and 88×31 pixel buttons that were popular around the time. I pixelled little robots and I made the entire layout look like a rail network, even though the scaling is extremely off. If some of the stations are marked out by the large buttons, I have no idea what the little rectangles are supposed to be…
The names printed are the names of my friends whose websites I linked to. The content of the website appeared in the centre box, and yes, for those avid web designers out there, I did use iframes for the site's build at the time.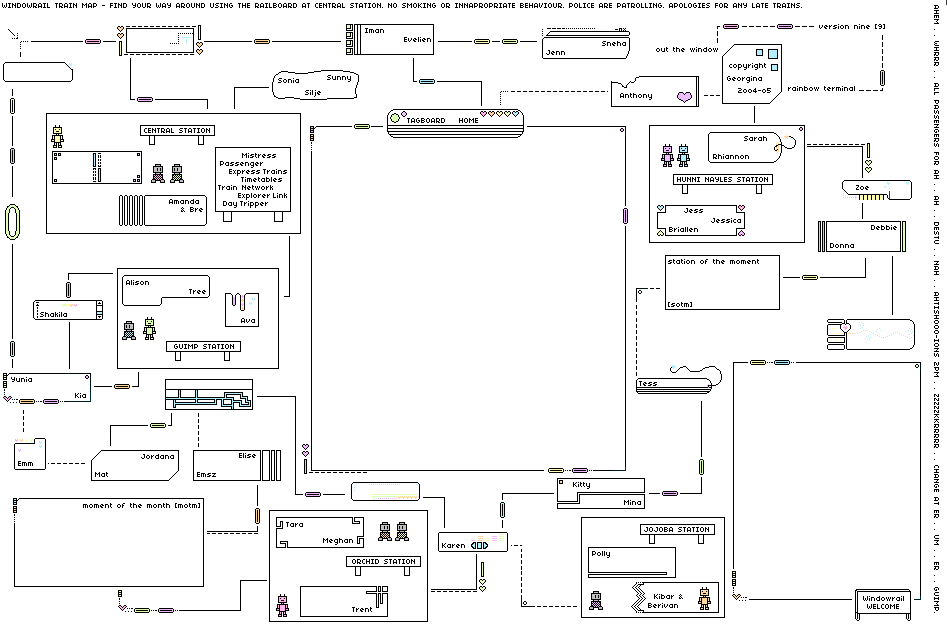 It was around 2007, the time I moved from a freeserver to being hosted by my friend Bennilyn, that I stopped building "cute" websites and became more focused on a blog. I stopped making cute pixel icons, and this layout was the last large piece of pixel art work that I created.
It is a bit off, and you can tell my style changes and deteriorates a bit. Some of my older pixel work had a lot of effort put into making them shine and look more realistic, and my more recent work became simpler and bland. The notes on this notebook were created long before I drew the actual notebook.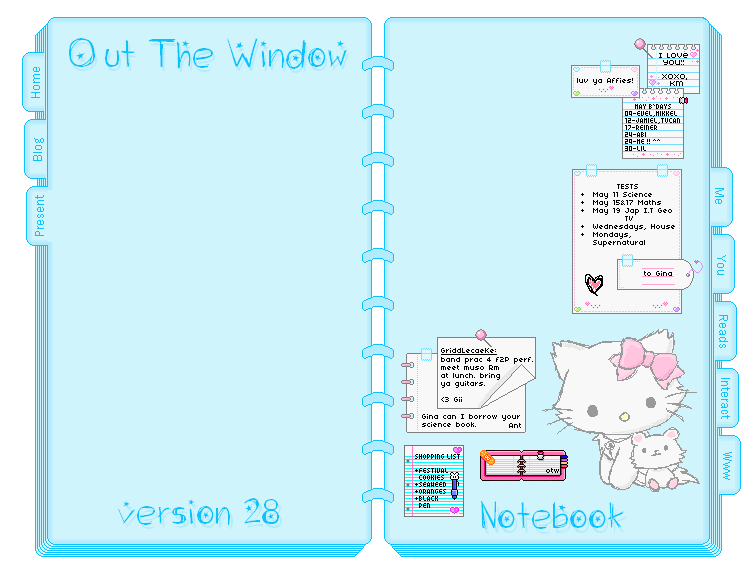 I noticed my style was changing, and that I was not putting as much effort into my art as I had before. Around the time, I focused on blogging, and my designs became more photography-based and utilised a lot of textures and adopted a scrapbook-like style.
The next time I did touch pixel art, it was to make the smilies that used to be available for download on my blog.

I no longer have the patience for pixel art, nor the skill. I tried, but I cannot really progress and draw anything better than simple circles, squares and other shapes. Picking colours and shading is a massive pain in the backside. I tried using a graphics tablet to help me out but I couldn't be bothered.
That being said, I do miss the days when I was able to do pixel art, didn't make a fuss, and people actually liked what I drew.
If I ever go back to anything, it will be the smilies, which I had many ideas for.
But other than that, I don't think it's something I see as worth my time anymore. Which is kinda sad, but I have found other things to occupy my time with.