The drive-in
My mum told me that when she first moved to Australia, one of her first experiences going to a cinema was at a drive-in where she and my dad watched Pretty Woman. Incidentally, it's one of my mum's favourite movies.
However, I'm pretty sure she didn't react the same way I did when I first went to a drive-in. I am not sure they are a big thing in Australia, but I know they are in America. When I heard that my mum had been to one, right here, in Australia, I was pretty surprised. A couple of years ago I knew they existed but they seemed like a novelty, and also a bit of a rare find. I am probably wrong, because I don't see movies often, so I wouldn't really know.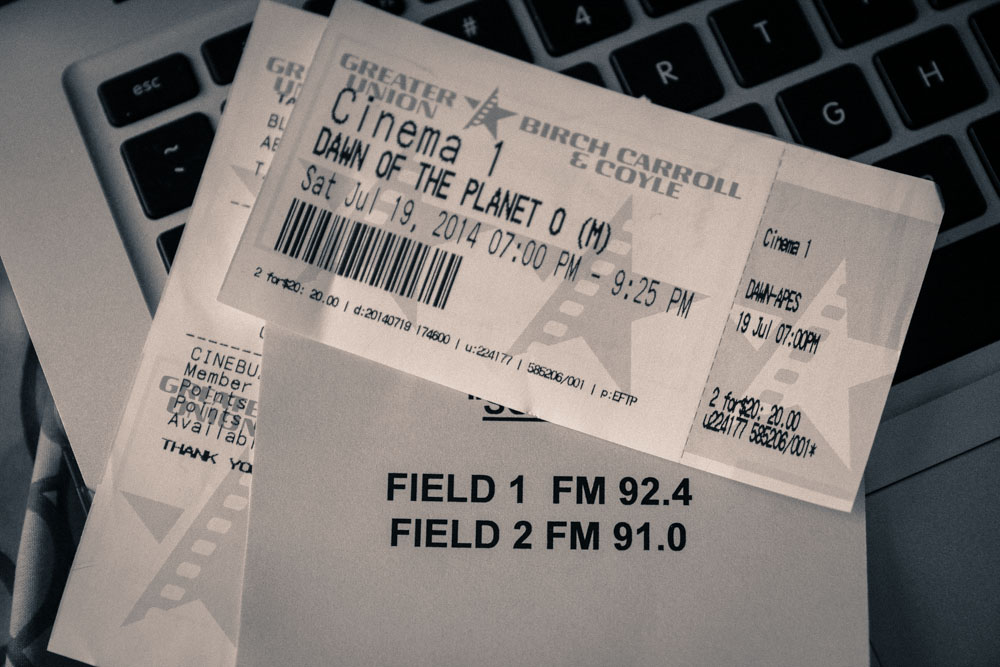 Tristan took me to one on the weekend, which was my first time going to a drive-in, and we saw Dawn of the Planet of the Apes. I hope that trumps all your assumptions, because Jamie tells me that the drive-in is apparently a make out point for couples, and Tristan is not only just a friend, but a movie about apes isn't romantic to say the least. Ha. Also, I hadn't seen the first movie, but it was a bit of a "whatever, I've never been to a drive-in, so okay" moment.
It surprises me that there is a drive-in near where I live, though. You'd think they have nothing in suburbia, especially not western Sydney, haha. When we arrived there I was completely gobsmacked. I said, "Oh my god, this is awesome. There is a diner. Holy crap. This is incredible." I went on and on (and on) about it for about twenty minutes, practically drooling over how quaint, but awesome, the place was. Yeah, okay, so there was just a huge screen and a diner up the back.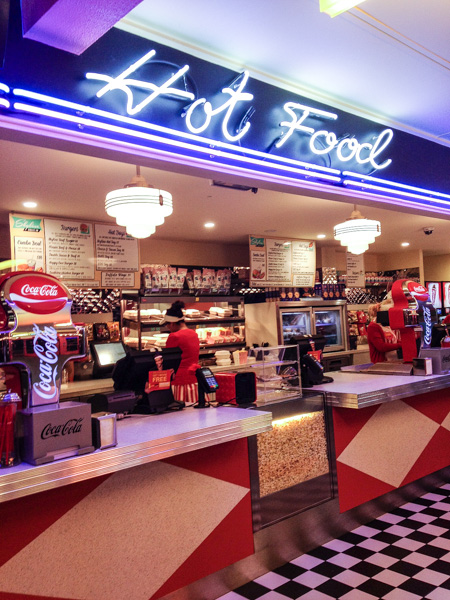 But I walked into the diner and I thought, "Holy crap it's a diner. It. Is. A. Diner." Sure, I had seen diner-style eateries before, and every Hungry Jack's eatery is designed like one, complete with wall decor, but this was different. I felt like I had walked into America, but that's probably inaccurate because I have no knowledge of an American diner other than from what I've seen in movies. We bought sweet potato chips, even though my mind kept telling me to get a damn milkshake. But it was cold and I wanted to return to the car where Tristan had brought his doona (I don't even call it a doona, he did. I usually call it a quilt… or just a blanket I guess). I'm sure I had a nap while we sat there waiting for the movie to start.
It was really good, certainly not a movie I would go out of my way to watch myself, but I am glad I got to see it. At some points the tension and violence was really upsetting and sad. I thought the communication between the humans and apes, and the apes with each other, was quite mesmerising. I don't have any other movie to weigh it up against, though. The ending wasn't a completely happy one, but it was a good one, given the rest of the movie. Overall I'm pretty satisfied.
I also got to drive a bit over the weekend, and my dad taught me how to reverse-parallel-park. It was not as difficult as I had initially imagined. You just need to take your time and look through all the mirrors. I've only tried it between cars in a rather empty street, though.
Time for a Random Irrelevant Part of the Post: Tristan and I went to a little playground in our neighbourhood, and I predicted that the calculator would use the digits 1, 2, 3 and 4, in that order. They usually do. The front of this section was labelled "Shop", and the calculator was just sitting on the top part. It reminded me of a toy kitchen I had when I was a kid, with a top shelf, a bottom shelf, and a stove in between with rotatable dials.