Review: Post Box Cafe, Yowie Bay
On the last Sunday of March, Nick and I travelled over an hour down south to meet a potential photographer for our wedding. We decided to book his services because he and his wife were absolutely lovely, and the sample photo album they showed us was just gorgeous. I had a whole list of photographers and connected a lot of them, only to find that many of them were not available. I thought, "How dare someone else have their wedding on the same date as ours!"
It was a bit hard to choose our favourites since there are so many amazing photographers out there. The photographer we liked the most and the one we went with was Kieran Moore. We also booked an engagement shoot with him some time in the future. We're very excited. ☺️
Prior to visiting Kieran at his home, we went to Post Box Cafe for brunch. It was only a very short drive away from Kieran's place. We really wanted "cafe food" and I searched the internet for good cafes in the area but there were not many. There is not much you can find out about Post Box Cafe on the internet, and there are only three reviews on Zomato, all sporadically posted over the span of a few years. The cafe seemed to have been in business for at least a few years. When there are not many reviews about an eatery online, I do get a bit skeptical. Was it really that good? Are they still open? Is it really quiet?
I only just remembered that the majority of people only leave reviews when they are disappointed, to vent their frustration and to help other potential customers make a decision, or to warn them to avoid the place. Personally, I usually feel compelled to write a review when a place is totally amazing, or if at least one aspect (food or service, for example) was amazing.
The only useful review I could find of Post Box Cafe was on Belly Rumbles, but it was almost three years old and I wondered if the cafe was still any good. There is also a post that shows the kids sandpit and a couple of menu highlights, but it's from a blog centred around kid-friendly places to eat. No hints at the menu there…
I tend to do extensive research before going to a place that does not have many reviews, but at the same time I love to scout lesser-known gems and check them out for myself.
Turns out Post Box Cafe, named for the red post box out the front, is one of those lesser-known gems.
We decided to go. We rocked up, and the cafe looked moderately busy, with a man reading the newspaper outside on the side, and a family or two out the front under the umbrellas that provided shade on the table. There was a tiny gravelled area for parking, but a few people parked on the road directly in front of the cafe.
We chose a spot outside and perused the menu. Although it was already 1:00pm, they were still serving breakfast.
For drinks, I went for an iced vanilla chai with soy milk. Not many places do an iced chai, so I was glad they did, and had a soy option! Nick chose a malted Golden Gaytime drink, and he said it was one of the best milk-based drinks he's ever had. I don't think many countries outside of Australia have Golden Gaytime – it's an ice cream with the flavours of toffee and vanilla, and usually has a lot of honeycomb pieces stuck on the outside. To die for, basically.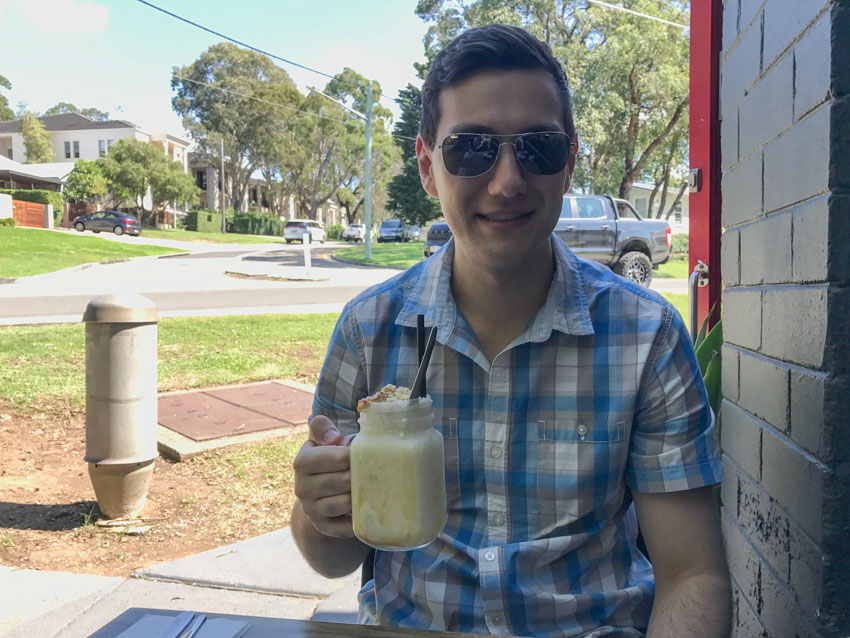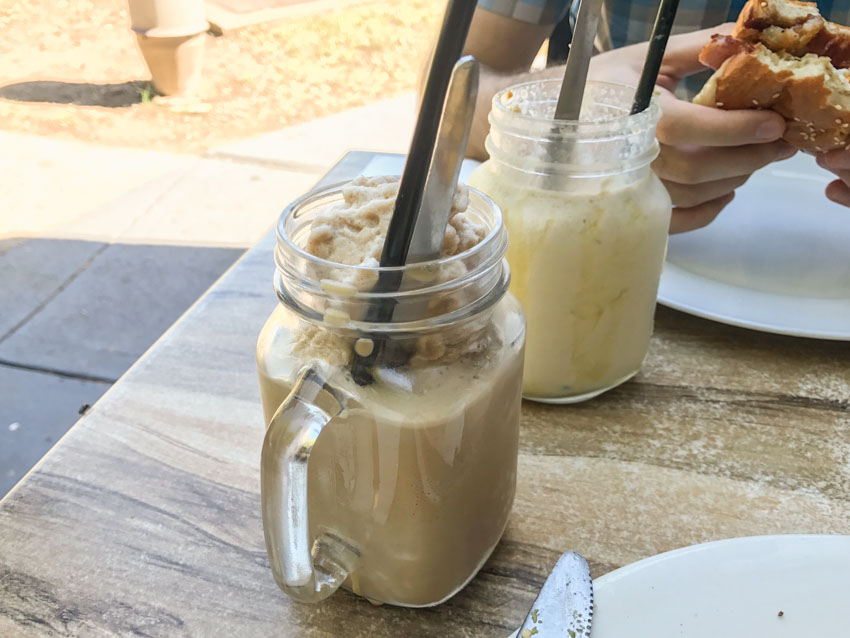 I wish I had taken a photo of the menus because they had some really great options, and many options for breakfast and lunch. The servings were, as a couple of reviews mentioned, quite generous. I went for the vegetarian breakfast (even though I did not feel like mushrooms at that point), and Nick went for a burger which had a hash brown, bacon and a fried egg, topped with barbecue sauce.
I enjoyed the breakfast and everything was cooked well. I had the option of how I wanted my eggs cooked and I chose scrambled. Only because I'm pretty sick of poached eggs now, and I didn't feel like the yolk of a fried egg making its way all over my meal. I had a hash brown with mine, which I really liked because not many vegetarian breakfasts have a hash brown included. It's usually at an extra cost!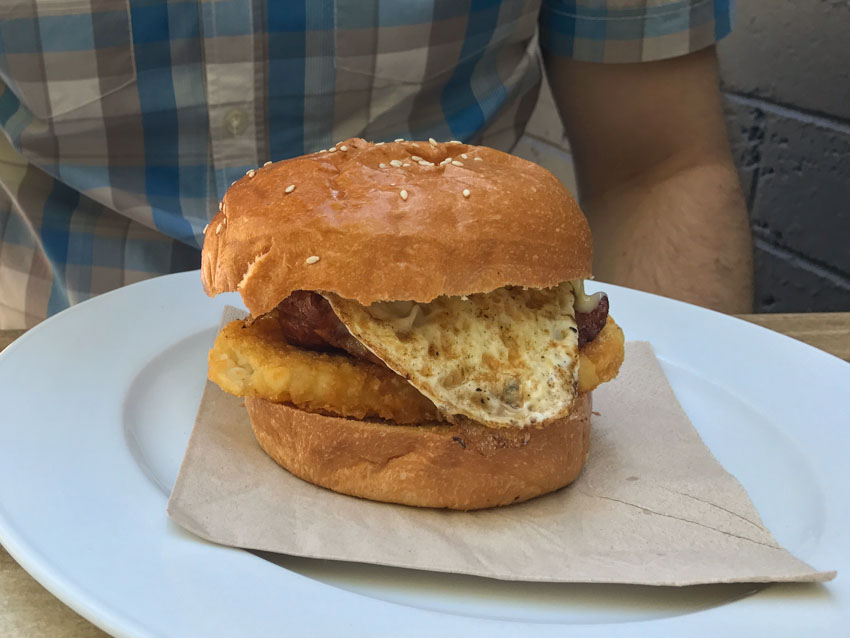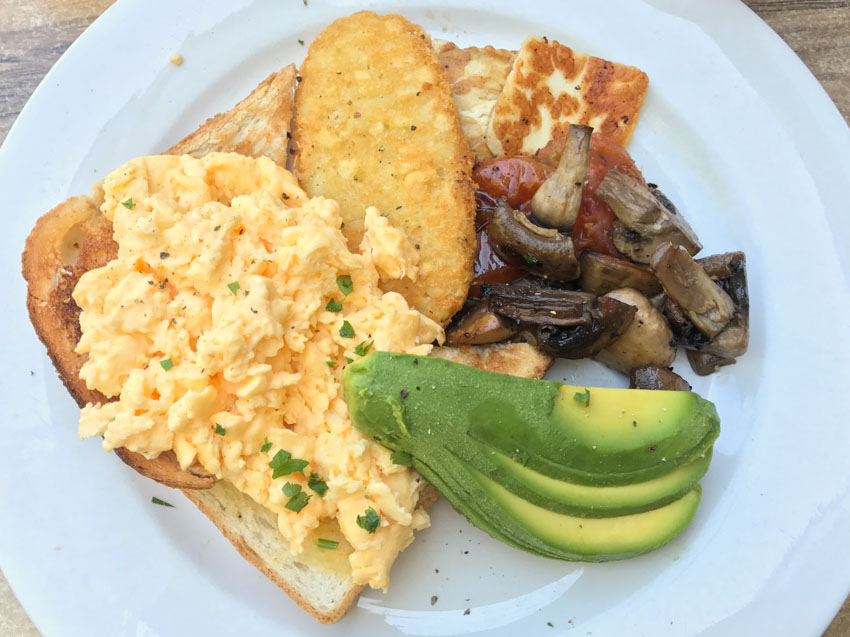 The avocado was fresh and a sizeable portion, and there was just enough halloumi. The toast was nice and warm, I enjoyed the tomato relish, and the mushrooms were better than I anticipated.
I don't have super amazing photos and I didn't put a great deal of effort into taking them, but we had a very lovely brunch here. Post Box Cafe seems like a place only really known (and loved) by the locals – I don't even think it was on a shopping strip, it was definitely in the middle of the quieter streets.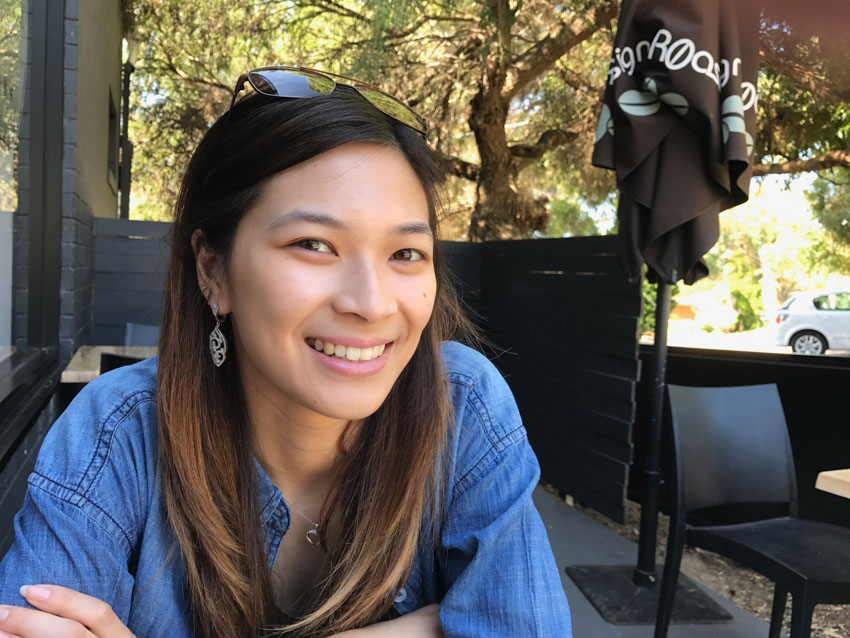 I would definitely come back if I'm ever in the area, though given that it's well over an hour from home, it's unlikely that will be any time soon. I believe the prices are affable and as I mentioned, the serving sizes generous. I would come here for a great meal, and I hope that Post Box Cafe is still around in many years to come. They don't seem to have a Facebook page, but after browsing the business page of the Cafe, I saw a post from someone who seemed to be related to the person who re-did their roof just a short time before we were there!
If they have recently added new awnings… it doesn't look like they are going anywhere soon… 😊
Post Box Cafe
46a Attunga Road
Yowie Bay, Miranda
Sydney, NSW