Review: Helene Jewelry Subscription Box (September 2014)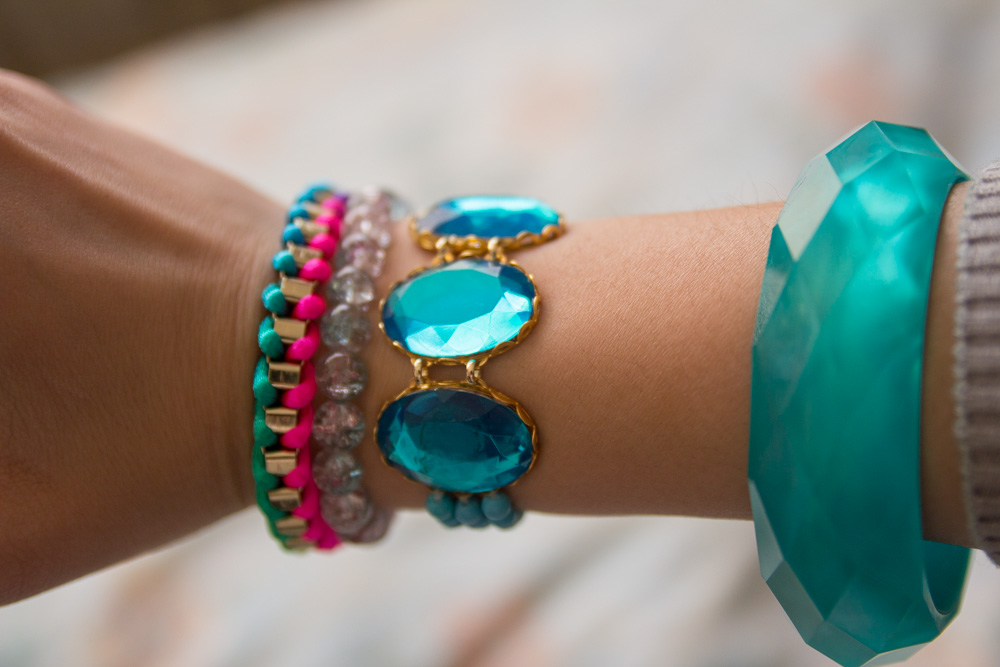 I had a three-month subscription for the Helene Jewels Arm Party Club, and September was my last month. I have since renewed for six months because I was so happy with my last box.
The box arrived the day before I went to see Ball Park Music in concert, but I didn't open it until the morning of the concert. So it was pretty quick to arrive, once again. It took about ten days. I was familiar with the packaging again and was excited to open the box.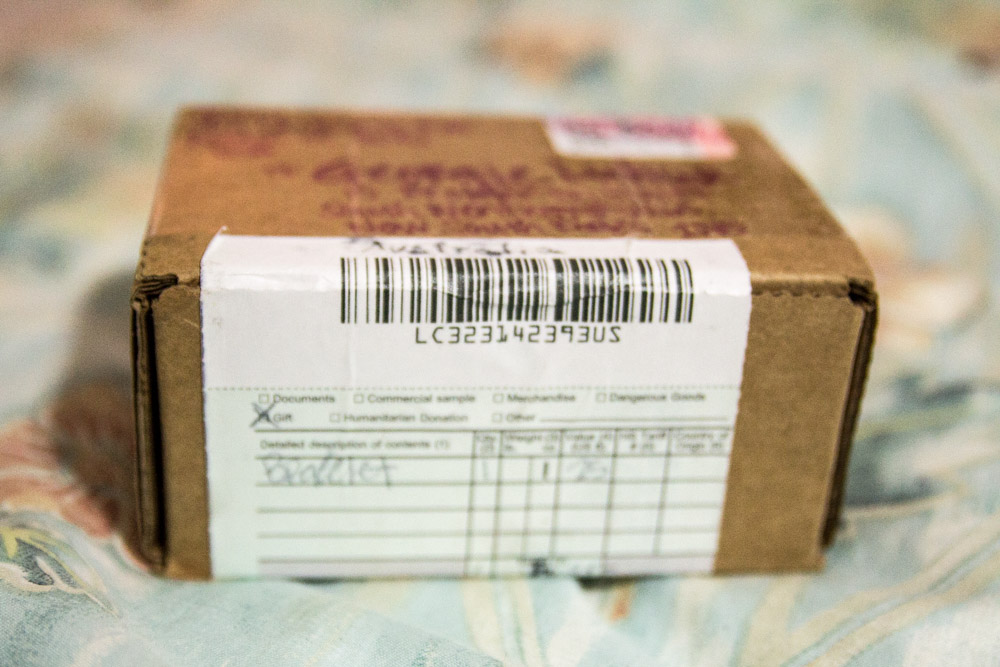 I was so surprised and so thrilled to find that this bracelet, the Georgie Bracelet in Turquoise, was named after me! I already knew what colour to expect because owner Elena had asked me what colour I liked, and I said that I wanted something teal or light blue, much like the colour on my blog. I think the colour of the bracelet is very accurate.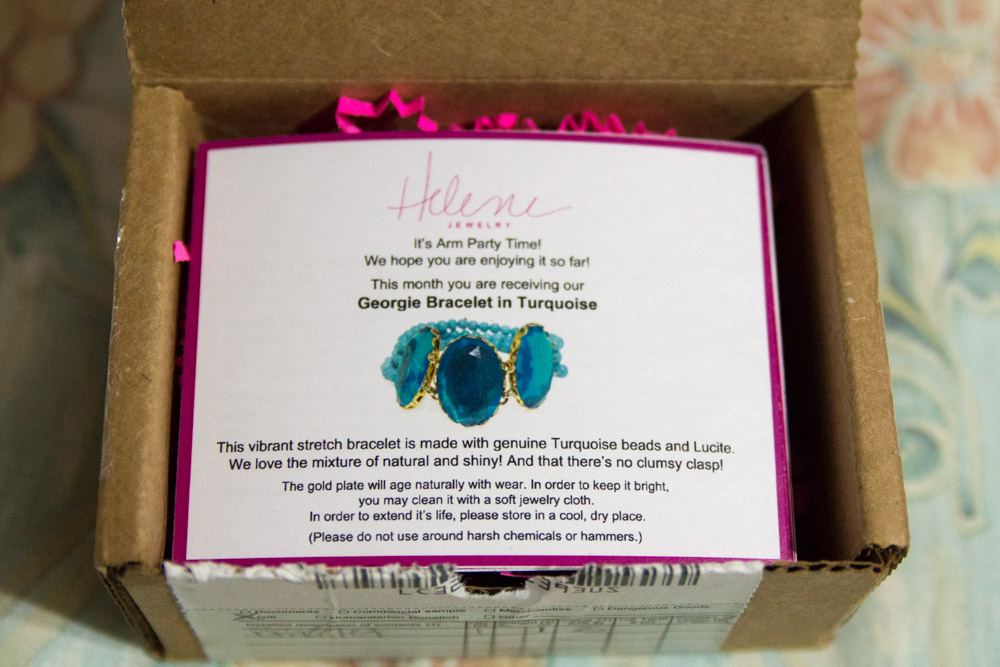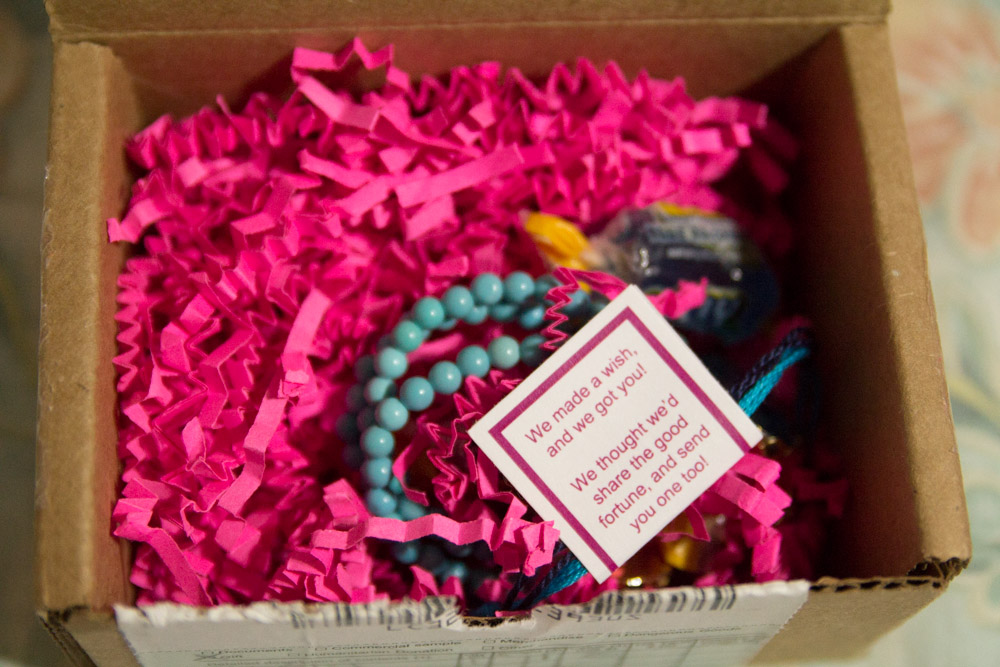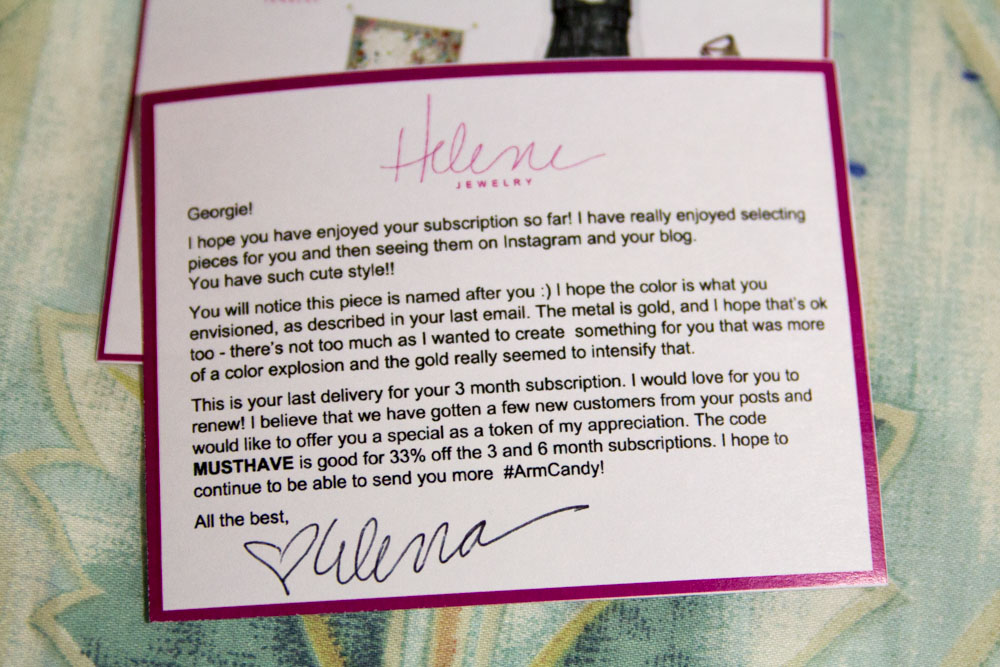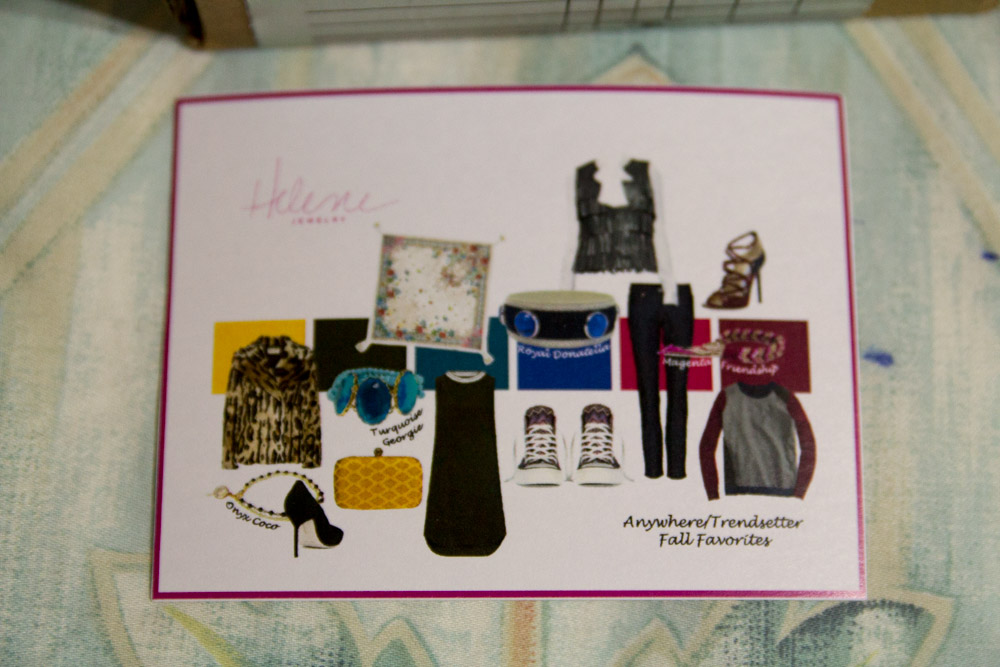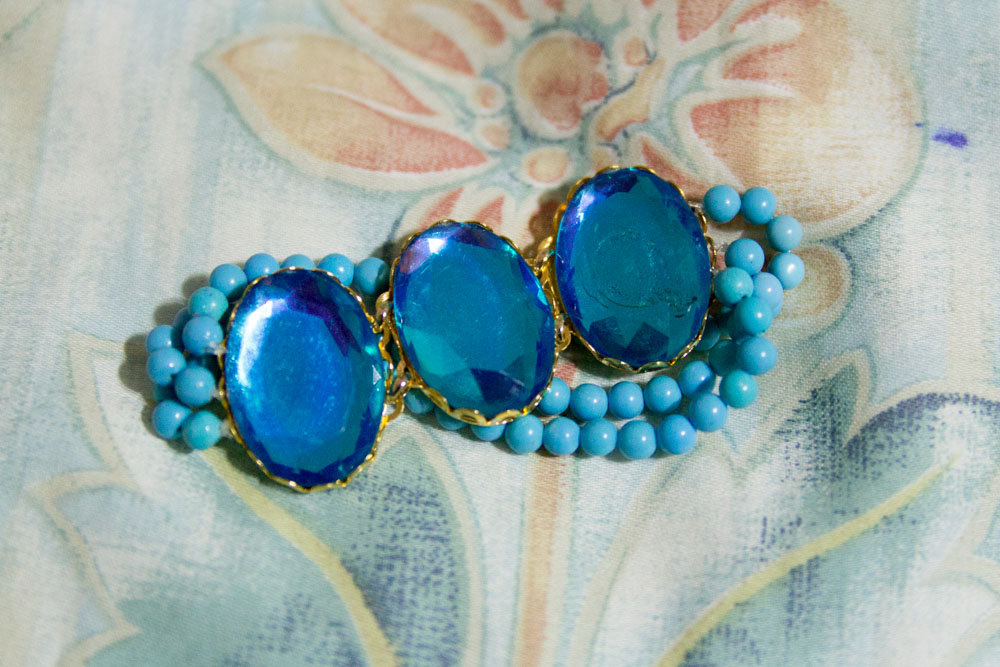 The description of the bracelet reads:
This vibrant stretch bracelet is made with genuine turquoise beads and lucite. We love the mixture of natural and shiny! And that there's no clumsy clasp!
I have to agree. Clasps can be annoying, and stretchy bead bracelets are so easy to put on. I found this one a bit of a tight fit, but it still fit well. At first I didn't like the combination of the turquoise and the lucite, but after wearing it for a day, I just fell in love with the style and the colour. The lucite gives the bracelet an antique sort of look, while the beads add nice contrast.
I have teamed the bracelet with a lot of other wrist pieces over the past week. Initially I worried that there wouldn't be enough stretch in the bracelet, but it seems to be fine for now. Helene Jewelry's store considers replacements if jewellery needs replacing, and I'm sure the same applies for their subscription box service.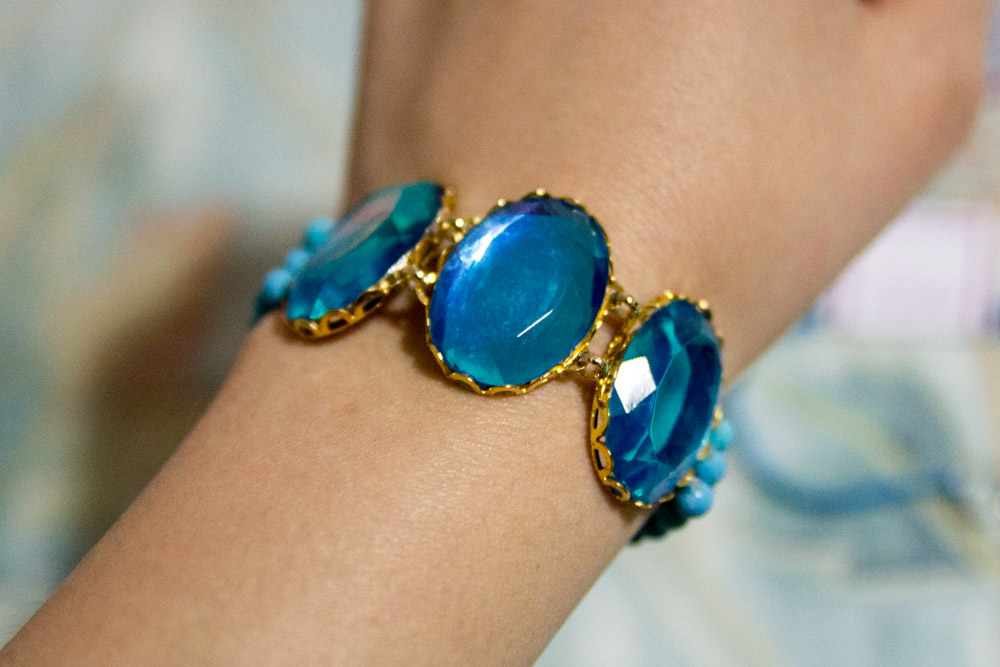 The only main downside of the bracelet is that because of it being in close contact with my skin, the gold tone behind the lucite has already started to darken and rub off. It doesn't leave marks on my skin, though, which is a good thing. I will still continue to wear the bracelet as it is not a big issue.
The box also came with two Jolly Rancher candies and a wish bracelet. Mine was black and blue to match the bracelet, which I really liked. I first heard of wish bracelets online – I came across them on a website, and apparently they are the kind of delicate bracelet you wear until they fall apart, and in this case, your wish comes true. It was a lovely addition to the box!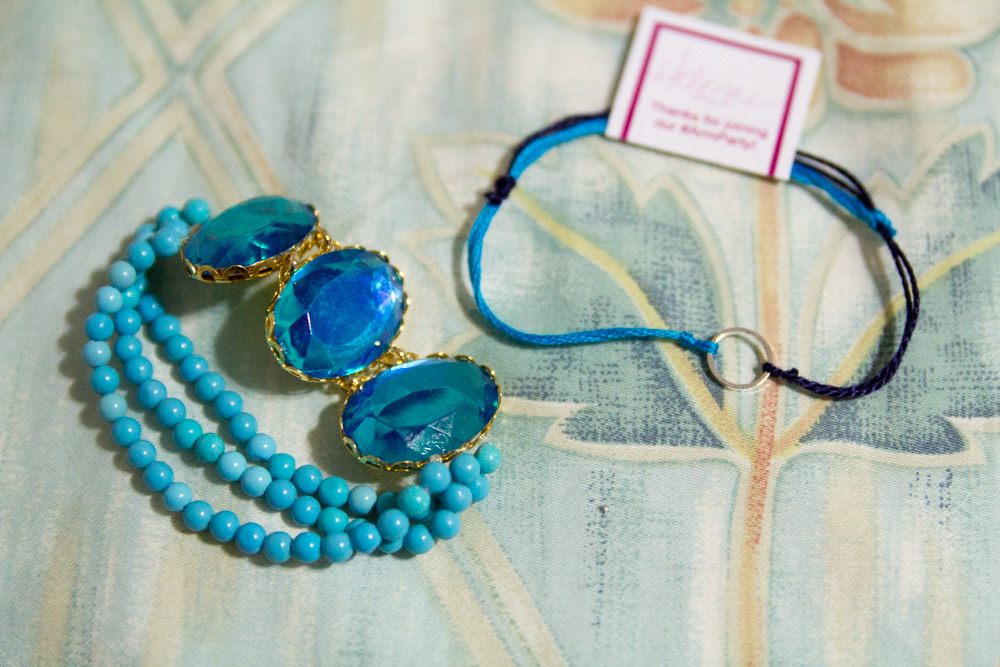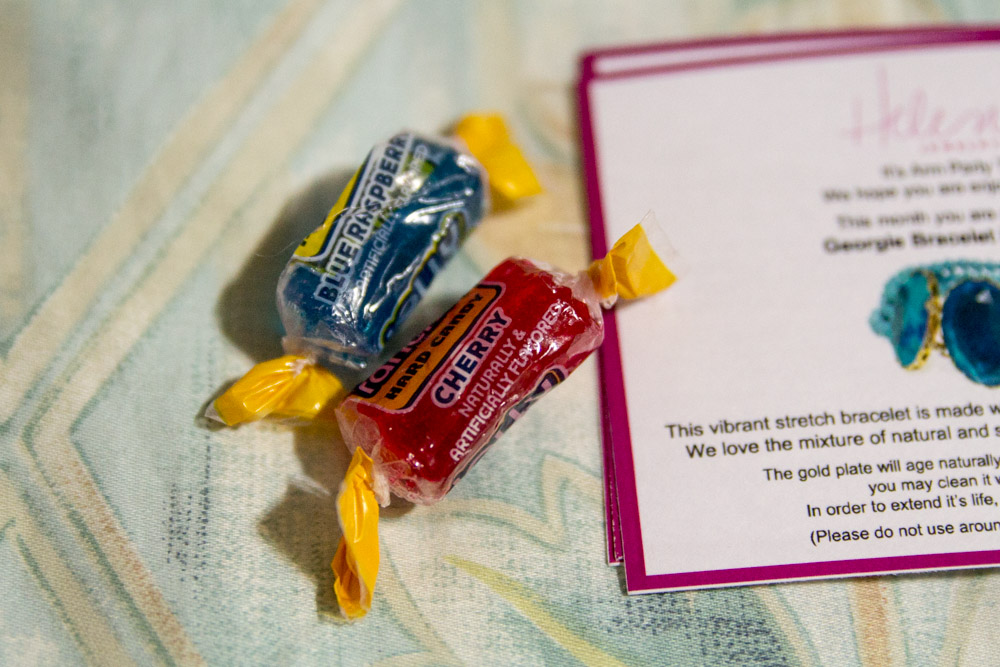 I was thrilled with my shipment from Helene Jewelry this month. I think the Georgie bracelet definitely suited me and my quirky style. When I signed up again, I opted for the conservative/professional box options. I had chosen the anywhere/trendsetter options for my three-month subscription, which I think was a little bit daring, so hopefully I'll receive something a little bit different next time around!
I would definitely recommend signing up if you are into arm jewellery but have trouble picking out your pieces, or would like something unique or personalised. Feel free to use my referral link, and use the coupon code MUSTHAVE which will give you 33% off the three-month and six-month subscriptions.
Let me know if you sign up, or if you have, let me know what you think. :)