Stylesheet 005: Pretty preppy 🤓 • Lace details with a checkered print
Hey friends! 😊 It has been some time since my last Stylesheet post. We're still in lockdown in Sydney, as it's been extended several times and we're now expecting to be in lockdown until the end of August. I can't say I'm thrilled – I have eery expectation that the lockdown will be extended again, and again… for now I'm doing my best to just move through what is going on right now, knowing that there is definitely a bright side and a light at the end of the tunnel, so to speak.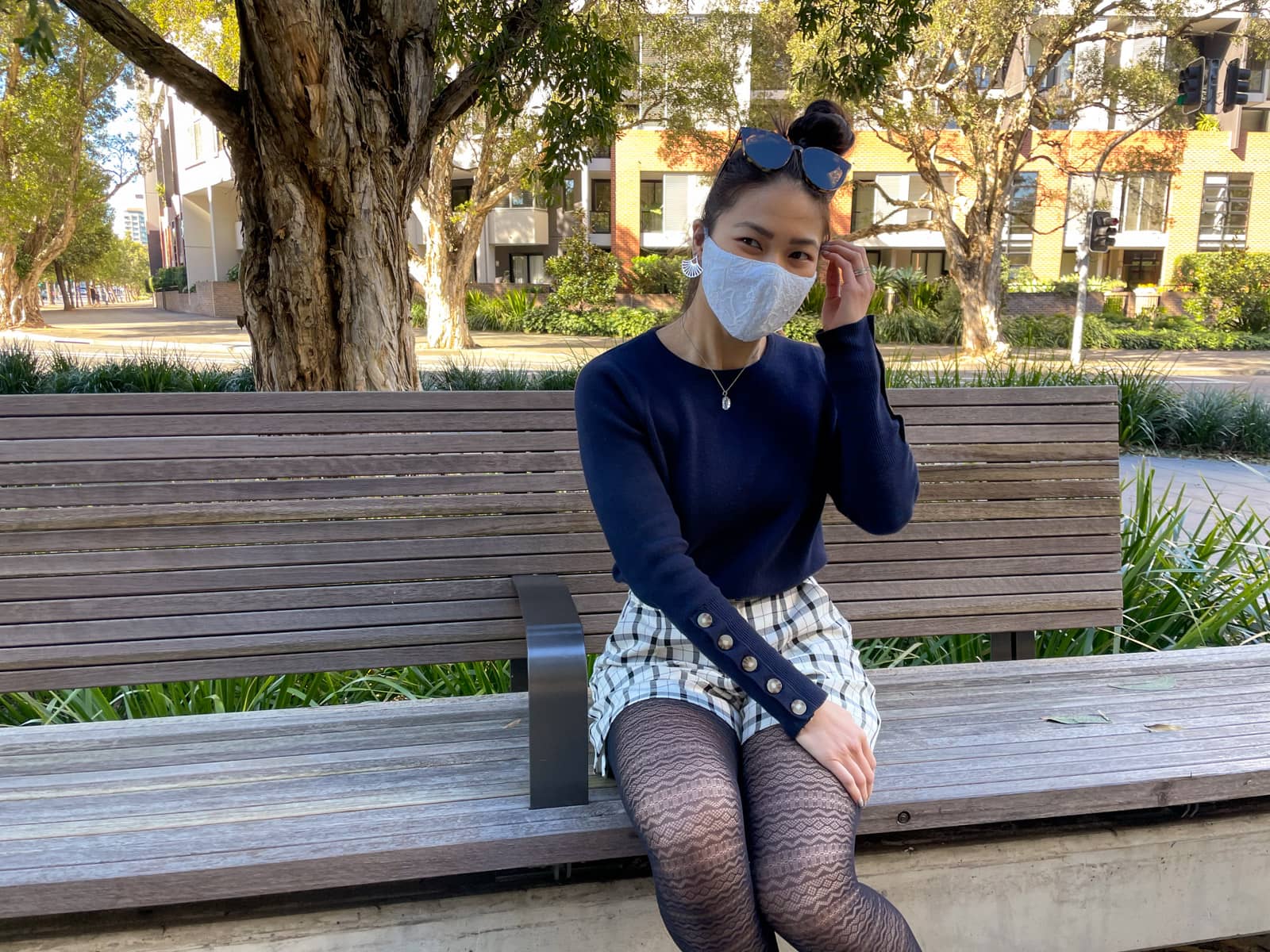 Today I'm sharing an outfit that I have been enjoying since I spontaneously put it together a month ago. I will admit that I have bought quite a few new pieces of clothing this year after realising my style has changed over the past 18 months. But aside from that, I have tried to put together new outfits using the clothes I already had. This is one of them. 🙂
Shorts in winter, again
You will recognise the shorts from several previous outfits. I endeavoured to wear them in winter as well as in summer, by pairing them with tights. I had been wearing these shorts with sheer black tights as well as opaque black tights. Nothing too flashy, just pretty basic! Then I paired them with these patterned tights for fun, and I feel like that really changed the game. I used to own many, many patterned tights when I was in my early twenties in university, because my style was characterised by simple miniskirts, dresses, and loud tights. I had tights with patterns of dogs, skulls, and tights with different lines of colours. 😆 Later, I had sheer tights with more intricate, lace-like patterns, and some patterns of stripes and zebra burnout-style prints. With this particular pair, I owned the exact same pair about six years ago but it got damaged after enough wear and tear (as you can imagine). My mum happened to have another pair, so here it is! When she gave me the pair, I was actually well and truly over patterned tights… but I decided to give them a go, and I am pleasantly surprised with how it goes with the checkered shorts.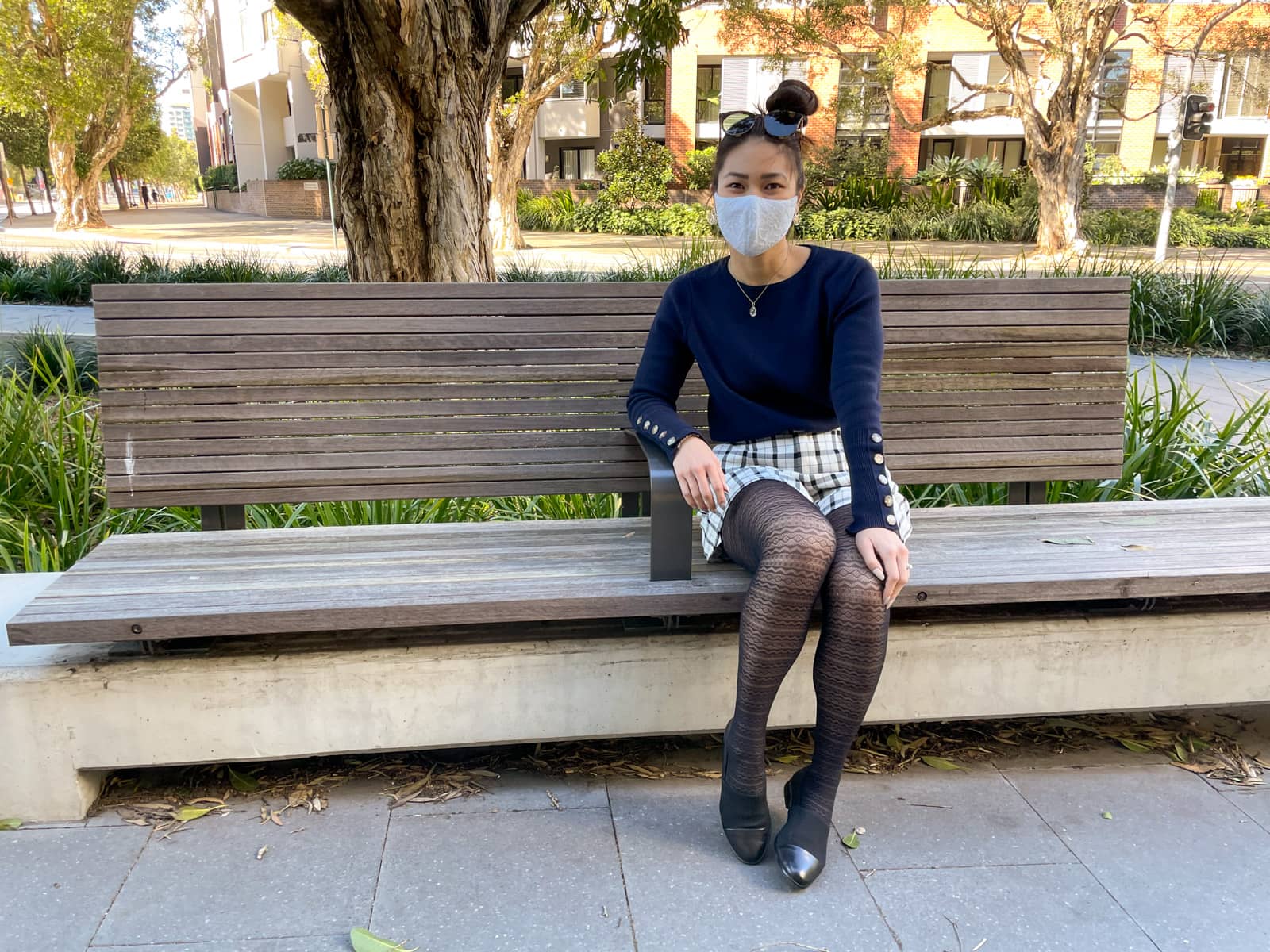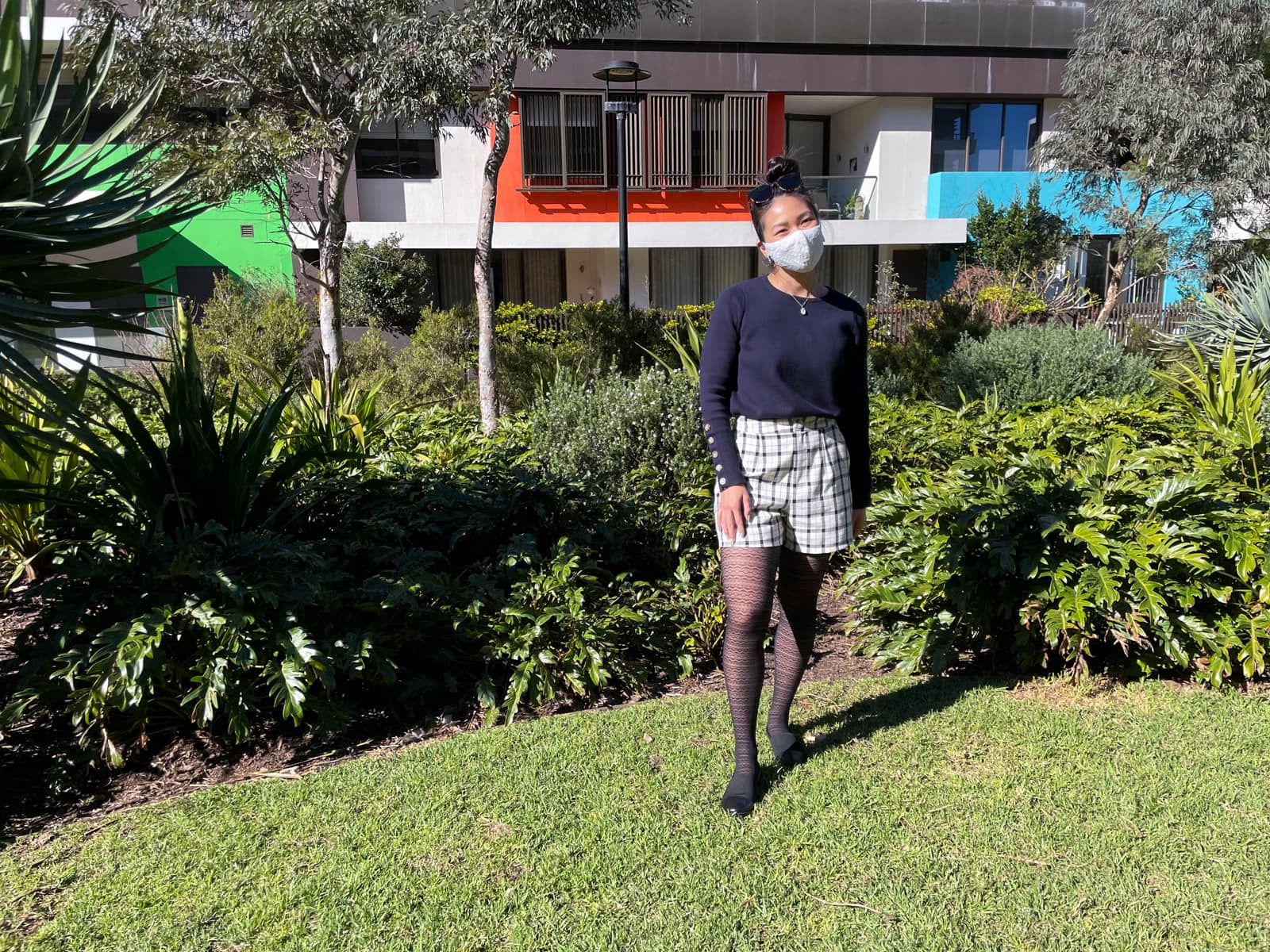 I like to go for a bit of juxtaposition in my outfits, and deliberate vertical blocks. Contrary to advice that suggests I "make myself look taller" by wearing one solid line of colour, I do the opposite. One solid line of colour doesn't bring out my best features, and in a way I feel like it swamps my frame. I've always found that wearing separate colours has allowed me to express my personality and the interest I want to create in my outfits. Also, I gave up on making myself look taller anyway, because there is absolutely nothing wrong with it and I have embraced my height for what it is. 🤩
The sweater is indeed a very simple one, apart from the nice detail of having the buttons on the sleeves. I played with undoing the buttons to add stylistic interest, but they don't really do much other than open up the sleeve. They are better closed. I have had a bit of trouble styling this sweater with other pieces in my wardrobe because I have a lot of dark bottoms, and as I mentioned earlier – I try to avoid wearing head-to-toe in the same colour or similar colours.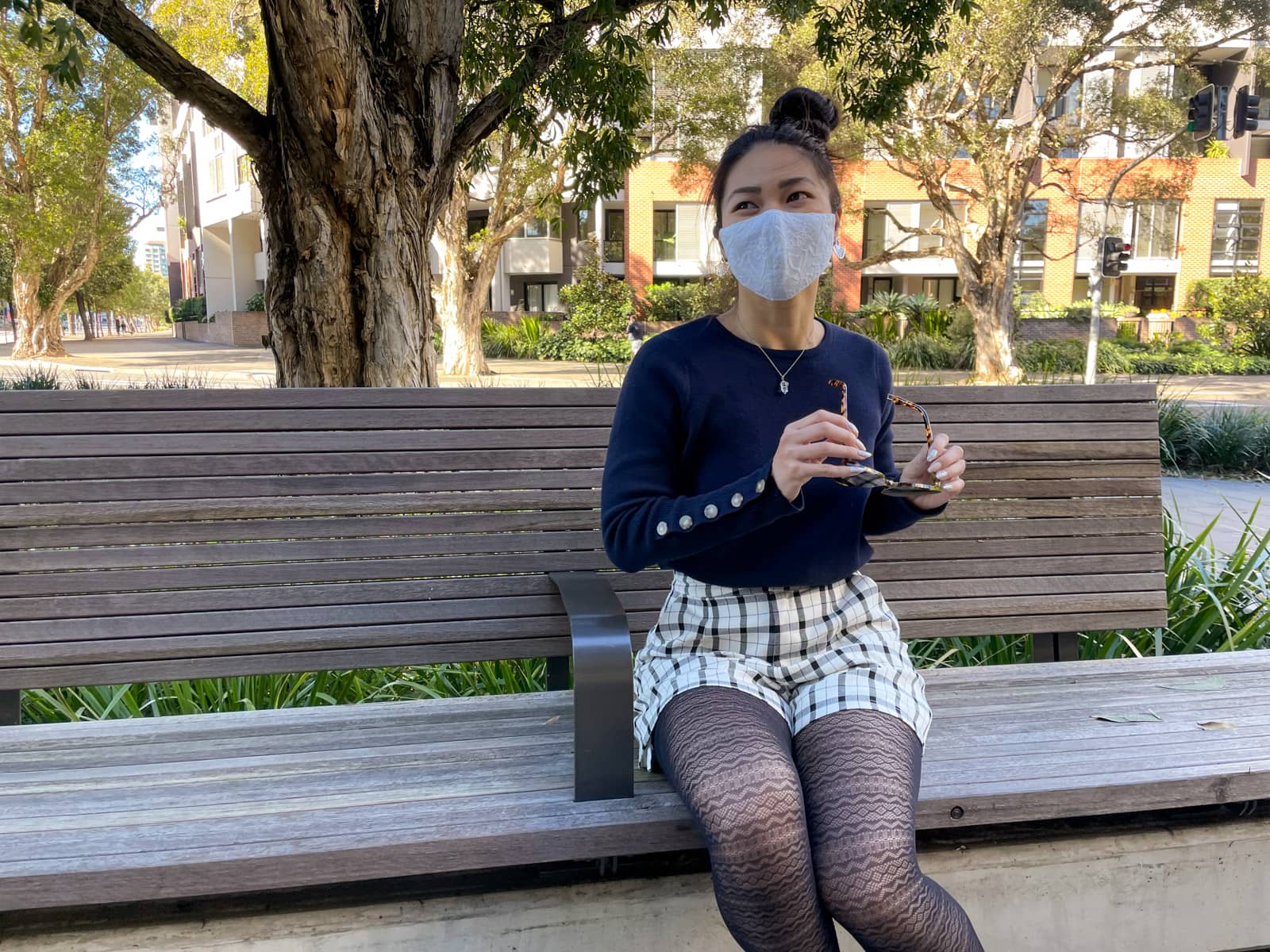 All the details
Although I don't have a close-up of my nail wraps, I am wearing some light skin-toned nail wraps with some sparkly nail wraps as accents. We took these photos a while back when I had the nail wraps on for almost a couple of weeks, and they held up weeks later as well (with the nail regrowth visible, of course 😛).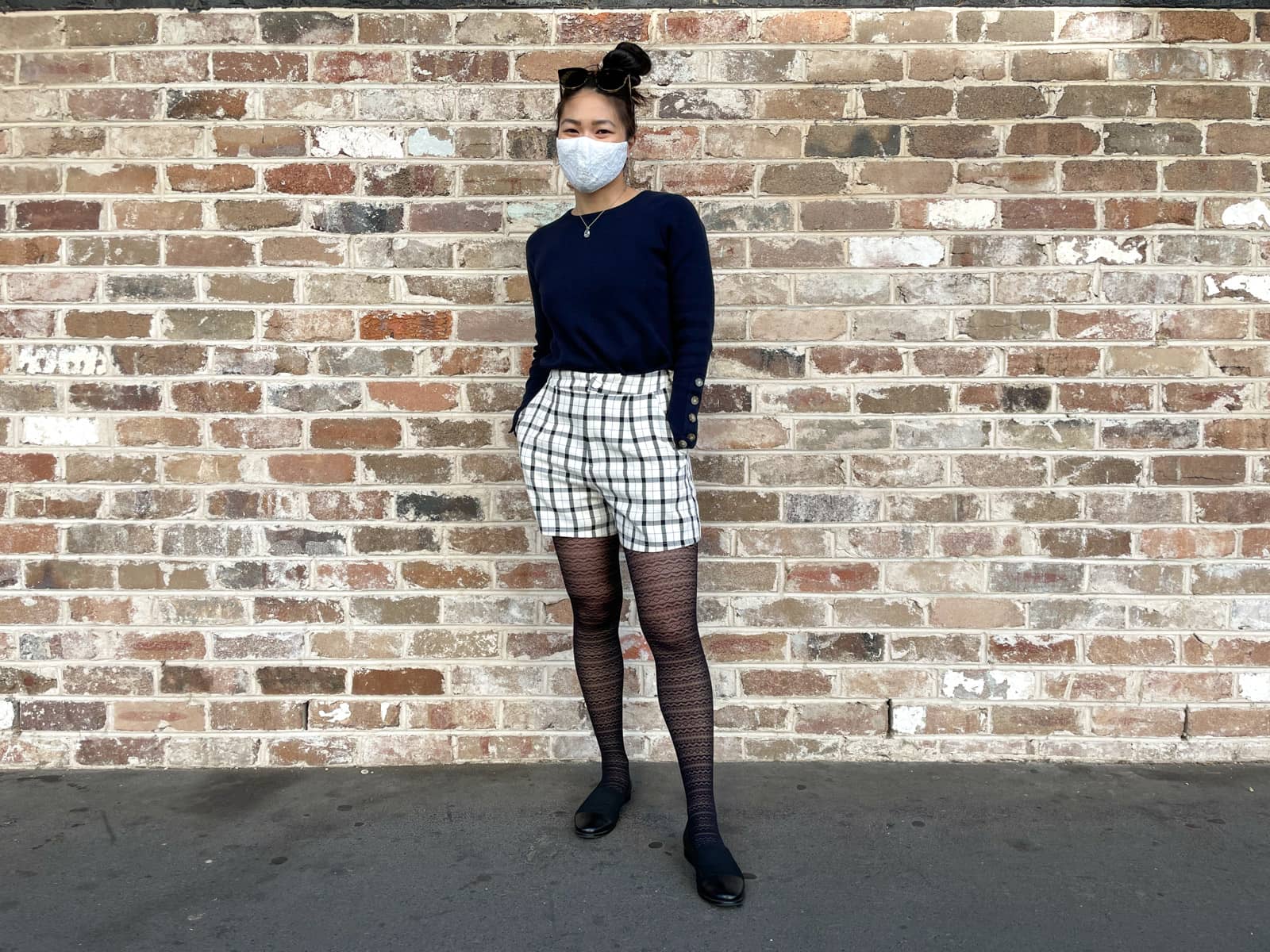 The shoes are a basic pair of loafers with a knitted fabric top covering the top of the foot. I have worn these loafers when I have had to walk a lot or walk long distances, and they have really held up. I don't find flats or loafers as comfortable as shoes that fully enclose the ankle, but these flats have a bit of a heel that makes them a lot easier to walk in. I don't often like wearing these shoes with black tights because I prefer contrast between my leg and my shoe (or at least having the bottom of my pants cropped if they are the same colour), but these tights have a pattern so the broken line is more obvious. I actually like how it looks!
You can pretty much guarantee that if my hair is in a bun it's due for a wash. 😂 In this case, I think it was also a very windy day. I don't love windy days because it usually means I have to tie my hair up and that can often be a bother.
All the accessories
This lace mask is one of my favourite face masks to wear. It was one of the first masks I bought on Etsy, and I was specifically looking for a white mask that had a bit of texture to it – something that would match my style and my affinity for white. It is definitely a boujee mask, haha, and I believe the intention was to actually be a bridal mask, but I don't think white lace should immediately scream bride! Wedding dresses do not have to be white. 😆 The only downside of this mask is that the elastic is quite wide and not extremely flexible, and the mask is a bit too big. So I had to tie a knot in one of the loops and they are quite stiff when putting it on and removing it. However, because of that, the mask itself really covers my face and doesn't move when I talk because it is quite secure. 😷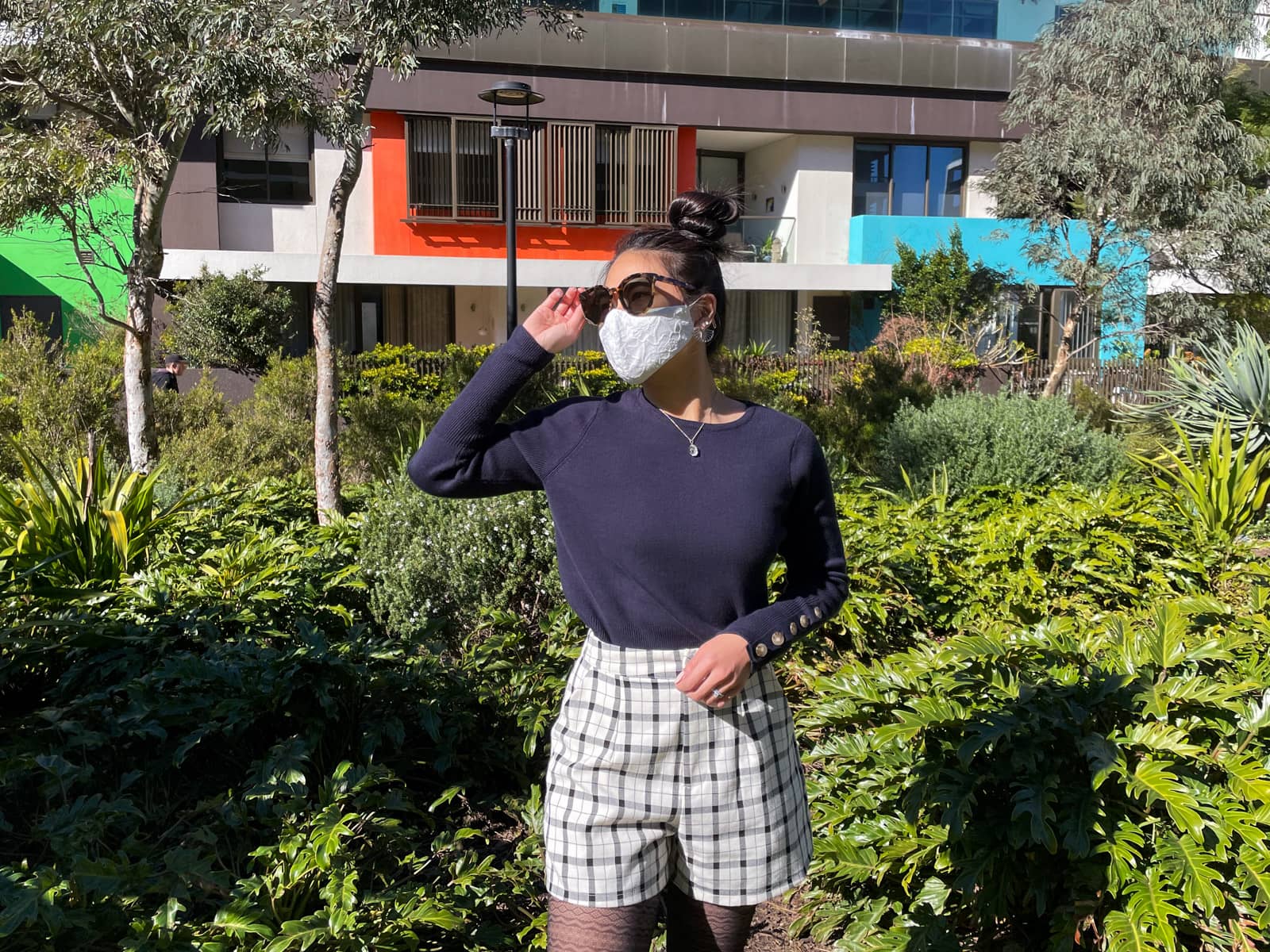 It is on windy days that I prefer to wear these static silver earrings that don't dangle. When it's windy, my big dangly earrings end up blowing into my face or even hitting against my sunglasses, which is quite annoying. Funnily enough, I also prefer to wear these earrings when I don't have to wear headphones a lot, because there is not a lot of room for over-the-ear headphones to accomodate the earrings so they just get squished and press against my ear.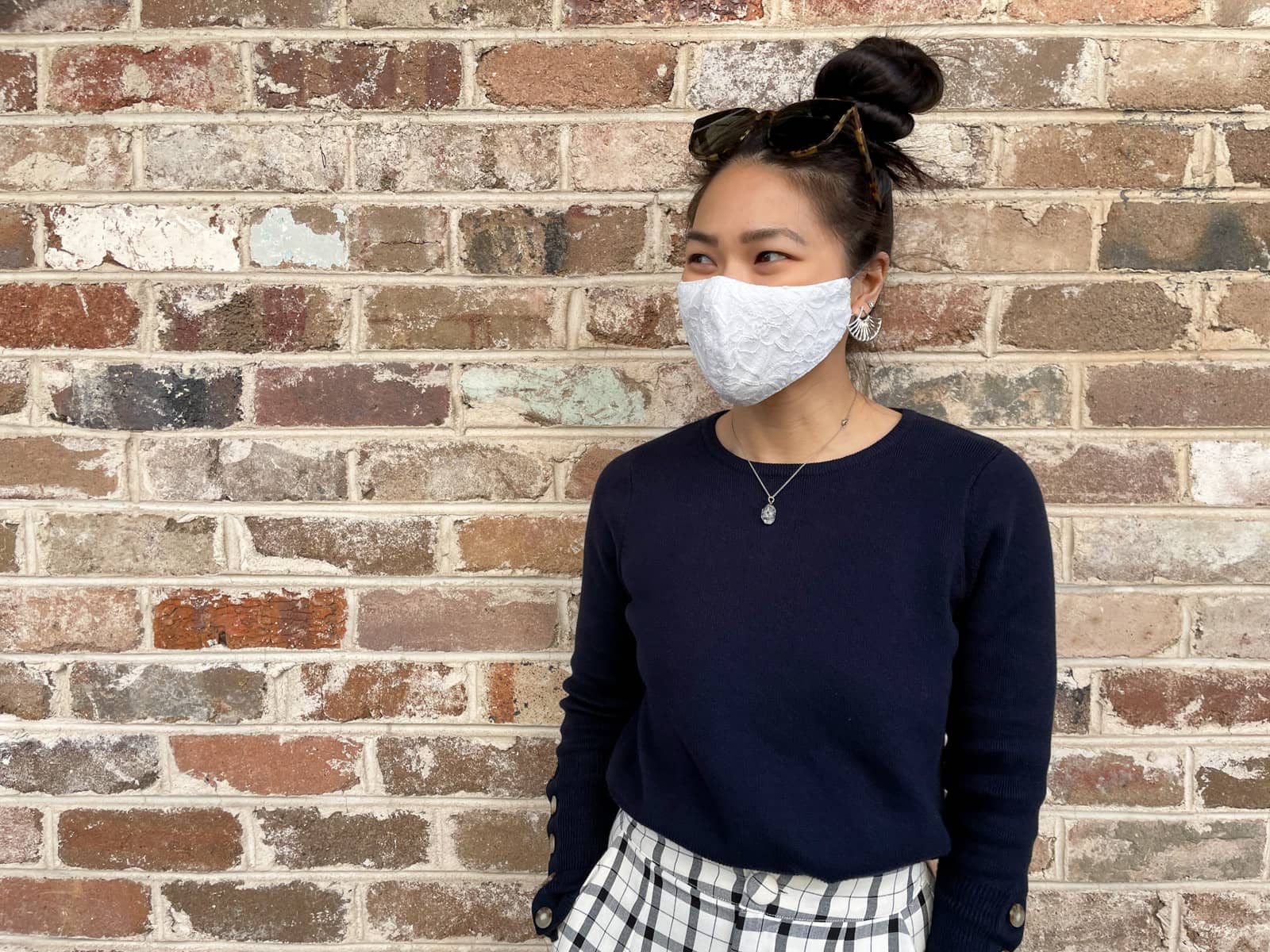 Outfit retrospective
I have worn this same outfit with a different top, but I think this particular jumper is what amps up the preppy style of this outfit. In the past, I didn't ever want to admit that I have a somewhat preppy style… but I think that some of the clothes I'm drawn to and own have hallmarks of a preppy style, haha. This jumper is one that I wasn't super sure about because it was a bit more than what I was comfortable paying with for a basic piece of clothing. But it's made by a local brand from a cotton-cashmere blend, and is very good quality as well as having the nice button accents. Although it's not one of those pieces that looks extremely exciting, I know it will be a piece I own for a long time.
Overall, I like this outfit – I think I have liked it more when teamed with my green leafy mask, featured in Everything Now, probably because there is a little more colour in the outfit. But I really love wearing my white mask with dark clothes because it adds that contrast! I also had my hair in a bun but I think I like it quite a bit better when I have it in a ponytail. 😊
Outfit details
Footnotes
📸 All photography by Nicholas Cooke. (on his iPhone 12 Pro)
We took these photos in our local neighbourhood while ordering takeaway and waiting for coffee. 😊☕ The grassy area is a small open park where people sometimes play with their dogs.
I named this outfit Pretty preppy for obvious reasons! I am sure there will be more preppy looking outfits in the future.