My first poetry collection, the off switch is broken
Hey friends, I've just released my poetry collection that I've been working on since late last year. You can buy it now or continue reading to know more about it! ✨
How it came about
In short, the off switch is broken became an idea when I started disconnecting from social media mid last year, and found myself doing other things to occupy my time, instead of being glued to my phone all the time. I had observed people glued to their phones, and I became fed up and irritated by what I saw in public and the drama and toxicity I saw on social media, which made me cut back on how much I used technology.
I started to write about some of my feelings in poetry form. Poetry is something that has been close to my heart since I was young (you can find older pieces in my poetry archive), and I had stopped writing for many years but felt inspired to write on a new topic.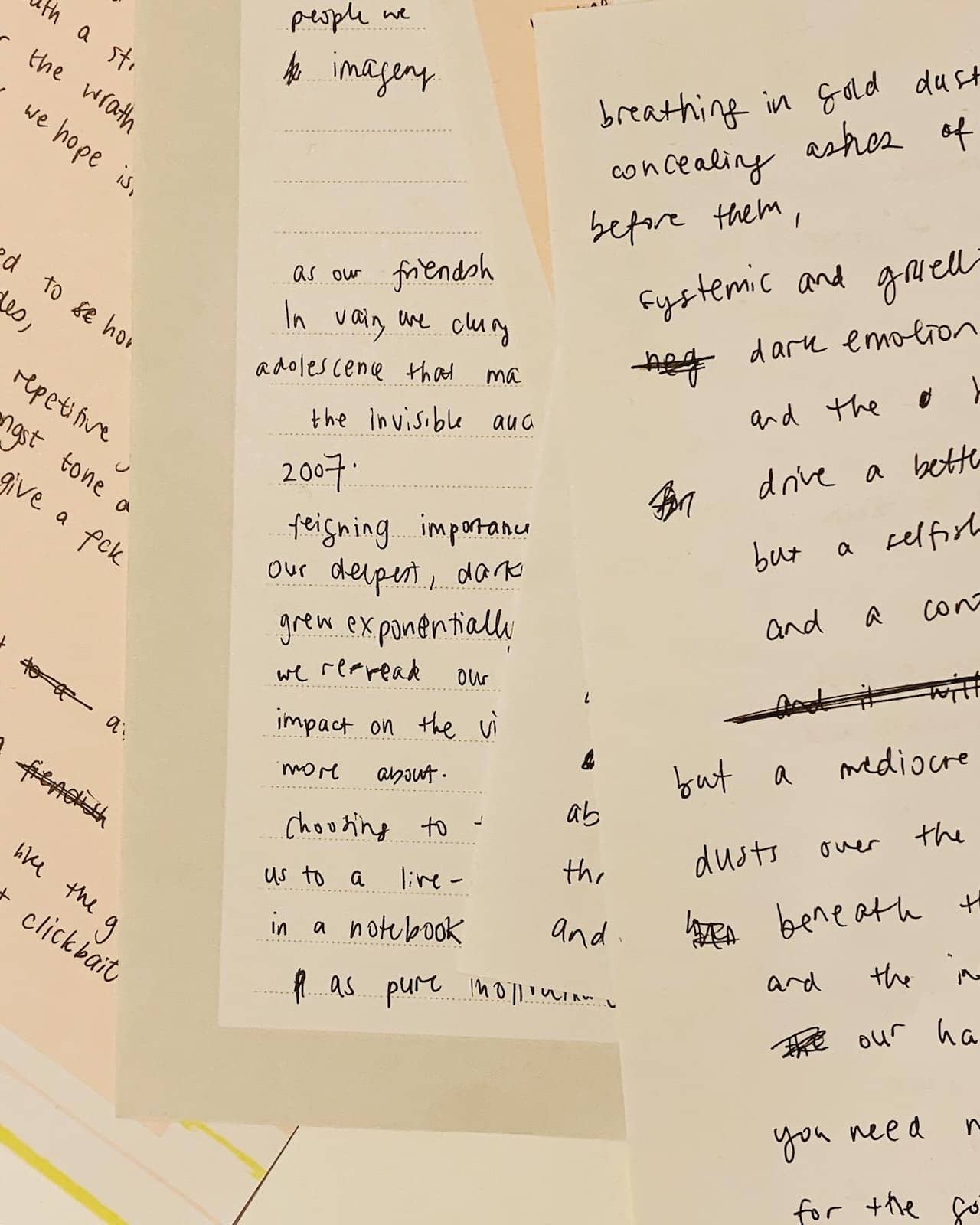 the off switch is broken has 13 pieces of poetry. I initially intended for it to have somewhere near 20 pieces, but after I started writing, I began to remember that even though I wrote a poem almost every day when I was in university, many of them were streams of consciousness or inspired by my own feelings at the time. Writing about technology, and staying in line with a topic and theme that I hadn't forced myself to write about before, was different. Putting my emotions about the world of technology into poetry form was a little more difficult than I expected. It's easy to rant to a friend in a text, and to articulate sentences on-the-fly in a heated discussion, but poetry involves many poetic devices and rhythm, such that you're always reading the words in your head as you write.
About the title
The title the off switch is broken was a title I worked with and that stuck. I wanted to title the collection something to do with being trapped (but without specifically using the word "trapped"), and somewhat helpless, but at the same time being something you could completely control. I also wanted the title to seem like something you could easily imagine and visualise.
The wild thing is, I think that the title the off switch is broken is so perfect that I am glad I stuck with it. There is an off switch on any technological device we use these days, and really it's within our control to turn the device off. But if it's broken, what do you do? Usually you can still wait for your smartphone to run out of battery. You can turn a desktop computer off at the power outlet (or if that's broken too, just unplug the damn computer). At the same time, "turn it off and on again" is a meme amongst the technology community to "fix all your problems" that the whole thing just comes weirdly full circle. So yeah, I do challenge you to come up with a better title… or maybe I could give you some credit for a second collection of poetry, if I ever decide to write one. 😉
About some of the pieces
Table of Contents
Subscribe
visions of a self I discarded from view
.c-the-arguments-we-used-to-have
Everything I lied about on the internet
Hackathon
the off switch is broken
@motherdearest
Add to Cart, round 238
The Hustle
golden handcuffs
Eleven is typing
I'm sorry for not blogging
Do Not Disturb
Something I wanted to point out is the order in which I wrote these and how I decided on them. If you've already purchased and read some of it, you might already have an idea. 🙂 "Subscribe" and "Do Not Disturb" are deliberately put in their places at the beginning and end of the collection because of the themes they discuss. "Subscribe" is a bit of a parody of YouTube influencers and a poignant look back on how things have changed with the rise of streaming services.
"the off switch is broken" was actually completed towards the end of the writing process, because I really wanted a poem that reflected the title of the collection and echoed its sentiment.
"I'm sorry for not blogging" also echoes a bizarre sentiment that was frequently expressed about ten years ago, where other bloggers would constantly apologise for not blogging, at least in the blogging circles I was in. If you have been reading my blog for a while, maybe we've been friends since that time and you know exactly what I'm talking about. 😆
"golden handcuffs" was also written towards the end, and was inspired by a phenomenon that is actually prevalent in most tech companies. A term that was first used in the 1970s, it is used to describe when a company provides financial benefits or perks to employees in order to make them stay at a company. All the free food and free childcare and unlimited leave that you hear about from big tech companies – it's all a ploy. I had wanted to allude to the phenomenon rather than refer to it directly, but it's such an interesting visual and probably not likely used, that I chose to use the exact term.
I had originally intended for the place of "golden handcuffs" to be for a poem about keyboard warriors and trolls in threads on the social media website Twitter, but after coming across the term for golden handcuffs I thought I'd have a more fun time writing that.
"Eleven is typing" was originally going to be something else, and I also completed this towards the end of the writing process. Eleven is apparently a character in Stranger Things, and I've never seen the show, but I envisaged writing about, or from the perspective of, a persona like Eleven, and giving the poem a very ominous undertone. That said, other poems in the collection have a dreary, sad undertone and instead I chose to make the poem in a text-message style, where the dynamic between the two recipients changes dramatically, almost as if their roles become reversed at the end of the conversation.
Finally, I don't want to give too much away about them, but "Everything I lied about on the internet" and "@motherdearest" are possibly my favourite pieces. They explore themes of vulnerability and how the internet can make us completely different people behind a screen. Something about both of these poems, actually, I feel proud of: the fact that they read a little rapidly, but at the end, almost seem to come to a sudden halt.
I hope you enjoyed that little insight into some of the pieces!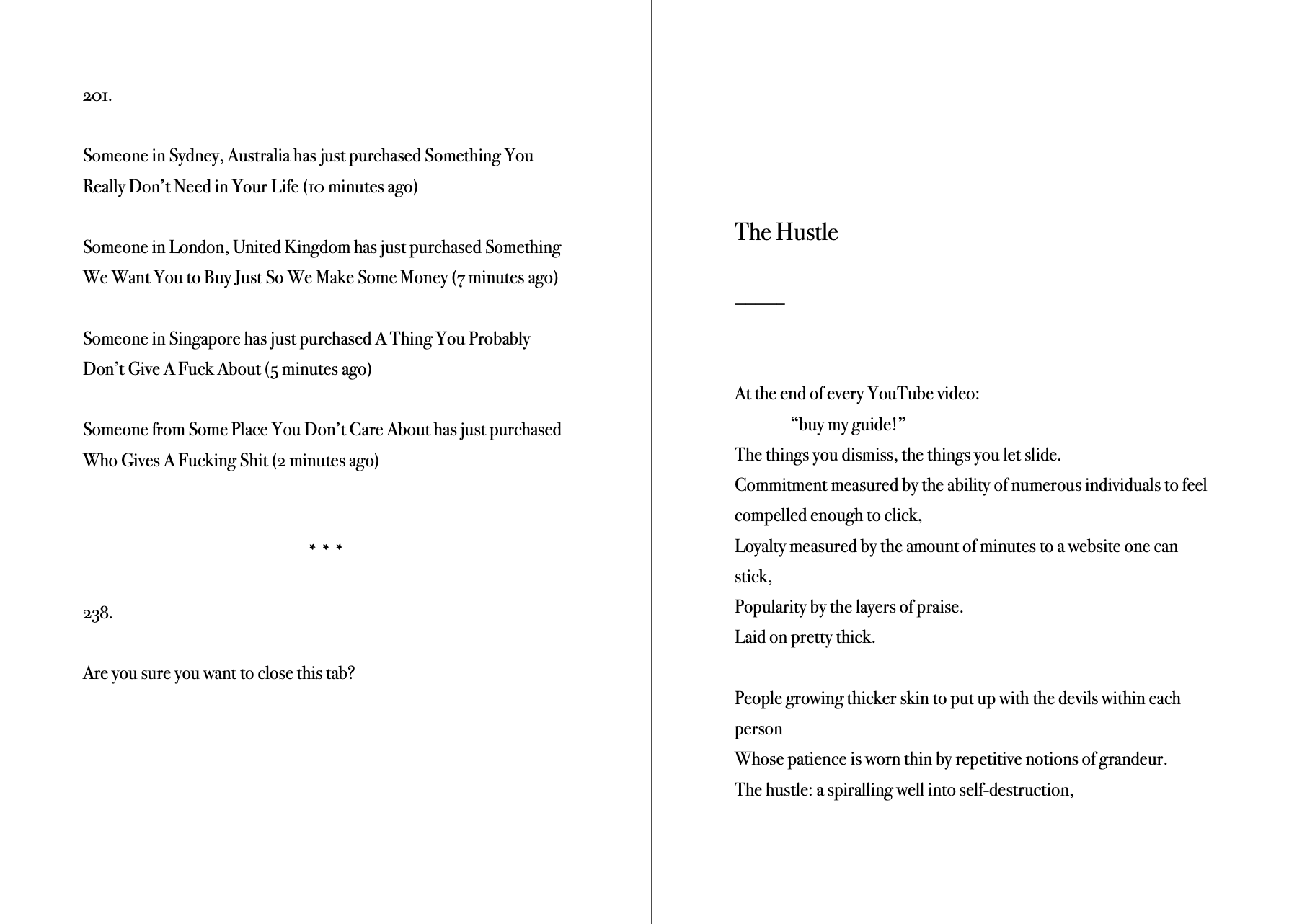 Creating the available formats (PDF, ePub, mobi)
I originally intended for the collection to be in a basic PDF and didn't think much beyond that. But because I put the collection together in the macOS app Pages, I realised I could quite easily export it to ePub format so it could be read on devices such as iPhones and iPads. When I tested it out, I was so impressed! 🤩 I had been trying to get it to look perfect as a PDF in case I were to ever print it, or if someone wanted to print it for personal use. In creating it as an ePub though, I had to recreate my entire document from scratch with a different template, because the chapters weren't working correctly due to the template I had originally set it up with. Learning this stuff was an incredibly fun experience, though, and it definitely makes me want to try and publish more written content in the future.
I exported my document as an ePub so many times and tested it on my phone to make sure it worked exactly how I expected a normal eBook to work. After fixing the problem with the chapters, I realised the other problem I had was with some of the formatting where I had to change certain gaps to specific line breaks, instead of just pressing the Enter key on my keyboard a bunch of times (because more than one of those gets compiled down to just nothing). I ended up with a bunch of random blank pages after every section due to the way I initially formatted it.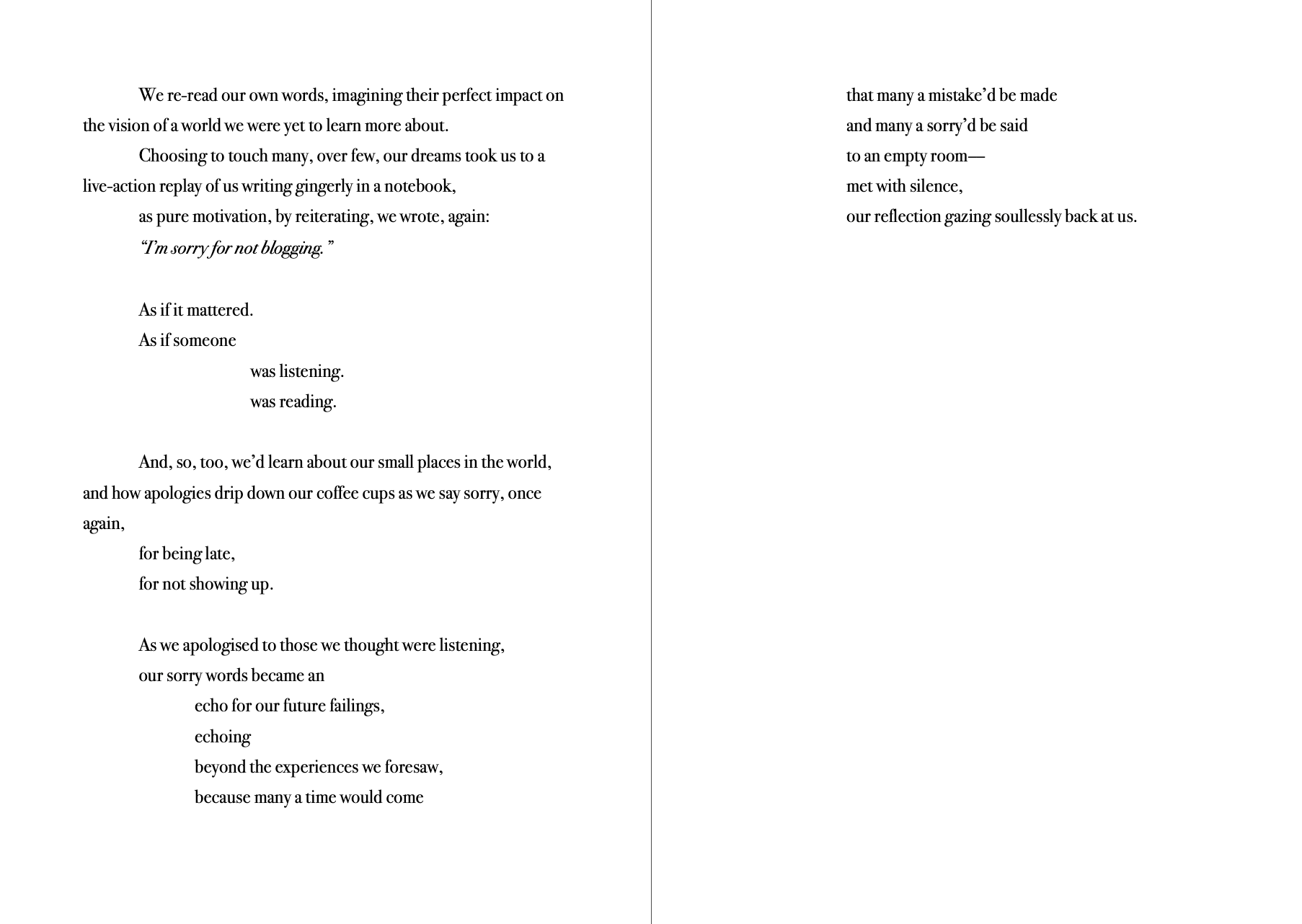 The other problem I ran into was trying to make the cover. I didn't have anything fancy in mind for the cover; I just wanted it to have the title in my name in the exact font that I chose for the collection. But it turns out that a cover is automatically generated if you don't supply one that is actually an image format, and it doesn't look that great. So I took a screenshot for the cover, which ended up pixelated at first, but after taking a better, high-resolution version, it turned out to be okay. I sort of wish I had created a graphic cover, but that was not in my mind in the first place and I didn't think of anything that was fitting.
I thought I'd stop there at the ePub, but after one of my friends, Sashin, suggested I try and make it available for Kindle, I decided to give it a shot. The Kindlegen tool by Amazon didn't even work on my Mac, but I downloaded the Kindle Previewer app and it automatically turned my ePub document into a mobi format for Kindles. 🙌
Wrestling with the WooCommerce plugin
Certainly my least favourite part of the entire process was trying to set up my blog with the WooCommerce plugin. My blog runs on WordPress, so the idea was to choose something that would integrate easily with WordPress and require little setup. I honestly should have done more research, but I settled on WooCommerce because it seemed widely used enough and like it was mostly plug-and-play. Which it was – mostly.
I'm such a completionist that I didn't want to ship this thing and then fix everything later. I wanted it to be all nice and clean and basically perfect (but I don't love to use the word "perfectionist", see). So I spent a lot of time trying to get everything to look visually just right. Curse my occupation as a UI engineer, haha. I didn't like the way things looked out of the box so I wrote a tonne of dirty CSS to override things, and to get it matching with my WordPress theme that I created myself. I had to also trawl through WooCommerce docs, various blog posts, and the plugin code itself, to remove things that weren't necessary, like the shipping address (since it's a digital product), and eventually trying to do a "straight to checkout" user journey since my "shop" only has one item and there was no need for an editable cart.
Nick helped me with that last part, to find the function to override. It was incredibly frustrating because I realised I needed to avoid the product being added to the cart more than once, and somehow WooCommerce isn't smart enough to realise that "you can only buy one of this product" and "please skip cart and check out straight away" are not mutually exclusive. 😤
Installing the Stripe integration was fairly simple, as I just had to copy a bunch of configuration values from my existing Stripe account. It was easy to test as well.
I took me almost two weeks to fully configure how WooCommerce worked, and then at the end of it I realised I could have gone with something simpler, had I done the research. 😛🤦🏻‍♀️ Ah well, I digress. I am happy to put it down for now and give it a break.
I actually want to put some of the random code snippets that I used here, but I might do that later. (I kinda don't get much of an opportunity to use and see the code block in my blog, but I like the way I designed it, haha.)
---
If you want to support my work, you can buy my poetry collection now. 💙 If you have any questions about the off switch is broken, let me know. Thank you so much to those who have already purchased it. I hope you enjoy it.