Living Below The Line, musical magic and hey it's Monday again
I have some to a lot of realisations this week, and I know I hate lists, but this blog post is probably going to turn into a summary.
Kim has gone back to Perth and through this whole week I've missed her — I went to see Regular John play a gig on Thursday, and it felt so weird (and lonely) going alone. :( I know she'll be back before I know it, but it's just so odd without her actually being in the city.
Live Below The Line
The main highlight of this week was doing Live Below The Line (LBL) to raise awareness for poverty. I didn't have any sponsors until the last day, when an anonymous person donated $20. It was good to educate myself and experience what it really is like to live in poverty. LBL involves eating on $2 a day for five days, and occurred this week from Monday through Friday. I counted from my last meal on Sunday because I had a feeling I'd be eating out for dinner on Friday night.
With the $2 a day, it basically means $10 for the five days, and it's suggested that you spend the $10 at the beginning of the week. I actually momentarily forgot about it until Monday morning while I was drinking my tea. I hadn't had breakfast, but the rules stated that even if you take portions of food, you need to include the store price in your spendings. Well, I had tea, so I had to count the entire box of tea I got the tea from. It was a box of 50 (Twinings, Earl Grey, my current favourite!) and had been $3 when my dad bought it for me. That left me with seven dollars.
Monday:
I decided to play rough and force myself to get used to eating less, so I fasted on Monday. I didn't have anything to eat; I only drank tea and water throughout the day. I think it helps that lately I've been eating tiny breakfasts or eating late breakfasts (I've just been so busy with work, and so tired).
Tuesday:
I was planning to cook some lentils or buy some potatoes, but none of those happened. I decided to start from scratch and use the seven dollars I had left to buy a bunch of food for the week. I was also thinking of buying mainly preserved food, like canned chickpeas and beans, but I didn't want to buy too much of that, and still wanted to buy something a little more fresh. However, because I only had seven dollars, I did end up buying some tinned spaghetti and beans from the supermarket.
I spent $5.85 (rounded up) in total on Tuesday. A bag of sorj wraps ($2), a 500 gram bag of pasta ($0.69), sour cream ($1.39), mixed tinned beans ($1), and the spaghetti ($0.75). That day, I ate one wrap with a bit of sour cream. Of course, I still had my tea to keep me going.
Wednesday:
They said Wednesday would be the hardest, and it sort of was. It wasn't hard, but I was so hungry I ate a lot more in comparison to Monday and Tuesday. In the morning I boiled all the pasta. It amazed me how much there was. I had a couple of sorj wraps in the morning. They were really tasty and pretty filling, but because they tasted so good, it was hard to stop eating them.
I had pasta and sour cream for lunch. It wasn't too bad. The reason I bought sour cream and not tuna or sauce is because of the sour factor — personally, from my experience in cutting out sugar, I have found that having sour food or adding lemon juice to food makes me crave sweet things less, and kick general hunger cravings. Not to mention the cream also contains fat, and in having a low sugar diet, eating a bit of fat is allowed, as this will provide you with energy in the case of low sugar.
I had the spaghetti that evening; it was just over a hundred grams. I got home late from class and felt peckish so I had some plain pasta.
Thursday:
It was so hard to resist the wraps that I finished them on the Thursday. I snacked on plain pasta throughout the day. I also opened the can of beans and had half of it, which kept me quite full for the rest of the day.
Friday:
I was very hungry by Friday, and realised that it was probably a good thing that I had some pasta left for the day, and some beans, and still had a dollar or so left if I wanted! I finished my pasta and sour cream by lunchtime. I had stored my beans in the fridge at work and much to my disappointment they had frozen despite me putting them at the very front of the fridge. I hate that fridge. I ended up throwing the beans out because they were too gross.
Of course, when the clock hit 6:30 and I finished work, that was when I went out for dinner with James, and so ended my stint of living below the line. It was an interesting experience, and challenged me to eat staple foods and do some wise shopping. Next time, though, I will think it through a bit more, and make more of an effort to buy beans and other vegetables, and fruit that is low in sugar and not too expensive. It surprised me that a lot of people were just buying $0.50 packets of instant noodles and living off those… but, whatever floats your boat, I guess. :)
Support Packwood for his debut album
I informally met Bayden Hine (who performs under his middle name Packwood) when he had a show last year and as I was taking photographs at the front of the stage, he asked me to hold his phone with his banjo tuner. Bayden writes incredibly beautiful music — his debut EP was recorded with a full orchestra after he sold everything he owned to record and produce it. He is an independent artist and now plans to record and release his first album, but he needs your help. He needs $12,800 to get it all underway, and so far his supporters have pledged just over $8,000 in total. There are only three days left so please make a pledge. There are some nice rewards, the more you pledge to donate, the better the rewards get.
The project is being crowdfunded via Pozible. The way Pozible projects work is that you make a pledge but no money is taken from you unless the project reaches the target in the set time period. So please support Bayden, even just two dollars will get you the album's lead single in advance. :)
Gigs this week
I went to see Regular John on Thursday; their music is sort of psychedelic rock, it has a really classic, grainy, murky edge. In fact, you might even call it sinewy. It's a bit hard to describe, but it's really unique. They played at a venue called The Backroom. I hate that place because their reception is awful, and I just get zero signal, however — the room was really fitting for their style of music, and it was a nice, intimate show that left the audience pleased. I finally got to meet guitarist Caleb, who I've been talking to via their Twitter account for the past half year.
James and I went to see Bob Evans on Friday. I was very happy that James came with me. Bob Evans is the kind of music you would watch with friends and people you love. Romantic, gorgeous country & folk pop/rock style. This time, we saw Bob Evans with his band. Guitarist Davey Lane actually supported Bob Evans by playing a set early in the night. He was terrific playing as Bob's guitarist too!
It was a whole different experience seeing Bob Evans with his band because the other three times I've seen him, he's played acoustic solo shows. Very intimate, and beautiful, but having the band really stepped it up. His latest record is more pop rather than country/folk, and having the band there really brought out his musical strengths and his lyrical storytelling. I was at the back of the venue as opposed to the front where I always am — it was a nice change.
What was really touching was his cover of The Divinyls' I Touch Myself, clearly a tribute to the late Chrissy Amphlett of The Divinyls, who passed away just a few weeks ago. Bringing things up a notch, the band left the stage for Bob to perform Darlin' Won't You Come unplugged, the audience silent as he walked among the crowd, reaching all corners of the room, with his guitar and singing without a microphone.
Just when we thought it was finished with a mind-blowing instrumental at the conclusion of Pasha Bulker, the band returned for a very long encore playing Brother, O Brother, and with Bob playing For Today from his very first album, and finally, Wonderful You — the song written for his daughter.
It was truly a heartwarming, magnificent experience. I am never disappointed when I see Bob Evans live, and he will always continue to amaze me.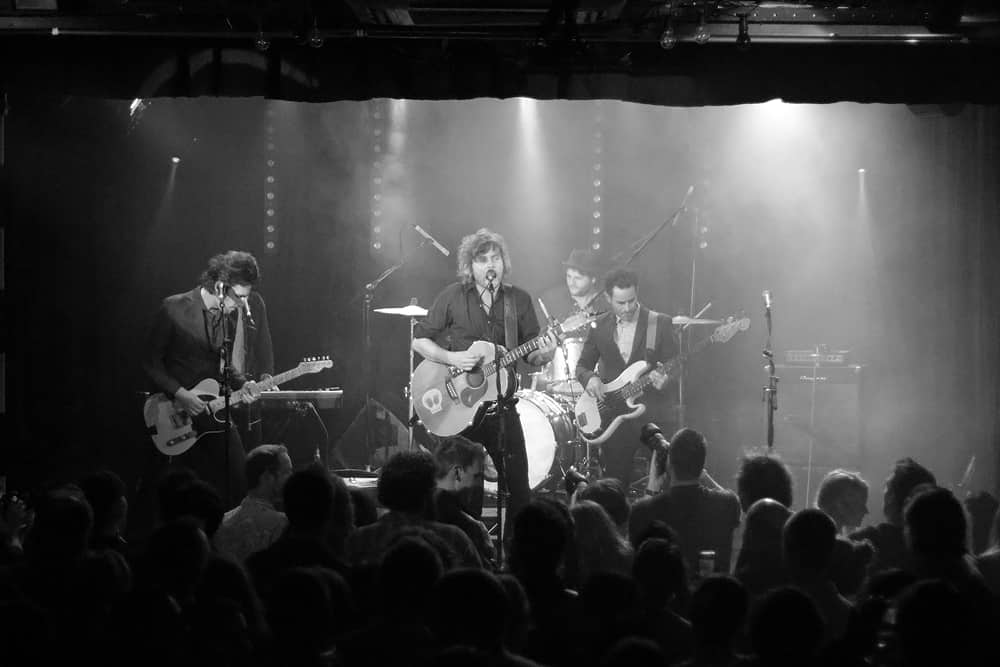 Other stuff I've done, personally
Today I deleted over a hundred photos from my Instagram account. Mostly the "selfies" and photos of food. I feel a little uncomfortable having so many silly "selfie" photos, and James really made me realise that taking photos of absolutely everything cheapens the moment. Of course, I love taking photos, I love documenting things, but to take photos of food and share it every time? Yeah. So, I vow to take less photos of myself and food.
Revamped my photoblog. So I may have mentioned this, but I have decided to keep it. And keep updating it. I have given it a new layout, which was quite unplanned, but I'm happy with the change. I also cleaned out a lot of old posts (yes, some were selfies); just deleted anything with really bad photography. I have improved a lot, and I don't need the old stuff sitting there.