Women don't think they're better than anyone. They just want to be respected
I was featured on the Campaign Monitor blog for International Women's Day. I'm very honoured to have been selected, but even more, I feel very privileged to be part of a company that recognises the efforts of women.
Over the past two years I have become increasingly aware of my position as a woman in the engineering/information technology industry, taking notice of groups such as Girl Geeks, Women Who Code, and She Hacks, or various groups with the word 'She' in the name. I have also noticed hashtags trending on Twitter such as #WomenInTech or #ILookLikeAnEngineer.
#ILookLikeAnEngineer ? I like fashion as much as I like code. ? #WomenInTech pic.twitter.com/ZyDhGVytc8

— Georgie C. Cooke ? (@georgiecel) August 5, 2015
There are probably many blog posts today, no doubt about 60% actually celebrating the achievements of women, and a good 40% hating on the day and saying it's sexist. I haven't had a good look out there, but I know I won't read the latter.
I, and many other women, have been judged, stereotyped, discriminated or mocked for having a technical background.
I've had people scoff when they believe I should be doing something more girly than web development.
I've had men laugh at me as if they can't believe a woman can have both beauty and brains.
I've been rejected from jobs feeling as if I was not good enough because I'm a woman.
I've had people assume that because I am a woman, I am more stupid than a man.
And, like many, many other women, I've had people make sexist remarks about me.
But I refuse to let that get in the way of my work, especially when I have a job that I enjoy.
There is nothing 'unusual' about women in tech
It was in the ninth grade that I decided to study computing with my best friend Lilian. It didn't take us long to notice that we were the only two girls in a class of just over thirty people. Our teacher let us walk into the class first, and treated us like we were special. This was the first time I realised that there was something unusual about a girl being interested in computers.
Prior to that, nothing was unusual.
When I was five years old, my dad played computer games with me. I went through a serious gaming stage from the age of eight to the age of seventeen. I was always playing games with my male cousins or with boys who were my classmates at school. I was never judged by the people I hung out with, and my parents never brought me up to think that I was doing 'boyish' things, nor did they discourage me. Even though my mother pointed out that I started to dress like a tomboy for a while, my parents first let me figure out my style for myself.
But things change when people grow older and more mature. All of a sudden it's unusual for a girl to play games or use computers, people notice the only female in a class of computing students, and it's a really big deal when a woman wants to study engineering.
What's so amazing about a girl who plays video games or is a software engineer, and why is it so different and surprising compared to when a boy does the same things?
Women want to be treated equally, not necessarily noticed
As a woman working in the tech industry, I feel like I speak for all women when I say that we are not 'special'. We don't want to be praised condescendingly or be given media attention because it looked so impressive that a woman did a 'man's job'.
It seemed so surprising and news-worthy that Victoria's Secret model Lyndsey Scott built phone apps in her spare time. She was on a commercial news segment that almost degraded her intelligence by drawing more attention to the fact that she was a model who 'codes off the catwalk'. Compare that to an interview where she was actually asked about her app ideas and how she came to be interested in app development.
Those movements that support women in tech don't want women to get noticed. They want women simply to receive acknowledgement for what they do, and not just because they are women.
It's not a gender debate – we don't think we're better than anyone
In my teenage years I found out about Dick Masterson – an infamous and notoriously sexist bigot, if you will – who parades around saying that men are better than women, degrading women like there's no tomorrow. I've never felt so sick about someone's attitude, nor have I wanted someone to be punished so much and sent to hell for discrimination based on the way people are born.
But wishing death on someone is not a good way to think. And neither is his.
Women don't think they are better than men. Women don't think they deserve more credit for something they do simply because they are a woman.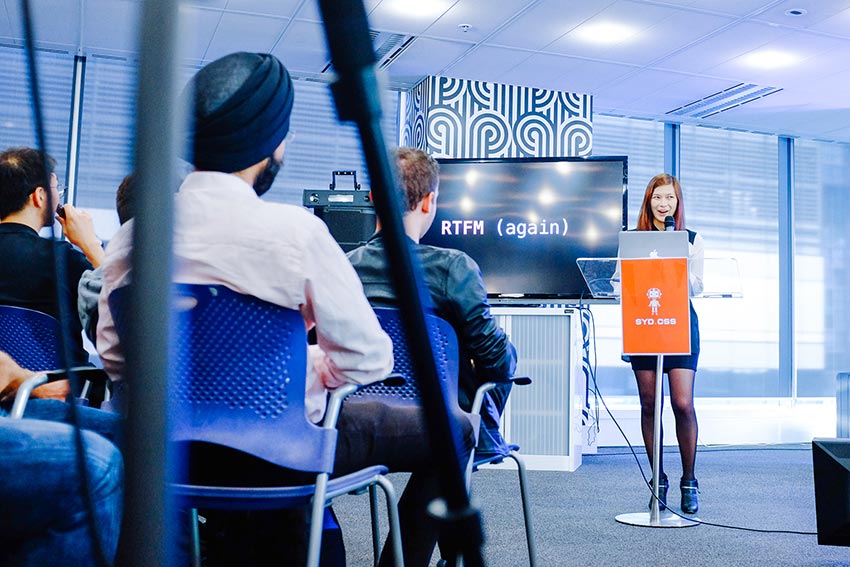 Women just want to be respected
When I was handed womens-only scholarship applications for university, I had no idea just how few women there were working in tech. As I got older, I didn't want to be associated with a stereotype. I didn't want to be associated with certain appearances, activities, occupations, or expectations, just because I was born with two X chromosomes.
I felt uncomfortable when people were amazed that I worked with computers, even making comments like, 'Wow, you must be really smart'.
I hated when people literally said to me, 'Beauty and brains!'
Instead, I took pride in my achievements and efforts exactly for what they were, and not because I am a woman.
Women don't want attention.
Women don't think they are better than anyone.
Women don't want to be given special consideration or excused because of their gender.
We just want to be given credit where credit is due. We just want to be treated equally to our male counterparts.
We just want to be respected.