Hey Girlfriend!: Holly Pryce
My friend Holly Pryce resides in Liverpool, England. I've known her for many years but last June I actually had the chance to meet her in person! Holly started a career in web development a couple of years ago, after completing her geography degree.
After searching high and low for jobs, sending application after application, Holly was finally offered a position as a junior web developer. Now, having dropped the "junior" from her title, Holly is an example of some who did not need formal qualifications in web development to start her career.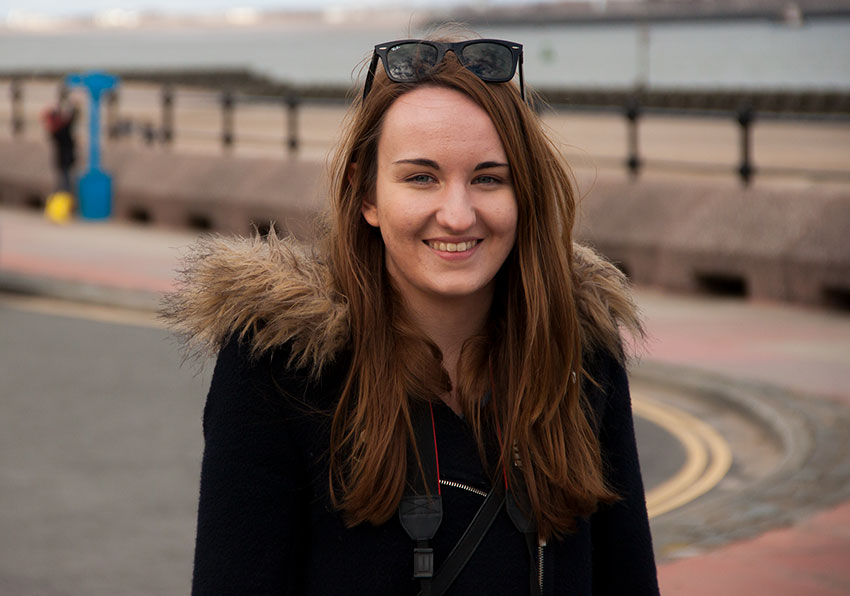 Hey Holly! I first have to ask how you got into geography – what made you decide to study that? And can you also share with us the story about your move to Liverpool – obviously that would have been a very big change!
I actually really struggled to choose what to study at university because I had a bit of an identity crisis when I was college. I ended up studying geography because it was one of my favourite subjects at school. I've always loved travelling and I found learning about other cultures fascinating. I also thought that there would be a lot of career options with a geography degree so it seemed like a sensible choice.
I knew I wanted to live in Liverpool and that going to university there would be the easiest way for me to make that move as I could live in cheaply in student accommodation and I would get all the loans and grants to support me. Prior to moving out I'd always been such a homebody so it was like taking a giant leap out of my comfort zone. I went from living in a small market town in the middle of the countryside to living right in the middle of a city so it was a massive change, but I quickly realised I'd made the right decision. I've never looked back.
I know you love work and what you do. This isn't something that most people can say. I personally am also one of those people who loves my job, but what is it exactly about your job that makes you love it?
I love the people I work with, and I think that's the main reason I love my job so much. It's nice to have a supportive team of people who are friends as well as collegues. I mean, we even went to Norway together last summer and it turned out to be one of the best weekends of my life.
But in terms of the actual web development, I love that no two days are the same. Each day brings its own set of challenges and problems to resolve. I build tourism websites which perfectly combines my love of travel and coding. I get to stare at pictures of beautiful places all day long.
As a fellow blogger, you've had writing slumps and recently took a quiet month off blogging. This rejuvenated you and you came back feeling refreshed and ready to churn out new posts. Did you have a fear, at all, that it might be difficult to come back to it?
I purposely chose to take November off because I love writing about Christmas and writing reflective, end of the year posts, so I knew that would make me excited to start blogging again.
I was actually craving getting back into blogging again at the end of November, but at the beginning of the month I did worry that a one month break might escalate into two or even more. I started to question why I was still writing my blog after all these years, and I wondered if anyone would care if I stopped. I'm so glad I have such a support group of blogging friends who picked me up and made me see the value in my work. I'll be forever grateful to have you guys.
And from your experience, what would your advice be to other bloggers struggling to find inspiration or write?
Take a break, whether that be a week or a month or even just a couple of hours away from your computer. Go somewhere new or try something new and seek out inspiration. I know that for me, inspiration rarely comes from sitting in front of my computer screen.
You and I are people we might call "old-school bloggers". Rather than me explaining what that is, can you define what an "old-school blogger" might be, compared to a more modern blogger – and the advantages and value of being one?
When we started writing blogs I don't think anyone saw it as a viable career option so everything was more casual, there was less competition and we just wrote about what ever the heck we wanted. And I think that while some old-school bloggers have changed their style of blogging to keep up with the evolution of blogging, we've just stuck to our values and we've carried on doing exactly what we want because it's our passion.
I think the advantages are less stress, because I'm not worrying about numbers or making money to pay the bills, and the strong relationships I've built with people through blogging, particularly though leaving comments. I mean, we never leave short, one line comments like "Nice post." I've had comments longer than the actual post itself!
You've written about how blogging has helped you write better and improve your writing skills. Was that a goal you were aiming for, or was it just a reward that came out of blogging for a long period of time?
It wasn't something I was aiming for, but I'm glad it happened. It's funny because when I started out I was all about the design and development side of things, and I just wanted to create graphics and other resources for people to use. I enjoyed writing but I wasn't very good at it and I never imagined it would become such an important part of my online life. It's definitely helped me in other aspects of my life though, such as education and employment.
You have a physical disability that is not completely obvious to an onlooker. Can you describe it briefly and how it impacts your everyday life, and how you manage to stay strong and push through?
I was born with a condition called development dysplasia of the hip which basically means my hip socket had not formed properly. I've had 6 operations on it so far and I'm going to need a total hip replacement in about 10 years time plus multiple revisions later in life. I experience a lot of pain in my hip joint, particularly when walking. In the last few years I've started having steroid injections into the muscles around my hip which have been life changing for me, but I still have bad days where even leaving the house can be challenging.
When I feel low I allow myself to have a day to have a bit of a pity party. I'll cry and mope around and eat a lot of rubbish food, and then the next day I'll try to shake it off and get on with my life. I have to remind myself that while I do have to live with this for the rest of my life, it doesn't have to define me and it doesn't have to be the centre of my universe. Living with this disability and coping the challenges it has brought me in life has definitely made me a stronger, more determined person.
I know this is a little bit personal, but you have a long-term partner who has supported you in everything you do. How has this relationship enriched your life?
I feel lucky to have found someone who has the same morals and values as me, and is just as driven in their career, especially at such a young age. Tyrone is one of the most encouraging and honest people I have ever met. For instance, if it hadn't been for him I probably wouldn't have applied for a job as a web developer, which inevitably stared my career, because I didn't think I would stand a chance. He was the one who convinced me that I was good enough and that if I didn't apply then I'd never know what could happen.
He's also so caring when it comes to my hip dysplasia. He considers absolutely everything and how it might affect me; even things I wouldn't necessarily think about. I've lost track of how many nights I've been lying in bed in agony with hip pain and he's stayed awake with me to comfort me.
You love art & craft and decorated shoes with comic book prints a few years ago. Tell us about how successful that was and if you'll be looking to do something similar again in the future?
In my eyes it was a pretty successful little business. I didn't make a fortune and I was lucky if I sold one pair of comic book shoes a month but I was making 100% profit and I got a lot of great feedback from customers. Most of all, I enjoyed it and I learned a lot along the way.
I would love to start this up again now I have more time and a car to make trips to the post office easier! Tyrone and I were recently having a conversation about how we could make them more durable using different coatings.
Even though you're not originally from Liverpool, you convinced me – someone from the other side of the earth! – to come visit. What are the best things about Liverpool and what made you fall in love with the city?
When I was younger my dad used to bring me up to Liverpool to watch football matches (we're Everton supporters), but it was only when I was about 15 or 16 that I visited the city centre for the first time. I instantly fell in love with the buildings, especially Albert Dock, and the people. Liverpool has been voted the friendliest cities in the UK, you know!
I love the fact that even though it's a city it feel quite small and homely, and that it also has the most gorgeous beaches and countryside right on it's doorsteps. It really has everything I could ask for.
You love The Who. Thinking back to the times you have seen them live, what was the most exciting moment you've experienced related to the band?
I think the most exciting moment was when I went to see them in concert for the first and they just casually walked on stage ready to perform. I remember thinking to myself "Oh my god, I'm in the same room as Pete Townshend and Roger Daltrey!". I never thought I'd have the opportunity to see them live so it felt unreal.
Also, when I went to see The Who for the second time, Pete Townshend's guitar broke while he was playing and he just smashed it like he was famous for doing back in the day. That was something special to see.
What are some things you love to do to unwind and relax?
I love to go out for the day to a beach or to the countryside. Going for a walk in the fresh air takes my mind off things and I usual come back feeling more motivated and inspired. I've recently got back into the habit of going swimming on a weekly basis and this is almost like therapy for me. I love it! But I also love staying in and reading a book in the bath, or curling up on the sofa with popcorn and a Louis Theroux documentary!
If someone offered to buy you a drink, what would you order?
A pint of beer. I'm such a classy woman!
---
You can find Holly on Twitter at @hollypryce, at her often-updated blog Empfire (she writes some super interesting posts) and on Instagram. And if you want to buy her a beer, you'll definitely have to visit Liverpool. 🍻