Hey Girlfriend!: Heather Noonan-Hargroves
For this episode of Hey Girlfriend! I am interviewing my colleague Heather, who is director of Compliance and Deliverability at Campaign Monitor. She has a wide range of interests including music, makeup, lifting weights, conspiracy theories, and good food – she enjoys anything with extra spice/heat, burgers, sashimi, fish, a rare steak, and has a keen taste for Japanese food.
Heather's favourite television shows include Game of Thrones and Buffy the Vampire Slayer, and she enjoys horror and thriller films. We talk about a bunch of these things as well as fashion and mental health.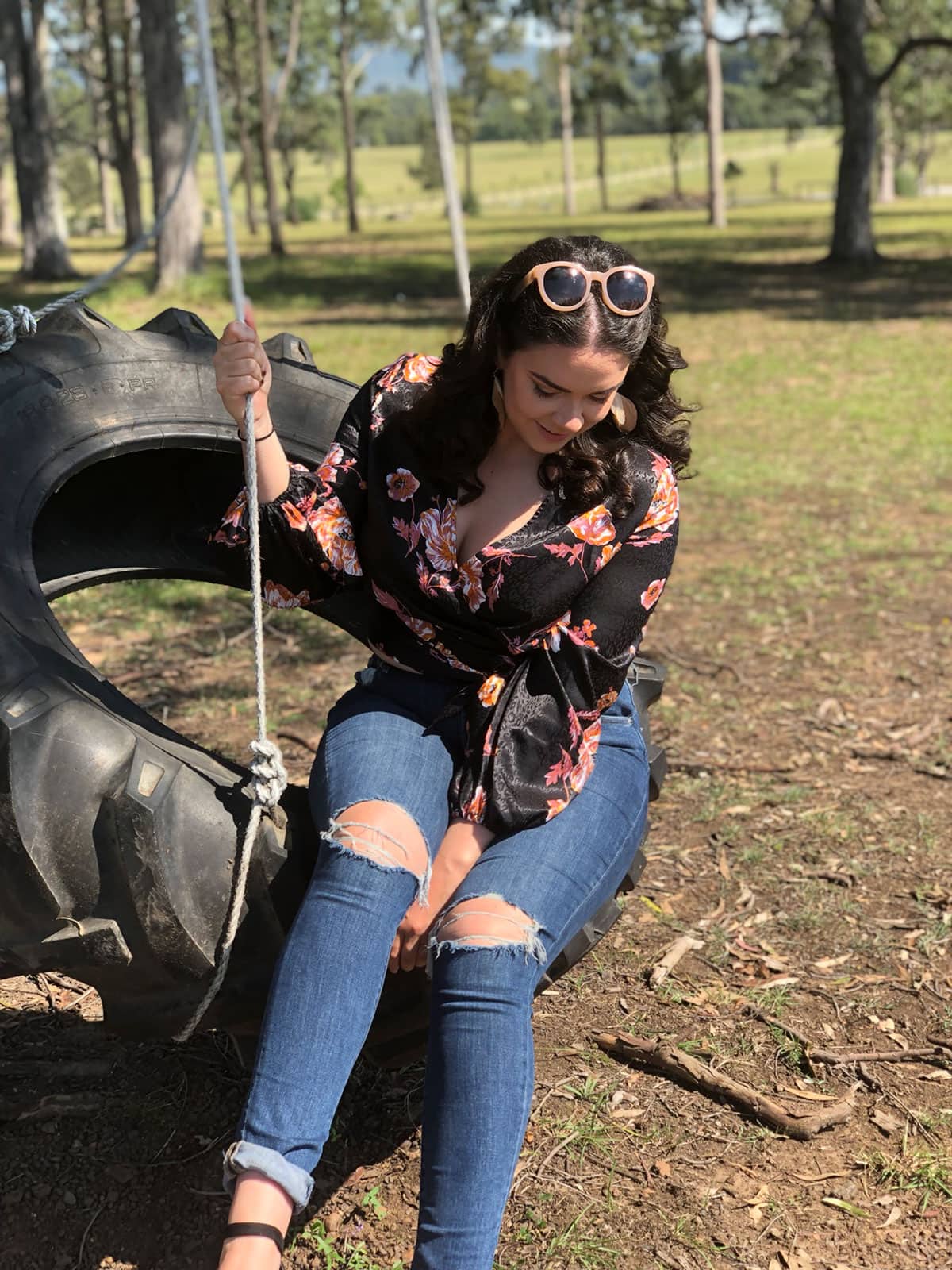 Hi Heather! You recently had your permanent residency in Australia approved, congratulations! What things about Australia make it a place you love to live in?
It's funny actually – I was not even supposed to be living in Australia! My plan was to move to New Zealand with my husband, a Kiwi, and settle there. My employer Campaign Monitor asked me if I'd like to live in Australia for a couple of years and work from their new office as I'd recently been promoted and the company was growing quite rapidly. It made sense, so we made the move quite quickly in 2015. Within a short few months we were absolutely in love with Sydney and the Australian lifestyle. It's now been 4 years and counting and though we will end up in NZ eventually, our home is here for the forseeable future. We're surrounded by oceans and amazing beaches, National Parks, and an abundance of gorgeous cities to play in. Work and personal life is thriving and the aussie sense of spirit combined with their relaxed, (almost) stress-free view on things has permeated into our every day thinking. Australia feels optimistic, vibrant, and joyful. I think that's the primary reason we are sticking around. New Zealanders are similar, but it's less metropolitan. At this time in our lives we are enjoying the convenience of city life.
Your job title at Campaign Monitor is Director of Compliance and Deliverability. Not many people are familiar with what this means – but it's a very important part of the business. Can you describe what your role entails?
Email Marketing is a very unique industry – it's a collective of Senders, Providers, and Subscribers. To make sure the eco-system runs efficiently, and safely, for people receiving email there needs to be standards in place which ensures people receive the emails they want, and senders most efficiently get a return on their investment in this space. Compliance specifically looks at anti-spam and abuse: we ensure users of our service are abiding both by local legal requirements in regards to email, but also our own Terms of Service. We don't want to send email that is harmful, or that people do not expect and haven't asked for. To that end, we vet and review emails sent from our platform, providing solutions for programs that are not compliant (to bring them to compliance) and taking action when our terms are violated.
Deliverability is another, extremely important facet of email marketing. Why send emails if they don't reach the inbox? Sending email in large volumes requires sophisticated infrastructure, monitoring + analysis, and our customers need support in ensuring their emails and sending is optimized for delivery to the inbox, avoiding spam folders and failed delivery (known as bounces.) My role is the management of a team of dedicated experts working on all of these facets, optimising our platform's reputation and enhancing our customer's experience and capabilities in Email Marketing. I'm also responsible for facilitating stakeholder discussion about the importance, influence, and impact of our work amongst other departments such as Sales, Product, and Marketing.
What was your journey like before working in tech and how you were eventually given the opportunity to be in your current role?
I've never been an ambitious person – my drive and passion comes from helping others in the best way I am asked to and being able to identify solutions for difficult problems and discussions. I went to University with no interest of a career in any particular space, I just wanted to spend time studying a personal hobby of mine: Film. I did excel there, getting a First in my Bachelor's Degree, but my living situation on graduation meant I had to find any job to help pay bills. I worked full time in retail (in the largest Gamestation – like EB Games! – in Europe. Eventually, my teamwork and ability to lead led me to an assistant manager position, but I was getting itchy feet. I was offered a management position in a completely different field – legal compliance in an Energy and Sustainability Company, who worked with domestic and commercial building developments. It was a lot of work and a lot of training in a new field, in a short time. I still wasn't feeling completely fulfilled however, and my role was uncertain (many hats, for one person!).
My husband has been in tech for many years, and came across the job advertisement for a compliance specialist. He knew the company well as he had followed the founders for a number of years on their journey growing Campaign Monitor. He was adamant it was the role for me – despite my objections and having had no work experience in tech or software. I think my ability to adapt to new skills and my lateral thinking, coupled with a pretty intense passion for finding solutions for customers/clients over the years made an impression, and I was given the role. I was required to help build this newly formed team pretty much from ground up, keeping on top of what is typically a very evolving industry and moving the company with those changes. And that's what has led me to my current role as Department Director!
You've been into lifting weights for quite some time, despite having injuries that halt your progress and make the experience frustrating at times. How do you get around those injuries and what are the biggest things that motivate you to keep on going?
It took me a long while to find exercise I felt reliable and capable of doing. I'm so glad I found weights! I'm tall, and broad – a little shorter than Ser Brienne of Tarth Knight of the Seven Kingdoms, but you get the idea. It makes sense that weightlifting became a hobby, ha. Unfortunately I'm also susceptible to injuries – they've mainly been due to my keenness of doing too much, too soon. All have occurred lifting heavier than I really should have tried, sooner than I was ready for. That means I've delayed progress over the last few years, but I'm learning to be responsible with my body, part of which means relinquishing a fear that I'm not strong enough and must be stronger quickly. I now spend longer on my sets and range of motion, focusing on my form and considering the most appropriate weight to do it all correctly (I had a habit of increasing weight too soon, and not completing reps with correct form.) I also research new exercises much more throughly, and take special care to note what doesn't feel right. I stop any rep when something feels wrong. This has protected me from injury for 8 months now – a record, for me!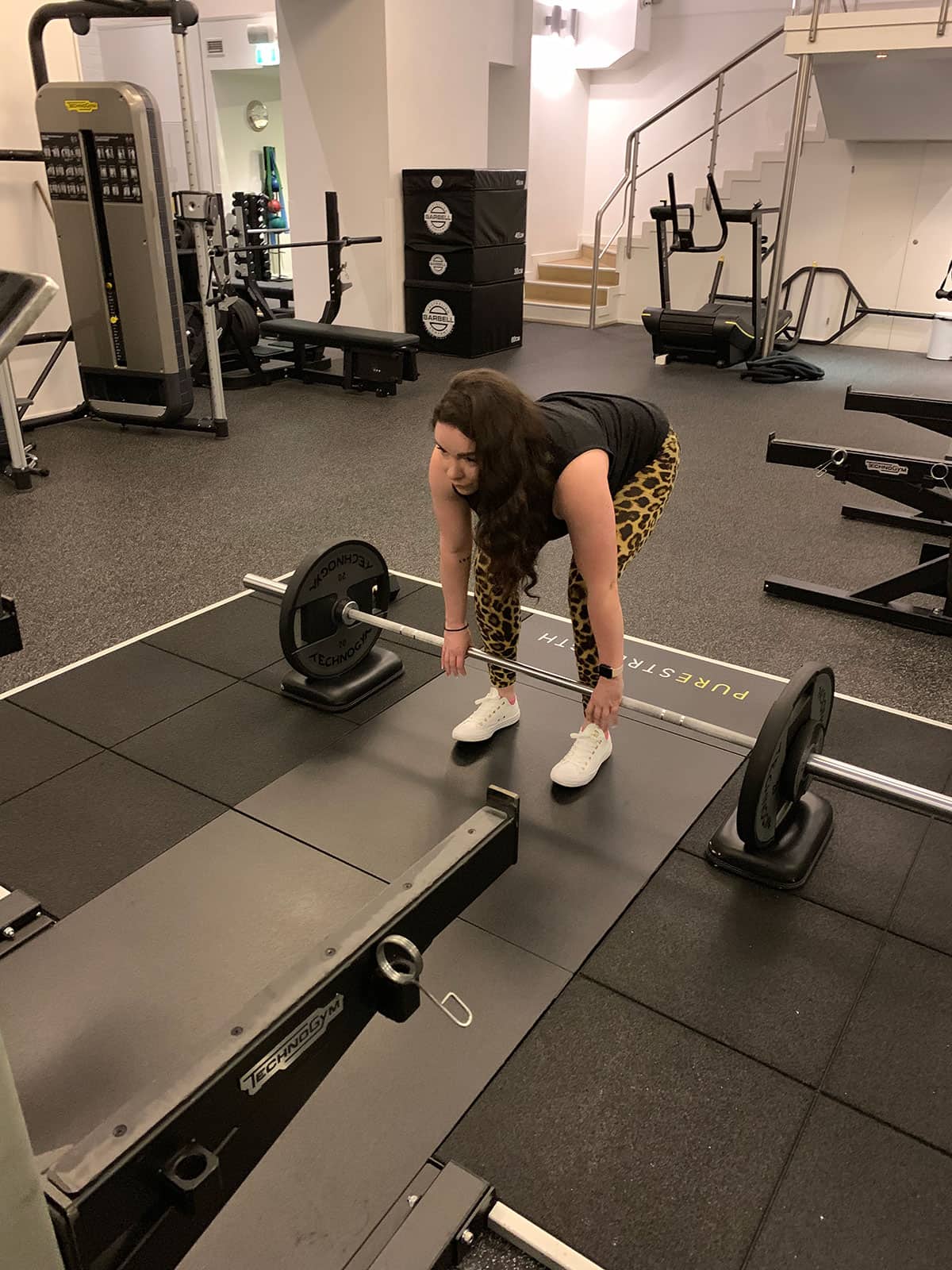 The fitness industry can be damaging in different ways, from causing low self-esteem, to promoting bad diets and lifestyles, to demonstrating incorrect and bad form for exercises. What advice would you give a beginner who will no doubt be exposed to all of this misinformation and media?
I've recently began to specifically unfollow people on Instagram who I previously was following actively, if they exhibit any posts which promote food restriction, and emphasis on being lean, or thin. I don't want to create an echo chamber for myself, but I also became keenly aware that many fitness influencers choose money over integrity – and will promote products and processes that damage minds and bodies long term at the expense of sustainable, reasonable methods.
Food restriction in particular – a big one for me as I have had a horrible relationship with food and my body for many years. I used to be extremely thin as a teenager (and was bullied) now I am big, and stronger for it, but I definitely feel pressured as I'm not "thin" enough. I've unfortunately had a few personal trainers who continuously focused on weight LOSS during my time with them, including constant recommendations of severe calorie restriction. 1200 calories a day, even 1600 calories a day, is not acceptable or sustainable for any average person working out regularly, let alone someone lifting heavy weights. Leave your trainer if you feel belittled, or unsupported. It's hard, but worth it. Try to avoid weight-loss promotion in conversation – avoid being down on yourself and instead talk about your achievements. You ran your first mile, you did your first set of deadlifts, you added 5kilos to your bench press. Think of any fitness regime and journey as a strength journey. If you need downtime, take it. Don't feel bad to rest and recover. If you have a week off, don't battle yourself or restrict your food in compensation. I try all of these things in the hopes that I am not making myself, or others feel inadequate or poorly about diet, food, and weight concerns. Do what you can do, when you can do it.
Us fit girls know that it sucks finding clothes that fit! After experimenting with clothes, what have you found works for you and your body shape and size (apart from activewear of course 😛)?
I'm still unsure about all my choices! I spent quite a few years wearing lycra as my style choice (funky leggings from places like Blackmilkclothing) but I'm 32 now and realised I wanted to feel more feminine and expand my options. I have broad hips and shoulders so I'm aware that not all clothes will suit me. I've been experimenting with tailored jumpsuits, which make me feel comfortable and confident – they're a good go to choice now and can be dressed up, or down! I'm also wearing jeans for the first time in a decade! I love pairing those with white sneakers like converse and a fun blouse (my favourite is leopard print, at the moment.) To shake my body confidence issues even further, I've also ventured into crop-tops. I am plus-sized, which is fine, though the media would like to tell you crop tops are not allowed for us. I've received endless compliments since trying them, and I'm experimenting with fun-shaped sleeves, off the shoulder, and wrap tops with bold prints.
OK so you are MAKEUP GOALS. You've even had friends have you do their makeup for special events. Do you have any favourite looks or styles, and any brands or products you swear by?
Fenty by Rihanna is my absolute go to for easy to use, blendable products. Their matchsticks have changed my makeup routine drastically! I can conceal, contour, blush, and highlight so quickly and it's so natural!
I'm also a fan of Glossier (also for the slick naturals) though it's hard to get in Australia. A close friend ships me stuff from America.
For eyeshadows you can't beat a classic neutral – bronze and champagne tones too, especially in summer. BH Cosmetics is a great cheap range online, and I also use a selection of palettes from Anastasia Beverly Hills, Mac Cosmetics, and Too Faced for those.
My favourite look is the Hollywood Glamour of the 50s, think catseye and red lip. Reds are tough for a lot of people but find your tone – blue/purple pigment for cool skin tones, and coral/orange pigment for warm skintones.
A bit of a question for me personally, haha… do you have a recommendation for a smudge-proof, long-lasting lippie? 🤔
Speaking of lipstick! Liquid mattes are your best bet for a long lasting lipstick, though a few popular ones haven't fared well for me (Stunna by Rihanna is an incredible shade of red but did not last, and smudged, everywhere!)
I'm conflicted by the Kardashian/Jenner family, but they have definitely nailed the smudgeproof liquid mattes. If you'd prefer a dupe, Colourpop's liquid lips are cheaper alternatives, as is NYX Liquid Lingerie range.
Mac's bullet lipsticks are a classic too – I have a few reds in that range that always do me well!
Finally, Revlon's Colourstay liquid in their nude range have also been a staple in my bag.
Always prime your lips first – I use Mac's Prep and Prime.
Don't expect results if you're trying sheer, gloss, or butter lipsticks though. Smudge and wear is inevitable.
You struggle with anxiety and have supportive family and friends, but mental health issues can still be hard to live with, and difficult to explain to others who may not understand what it's like. How were you able to explain your struggles to your loved ones to help them understand what you're going through and how they can support you?
My husband has been my sounding board, and also seen me at my worst. He still struggles sometimes in understanding the why (I have no answers for why either, usually) but helps me find ways to adapt to mental pain and exhaustion in real time. This helps ground me, and he allows me space to comfort myself – for example, if I don't want to leave the house he won't pressure me.
Weirdly, I don't often practice what I preach, and rarely ask for support from friends and family. This is fine though, and I do have some very close friends who will always be there when I need it. I think everyone needs to find someone they trust and love, who they can be open and honest with about their fears to. Seeking ways to adapt on your own is also important, as we shouldn't have to rely on others to prop us up 100% of the time. That's why I've sought out my own ways of coping, in addition to my husband's efforts when I'm in a bad place. I recently decided that medication was the next step for me in controlling my anxiety and depression. I wish I'd decided much sooner, as I've seen significant change in myself (for the better) since opting for this method. Many mental health issues are directly associated with chemical imbalances in the brain – we should not feel bad about seeking treatment for this, it is not a failure to be medicated for mental health issues.
The world can be a judgmental and unaccepting place and someone coming to terms with their own sexuality can feel lost. What helped you in your experience?
My parents were open with us growing up and made sure we knew any relationships we began in our teens would be accepted. I had a bit of an odd start knowing from very young that I had feelings for boys AND girls! So I actually talked about this early on with them, and I was allowed to figure it out in my own way as I got older. Highschool in the noughties was a no-go, so I didn't confirm my sexuality until I got to college. It was still tricky, I got outed by a "friend" who then told everyone I was seeking attention. Common, for bisexuals, to be labelled that way. I've never denied my sexuality, and my husband has been supportive from the start of our relationship – it's just who I am. I encourage anyone I know (and you, if you are reading) to seek out relationships that fulfil you, and to not shy away from your desires and passions. The more we encourage each other to do this, the more we can nurture acceptance. Love is love sounds cliche, but I'll always stick by it.
What tunes do you have on high rotation at the moment?
I'm obsessed with Marlon Williams at the moment – his new album Make Way for Love is incredible
The song Chainsmoking by Jacob Banks gets me in a MOOD
Anything by Leon Bridges
The whole Hollywood Africans album by Jon Batiste
I'll never stop listening to the Beegees, so for a good singalong I've recently had So Little Time on regular play
Also, I've played Jenny of Oldstones on repeat (the Florence + The Machine Version) since the Game of Thrones episode featuring it aired last week. It's haunting, and beautiful!
Let's talk about food! Let's say you have a friend who is new to Sydney, what places would you recommend they hit up?
EVERY PLACE. No seriously, food is next level in Sydney.
Some favourites include Cooh, Alexandria for Brunch, Banksii for fancy brunch in Barangaroo, Toko or Gogyo for incredible Japanese dishes in Surry Hills, and Chur Burger for a good old fashioned munch on a Friday night. I honestly have so many though that now I'm struggling to choose to recommend. Yikes!
If you didn't work in tech, what do you think you'd be doing?
I reckon I might have ended up in my own makeup business of some sort, eventually. I'll keep that in my pocket for a rainy day!
Last question: You get to have a manicure of any colour you want, but you have to leave them the same colour for a whole year. What do you choose?
Oh this is easy, because I never change my style anyway! Nude acrylic ombre, with one fancy, shimmery finger for show.
---
I hope you enjoyed reading about the incredible Heather and grabbed a few makeup tips as well as a load of inspiration! You can follow her on Instagram where she is most active.
To find out about more women in tech from around the world with different backgrounds and experiences, check out other Hey Girlfriend! interviews. A new interview is posted every month.