Fashion Friday: Slow Dawn
I'm quite excited about this Fashion Friday because there are a few stories around the pieces, and I feel like even though I didn't think a lot about the outfit, everything fit together quite nicely.
I coloured my hair red a couple of weeks ago so this is the first Fashion Friday I've done since. It's the same red I used a year ago, which I really like, so it's not going to look that different from other photos you might have seen of me with the same hair.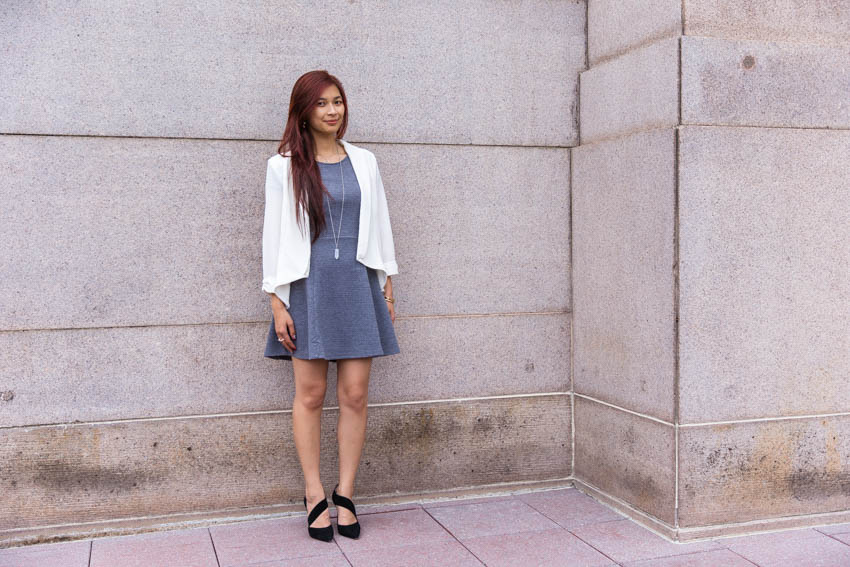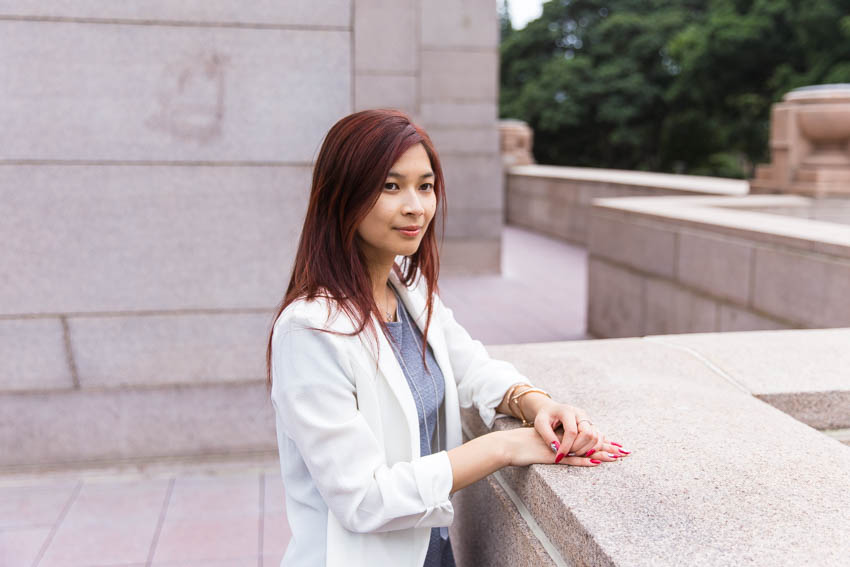 I bought a pair of real leather shoes from H&M some time ago, which proved to be super uncomfortable and impossible to break in. I was able to return them (even though I had already worn them) and got a returns card of the same value. Nick got some gym gear using the card, and I got the grey dress in these photos, a short skirt, and a plain top. Really basic items of clothing, too – they were all cheap (as H&M is). So it only worked out to be about twenty dollars over the total amount on the card. It's pretty funny how much we bought for the same price.
I had been eyeing this dress the last few times I had been to the store. It comes in black, coral and olive green. I think it came in white, too, but I don't remember. If the coral was more red, I might have chosen that colour instead – but I only like a really specific shade of red. As I have so many clothes in black, I didn't just want to get more black, so grey was a safe bet. I love the dress. I have wanted a simple, casual dress like this for so long, in this style as well. I adore the high waist and the flare of the skirt, I think it really suits my body shape and size.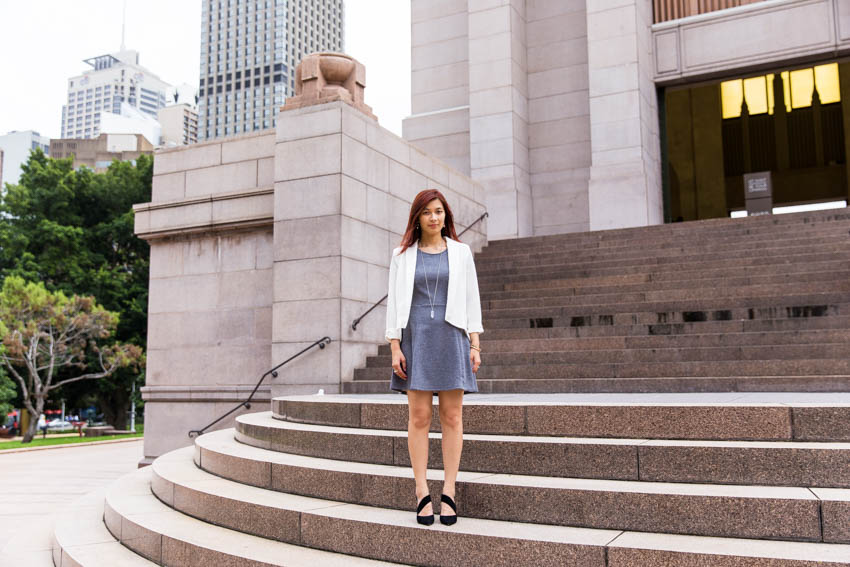 I'm a big fan of basic items of clothing, and love the ability to dress it up or down (I usually dress up, in case you haven't noticed). The only concern I have is not being able to do it right. If you don't get the base right, then everything else will look off. For example, if I picked a simple grey dress that was too long for me and too loose, no amount of work or accessories would make it look good.
I got the white blazer thanks to my lovely friend Monica, who said she owned it for a while but it wasn't her style. Knowing it would be my style she gave it to me instead. I love the loose fit and the fact that it's longer at the back and has sleeves that reach halfway down the forearm.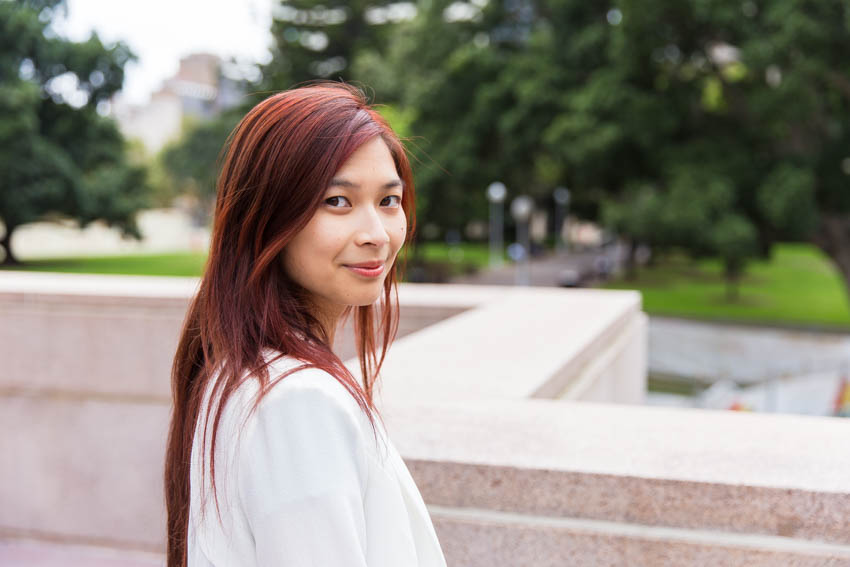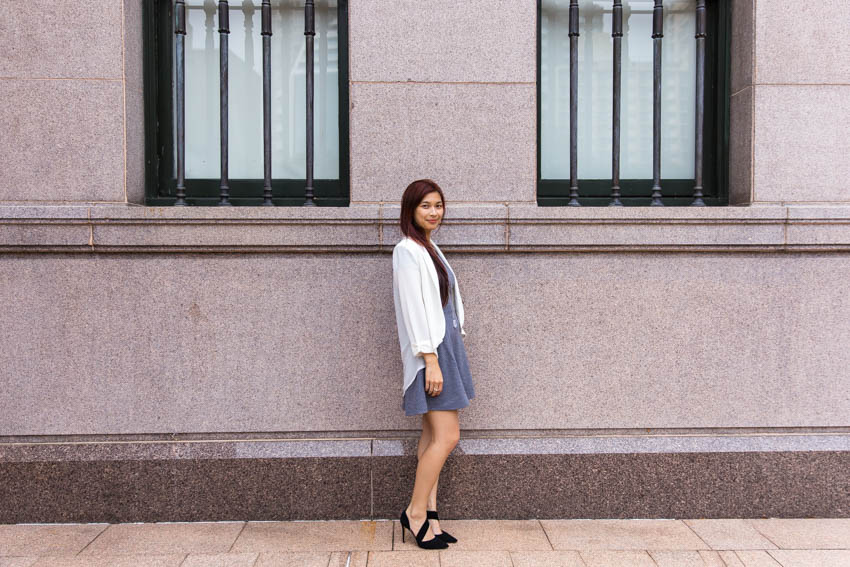 I could tell stories about these shoes… they happened to be the only pair in the whole of Australia in my size. I tried on a 36 (6) at the store near my workplace, and it was too big, so I tried a 35.5 (5.5) and it fit well. Since I wasn't sure about it yet, I gave myself some time to think about it and later asked my mum to order it for me. She also gets a discount as she works at the department store, but the one closer to home.
It turns out the pair I tried was the last one. Afraid that they wouldn't keep it on hold as long as we asked them to, Nick kindly and patiently came with me to pick it up a couple of days later on the weekend. Sometimes staff members don't keep items on hold because they just care about sales and commission…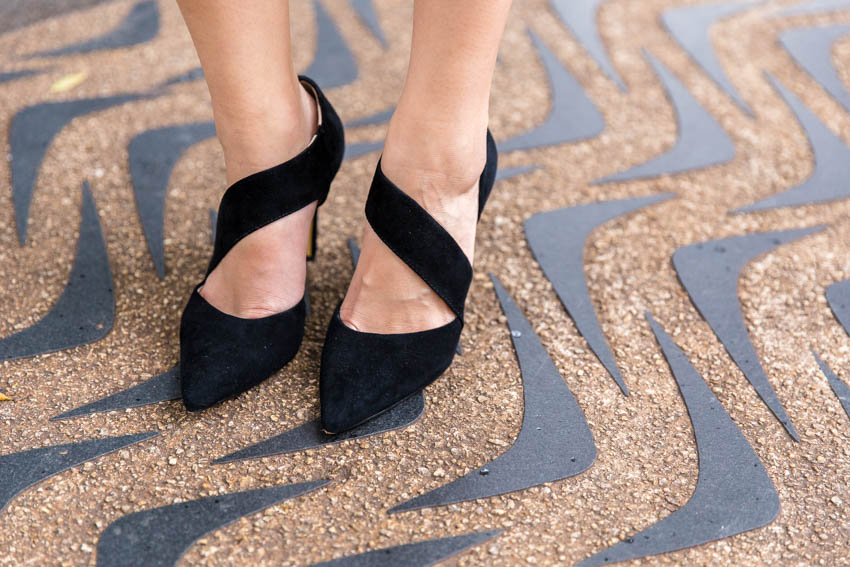 But yes, I love the shoes. They were worth the money. From a very front-on view, they don't look super flattering. But the angle of the front strap is really interesting. Straight straps at the ankle don't look great on short women, but v-shapes apparently do. This is more diagonal than v-shaped, obviously, but the shoes are still very cute. The diagonal strap makes them very comfy to wear, too. Another thing I learned is that pointed toes look flattering on short women too.
I like the different bold colours in this outfit, even though the dress is pretty simple, I think I've dressed it up with the shoes and blazer.
I actually painted my nails before I chose the outfit. I was choosing between red or blue and went with red because I thought the silver nail stickers would go better with it. I got the nail wraps/stickers from Scratch and I remember falling in love with the design as soon as I saw it. I love crystals and gemstones and they were just perfect. I had to wait for the red to dry before putting the stickers on, but I just had to be patient.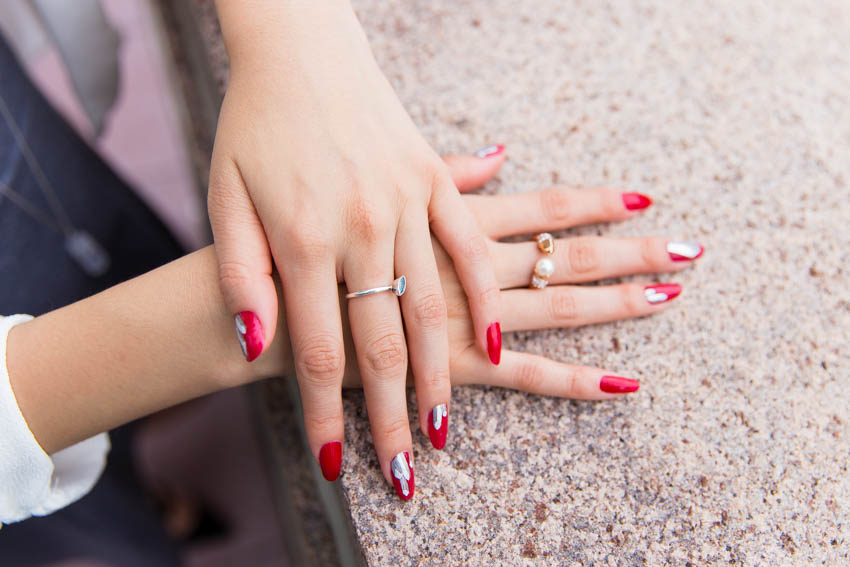 It's also a good thing I didn't put them on all my nails. I think the subtle accent on just a few nails is better for a design like this! Surprisingly, the red goes with my new red hair colour. I think I picked the grey dress to match my already-painted nails. ;)
The choice of rose gold jewellery made sense since I had red nails as a nice accent to my neutral coloured clothes. They are pieces that have made a regular appearance in my posts.
I chose the necklace because it's a semi-precious stone with a crystal cut (like my nail wraps!), and it complemented the blazer without being too overwhelming. I feel like I should have worn it shorter to fit with the high neck and waist of the dress… but I read that delicate, long necklaces are flattering for short women because it elongates the figure?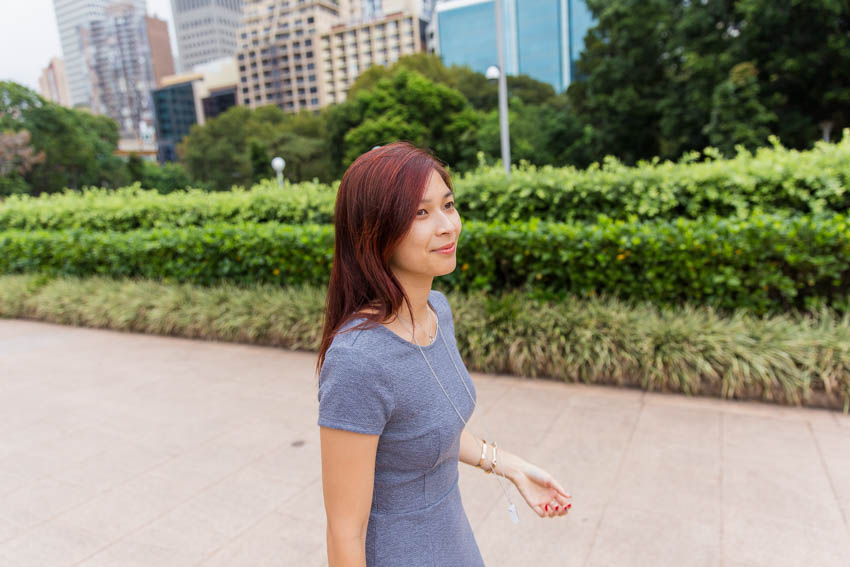 The name of this Fashion Friday comes from the Smashing Pumpkins song Slow Dawn – I had a domain name by the same name for some time too. I have been talking to Monica recently about the Smashing Pumpkins, my favourite albums of theirs, and what my favourite things are about them. Machina II was one of my favourite albums even though it was not really officially released, and Slow Dawn is one of those pretty songs from a dream-pop, art-rock album. The greys and simple colours in this outfit seemed to fit with the name. The album art is also shades of grey, black and white.
Photography by Nick. ❤️
Outfit details
Dress: H&M
Blazer: Imprint
Shoes: Jane Debster 'Berkeley' heel (available at Myer)
Wristwear: The Peach Box (Modern Latch Bangle)
Necklace: Lovisa
Earrings: purchased overseas at a market
Ring: The Peach Box (Pearl Fiesta Ring)
Nails: Sally Girl (Fire! Fire!), Scratch (Power Crystals)