Fashion Friday: Wine and skulls
I guess I have a pretty quirky style when it comes to fashion. I like elegant pieces, but sometimes I like to toss it up a bit. My mum says that I always wear t-shirts with really nice, formal and dressy skirts. I think I've been doing that ever since I used to dress like a "rock chick"; I had a habit of wearing band shirts with a girly skirt, and sometimes wore patterned tights with aliens, skulls, dogs, or what have you. I thought they were pretty cool, but it's interesting how quickly you go in and out of phases. I now can't imagine wearing my dog-patterned tights outside of home.
Today I'm sharing one of my more casual outfits, which I suppose is a bit on the quirky side as well. These tights aren't patterned, but they have a cherry-blood-red sort of hue (I bought them from Cotton On). I have never owned any red tights – a couple of years ago, James's mum gave me a pack that had yellow, green, purple and pink in it. They were really subtly coloured though, and not as bold as this colour. In fact, I wore the green ones once and Cal did a double take, noticing my legs were a slight green and wondering if I was seriously ill or if I just had green tights on.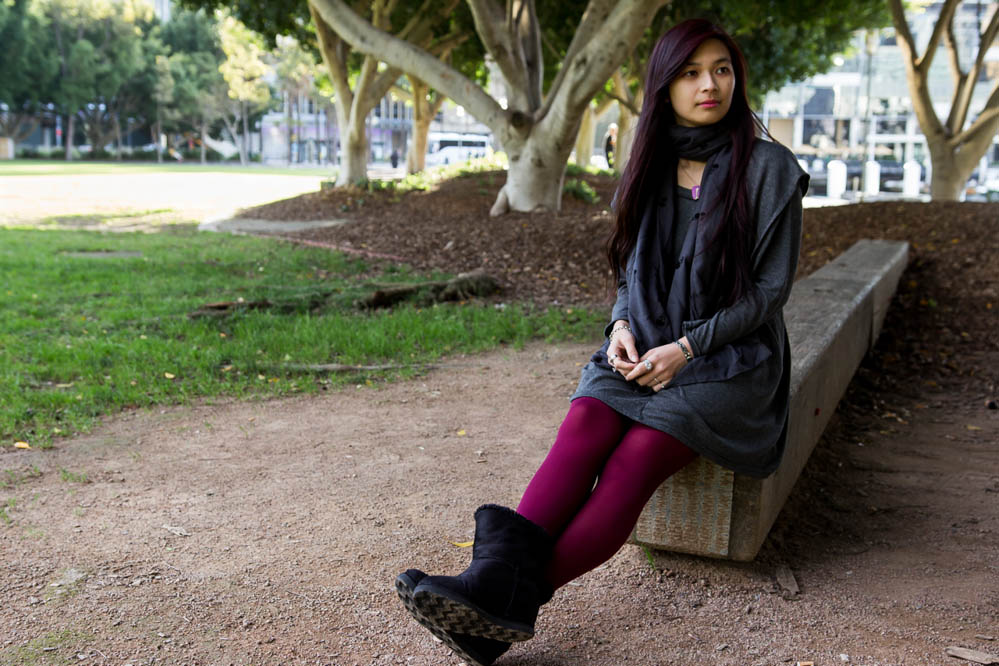 I suppose my tights match my hair colour a bit.
I've featured these boots in another post; they're the pair I got in Japan when my boots were still soaking wet from the snow. I love them! I especially love the concealed wedge heel. They're getting a bit scuffed, but I still love them. I'm hoping to find a pair to replace them if they ever get completely ruined. I'm like that with clothes – if I really, really like a piece, I will start to worry and consider buying a replacement if it starts to wear out.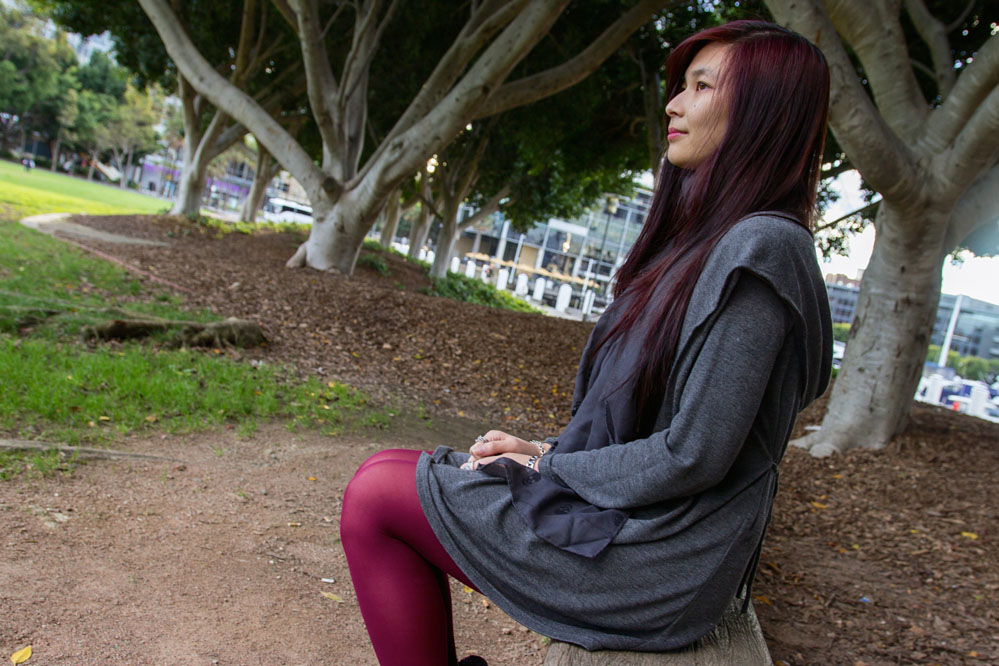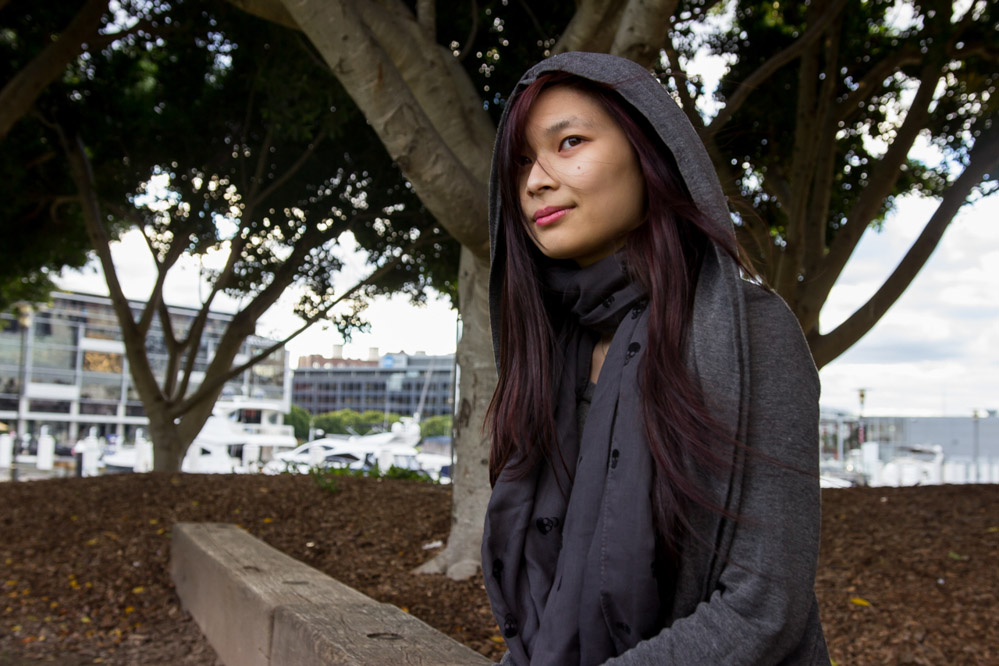 The dress is one I bought in Hong Kong. Admittedly, I wasn't too sure about how it would look on me, but it looked good on the mannequin – it's always risky buying clothes that you haven't tried on first, and even more risky just thinking "ah yeah, looks nice on that…" It worked out OK, I guess – it's not the greatest item of clothing but I like the loose fit. I like the small details in it that make it more than just a slouchy dress. It has a hood and ties up at the back.
I got the skull scarf from my mum, she bought it at the department store she works in. I didn't want to distract from the already very bold tights, so it's a good thing the scarf is a dull grey like the dress.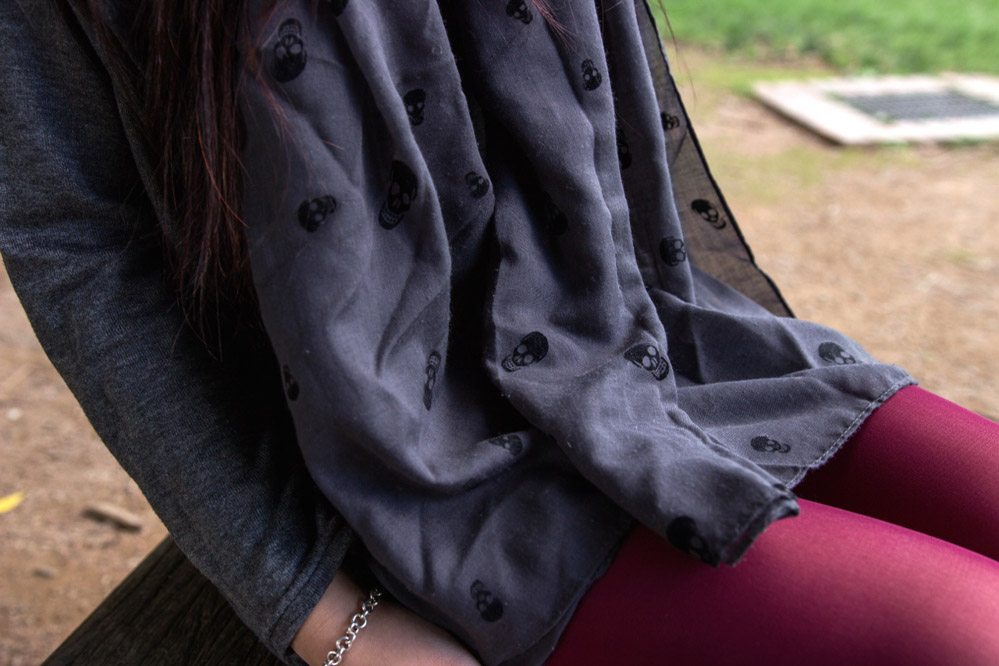 The silver set of rings is a birthday present my mum bought me last month. She knows I love stack rings and bought me this sterling silver set of two, more sturdy than the cheap pieces I buy. The other ring is one that Emily got for me. She asked me to pick one out of a box but I couldn't decide, and she said she thought I might like this one, so I trusted her judgement. :D