Fashion Friday: Sunglasses
James pointed out earlier this week that I got Seb to take the photos for Fashion Friday on Wednesday, suggesting that I was cheating. Well, I post Fashion Friday on Fridays, but it doesn't necessarily mean that I have to get the photos done on the same day. :P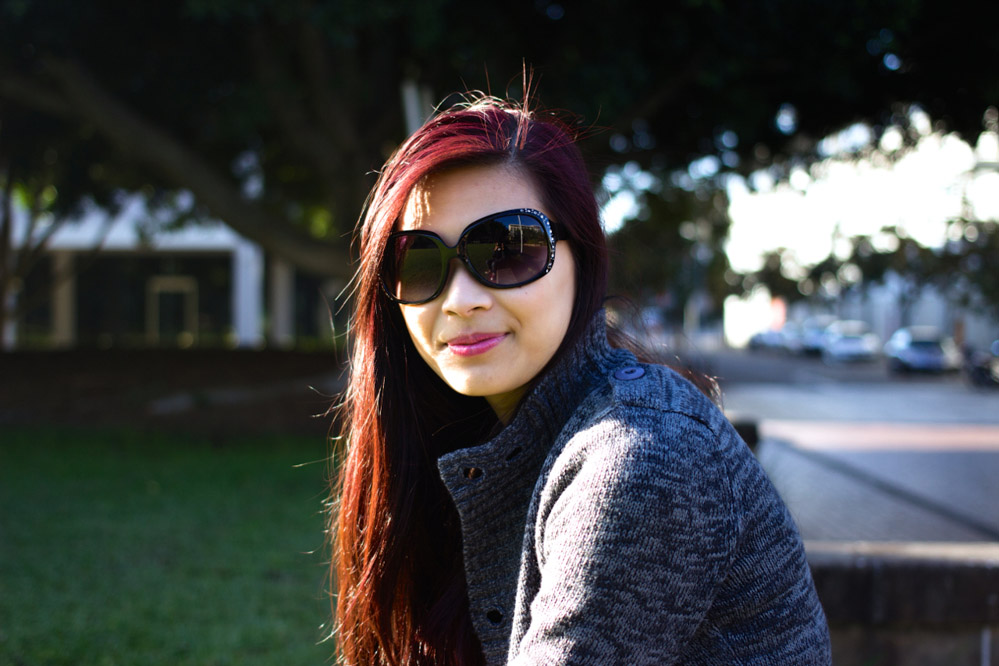 I bought a lot of rings last weekend. It was a little bit spontaneous and I suppose you could call it impulse buying. But I once came to the conclusion that since I hate shopping, and don't often shop or buy things, my impulse buys become more acceptable and less of an impulse buying. One could argue that impulse buying is simply impulse buying, but that's another argument altogether. Anyway, I bought a lot of stack rings, because I am in love with those things.
I suppose I'll start with the sunglasses. I got a 30% off voucher from Equip since it's my birthday this month, so I decided to use it as an excuse to buy something. I didn't intend on buying sunglasses, but I walked past the stand and thought, why not. I always have trouble finding sunglasses because my head is really small, and the lenses usually swamp my face, or the sides of the glasses are too long and slip off. I prefer the classier, non-framed brown ones, but these ones tend to slip off more easily than the bolder ones with wider frames. The girl working at the store said that oversized is currently in and trendy, which I assume it always is – well, in my book, anything goes, and nothing is ever too outdated for me, because I am not really one to follow trends. Eventually I settled on this round-but-not-too-circular pair, which has some fake diamonds as a nice touch. I chose it over the ones with pointed tops, because they seemed to make my face look even smaller.
I hope they look good! I am quite happy with them. Granted, they are a tiny bit loose, but they sit well on my ears because the frames are wider.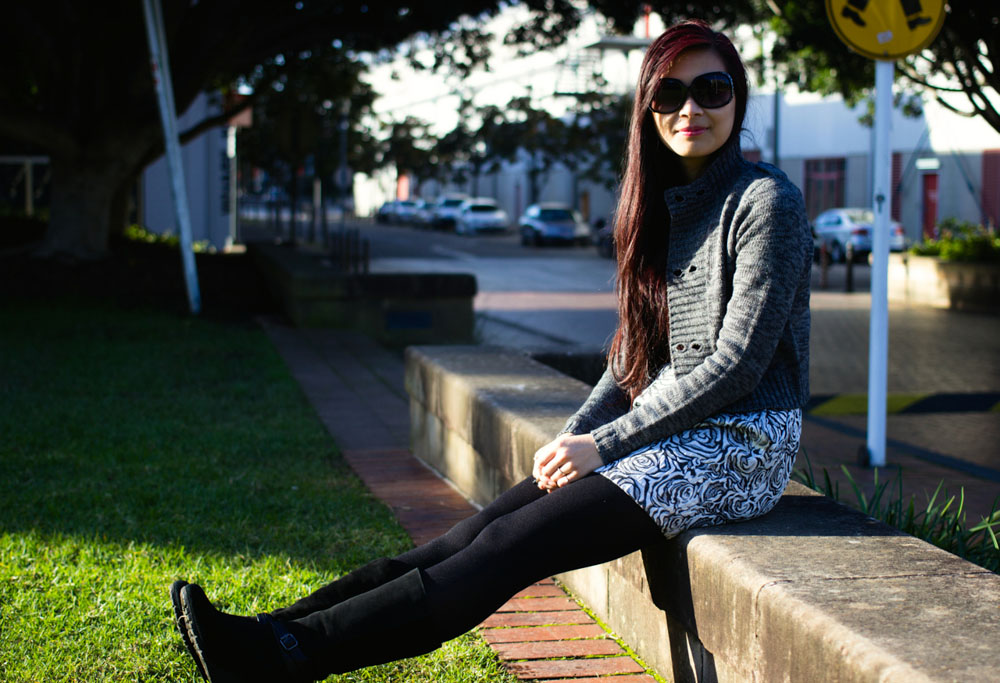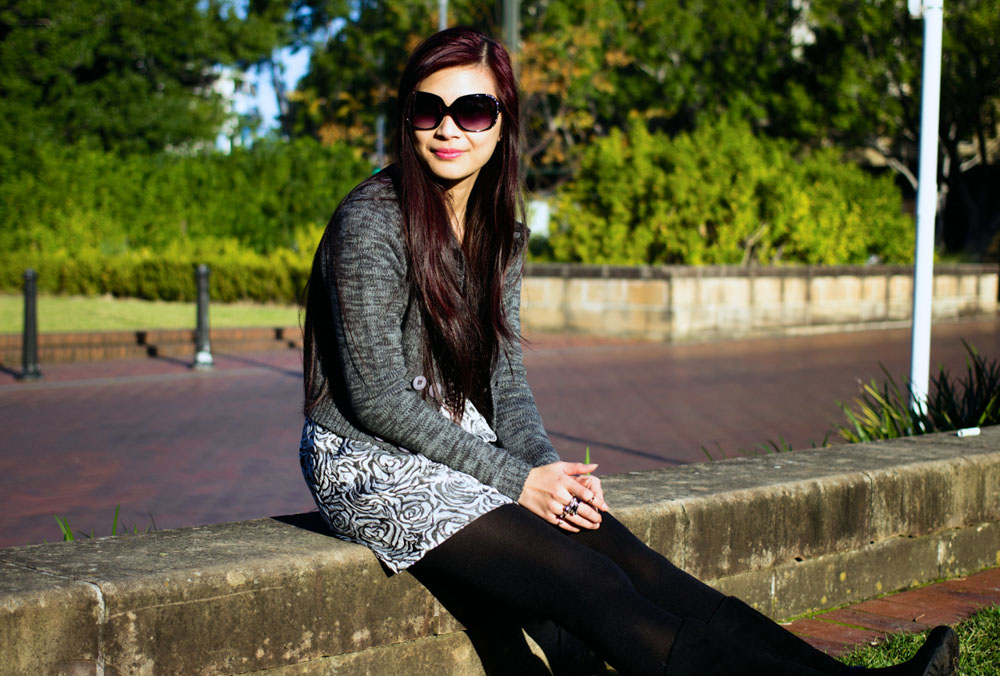 This outfit also features some boots I wrote about in one of my earliest Fashion Friday entries. They're very comfortable, a wedge heel, and come to just the right height. Not really short, but not really high either. I'm wearing a black top from JacquiE, which has a collar with a wavy edge, and a part on the left side that ties up into a bow.
I also have a short grey knit. I have a love-hate relationship with knits. I usually hate the fact that they produce static, or sometimes have lint, or look really old with only a bit of wear. Of course, the reason I love knits is because they are warm and snug. I think is one is alright, I particularly love the fact that it's short because I can wear it with high-waisted skirts or skirts that sit on the waist. I prefer to wear skirts that sit on the hip, but lately I've taken a liking to skirts that sit on the waist.
The skirt here is sort of in-between. It's nice because it has pockets, but it's a pretty thin skirt so I can't weigh it down with much more than my phone or keys. The floral pattern is really nice, though I probably wouldn't wear a jacket or a top that has this kind of pattern. Usually if I'm wearing a skirt with such detail, I'll keep everything else in the outfit pretty simple.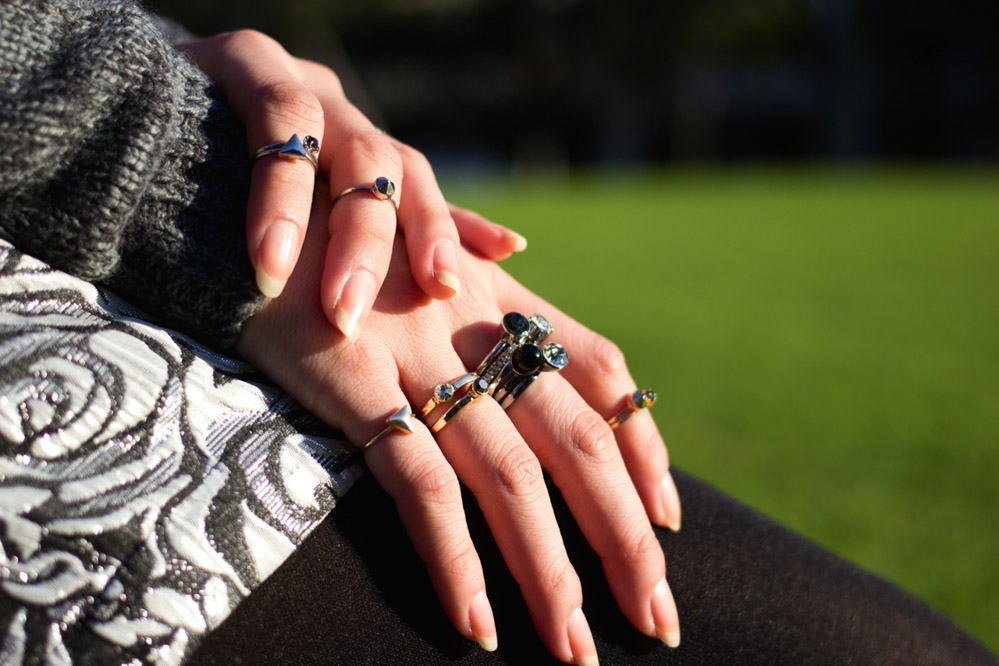 All the rings I bought from Lovisa, Diva and Equip. I don't remember exactly which ones were from where, but the midi rings are mostly from Diva. Brandon told me that some of his girl friends were really obsessed with midi rings a while back. I usually just wear them on my pinky fingers because I have skinny fingers. I tried wearing a few near my knuckles but I still feared that they would fall off easily.