Fashion Friday: Raining Diamonds
It's been raining, and I somehow got my umbrella to match my nails last week, so here's another edition of FF. It was pretty fun. The rain wasn't quite so fun, but it made it interesting.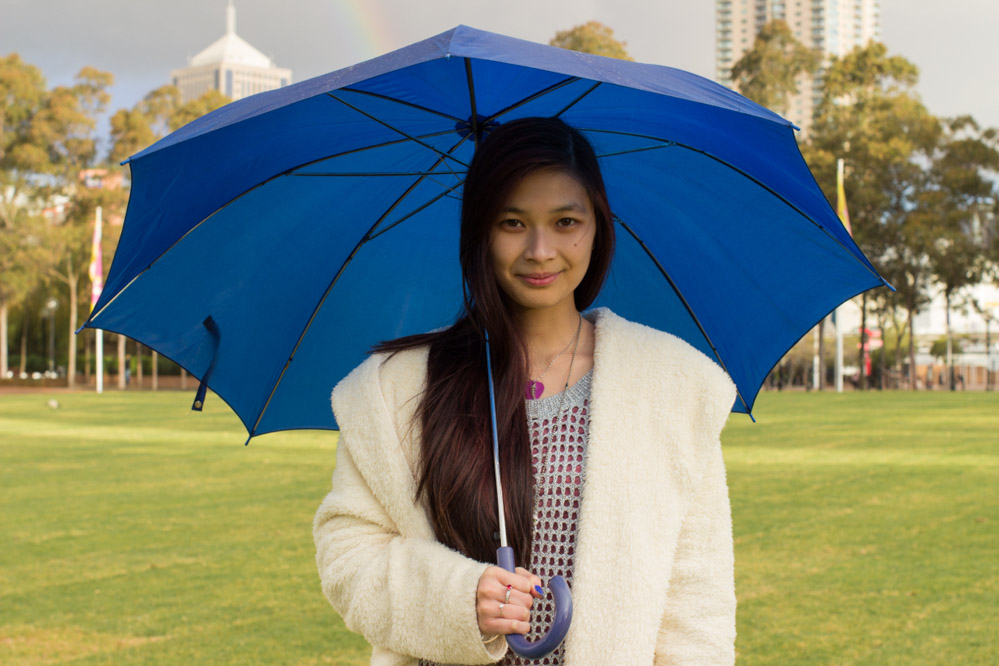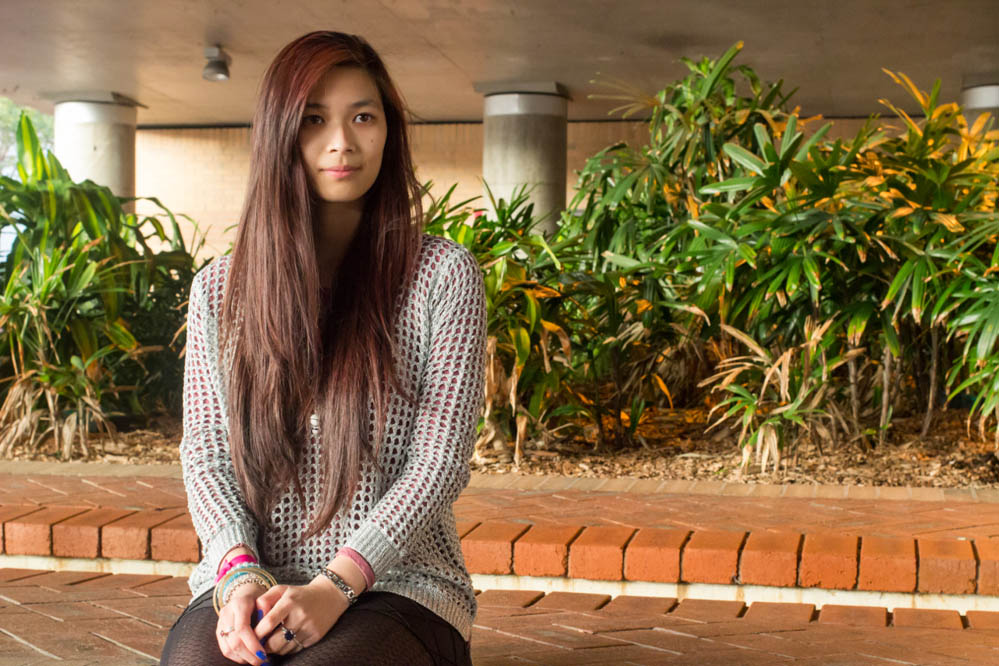 I have been wanting to feature my big white coat for quite some time, so finally, here it is. I bought it in Hong Kong last year. At first, I wasn't too sure of it, since it was just a giant white coat that looked like it might rip after a few days of wear. It came with a cheap rope with tassels to tie around the waist, and the colour didn't even match. But I bought it anyway because it was cheap, and I certainly don't regret it.
The coat is sort of thin but it is very warm. It feels a bit like a woolly towel. It also has pockets, which I love. And the hood serves me well, too. I am wearing a quilted pattern skirt, fairly short and simple, and I'm wearing some lightly patterned pantyhose, with cheap boots I bought in Japan.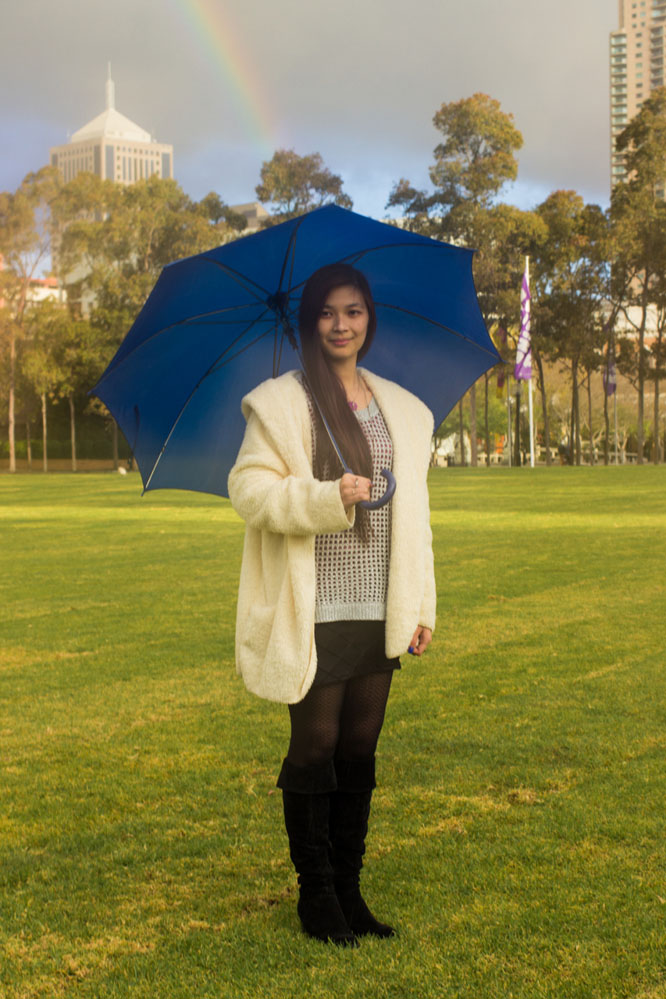 The umbrella is pretty shit, don't get me wrong. I need a much better one, but what with all the umbrellas I have lost over the years, or just had completely ruined from the weather, I don't particularly feel like investing in one right this minute. James got one from Blunt Umbrellas. They look pretty strong. I'm looking to buy a red or yellow one.
My silver mesh top tends to jazz up my outfit more than I realise. At work, someone said it looked like I was wearing diamonds. I usually wear whatever I feel like wearing underneath, depending on the weather. As it was very cold, I wore a long-sleeved plum marle top. Not one of my favourites, but it's just a basic piece that I team with other items of clothing.
I've had an obsession with bangles and bracelets lately. Helene Jewelry refers to them as an "arm party", which is pretty fun – I have been enjoying wearing different combinations of wrist jewellery. Here I am wearing a few cheap gold bangles with some other different styled bracelets. The blue swirly one is actually a hair tie. I think I bought it at a market somewhere, or overseas, thinking it was a bracelet, until I saw someone else using theirs as a hair tie. I am surprised how well it works without snagging the hair. Probably because of the swirly design and that it isn't gripping all the hair tightly, but maintains a hold because of the stretchy rubber material.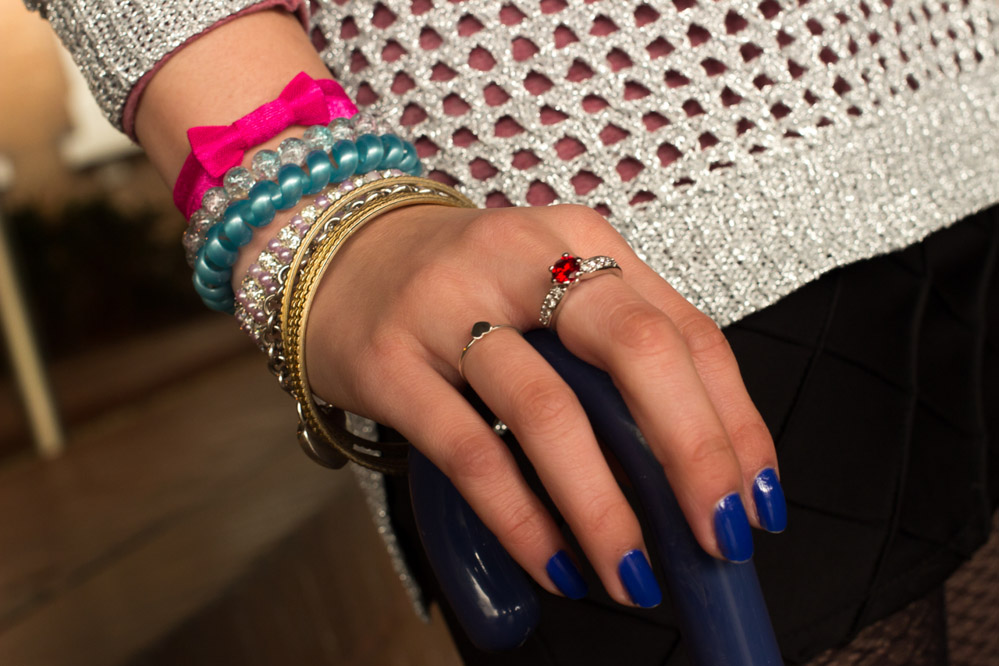 The red ring is from Lovisa's Diamond Simulants collection. It's actually a tad too big for my finger, even though I bought the smallest size. I love the ring, though. I was on the lookout for a nice red ring that would last me a long time, but because this one was boxed I just bought it without trying it on.
I'm wearing a necklace that my friend Vivien made for me. It's also on sale on her Etsy store, Mostly Harmless Gifts. It's Marvin from The Hitchhiker's Guide to the Galaxy.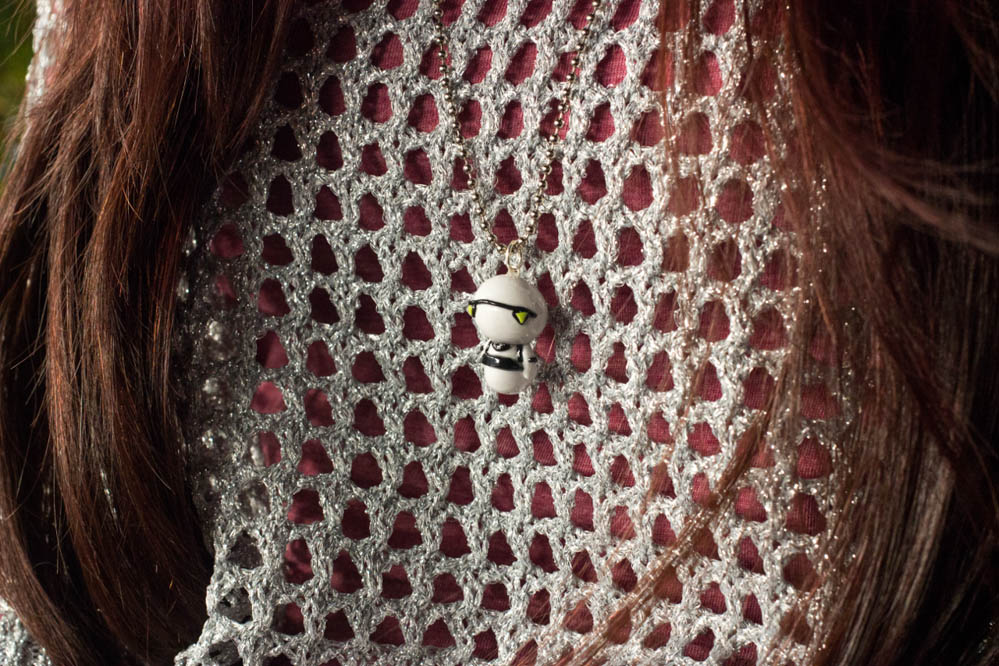 Seb always likes to choose his favourite photo of the set, though I'm not entirely sure which one he liked this time. (Hopefully it's one I included in the post.) This one is my favourite, but I cropped it because it looked nicer as a square. I also posted it on Instagram. My long hair was getting a bit annoying, so next Fashion Friday should see a shorter fringe…