Fashion Friday: Summer-inspired pedicure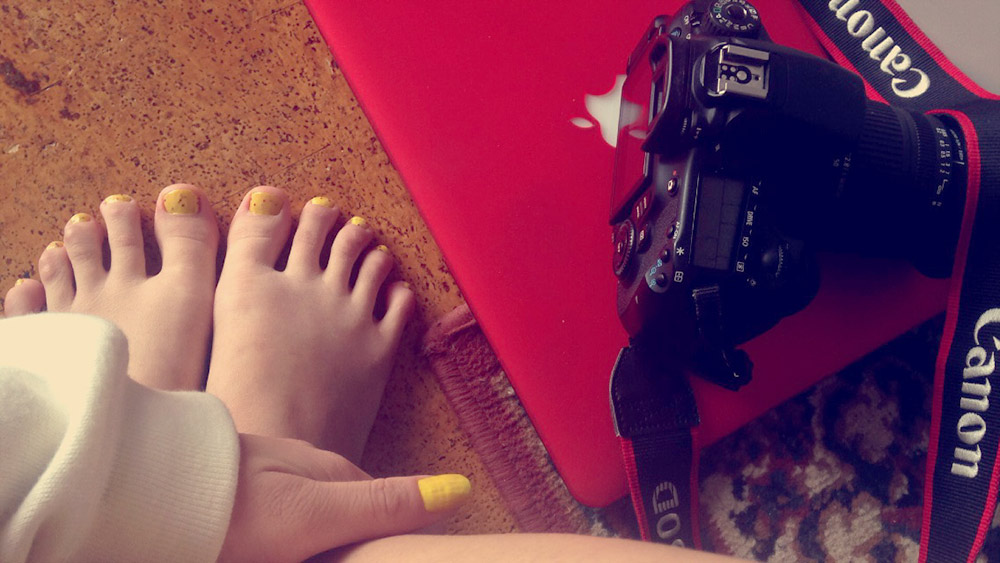 I was asked by Julep to participate in their Summer DIY pedicure challenge. I decided to take part, despite the fact that it's winter where I live, and that I haven't painted my toenails for almost a decade! I thought it would be a fun challenge, and would help welcome in Spring, which is thankfully less than thirty days away.
Personally, I'm not a fan of wearing open-toed shoes. Flip-flops are my least favourite type of footwear, and I don't own any sandals. I'm not such a fan of flip-flops because they are uncomfortable and I don't like the way it sits between two of my toes. I've also never had a pedicure, and I'm pretty sure I should some time soon. My feet go through so much abuse – high heels, years of ballet – and I don't care for them as much as I should.
I followed Julep's guide to an at-home pedicure, and I realised I should definitely take better care of my feet. It was more fun than I had anticipated. Over the weekend I soaked my feet in hot (but not too hot) water for a while, also giving them a good wash with some shower gel. Then I used an exfoliating scrub and massaged it into my feet.
My toenails were already trimmed but I filed them down a bit. This was a really quick job I did for an evening near the beach. I wasn't a fan of this rushed nail job, so I removed this the next day.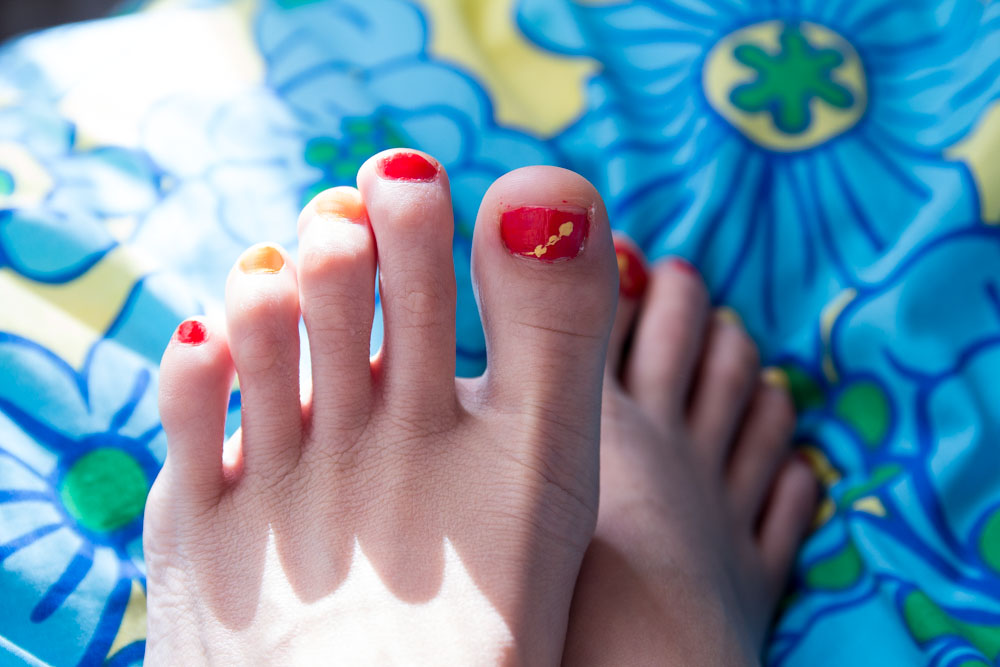 I repainted my nails in this style: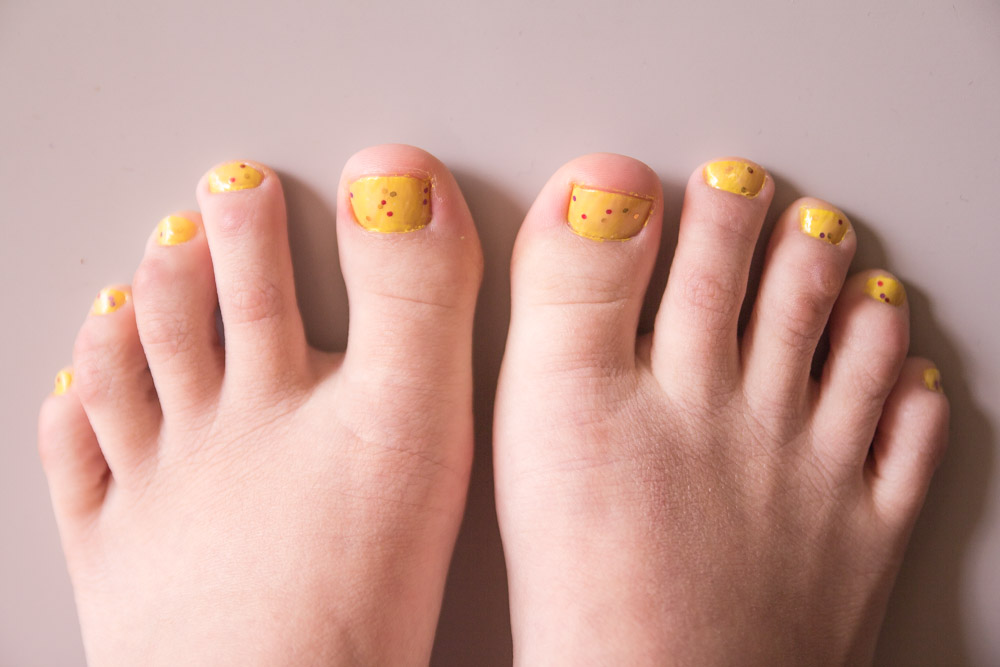 I continued to use yellow, like I had initially, but used a different shade – this one is TBN's (Totally Beautiful Nails) fluoro yellow. It required a lot of coats, which was a little annoying since I had to wait a while for all the coats to dry. I don't have much of a toenail on my small toes; many years ago I had a bad split in one of them and only had half a nail.
I used a glitter polish over the top of the yellow. This is one of the glitter colours I bought from Japan. It is light pink in colour, though the pink doesn't show when you apply it, unless you apply a lot of coats. Otherwise you can see the colour in the bottle. The glitter flecks are hot pink, purple, and gold.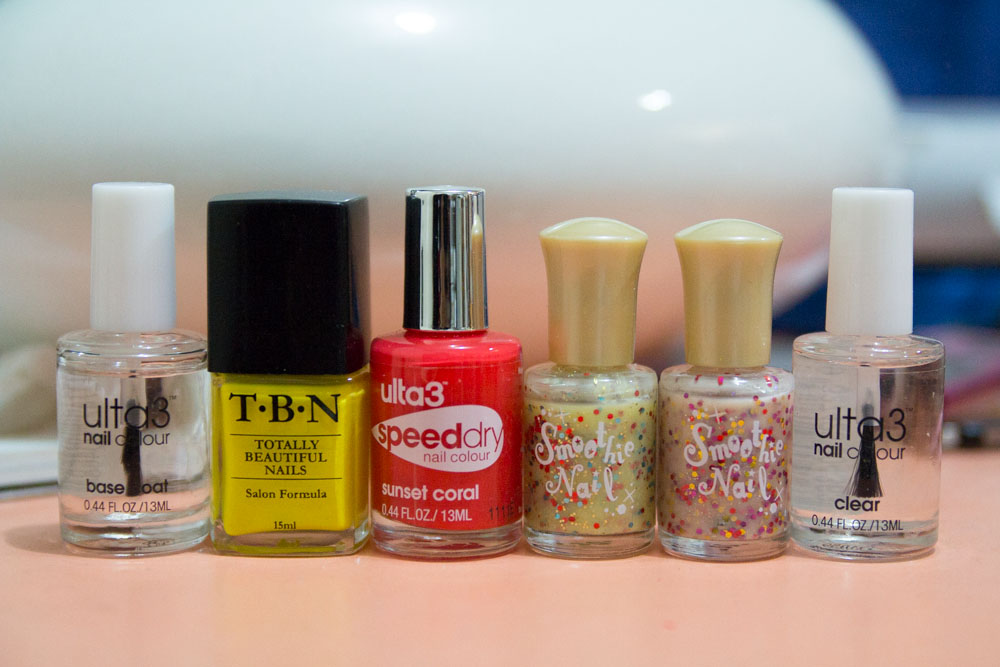 It's a bit difficult to apply the glitter flecks evenly on the surface of the nail. Sometimes you get a lot of it on the nail, and sometimes you don't get any. It is still a really fun polish though.
This nail art was primarily inspired by this phone wallpaper from Poolga. I love visiting Poolga for their latest wallpapers, and I loved the pink and yellow combination on this geometric number (Afternoon by Tamara Garcevic).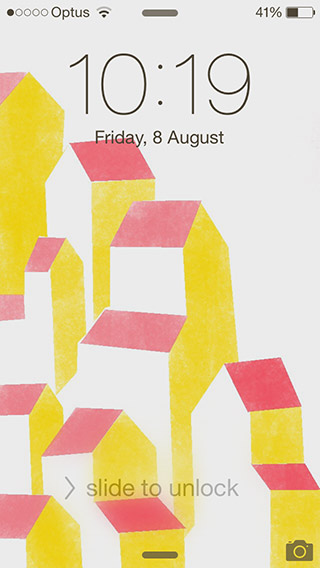 I chose a bright shade of yellow that matched this beaded bracelet I got in Hong Kong last year – rather than choosing a pale yellow.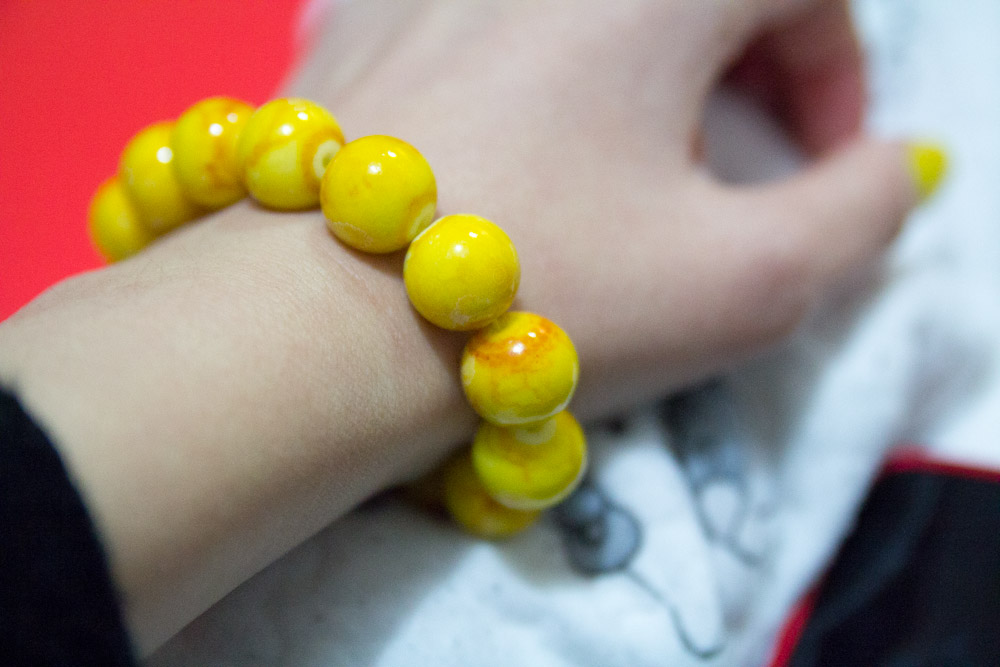 I also noticed a number of things I owned that had the pink-purple-yellow colour combination. One is a hula hoop I own, and another is the design on the box for a set of earrings. It is a bit of a coincidence, but I can see why it's a common colour combination. It looks great.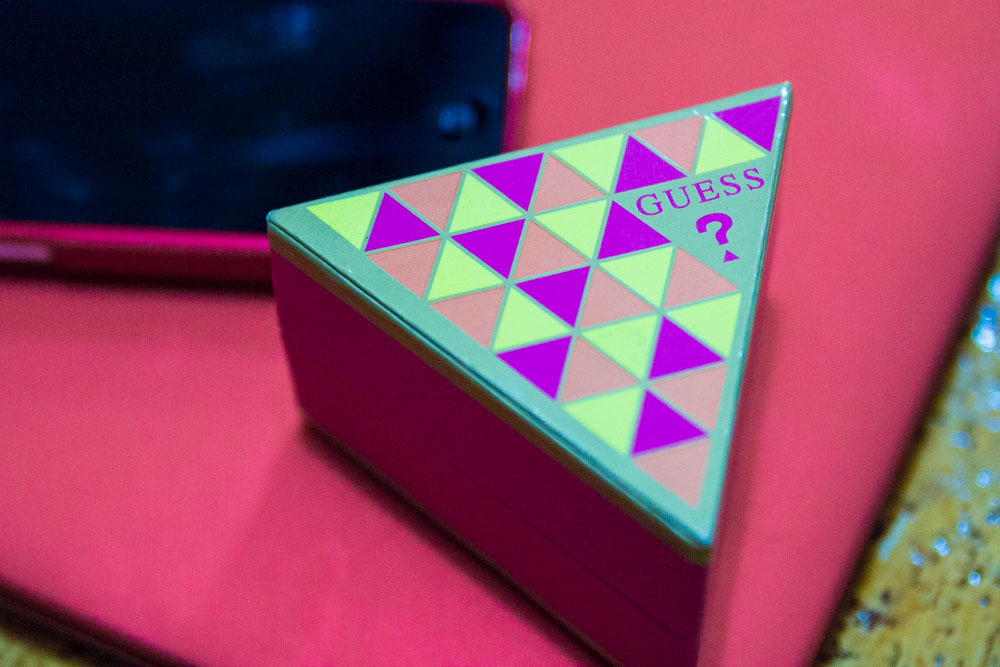 While I love bright colours for something summer inspired, I don't turn a blind eye towards other hues. I love blues and purples, and have a wicked emerald green that I use on occasion, but have never tried on my toenails.
There are a few colours Julep offers that are gorgeous, which are on their nail polish colour page. I would be keen to try something like the greenish Lissa or the deep purple Ciara. The the sunset-like Karmen is another darker alternative, but one that I think definitely suits summer is the glorious and eye-catching Kyla. I would love a similar colour since I don't have any polishes that are close to the colour orange.

I painted my fingernails to match, using yellow and coral as accents. On my left hand, I used a slightly different glitter polish, which has red, blue, and slightly smaller gold glitter flecks. What do you think?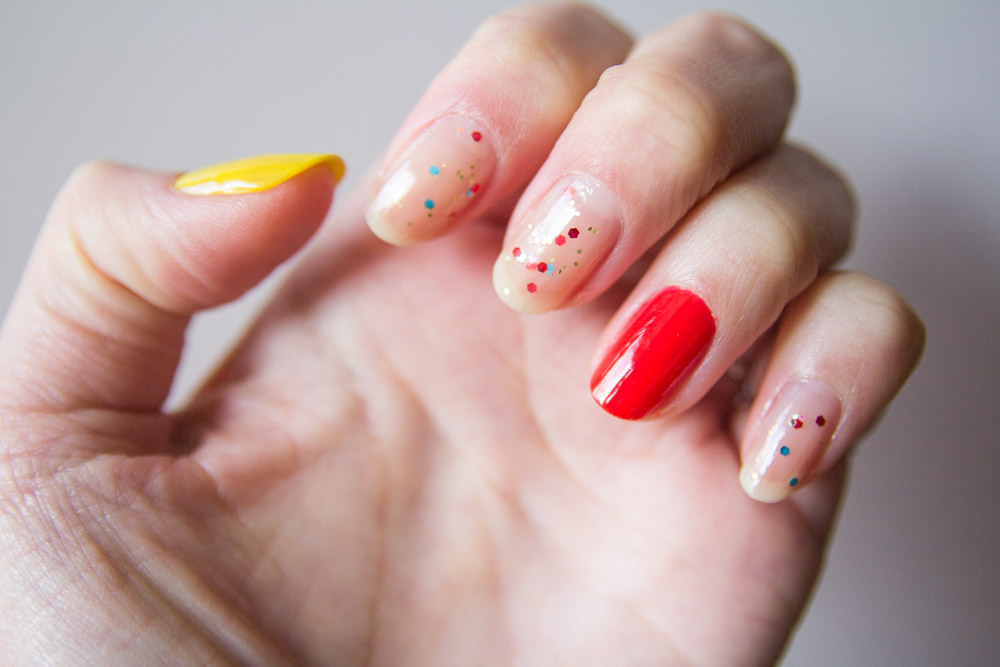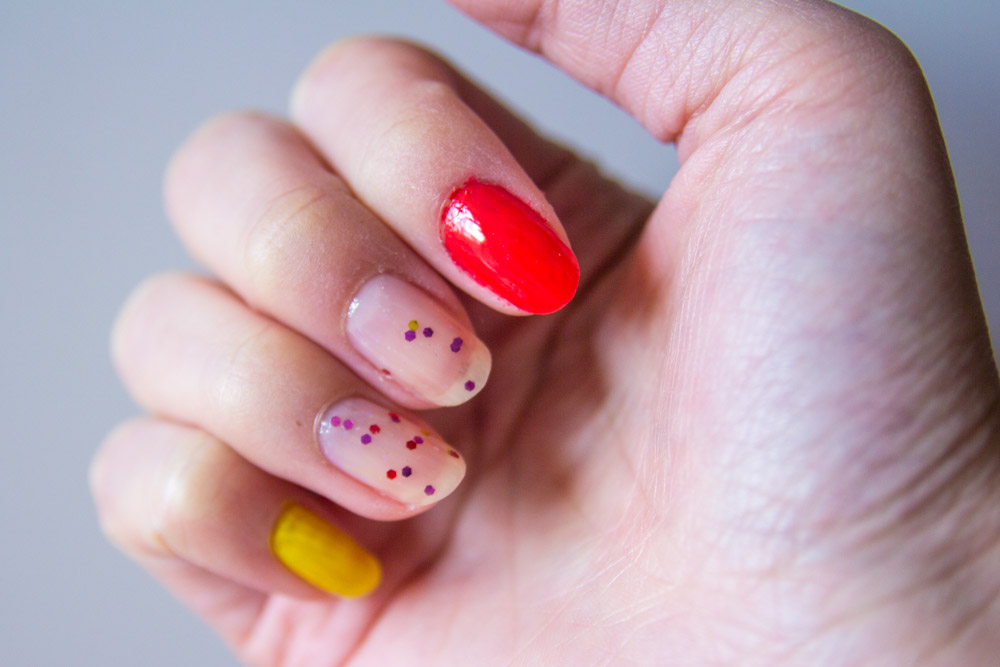 Do you like the end result? Did you happen to prefer the first style I painted my toenails?