Band on a boat (goodbye, Bayonets For Legs)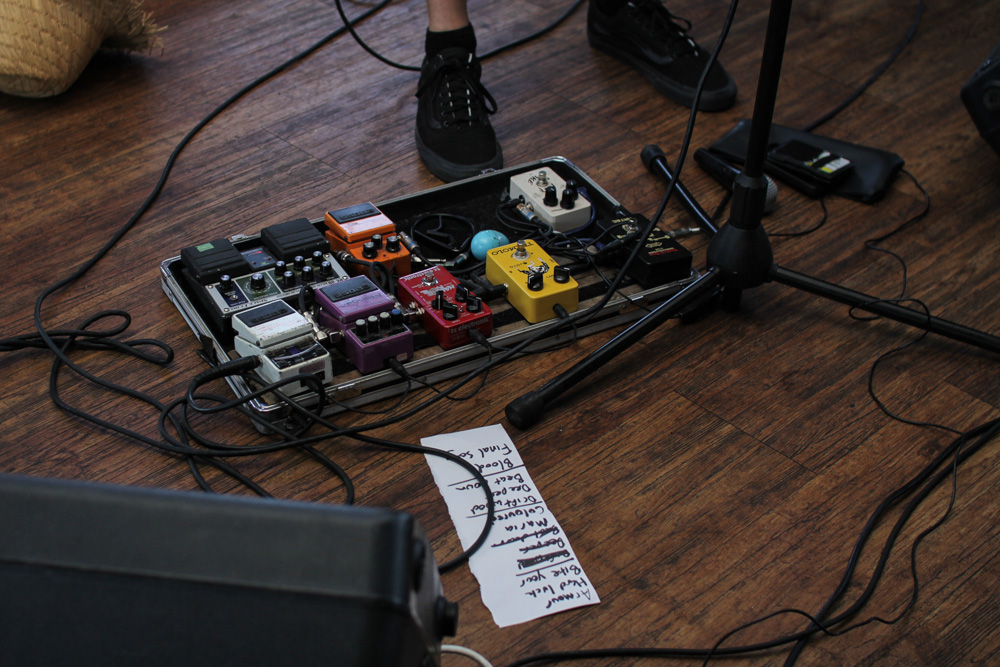 Yesterday was the first and last time I saw Sydney band Bayonets For Legs.
I first came across Bayonets For Legs back in 2011, around the time I went to my first gig. I was discovering up-and-coming Australian artists, and I wanted to see the band The Initiation at the Annandale Hotel. Planning to go, I felt the need to listen to the music of the support artists listed, and that is how I came across Bayonets For Legs.
I fell in love with their music instantly, even though I could only get my hands on a handful of songs because I didn't have credit in my iTunes account. I listened to their songs for free on the internet, Bite Your Tongue and Driftwood being my favourites. I have a habit of playing newly discovered songs over and over, almost to the point where I'm sick of them and dive into older tunes in my collection. But for some reason, playing Bayonets For Legs did not bother me, and before I knew it, they made their way into my Top 25 Most Played songs on iTunes.
I ended up not going to that gig at the Annandale, because I didn't have a good way of travelling home, and no one wanted to accompany me. At that stage I had never been to a gig alone, and I wasn't keen on trying yet.
It was a while before I saw the band announce any other gigs. I am speaking honestly when I say that I didn't really keep tabs on the band, I just continued to listen to what music I had of theirs. I managed to listen to more of their tunes after some time, but still greatly adored the ones I had stumbled upon first. I remember relaxing to their music, running and jogging to it, sleeping to it, a fair few times.
Every time I heard the band announce a gig, I missed out, or I just was not able to make it. It didn't really irk me that much, but one day when it struck me that I had seen all the artists in my Top 25 Most Played except Bayonets For Legs, I became even more determined to see them.
When they announced that they would be having a Hawaiian cruise in the summer, basically, a gig on a freakin' boat, I happily bought tickets then and there, and James was lovely enough to accompany me. He was unfortunately really tired (we are still jet lagging after our trip to Japan) so dozed off a bit. I felt pretty lethargic, but I had a good time, and even though the music began very loudly, thanks to rock band Er Among The Ether really belting it out, it was toned down by Braden Evans and the Red Rattlers, and little intermissions of adorable Lennie Tranter singing solo. I adored his cover of Fall At Your Feet.
I didn't have any Hawaiian shirts but I wore a bright blue checkered shirt, which I hope was chill enough. We were given a little (okay, big) platter of finger food as we enjoyed the show.
The sad thing is that it was Bayonets' last ever gig. But they went out with a bang, and I wish them well in whatever they step into next. I'm glad I went. I'm glad I got to see them before they put out their flame. It's hard not to be sad, and I always get sad when musicians call it a day. But I'll always remember that my journey with Bayonets was a small, albeit interesting tale.