XXIV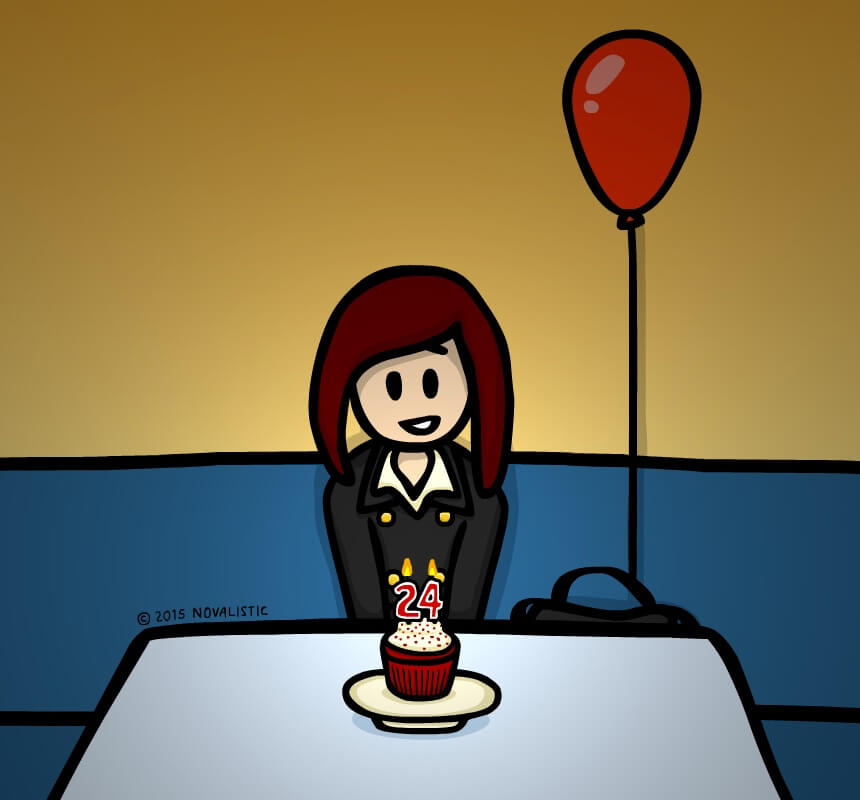 As with all birthdays, most people don't feel a day older, and for quite some time, they forget that they just turned a year older. They probably forget that they have to update their age on social media – ahem, for example Seb – who finally, eventually, decided that writing "in his twenties" was less tedious than writing his actual age.
For me I attempted to write something smart, such as "a prime number between 21 and 29" (damn, I am not good at maths, though), and more recently, 4! – or 4 factorial – which is, as I am now, 24.
We had a work hackathon scheduled for my birthday yesterday, but I did most of my work the afternoon before, and in the morning. I think I got a bit of a kick out of the festivities – the Hackathon was Back to the Future themed, which got me so excited because that is my favourite movie of all time. Although there was lots of free food, I only ate a bit of candy and reaped the opportunity to have a free latte, because Nick took me to the fancy revolving restaurant in the Sydney tower. We saw some pretty good views, pointing out where we first met, kissed, and had our first date – it wasn't hard to point out our work building, but it was hard trying to find home in the distance.
I didn't have a birthday party or anything too fancy, but had a coffee/dessert catchup with some of my friends. As with last year, my birthday invite this year was just as amusing, and had these points RE my age:
the factorial of 4,
the number of carats representing 100% gold,
the atomic number of chromium,
the number of major and minor keys in Western tonal music,
the smallest number with exactly eight divisors,
the number of blackbirds baked in a pie, and
the number of hours in a day?
The people who came are totally worth mentioning, so thank you Lilian (whose birthday it is today! Happy birthday gorgeous!), Dylan & Joanne, Seb, Andrias, Blake and Monica. And of course Nick. :)
The night was fun – Nick and I celebrated by dancing to Hey Geronimo and Jeremy Neale, who both had free shows in Newtown. I feel like I was really gifted that day. I am not sure who did it, but Hey Geronimo were playing at 10:40, leaving us enough time to walk down the road to see Jeremy at midnight.
Today we had a huge sleep in, which was nice not just after a long day, but after a long and tiring week (I woke at 5:30 on Thursday!). I don't think we actually got out of bed until 4:30. Then again, we did arrive back home at 2:30am and Brandon was still awake playing games. :P
So yeah – no cake, didn't make use of any birthday deals from coffee shops or eateries – but what makes birthdays great is spending them with people you love, and making the most of it all.