Things I Miss: Book Club & The Jewel Kingdom Series
I love reading. In primary school, my love for reading was not only fuelled by the library, its new releases and its non-fiction section, but by the Scholastic Book Club. I never actually subscribed to anything, but I looked forward to every Friday afternoon after lunch, when we would get newsletters for our parents (…yay!) and the Scholastic Book Club catalogue. I looked forward to getting that catalogue and looking at it in the car on my way home, at least before my parents were able to find a parking spot in the streets surrounding the school and come and fetch me.
The catalogues were filled with photographs of new books, ready for anyone to order, and the last page usually had a subscription for a new club, and the order form itself. The clubs ranged from week to week. They were an opportunity for you to subscribe to receive the books of a new book series, a book per week, or a book per month, I don't quite remember. One week it might have been the Animorphs series, or Goosebumps, or The Babysitter's Club, or Pony Pals. Often, the first issue would be a bargain, with some cool official merchandise like a toy or a necklace or a small game or even some stickers. It was a selling point. Every time I saw the items in the catalogues, I would look for the ones that were good value and came with extra goodies.
Unfortunately it was hard for me to convince my mum to subscribe to any of the clubs. She said it was expensive and that I may not like every book that gets delivered every month. She did, however, allow me to buy whatever I wanted, within a reasonable price.
I think that reasonable price was only about $10. Up until I was ten years old, ten dollars was a lot of money, and I didn't want to break my mother's wallet, so I always made sure I really wanted something in the catalogue before I asked her if I could please order it.
Reading is something I've loved from an early age. I also loved the books that weren't fiction or novels – I liked puzzle books, educational books, and activity books. I loved seeing things that said "RRP $21.99, now $5.00" because that meant I was getting something worth a lot more than what my mum would be paying for. You could usually get a couple of good books for five dollars, or one nice book with some toys or goodies in it.
In high school, I realised that the Scholastic Book Club wasn't handed out at school, so I quietly went to the library and spent my lunchtimes hovering the new titles instead.
It became a habit, and my best friend Lilian and I would attempt to read all the new titles as soon as they came in. I think we were allowed to borrow about four or six books. We would both borrow a handful, then swap with each other, and only returned them when we had both read them. Our mission was to read every fiction book in the school library, and I honestly think we got about 80% through.
Maybe I forgot about the Scholastic Book Club, because at least I still had access to new books. But I won't ever forget that it got me reading one of my favourite childhood book series, The Jewel Kingdom series by Jahnna N. Malcolm: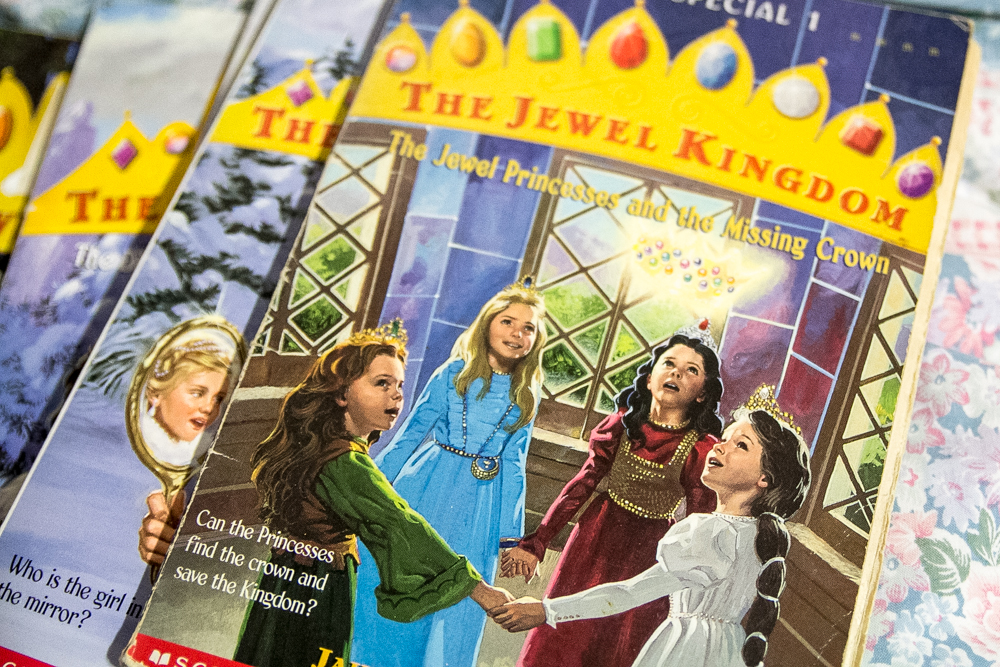 The Ruby Princess Runs Away
The Sapphire Princess Meets a Monster
The Emerald Princess Plays a Trick
The Diamond Princess Saves the Day
The Ruby Princess Sees a Ghost
The Sapphire Princess Hunts for Treasure
The Emerald Princess Finds a Fairy
The Diamond Princess and the Magic Ball
The Ruby Princess and the Baby Dragon
The Sapphire Princess Helps a Mermaid
The Emerald Princess Follows a Unicorn
The Diamond Princess Steps through the Mirror
Super Special #1: The Jewel Princesses and the Missing Crown
The series was, obviously, about four different princesses and their adventures, and what they did to save their kingdom. Demetra the Diamond Princess was my favourite, since she was a lot like me with long hair and loved ice skating, but I loved the other princesses too. They all had their distinct, vibrant personalities, and all cared for each other. It was nice that no book was just about the one princess; it involved the others as well.
I thought there would be more books after the Super Special, since the #1 implied there would be more. The first four books came with a faux ruby, sapphire, emerald and diamond necklace, respectively; the next four books came with a ring; and the four after that came with a bracelet.
The last book came with a multi-coloured bracelet, if I remember correctly. Yeah, alright, it was a selling point. But I still loved the books. They were easy reads, they were thin novels of a hundred or so pages, they were printed with large text, they had some illustrations… but the series was a perfect series for any seven-to-ten year old girl who loved a bit of magic.
Jahnna N. Malcolm let me down when I never saw another Jewel Kingdom novel after the Super Special. I was such a fan. I read every book as soon as it was available. But all good stories come to an end.
And I guess it's not surprising that I looked in my bookshelf and discovered that I had kept the entire book series, even after I had donated the rest of my childhood books to charity.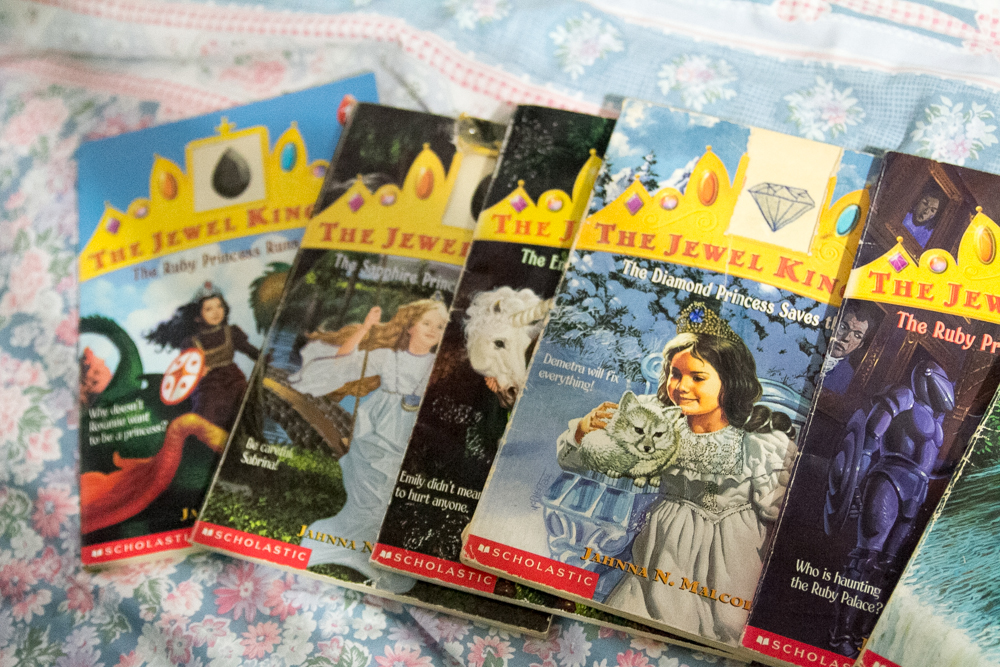 What was your favourite childhood book series?