Things I Miss: Do Over (2002)
I didn't watch much television growing up. I engaged in a lot of extracurricular activities and I loved to read. My favourite television show – when I wrote in my friends' profile books1 since everyone seemed to include that after favourite colour, favourite food, favourite drink, favourite band, favourite singer – was written as "The Simpsons, Madeline, Rugrats, Do Over".
What the heck is Do Over, you might ask? Given that my other three favourites are well-known and pretty typical, it didn't seem like much of a cool unique favourite.
Do Over was a comedy/drama/fantasy television series that got axed after about fifteen or sixteen episodes. Was it really that bad, though?
I had seen the trailer for it on television and it immediately made me want to watch. It was about a 34-year-old man, who, after an accident, is sent back into the past and finds himself as a teenager in high school. Now, I don't really know Penn Badgley, but apparently he was fifteen at the time he played main character Joel, and everyone laughs at his time/experience with Do Over. The series aired in 2002. I was only about eleven years old at the time.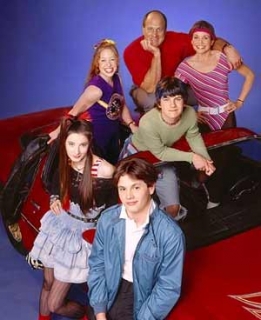 I loved this concept of time travel being used in a television show, and the comedy really pulled me in, and it sounded very Back to the Future-like. And BTTF is my favourite movie.
I would come back from ballet class on Thursday and rush home, ready to watch Do Over. At some point, I think either the television show or my ballet class moved times, so I would sit and watch the episode even though I would be in a mad rush to go to ballet.
It was only a 24-minute show within a half hour slot, but I wanted to watch it more than anything. The Simpsons was always playing repeats, I had probably seen every Madeline episode, and Rugrats wasn't at the top of my list. I only cared enough for Do Over.
It then moved to Wednesday nights, and I was thrilled because growing up, I didn't have extracurricular activities on Wednesday nights and I enjoyed being free. I would finish my homework and run to the television for dinner and watch, or after dinner I would patiently wait in front of the television and hope no one else would hog it. One time, I remember missing the first few minutes of an episode and being extremely irritated, wondering what I had missed.
One day, it wasn't aired.
The next week, it wasn't either.
Apparently, it had been cancelled, and I don't think I even got to see all the episodes. There had been a big fanbase, but ratings were low. To hell with ratings.
It was a very short-lived. I can't even find a picture of the television show that isn't pixelated or larger than three hundred pixels.
I don't know why I liked the show so much and felt so devastated when I missed it. To this day, I still don't really watch much television; I generally hate television. But I will always remember Do Over as one of those quaint little shows that I liked for some time, that disappeared into the ether.
Profile books were all the rage at my school in 2001-2002. They were just pretty notebooks that mostly girls (a boy or two did have them towards the end of primary school) owned, and where their friends would write their profiles. It was commonplace to ask, "Hey, can you write in my profile book?" In a way, it was a bit like a yearbook. ↩