Achievement Unlocked: October 2018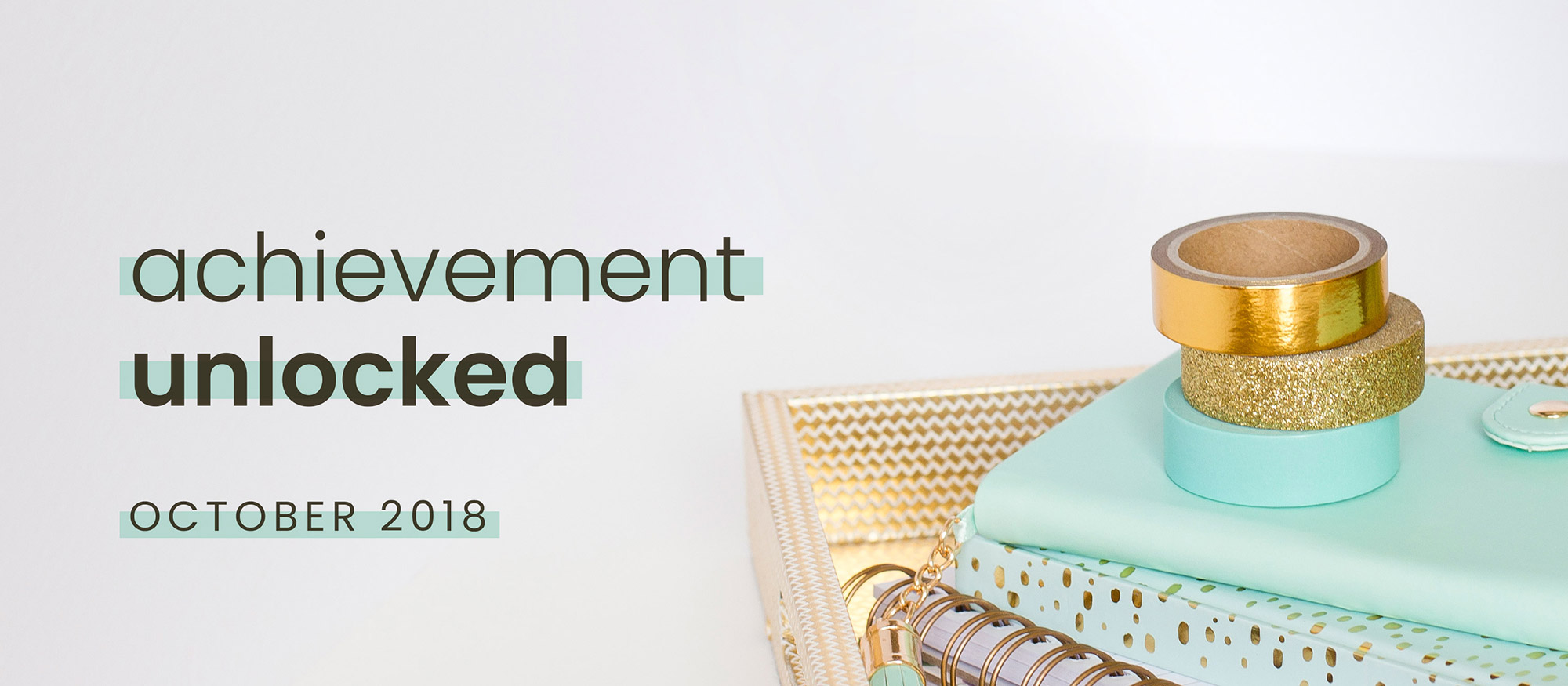 I'm mind-blown. It's already November. 🤯
The first announcement I want to make is that I am speaking at Hong Kong Code Conf! I found out a couple of weeks ago. I haven't announced this to anyone besides my close friends and family, so this is the first time I'm mentioning it publicly. ☺️ This is the first international event I am speaking at, so I'm a bit nervous, but I hope all goes well. I am excited to be going to Hong Kong again as well – the last time I went was in 2013. Nick hasn't been to Hong Kong and is tagging along and super excited. We're both excited to be eating all the dumplings and noodles. 🥟🥡
I went on a mission to find jeans that fit me. My blue ripped Topshop ones that have appeared in so many Fashion Friday posts were just getting really tight and the fabric was pulling in an unattractive way; not to mention the dietressting was turning into basically large gaping holes. And, after weeks of pulling jeans on and off in change rooms, I found a pair of jeans that fit me!
I created a spreadsheet to list the pros, cons, and details of almost every pair of jeans I've tried in my lifetime, in the hopes it will help someone looking for denim. 👖 The jeans that ended up being a winner were the Wrangler Hi Pins jeans, and I bought them at a store named General Pants which sells a lot of denim and streetwear brands. They were on the sale rack and only my size was available, and they turned out to be the winner. They were marked down from around $140 to $45. 😱 I feel like I got lucky; one of the staff members said that they were no longer going to sell Wrangler jeans anymore so that's why it was marked down. Such a good deal. 🤑
I gave a talk about mental health at a Sydney Tech Leaders meetup. As someone who is open on my blog all the time, I found it much harder to talk about it verbally. I'm glad I did though – my talk resonated with some folks. 💕 You can grab the transcript and presentation slides on my speaking page.
Nick and I celebrated our wedding anniversary this month too! To celebrate, I wrote a blog post recounting our wedding day, since I never actually did a proper recount on the day. There are some photos that I've never shared before in the post, so check it out if you can.
I also went to the Web Directions Summit conference last week which was a great experience. I tweeted a lot on the day about it and I'm not sure if I'll write a blog post about it because I don't have a lot to write. I haven't been writing about events as much as I used to, and I wonder if that's because I haven't learned as much as I have in the early years of my career. Everything was fresh and sparkly and really opened my eyes; these days I feel very inspired but there's less solid takeaways, just a lot of positive feelings. (Gosh, I do miss writing as much as I used to. I'm definitely planning to do better in the new year.)
OK, the usual prompts follow! ✨
Just before writing this, I was:
Putting body lotion on my legs. I have a tub I've been trying to get through for the past few months that my mum gave me two Christmases ago. She gave me three tubs, and it seems that in general people like to give bath and body products as gifts, so I've had a lot to go through. 😂
This past month, I learned:
That change room lights are fucking hot and make you sweat. Disgusting. I do not like them.
That the right shade of light blue and the right shade of yellow can look good with my skin tone. Proceed with caution.
That the Anabolix blackberry preworkout I recently bought tastes like heaven and the pineapple one I used to drink before my workouts tasted like shit. 😜
What hoisting in JavaScript actually means. I don't know why it seemed so complicated before. Next Thing to Try to Understand And Realise is Simple: Currying in JavaScript 🍛
This past month, I got bored of:
Eating chicken 😬 When I spoke to my coworker Pat a few weeks ago, he said he doesn't get excited about chicken, and I have to admit that yeah, I don't really either. It kind of took me back to one of the reasons I stopped eating meat back in 2013. Chicken just made me feel ill and I didn't like the taste.
But that's OK, because I enjoyed:
Eating fish 😆 Nick said last week, "You're basically pescetarian at home again" because every time I chose something for dinner I would always choose fish.
Today, something that made me happy was:
I had a great workout at the gym, even though I initially didn't feel like going. I smashed out some upper body exercises with repetitions of 10–15 (mostly 15) and then finished off with some kneeling squats and deadlifts to burn myself out. 🔥
Today, something I could have done better was:
Not have spent so much time getting distracted shopping online. I was only supposed to buy two bikinis I could mix and match, and I spent hours and hours looking at colourful sweaters. My vice, y'all. (And coming soon to a Fashion Friday near you.)
Tomorrow, I'm going to:
Go to work! I also bought two crop tops but I'm thinking of exchanging them for a bodysuit – my first bodysuit! I like the fact that they have that clean tucked-in look, and I feel like this is ideal given the mild convenience of tucking in long tops and pulling down crop tops when they ride up. I love crop tops, but the shorter, more snug ones definitely have a tendency to ride up. 😛
In November, I'm looking forward to:
Seeing Hey Geronimo live. Also, I'm going to Hong Kong because I'm speaking at a conference 🙈
In November, I'm going to make the positive change of:
I'm trying to eat clean – avoiding candy, chocolate, and desserts, while at the same time not restricting myself from eating food that is high in nutritious value if I enjoy it. I'm also ramping up my workouts at the gym and trying to burn more calories. 😬
One thing on my to-do list is:
I need to work on the talk I'm giving at the conference 🙂 And yes my Portland post is coming I freakin' promise 🙏
One happy photo from this past month is: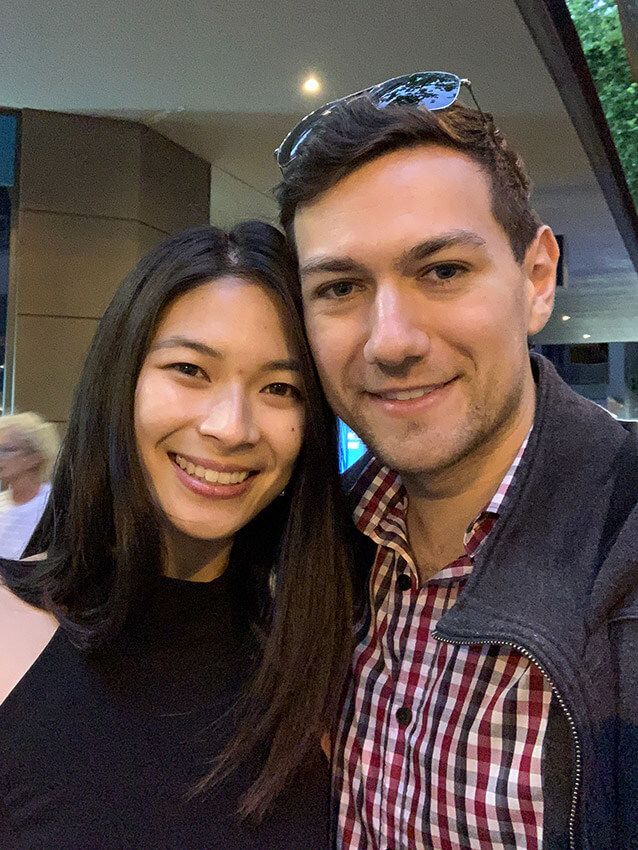 If I had to write a book or record a film about this past month, I would call it:
I struggle to answer this question as easily as I used to, so I will be retiring it next time 😅
After I publish this, I'm going to:
Fold some of the laundry. (And then get ready for bed – OK maybe I should retire this question too 🤣)
---
How was your October? Anything fun you have prepared for the remainder of the year?
I'm thinking of reworking these monthly recaps. I wrote these prompts a couple of years ago and it's a really good thing that they have kind of stuck. But I think I need something fresh to keep me going, perhaps some different prompts, or maybe I need to do better at summarising my month. I used to blog a lot more often and my posts were less focussed, so it was easy to pull events and achievements from those posts. Now that I blog far less, there's less of that, and more relying on scrawled notes or calendar items. 🤔 Let me know what you do and if you recap the month, the week, whatever – would be great to know what works for you!