Achievement Unlocked: March 2017

Seriously, how fast did March go? I realised that last month I forgot the first two questions of my usual questionnaire, oops.
Quite a few things happened in March, but I've summed them up under achievements instead. My aunt passed away halfway during the month which shook my family up a bit, especially my mum, but she's slowly healing. The past three weeks have been exceptionally hazy, with a few new happenings at work (we had a bit of a shift in team members so we had some handover, and that officially takes place next week).
Just before writing this, I was:
Plucking some stray armpit hairs that I missed when I shaved. 😳
This past month, I achieved:
Nick and I went to see the opera La Traviata at the Sydney Opera House.
I presented a talk at the Girl Geek Sydney meetup, and you can find the talk recordings and slides on my speaking page!
I tried intermittent fasting successfully for just over a week. (Eating only between the hours of 1pm-8pm.)
I did further work on our wedding invitations.
With my mum's help, we got our cacti wedding favours planted individually in their little pots.
I got my bridesmaids' dresses fitted, and paid an instalment for those as well as my wedding dress.
Nick and I met up with a marriage celebrant, and she was absolutely lovely so we decided to book her service.
Nick and I also met up with a very lovely wedding photographer who works with his wife, and we were wowed by their photo album option so we booked him in too. 😄
I caught up with Lilian, and Dylan, before Dylan headed over to move to Canberra.
Nick and I had a fancy dinner at Sokyo restaurant in The Star.
I caught up with my friend Monica and it was her birthday on Tuesday! 🎉
This past month, I learned:
That above all things, stress is really just a reaction to your surroundings.
This past month, I got bored of:
Eating the food on offer at work. I tried intermittent fasting for a little over a week, and I was also watching what I was eating, so I made different meal options.
But that's OK, because I enjoyed:
Eating some very good sushi.
Today, something that made me happy was:
Wearing my new blue flat shoes that fit well. They're pointy-toed and I really like them. The blue is so bright. 💙
Today, something I could have done better was:
Get to the train station earlier. I slept in because I was so tired and that left me pretty cranky.
Tomorrow, I'm going to:
Go to the gym, and take photos of my old gym clothes to try and sell them. It sounds gross, but they do sell – I buy from Lululemon and their stuff lasts a long time and people collect it because the quality is great.
Next month, I'm looking forward to:
Brandon's graduation and going to Queensland to visit some of Nick's family.
Next month, I'm going to make the positive change of:
Sleeping earlier and waking up earlier. I know, I sound like a broken record…
One thing on my to-do list is:
I need to write a guest post for Localhost – I've been so busy that I keep pushing this back. 😦
One happy photo from this past month is: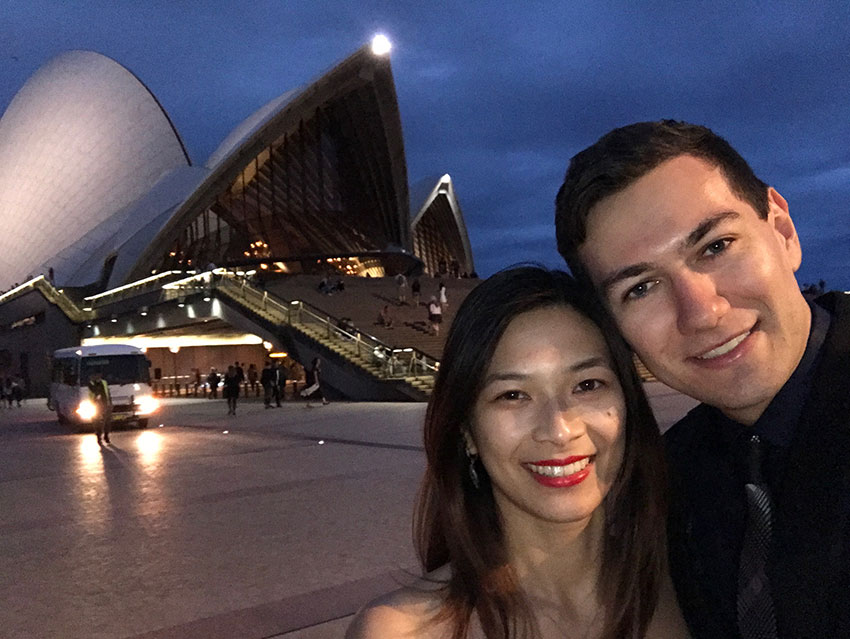 If I had to write a book or record a film about this past month, I would call it:
dreamscapes
After I post this, I'm going to:
Brush my teeth and moisturise my face.