💗 Love is not a competition
Nick and I spent our Valentine's Day evening at a Japanese restaurant near where we live, grumbling at the 15% surcharge and laughing off the slow service we previously experienced. But – the restaurant serves amazingly good food, and we have good company in each other, so we could look past those minor things.
When it comes to a loving a person, everyone has flaws. These flaws are things you eventually learn to accept, because your love for someone is far greater than the fact that they might have some bad or disgusting habits, tease your friends, put other things before you (sometimes), or have a less than favourable past. Just like our affinity for this Japanese restaurant, Nick and I look past and accept the things about each other that may not be perfect.
Although our relationship is not perfect, I've had the pleasure of receiving a lot of comments like "oh you guys are sooooo cute", "#goals", "wish I had a relationship like yours", or "I wish my boyfriend did that". I guarantee you that these people have also looked at other people's relationships shown on social media and thought a similar thing. I'll be honest, I probably have.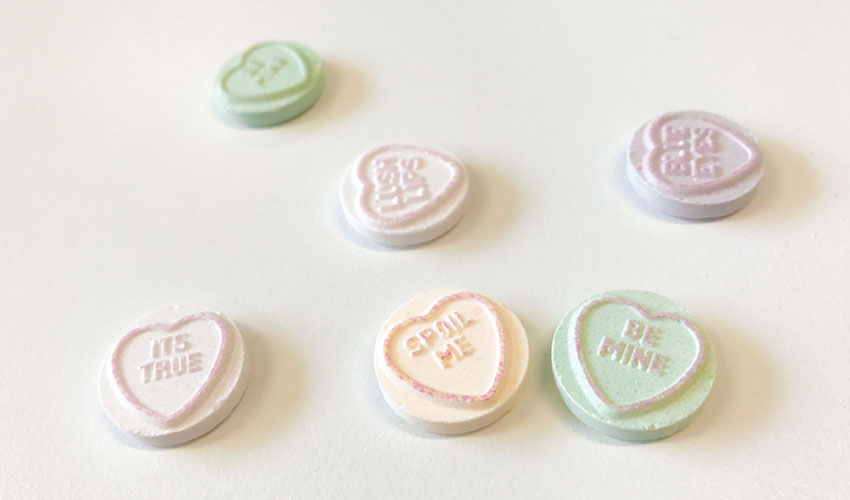 Love is not a competition with anyone else.
But love is not a competition. The constant comparison of what you have, to what you see other people have, is unhealthy. Just because someone posts a lot of photos with their partner and you don't, doesn't mean that you and your partner are any less:
Just because you don't have a friend to third-wheel you and take a photo of you hugging in a forest, does not mean that your relationship is not #goals.
Just because you choose to play video games together instead of gazing into each other's eyes as the sun sets, does not mean you don't enjoy each other's company.
Just because you found each other on Tinder instead of him finally plucking up the courage to ask you on a date after eyeing you drinking coffee in your favourite cafe for the past three months, doesn't mean – for goodness' sake – it doesn't mean you are not in love.
You don't always see everything that goes on in someone's relationship. Whether you see photos on Instagram, or see a couple once a week when you catch up, it may not be all rainbows. It doesn't take a scientist to know that even Nick and I have had our arguments and have rough patches. What people post on social media, and what you may physically see of them, is a tiny, tiny window of what happens in their real lives.
Love is not a competition with each other.
Love, as it stands in a relationship, is also not a competition. It's not about who loves who more. That should never be a topic of discussion. I've had a friend or a family member or two, ask casually, who loves who more?
It's an uncomfortable question with no right or satisfactory answer. You can say "a lot", "so much" – but love is love. You can love someone or you don't. You can love someone for different reasons to someone else, but you cannot measure love, therefore you cannot say that someone loves someone more.
One of my favourite things about Nick is that he encourages me to do well and be better, when it comes to me. There is no selfishness. He supports me in my career choices and in the things I decide to do. Our hobbies may vary and even though we both work in technology, our roles are different. At some point we both got a series of pay rises within a year and kept earning more than each other. But we don't ever put each other down when it comes to personal achievements. We 100% have and give the support.
For me, personally, this is vastly different from my previous relationships where I was often mocked or ridiculed for doing really well in my career. I was often tricked into not caring about my personal growth because my partner was jealous. Sometimes I just felt like I was not getting any support or encouragement, which made me sad. It's unhealthy to compete with your partner on any level. You should bring out the best in each other. It's important. 💖 This might be a hard balance to strike, and it can take time, but participating in therapy together can help you foster a supportive relationship with your partner.
Pink, pink, pink
I updated my blog's theme to make it pink. Now, let me be clear: I hate the colour pink. But I got over that. I got over that and deployed this theme, because it looks nice, and it gives my blog a fresh look for the week. I'll change it back when I feel like it. 😄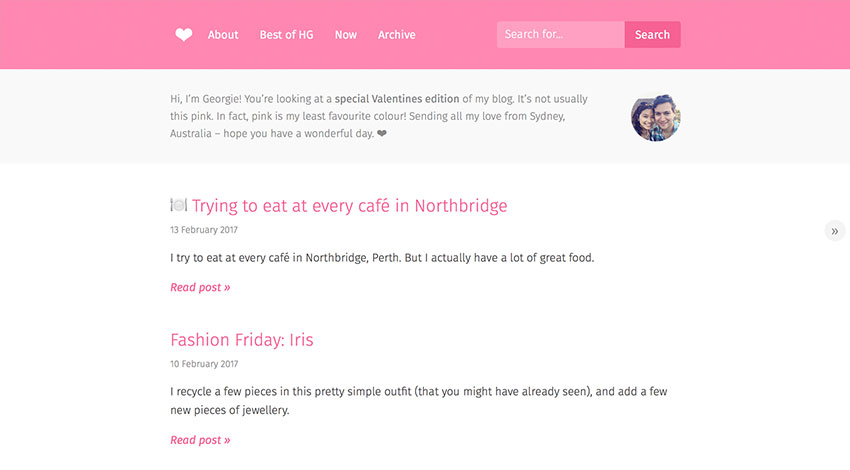 I changed my triangle logo to a heart, too. Nothing special, just the default heart that you can create in Photoshop. ;) The photo of me and Nick is one we took in Rome last June.
I love you Nick. 😘