Kendra's Night Out Challenge
I was asked by travel expert Kendra Thornton to participate in her "Kendra's Night Out" Challenge. She admitted that she doesn't often know of the latest trends. Well, there's a problem already — I personally don't follow trends! But, hopefully that means we have a wicked and unique outfit for Kendra for her lovely night in New York City.
As I gather ideas for my Kendra's Fashion Challenge and look forward to wearing the perfect outfit at the suggestion of my readers, I have to say that planning my upcoming trip to New York City more and more feels like a dream come true. I find myself imagining a walk through a gorgeous hotel and its grounds, and I can't wait for my stay. The Standard High Line Hotel, with its gorgeous modern architecture and its skyline views of Manhattan, sounds like just the place to get away from it all and fully experience New York nightlife. With all your suggestions for the right clothing combinations for the trip, this looks to be a magical experience on all levels.

And finding the right places for wining and dining at the Standard High Line is quite simply a treat: The hotel's luxurious environs include several restaurants and places to grab a late-night snack and a cocktail while taking in the spacious views and great music on offer. I'm trying to decide if I should start my perfect evening off at the Standard Grill, with its heady mix of Italian seafood and old-world vibe. With a look straight out of Golden Age American films, the Standard Grill looks like a place to be whisked out of time. To have the perfect outfit here will be a dream come true. Next I hope to stop by the hotel's fabulous-looking Le Bain discotheque for a glass of champagne and contemporary dance music courtesy world-class DJs, or maybe head up to the Top of the Standard for a jazz-bar ambience with lovely views of Manhattan and a small-plate menu that looks wonderful. An evening of dancing, good drinks, and lovely food will undoubtedly make this trip one to remember. And the perfect outfit will only make my time at the High Rise more sublime.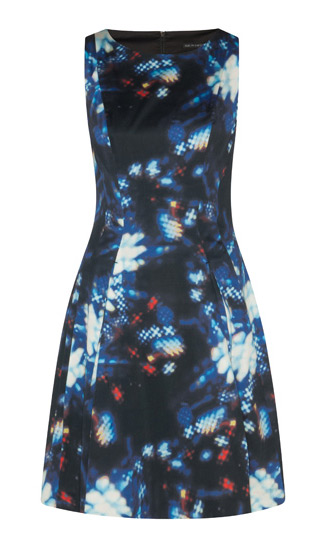 Thinking of New York City, I think of an outfit that is not only glamourous, but classy. So I personally wouldn't put together an outfit that's too flashy or bright. Kendra wants to have fun and not really stick out like a sore thumb or be uncomfortable. She also mentioned that she's a mother to three wonderful kids, so I don't doubt that she still wants to give the impression of a conservative young woman. For these reasons, I immediately think of Australian clothing brand Cue. I adore their dresses, and they even have a "Cue in the City" range, which sounds fitting for Kendra's night out.
The style of the dress I chose for Kendra is called City Lights. I didn't just choose it for the name. There were a handful of other dresses, with other colours and patterns, but they were far too formal. This one is perfect for Kendra, it has a fun pattern without being too bright or flashy, and it has a nice flattering cut with its nipped in waist and high collar.
The reason I adore Cue's dresses is because of their distinct collars, and edgy, unusual, unique, and very intricate patterns. Without a doubt, with one of these dresses, Kendra will stand out from the crowd. And with a one piece outfit, you don't have to worry about each individual part of your outfit.
Since these dresses are pretty much a statement themselves, shoes need to be pretty simple and not too flashy. Kendra will be dancing that night, and I was inclined to choose wedge heels because they don't hurt as much as stilettos, but unfortunately that doesn't go well with the style of Cue's dresses. However, we want something bold and practical, but that won't detract from the dress. Black pumps are a good option. I actually own this pair from Jane Debster. I love them, and they are a true classic. The shiny finish suits the dress, which has a satin look. (I actually tore the side one of my own shoes by dancing in it, but you gotta be daring every now and then, am I right? And dancing in the street isn't the way to go about it.)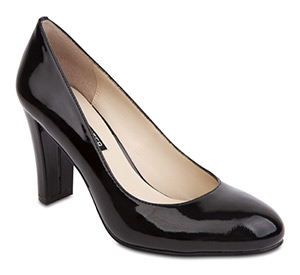 While Jane Debster is my option, there are also cheaper alternatives for simple black pumps. A great pair made of real leather will set you back over a hundred dollars, but there is nothing wrong with choosing something cheaper but similar looking if you don't see yourself wearing it again. But believe me, these black pumps are a true classic and most girls will want something similar long-term.
Accessories are my favourite part of this outfit. This dress is dazzling enough, but personally, if there is one thing I like to dress up an outfit, it is rings. Jewellery is a lot of fun, but rings are it.
I am not a big fan of necklaces, especially those "collar necklaces" which are all the rage right now. Cue dresses often go up to the neck, so that leaves any accessorising to go to the hands. Go crazy, I say! Now, I could easily pick out some glorious real silver or gold jewellery from a commercial jewellery, but I'm going to go with fashion jewellery. It is cheaper, though expensive for something that is "fake", but Kendra doesn't want to worry too much about real diamonds.
The tip is to buy accessories on sale. Depending on when Kendra has her night out – she may pop into fashion jewellery stores and find rings and bangles or bracelets that are affordable, but still stunning, and can be worn for occasions other than this. I personally like Equip, Diva and Lovisa, and love spending money at their stores when they have items on sale.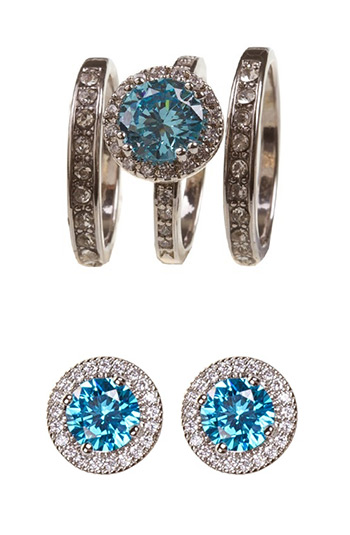 Lovisa has a new Diamond Simulants range. The jewellery in this range contains laboratory-grown stones that are designed to look just like diamonds and precious gems, but without the giant price tag. If I took Kendra to Lovisa, I would honestly just let her go nuts and pick out whatever she wants. While I believe in being strict and thoughtful about your clothes, I personally love and encourage accessorising. My general rule though, is that if you choose to accessorise your hands (which is what I do), tone down any hair accessories… and vice versa. That said, Kendra should keep her hair simple for the night. I would just brush it and leave it loose, or up in a pony. Whichever she feels comfortable with, especially as she'll be dancing. Hey, I'm a dancer myself, so I have to consider that!
The earrings for this outfit should definitely be studs rather than dangly ones, and as for colour, I would go for shades of blue or clear.
Now comes the bag or purse. I wasn't looking forward to this. I am not good at picking out bags.
But then it occurs to me… I know of Fossil! A fairly affordable brand that isn't a designer brand. They are bound to have something practical and simple. I have never owned a Fossil wallet or purse but I have often ogled over them. They're good quality, and can suit both a formal and casual occasion. I'm choosing this Sydney Zip clutch. It also comes in blue, but we've got enough blue in the dress and a lot of blue in the accessories. If I'm in doubt, I always match my bag to my shoes. :) And don't forget how much of a statement this dress is in itself.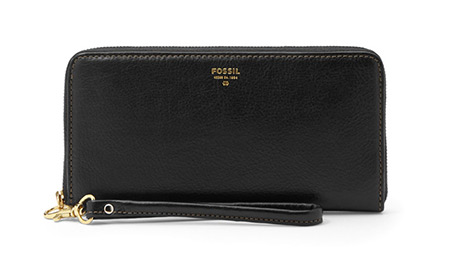 I'll end with how Kendra ended her challenge prompt:
As a world-class city, New York truly lives up to its legend, and with the help of experts at Gogobot, planning my perfect New York itinerary has been a pleasure. Whether it's heading to a great Broadway show, people watching, or getting ready for a night at the luxurious Standard High Line Hotel, one of the best hotels in the city, the perfect outfit will undoubtedly make you wish the night was as endless and brilliant as the New York City skyline.
This is my first time being some kind of stylist for someone, and I certainly hope I've helped Kendra unveil her perfect outfit and given her inspiration for a night to remember.