Fashion Friday: Limeade
Welcome to the first Fashion Friday for 2015! I have to admit, I have been a bit all over the place with my blog posts lately but I'll soon catch up and have everything running smoothly.
It is currently summer where I live. Summer for me means bright and bold colours rather than light pastel shades. This whole outfit is pretty bright and bold and makes a statement, so there isn't much to the accessorising. I guess one thing I had to do is be careful not to wear the same colour head to toe!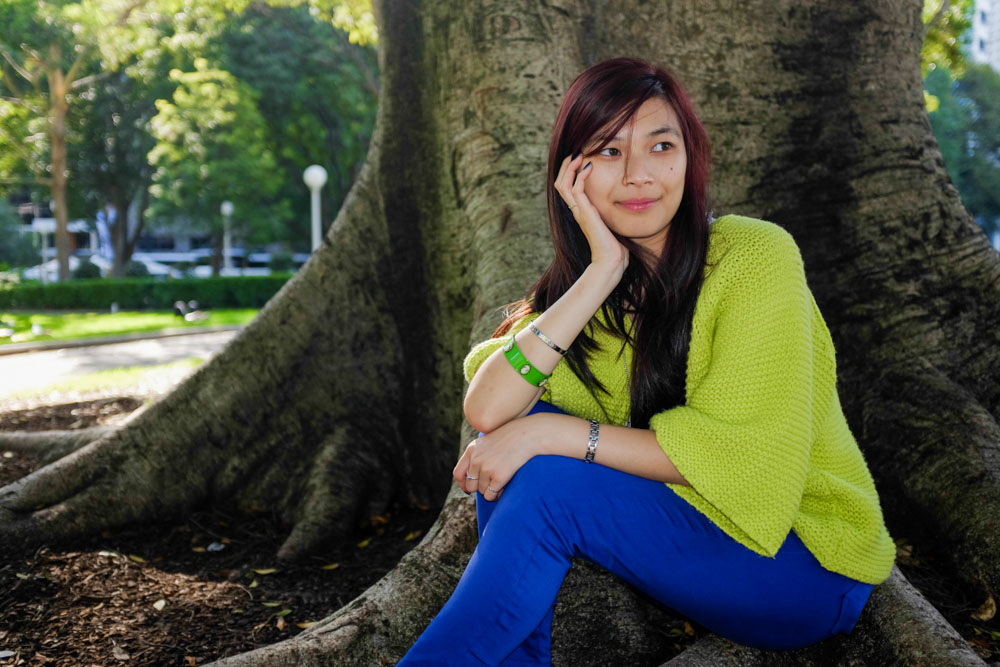 It was probably a mistake to wear a knitted wool jumper-poncho thing in the summer, but I was at work indoors so it was cool. I remember buying the poncho from the market for only about $10. It was a while ago, and I remember saying to myself, "I have to buy this". The colour won me over. I wore it with a singlet top underneath.
I bought the blue jeans from Just Jeans a couple of weeks ago. At first I wasn't really blown away by the colour because I wanted something brighter. This is bright enough though! The material is very stretchy and comfortable. I like that it's an "ankle-biter" style jean, because while it will hit above the ankle on the average person, it is the right length for me as a fairly short person. These jeans replaced my similar bright blue jeans which are no longer comfortable.
The jeans were on sale after Christmas at $39. I bought another pair for the same price, which were a dark navy-grey sort of colour in an acid wash and a similar style. I am happy with them both. Looks like I have been warming up to jeans lately. Seb pointed out that he hadn't yet done a shoot where I'm wearing jeans.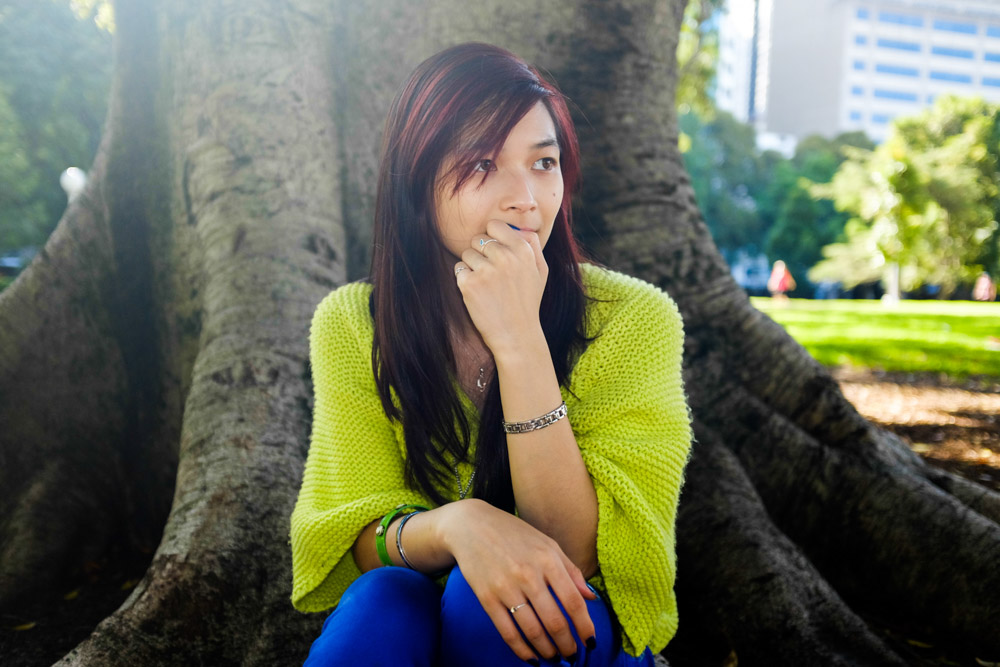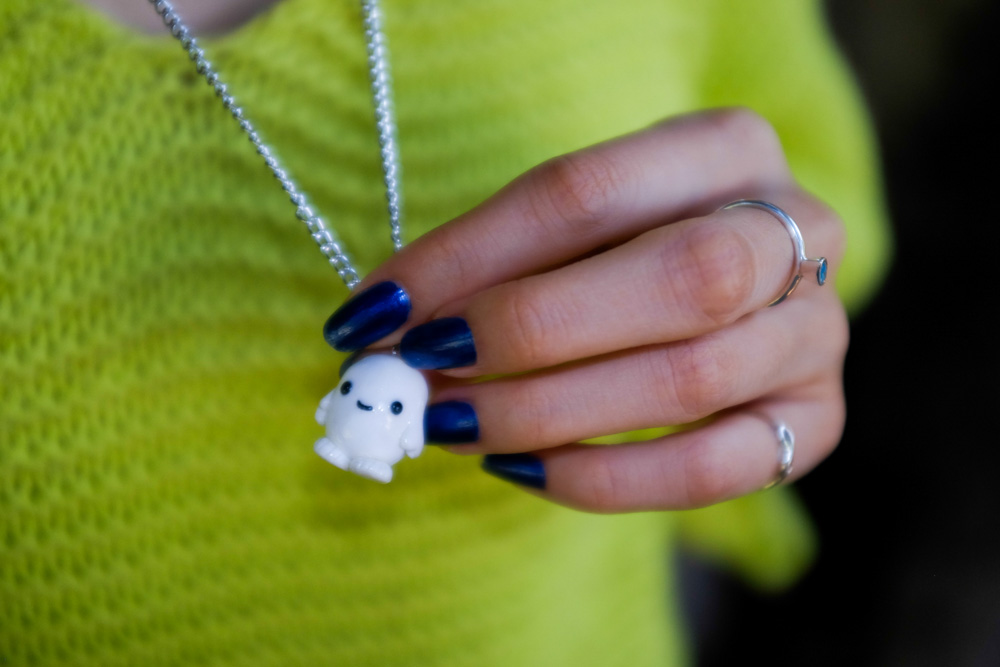 I chose to wear a cute necklace to complement the outfit. I think it went with the bright colours. I chose an Adipose clay charm that I bought from my friend Vivien's Etsy store, Mostly Harmless. The Adipose were a species in the television show Doctor Who, and were composed almost entirely of fat. There's more on the Internet about them, but if you're a fan of the show, you will know.
Other accessories include the silver Urban Hardware bangle from The Peach Box, and a green bangle from my Helene Jewelry subscription box. The dark blue nails were painted a few days before – I didn't have them in mind for this outfit specifically.
This one is Seb's favourite shot. It's my favourite too – I love it. It was a spontaneous suggestion on my part, as I thought it fitted the fun nature of the outfit. I really like how it turned out.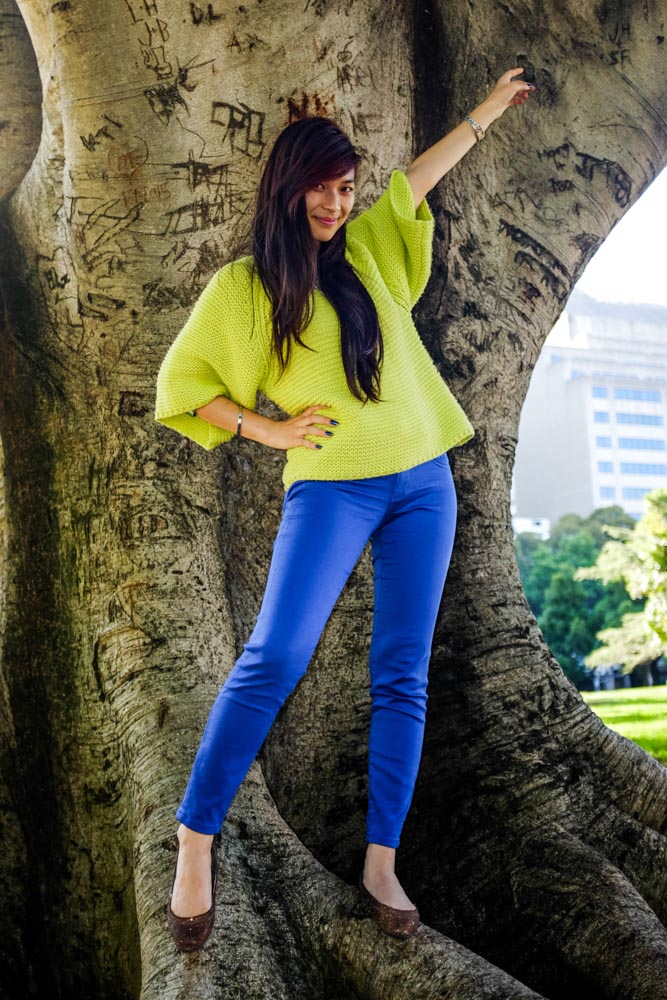 My shoes were a bargain, literally $5 at a shoe warehouse sale five minutes from my house. I bought them at least two years ago and didn't think I would like them that much because I don't usually wear brown. They have some sparkle to them which has now faded, and they aren't in what I would call fantastic condition. I still wear them casually from time to time.