Fashion Friday: Milk & Cookies
Fashion Friday is always fun. I neglected to mention that a few weeks ago I posted two Fridays in a row. But from that date, I'm posting every two weeks. I didn't have a particular reason for it, but I was pretty pumped to post early. I had ideas to post in between outfit posts, but that has been quiet as of late.
I also thought that having a 2 minutes and 40 seconds post up on the Thursday, followed immediately by a Fashion Friday post the day after, doesn't seem like much "breathing room".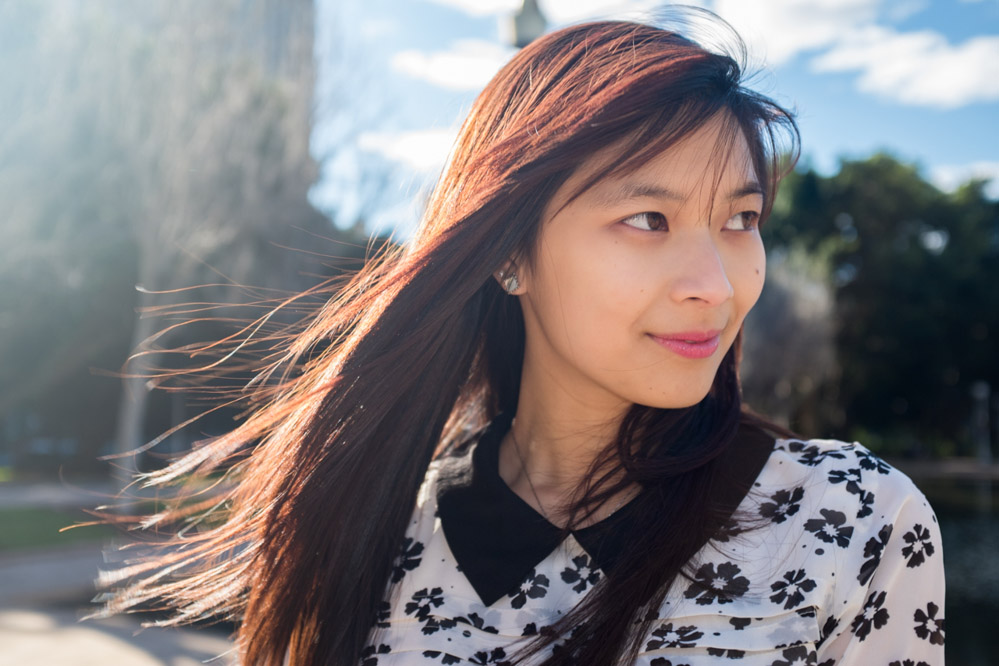 Today's outfit was curated by my friend Cookie! Well, I picked out the top because I wanted to wear it, and he picked out everything else. The top has quickly become one of my favourites. I bought it from ASOS a short time ago. Compared to the quality of everything else I bought with it, it's really good. I love the collar and the placket detail on the upper chest. So cute!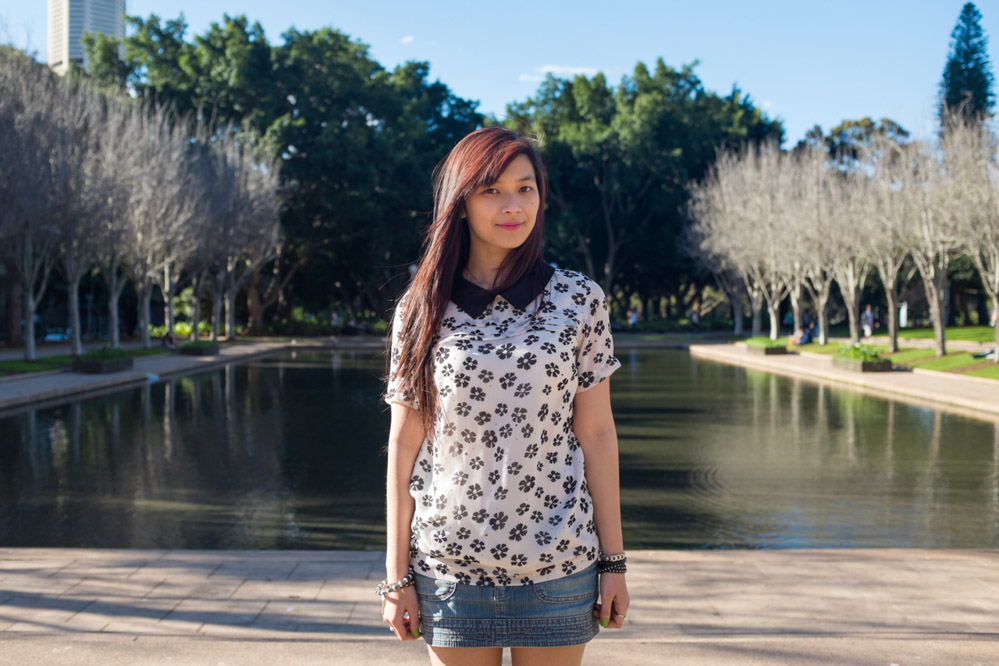 I got my denim skirt from Indonesia a very long time ago. It doesn't really amaze me that much that it still fits; I suppose I have slimmed down a bit over the years. The skirt is pretty versatile and I have worn it time and time again. The same goes for the boots, which I have worn in a lot of previous Fashion Friday posts. The zippers still need a bit of mending. I have sewn them back onto the boot properly, but the teeth of the zipper are already flexible and easily bent. I should probably get it professionally fixed.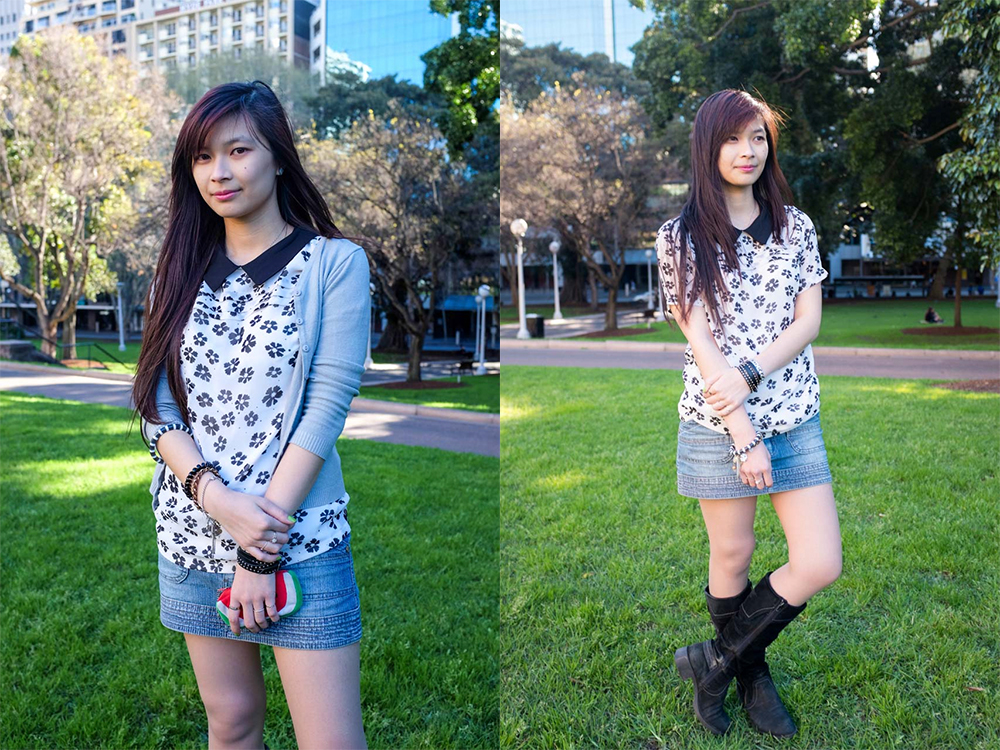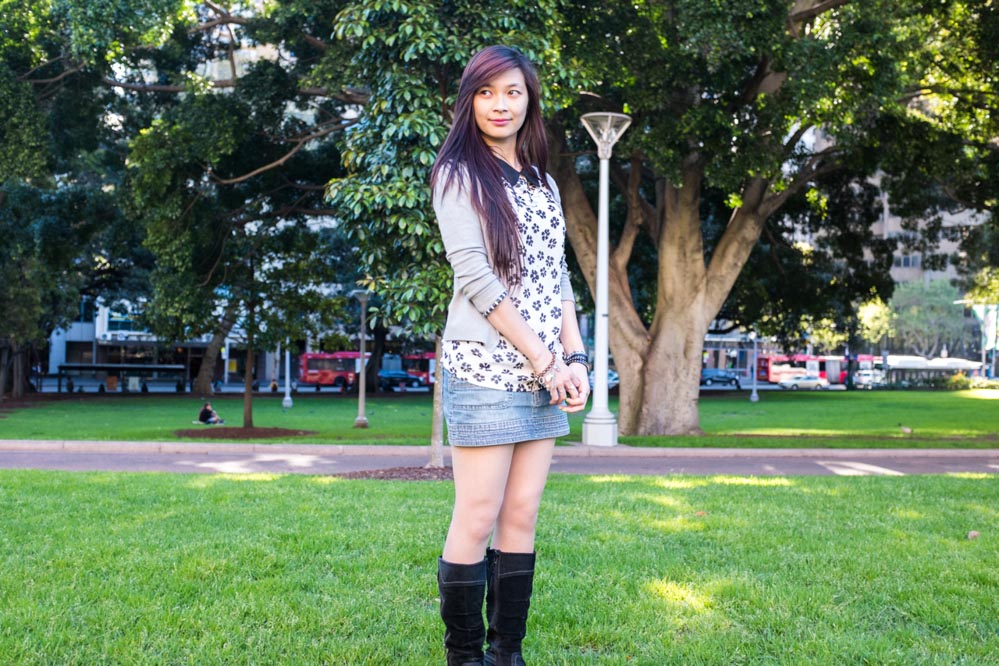 I suppose the black brings out the flowers in the top, while the grey cardigan complements the beige colour of the top. I'm known to wear a lot of dark clothes, so I like that Cookie picked out some light pieces.
I kept the jewellery pretty simple. My favourite piece is the grey and white striped bangle, which I think goes perfectly with the cardigan. It was only a few dollars at a sale a few years back, and I remember buying it over the red and blue ones because I thought it was a colour that could go with anything. It's also acrylic, so its age doesn't show.
I bought a new black wrist wrap for only a dollar on eBay. I'm happy with it. It's been a while since I've owned any jewellery remotely studded or leather-like. I like this!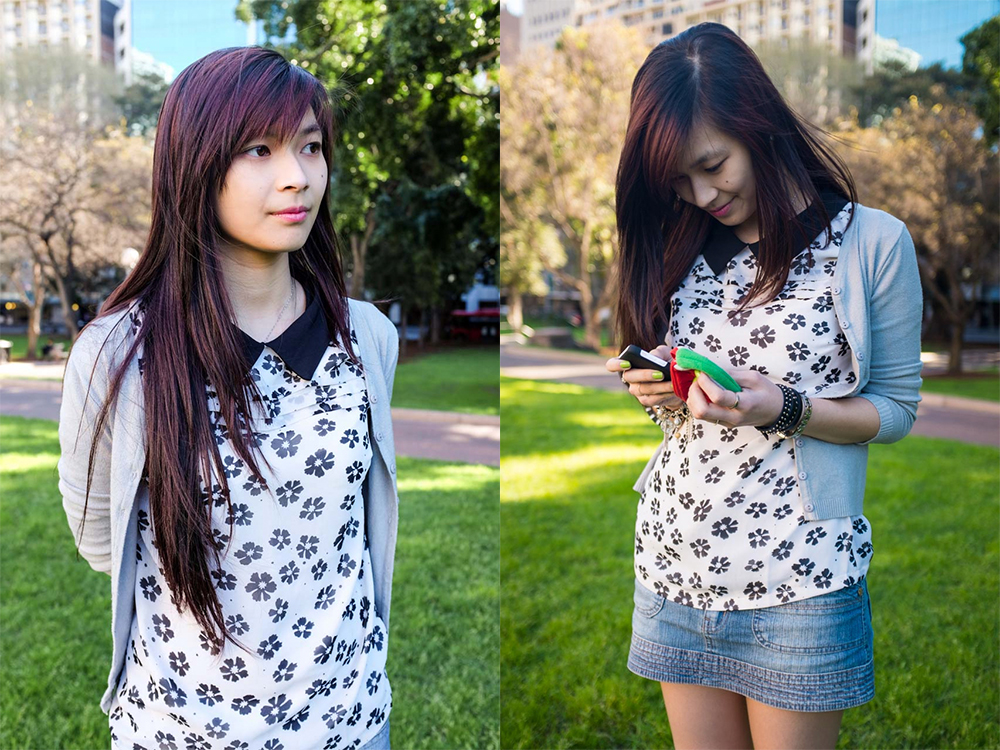 Tristan chose green as the colour to paint my nails, so I tried a new lime green colour from Revlon that I had. I was pretty pleased with the result because it lasted quite some time without being chipped off. Or maybe I just did a better job on the top coat, haha.
You'll notice that one of the photos is my new picture on Twitter. I liked it that much! Not to mention my previous one was about a year old. Seb says it is an honour that my new photo was taken by him. :D
I named this post Milk and Cookies not just because it references Cookie, but because the colours are reminiscent of a typical blue-and-white carton of milk and a typical cookie colour. :)