Fashion Friday: Acrylic gel nails & glitter polish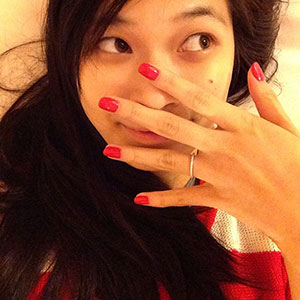 When I went to Hong Kong, I went to The Nail Library to get gel acrylics done. I learned quite a bit from my experience.
The most important thing I learned is that there is a difference between acrylic nails and acrylic gel nails. Acrylic nails are basically fake plates of plastic stuck on your nails. Acrylic gel nails are painted onto your nails so they are sort of "molded" to your nail surface. I didn't know this prior to getting my nails done. I just wanted a nail design that would last a long time and that was pretty.
I didn't get any fancy nail art done. I just got my nails done in red, and I loved them.
The other things I learned are relevant to this fact: acrylic nails are not for me.
My nails lasted just over three weeks before I felt the need to peel them off. You have to get your nails "filled" every month or so, or basically, when the nail starts growing out and you can see the growth. A bit like when you colour your hair and the roots of your hair start to show after a while. The thing is, my nails grow very fast, likely due to my high protein diet (eating lots of fish and eggs1). Within a week, I was already seeing a lot of visible growth.
It became unsightly by the time I hit the three-week mark, and not to mention, my hair was starting to get snagged on the the base of the acrylic gel nails. It doesn't hurt, by the way. But because the polish was chipping, it meant that when I brushed my hair or ran my fingers through it, it got snagged on the chipped polish. To be honest, I could not imagine spending $30 every couple of weeks just to get my acrylics filled in. If my nails grew slower, I would not mind it.
I ended up peeling my red nails off a few days ago. It was sad, and I felt bad that they had not lasted longer. I absolutely adored them while they lasted, though.
Acrylic nails are not for clumsy people, I once read. This is quite true. I know myself to be really rough with my hands sometimes and I sort of appreciate that I have tougher nails now, but working really hard with your hands can damage acrylic nails. They are very strong but they are not indestructible.
Would I get acrylic nails again? Probably, if for a special occasion or if I wanted to treat myself. But it would be very rarely, and I would not be keen on getting them filled unless my nails stop growing so fast. I sort of prefer to paint my own nails. I also still acknowledge that I can be indecisive, and get sick of nail colours often2. I generally paint my own nails every two weeks. The only issue I have with it is my impatience in waiting for the polish to dry.
However, after I peeled off my acrylics and rubbed oil into my nails to reduce the dryness, I decided to try painting my nails again with the new nail polish I bought in Japan.
My nail polish collection lacks in the sparkly/glitter department. I don't normally like glitter, as it looks tacky. But when I went to Tokyu Hands in Japan, and spotted some glitter polishes, I had to buy at least a few. I strayed from the tacky, very bright ones, and bought two that were labelled with Smoothie Nail. They were 504 yen, which a little pricey at about five Australian dollars, but most top-branded polishes cost twice as much, so I didn't fuss.
I like how the polish is a creamy pastel shade, and there are just enough specks of glitter to balance it out. In contrasting colours, too! The specks are quite vibrant but contrast with the actual polish colour. There are even tinier specks of glitter, which balance out the entire mix.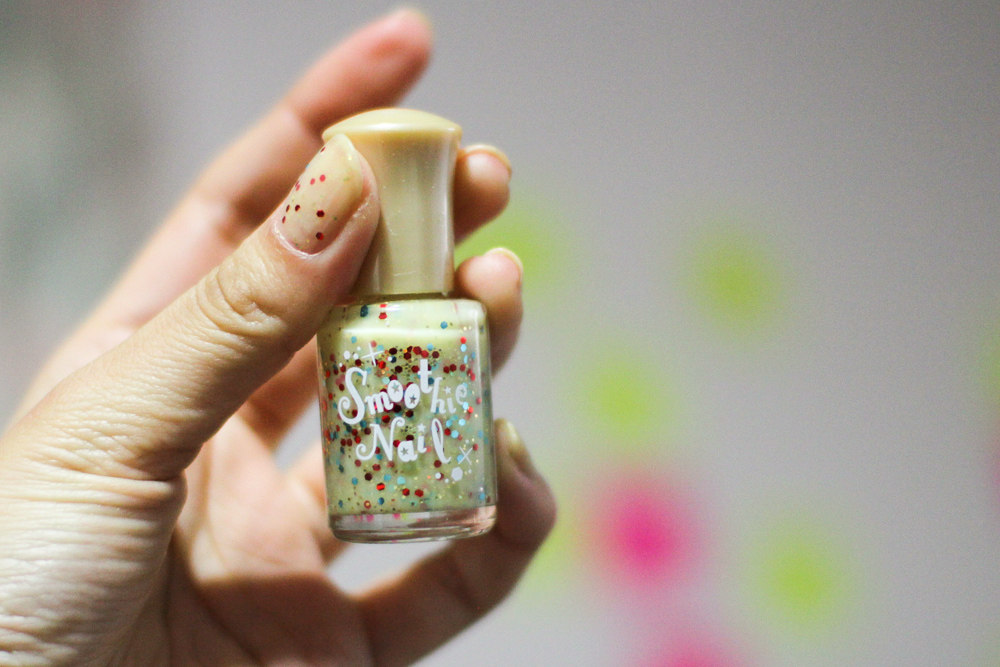 I tried the pale yellow polish on my nails, which has big specks of red and light blue, and tiny gold specks. I put on a non-chip base coat, and put about three coats of the polish before sealing it off with a coat of clear polish.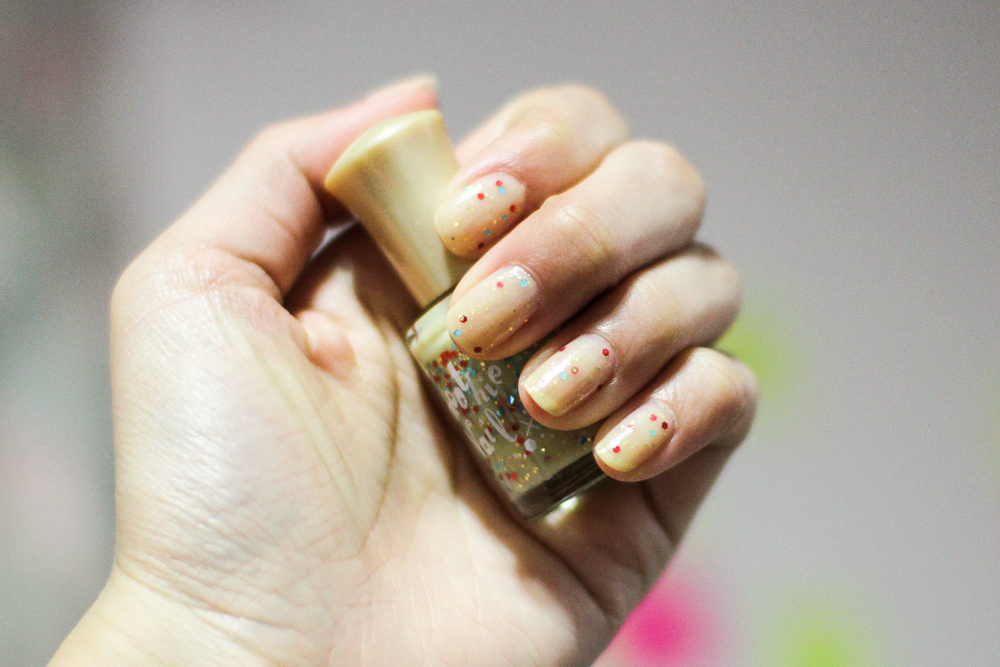 When I applied just one coat of the polish, the yellow wasn't very visible, which is why I added more. It was a bit difficult to get an even number of specks to be spread out on all the nails. Overall I was happy with the finish, and I liked how specks on deeper layers were less prominent due to being covered up by the yellow, so it looked like they were floating inside the polish. Another thing I really liked about the polish was that when it dried on my skin after accidentally getting it on my skin around my nail, it was easy to peel off. Much better than having to pull out the nail polish remover or struggle to scrape it off when dry and hard.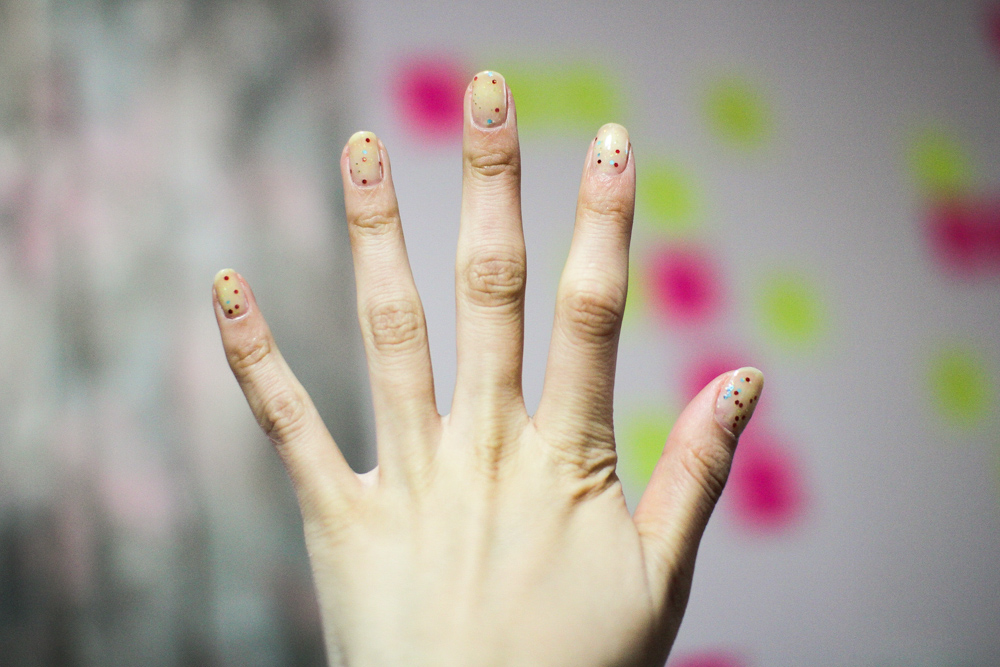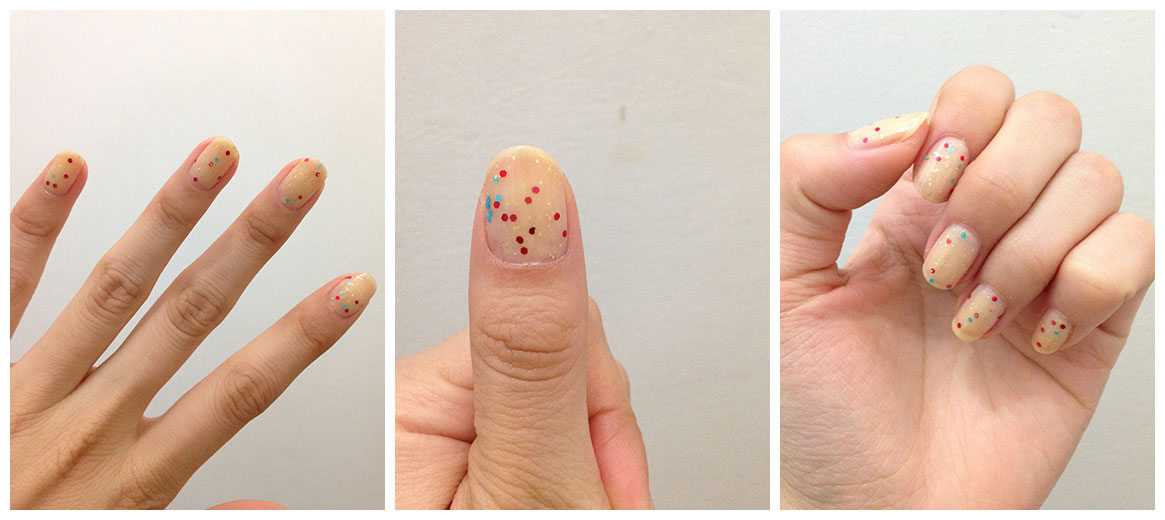 I have to say that since becoming pescetarian, my nails have become less brittle and bendy, and stronger, because I have had to get my protein from sources other than land meat ↩
I chose the red for my acrylics because red is my favourite colour and it would be unlikely that I get sick of the colour too quickly. ↩