Big Day Out 2014: Happy Australia Day
Today is Australia Day. Typically in Australia it is a public holiday, but if it falls on the weekend, the Monday after is usually a public holiday and most people have the day off work. Australia Day is celebrated with togetherness and gatherings, so usually spending the day with friends or family. Some other annual celebrations occur, but the only one I have taken part in is Triple J's Hottest 100, a countdown of the best songs of the previous year (in this case 2013).
Most years I listen to the Hottest 100, although I have not voted every single time. I still tend to like underground bands, and the songs I vote for don't usually make it into the Hottest 100, even though Triple J is generally known for playing local music.
Anyway, this year it was a bit different, because I went to the Big Day Out festival. Big Day Out has been around for a many years, but this year was my first. I usually don't find myself liking the bands that are on the bill, but this time, I loved a good lot of them. It wasn't as good as Homebake 2012 — which I was ecstatic about — but I was still excited. Last year, they announced the first bunch of bands, which included DZ Deathrays, Violent Soho and Tame Impala. I was definitely willing to see them, but when I watched that video announcement, and saw Arcade Fire, Pearl Jam and Blur, my heart was completely set on going. Three of my favourite bands in the universe, at the same event. There was no way I was missing it.
As soon as the tickets went on sale I went to purchase one. I momentarily thought about how I would be $185 poorer, but decided that it was worth it to see all the bands I loved, especially since there was not a big chance that they would be playing separate shows from the festival. I didn't even bother looking for someone to go with me, because I already anticipated that I would be going alone.
Closer to the date I was really gutted to find that Blur had been removed. I was really gutted, and terribly heartbroken. For a band who has not been here for years, and a band known worldwide, it suddenly seemed really wrong that they were no longer playing. Festival organisers replaced the band with three others, and a refund was offered if customers were not happy with the replacements. To be honest… I wasn't. But I didn't want to miss out on the opportunity to see other bands I liked. James pointed it out as an "all or nothing" deal, and that it was obvious that people would either see the other bands they had paid to see, or see none at all.
Well, I felt like it was a waste if I couldn't see Blur, but I didn't refund my ticket by the due date, so I guess I was going.
It was very cloudy this morning. I thought it might rain. Because of some issues with the trains, I was a bit late to DZ Deathrays' set, but I was thrilled to see them. I last saw them at Homebake over a year ago, and even then, I wasn't a huge fan. I also missed a handful of their shows in 2013 from being too busy.
After that I went to see Violent Soho, and they were wicked. By this time, it was not just raining but it was raining heavily. I was starting to get irritated, because I had to keep my bag and phone from getting wet, but after carefully packing it so water wouldn't get to my belongings, I sang loudly and made the most of it. It was pretty awesome being in the rain after that, because I realised that I didn't mind the rain, as long as I got to see a band I liked. Everyone else was clearly having a good time, and people were even crowd surfing or sitting on other people's shoulders to get a better view.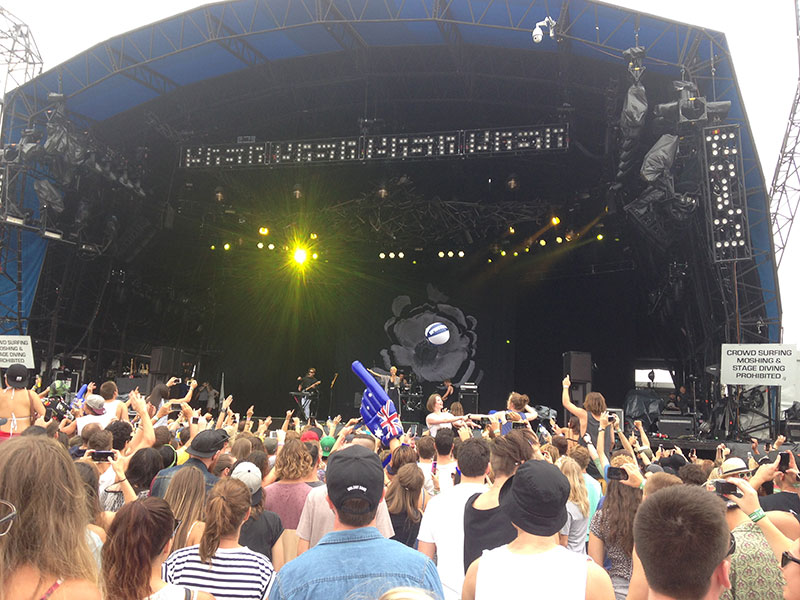 Other performers I saw were Toro Y Moi and The Naked And Famous. Both were quite enjoyable. I also caught up with Jess, who was photographing the festival. I would have applied to photograph, but I like to go to festivals without having to worry about photographing. After that I watched Tame Impala, who I last saw at Homebake 2012 as well. After that, I walked around the stalls for a while, and bought some sweet potato crisps.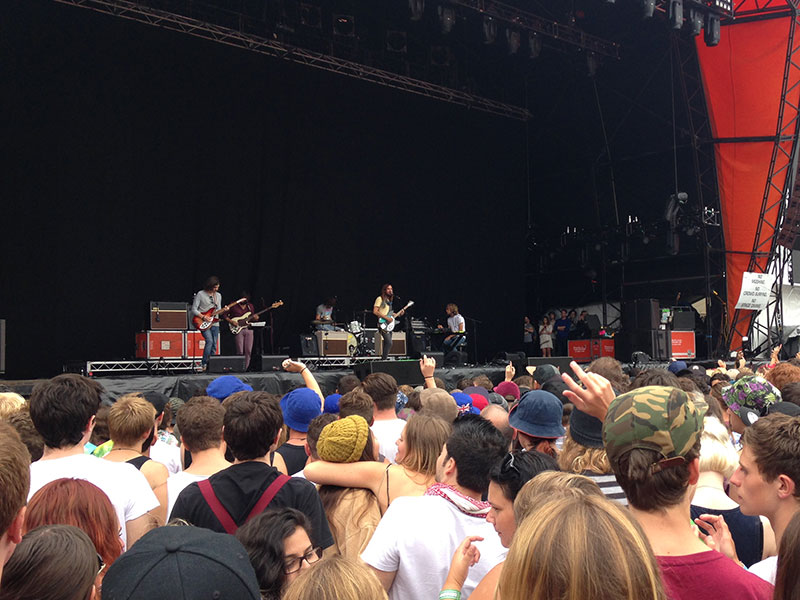 I watched Grouplove, and then made my way to another stage to see Mudhoney. I remember listening to some of their music around the same time I discovered Nirvana, because they are both Seattle bands and were around at the same time. I can't say I enjoy Mudhoney very much. They were energetic, but their songs weren't really catchy and didn't really stick in my mind.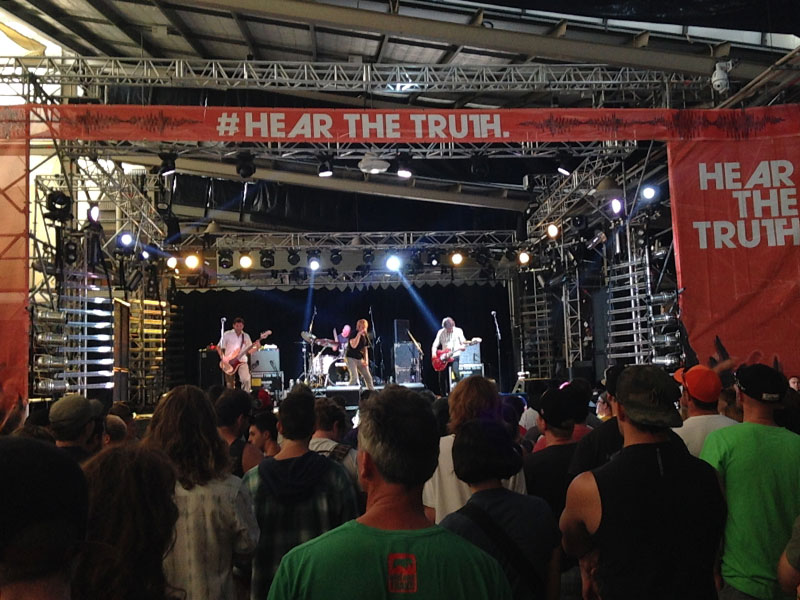 After Mudhoney played, some people left the audience, probably to see another band. I really wanted to see Northlane, who were playing next, so I got as close to the front as possible.
Let me also note that I have not been to a metal or very heavy/hard rock concert in about a year… and it's funny that I adore that kind of music, but haven't seen many bands live who play that genre.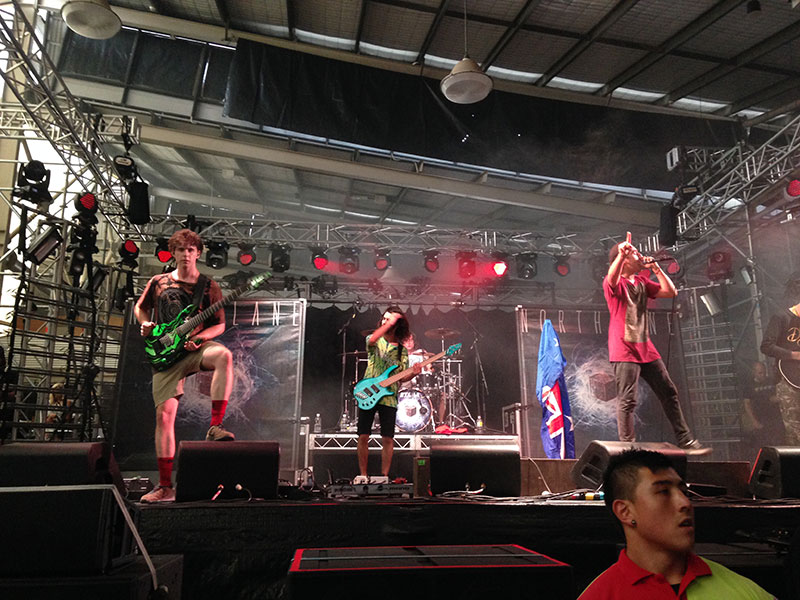 Northlane were absolutely amazing though. They were wild, and they were loud. I like that they are from around my locality as well. They asked if anyone came from around Western Sydney, where they are from. They also appreciated that they had such a huge audience in their hometown, and that despite their music being very different to a lot of other bands at the festival, they still drew a crowd. It was the first time I saw them and was a whole heap of fun. I got kicked in the head by someone crowd surfing, but that was to be expected (sort of). I stayed there for the whole set, then made my way to Arcade Fire.
I have loved Arcade Fire for years. I have adored their music to no end. Their music is sweet, and beautiful, and at the same time, catchy and groovy. It is hard to describe their music in one genre because they seem to cover a lot of bases. They use instruments such as the glockenspiel, accordion and bongos, which gives them a bit of a unique flavour.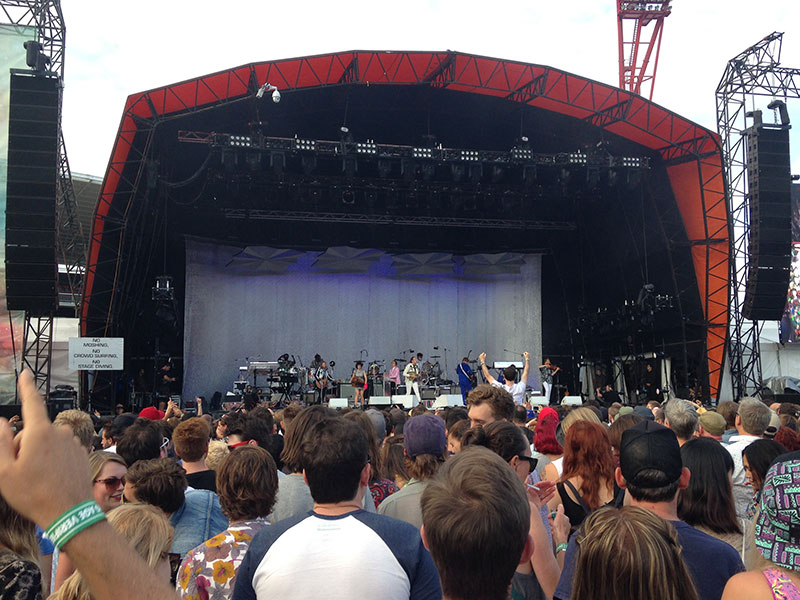 There was a bit of a joke when a few of them walked on wearing what appeared to be papier-mâché heads. After a brief moment it became obvious that they were designed to be Blur, what with four members of the band breaking into Song 2, lazily reciting the lyrics as "I got my something something checked by a something something jet"1 before one of them exclaimed to stop and announced that that was quite uncalled for and inconsiderate (of course, given the fact that Blur were taken off the bill). Well, anyway, Arcade Fire were amazing. I enjoyed watching and listening to them a lot. Towards the end, there was confetti shot out into the audience, made of thin strips of white paper.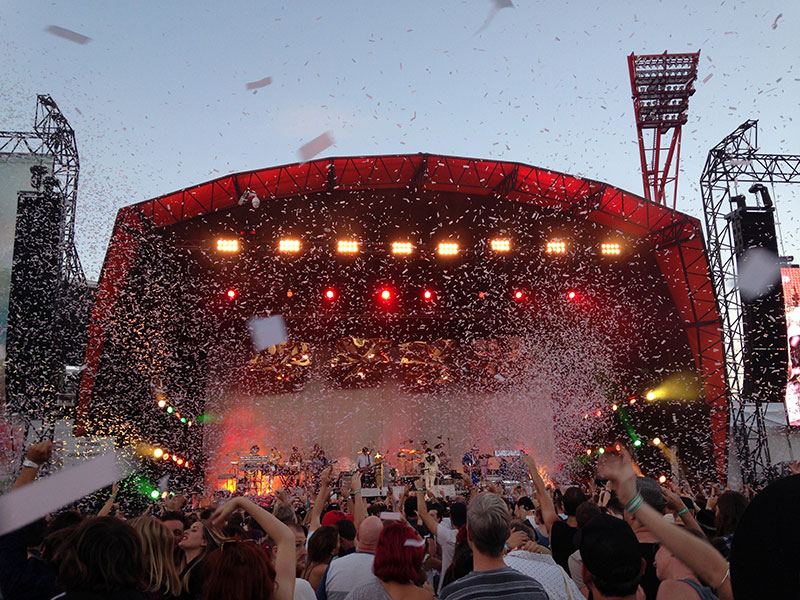 I stuck around a bit for Pearl Jam. I went to get a drink of water and while I was walking back to the stage to see Pearl Jam, this guy kept grinning at me and I realised his friend was walking behind me very close, and when I turned around he would quickly move away. They thought it was amusing, because they did this a few times before they realised I was going in the opposite direction to which they were going. I have loved Pearl Jam for a very long time as well, but for some reason, I couldn't stand to watch them. I didn't get up close, and instead I watched them from afar. Cameras surrounded the stage and projected video of the band playing onto a large screen at the side of the stage. I didn't like Pearl Jam because they felt very "plastic". It is a bit hard to describe, but perhaps it had something to do with how the sound was being amplified across the arena. Nevertheless, it was okay to watch from afar. But I didn't enjoy their playing very much. They sound a lot clearer and fresher on record.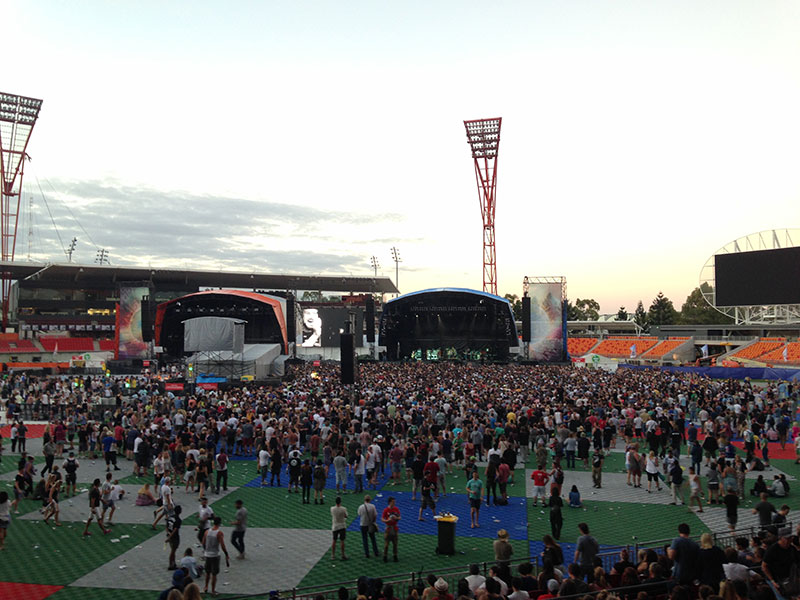 I got bored easily, and I didn't want to wait half an hour for Deftones to play2, so I left, and missed out on Deftones. On my way out, I heard Pearl Jam playing one of my favourite songs of theirs, Rearviewmirror, and I sighed, turned back around and watched them play that before I left.
Earlier, I had heard them play Evenflow and was very impressed, but I guess after that I was done and done.3 I walked out of the showgrounds and made my way home.
So sure, I was kind of alone, but I'm used to going to gigs and festivals alone. And I suppose I would have been cooped up at home listening to the radio if I was at home anyway. I did say Australia Day was about unity and stuff like that, but maybe I need to drag my friends out. 8D
The correct lyrics are "I got my head checked, by a jumbo jet". ↩
Deftones were playing at another stage at 9:15pm, while Pearl Jam were playing from 8:00 to 10:30, and I didn't plan to stay right until 10:30 anyway. ↩
I analysed Evenflow for a piece of homework back in high school, and I loved the song dearly. I love other songs by Pearl Jam such as the obvious Last Kiss and Alive, along with Nothingman, Jeremy and quite a few others. But I really wasn't feeling passionate about their music as they played at Big Day Out. ↩