Big Big Mess
Hey everyone! :D
I can't tell you how insane this past week has been, but the main thing is that I have finished classes and all my hand-ins, and I am just a hundred percent relieved. A lot of things have happened in the past week. Regarding university, I finished my final essay and handed that in, and made the appropriate discussion forum posts online, and I'm glad I finished it. I did it in the space of about six hours… working from about 9:00pm until 3:00am on Wednesday night. I didn't leave it to the last minute; it was just that I knew I'd be out on Thursday and Friday, and having to go to work as well, I had to make sure I finished it ahead of time. Daniel helped me write the very last bits; I am extremely grateful for his help – which he was absolutely willing to give – I didn't make him help, he wanted to – so I bear no guilt, ehe – and grateful for his encouragement and consolation throughout.
Now to wait. I've absolutely no idea if I'll make it into the last segment of the Masters degree; it's another three subjects. Sadly, I will have to take those across one year and not half a year as I previously expected, but the good thing is that I will be much less stressed next year. I don't find out if I have made it until the end of the year or beginning of 2013. I'm nervous because I believe I have come very close to failing one of my subjects. Results come out in a month. :( My mum was surprised, and said, "Wow, you can't really enjoy your holiday if it's always going to be on your mind!"
She's totally right.
Well, I'll have to sit tight.
Last weekend I chilled beans by hanging at the Newtown Festival with James. It was quite a fun day, as we went to some stalls and had some great food, bought some jams and looked at some artwork, and at the end of the day watched Australian rock band Regular John.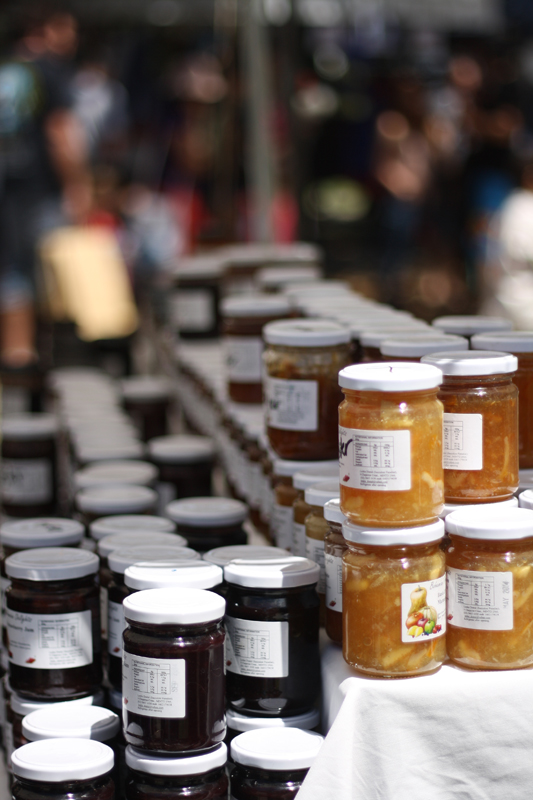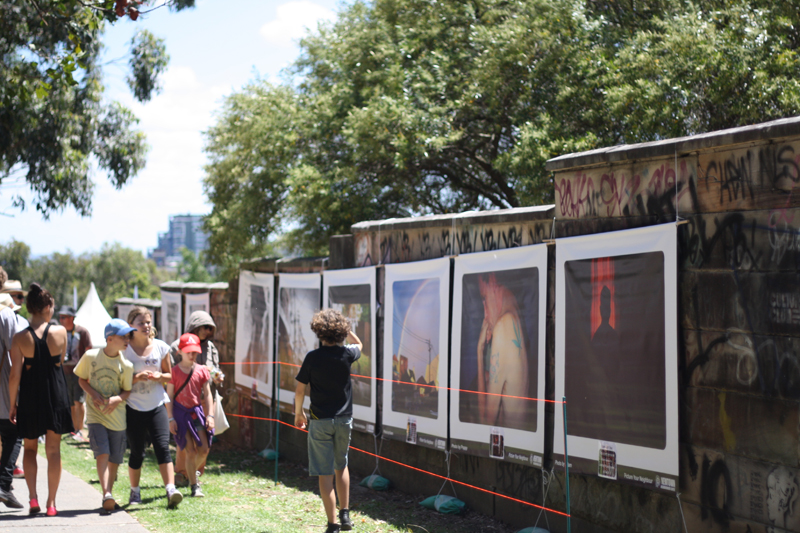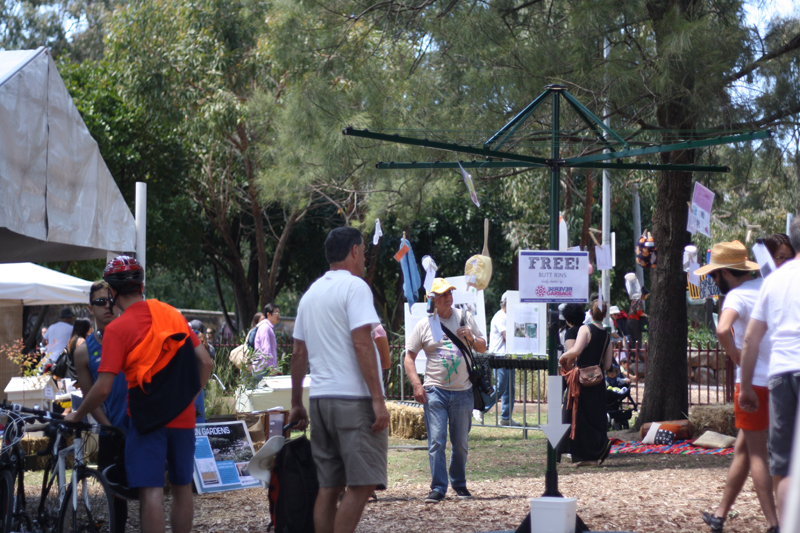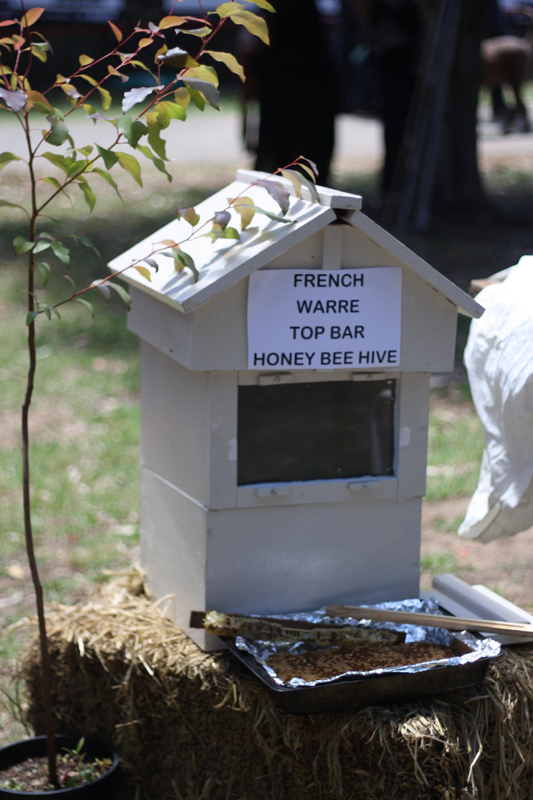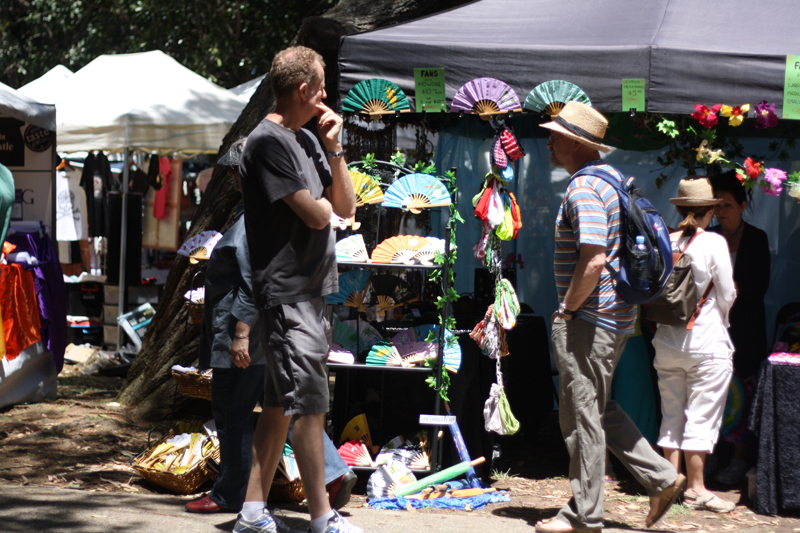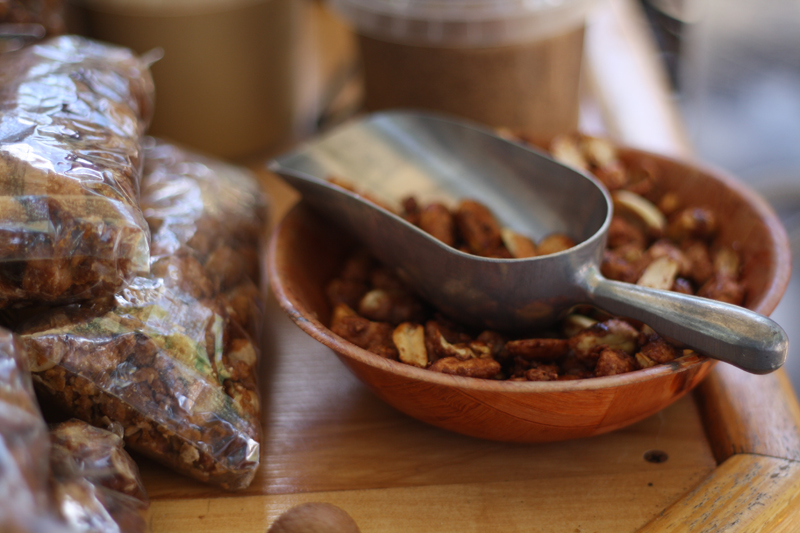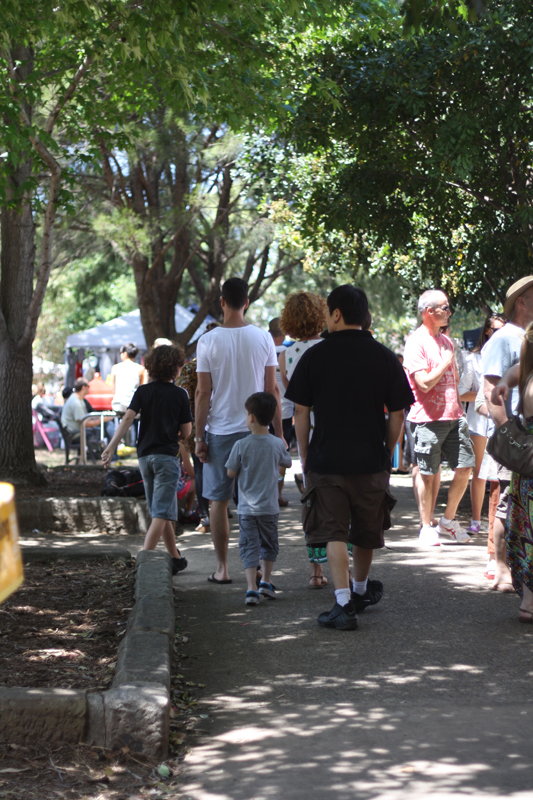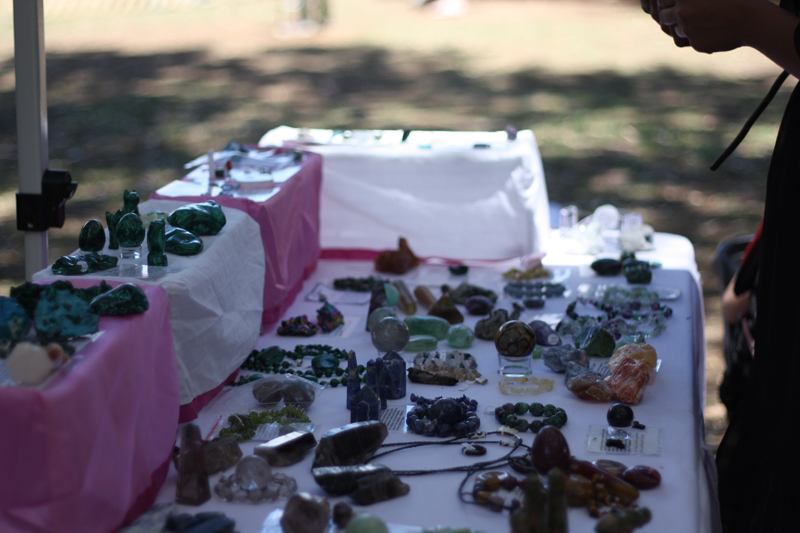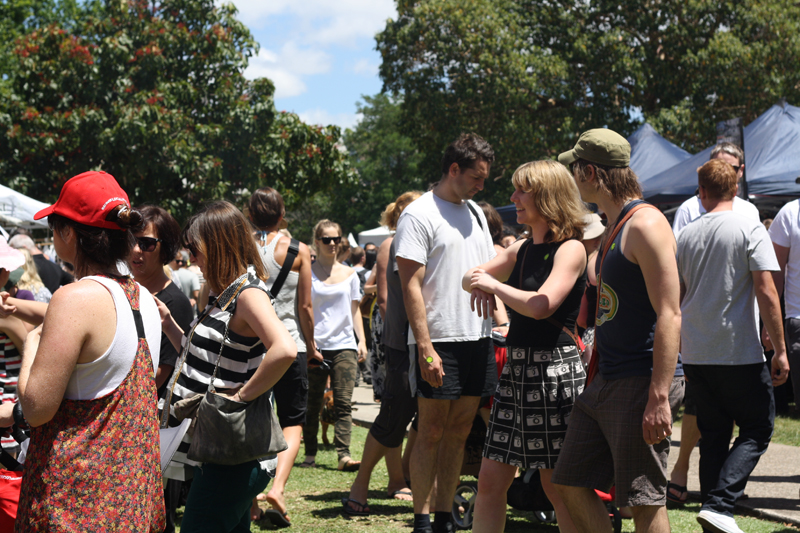 We spent a long time at a voodoo doll stall. Those things are just so adorable.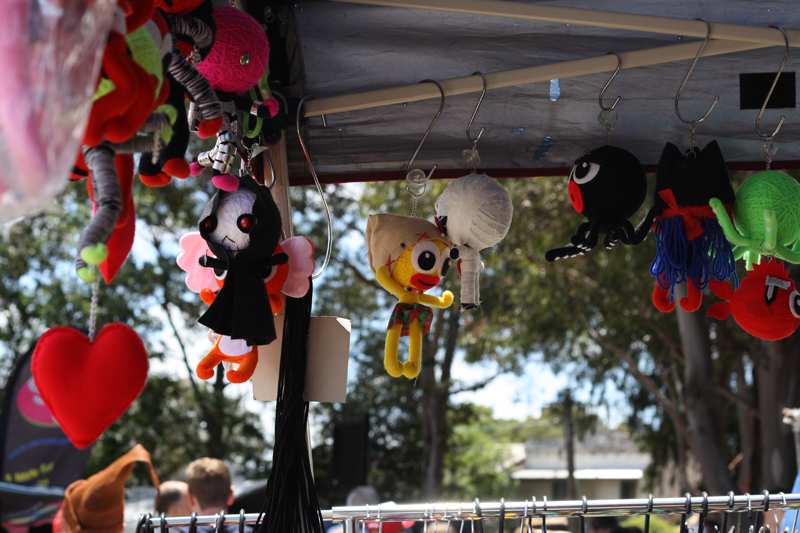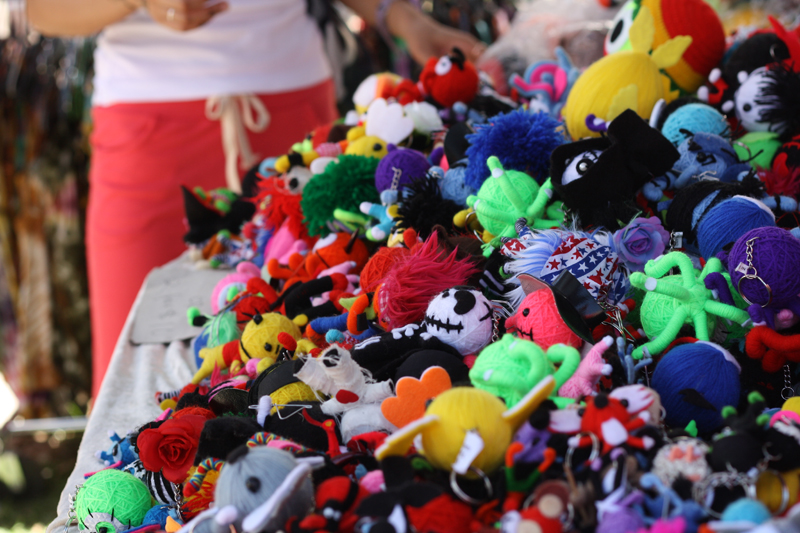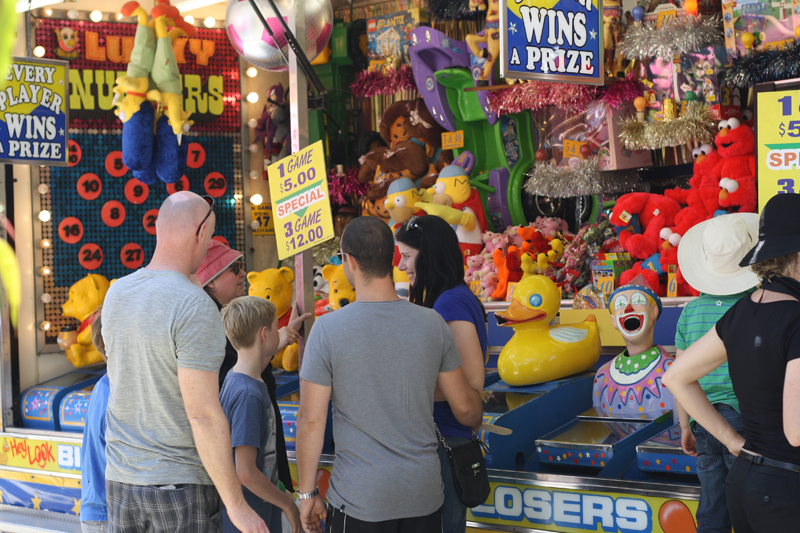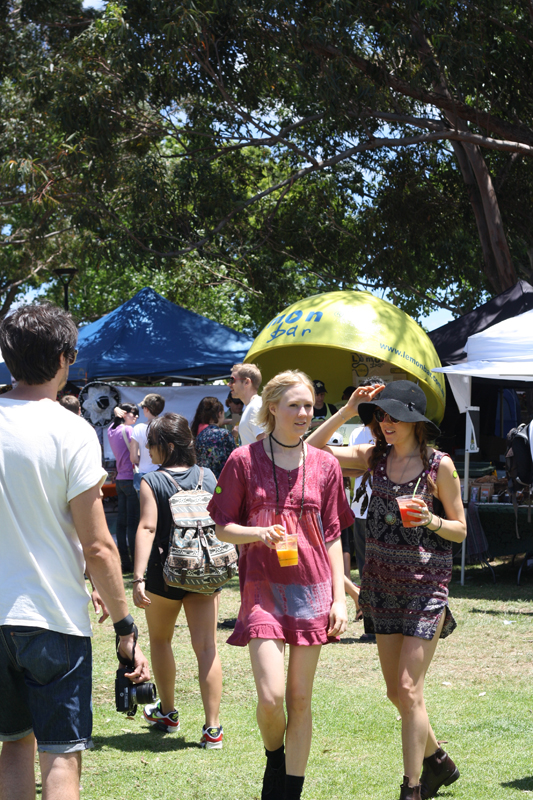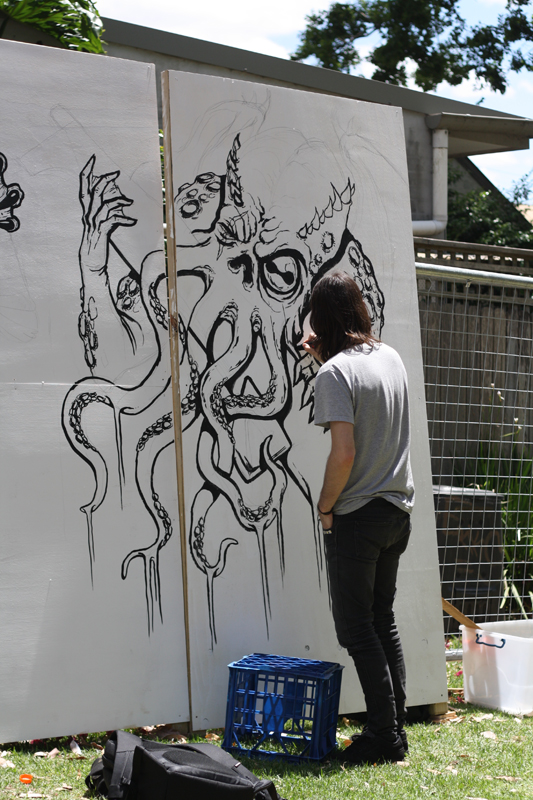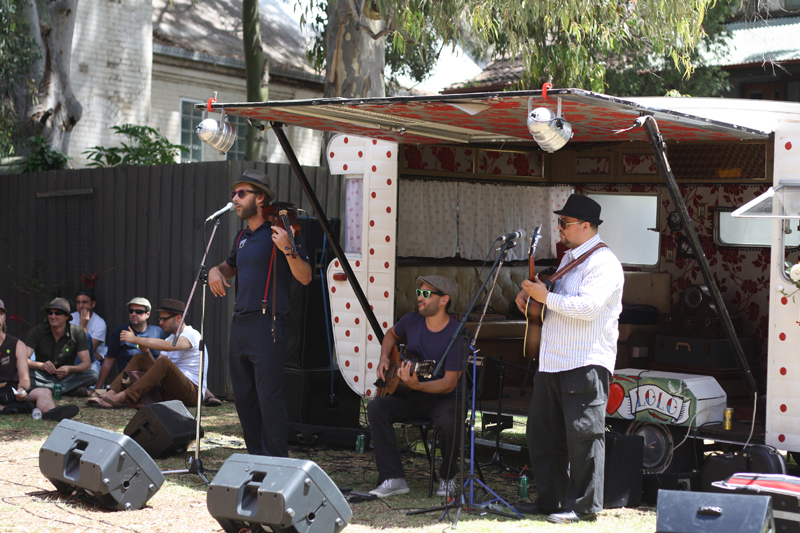 I bought a LEGO earring, which was the head of a LEGO man wearing a purple helmet.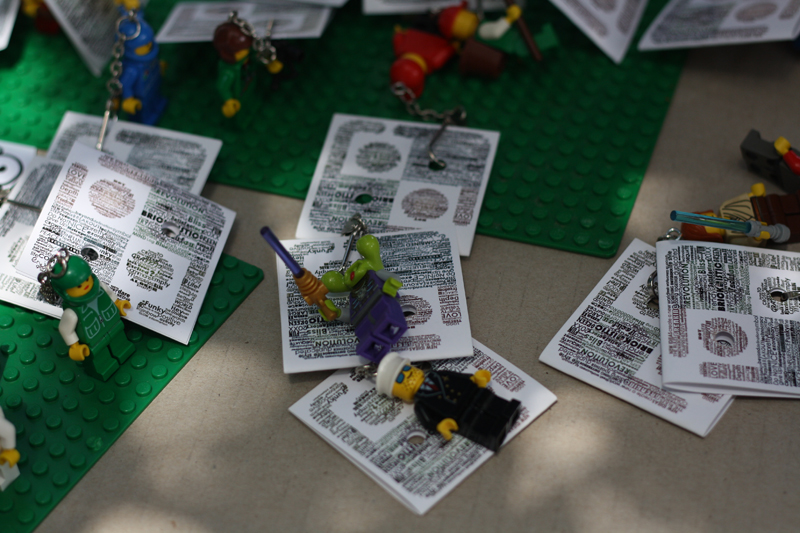 I also really wanted to have sliced potato on a stick, otherwise known as "chips on a stick".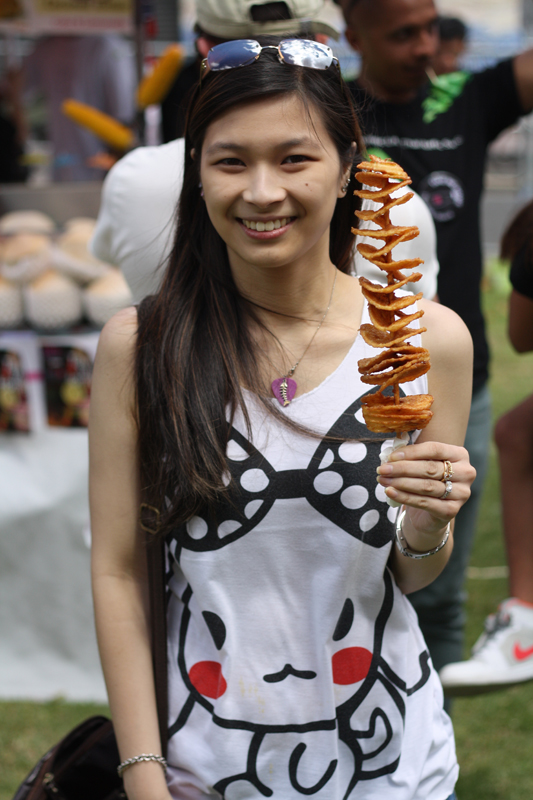 We ended up buying a few. There were many duplicates, and there was a strange blue kangaroo-like one, which we seemed to spot throughout the whole pile. We were probably looking through all the dolls for half an hour, and piled up all the blue kangaroo-like ones, which looked so odd together. While we were around that area we also took advantage of the free drink stand, where they were serving cups of fruity tea. Delicious! It was actually from the Lipton Ice Tea Virgin Cocktail range, so the drinks were reminiscent of daiquiri, pina colada and mojito – none of which I've actually had the alcoholic version of. Regardless, everyone loves tea. (Or so I hope. :))
We encountered an annoying guy running a stall/stand called "Curious Earth", who kept trying to tell us that fossilisation was a rapid process (which it's not) and saying that he didn't believe in chemistry, yet he was using chemistry to back up everything he was saying. I don't know what he was trying to get at, but he was obviously trying to steer us from what we believed – religious or not, and he was being a real jerk about it. Thankfully (or not – I actually wanted to see him try to argue with James, LOL) some other idiot asked what his stall was about and he went right on telling them "scientific" lies.
On the weekend I also got to chat to Daniel over FaceTime; our first time actually talking to each other and seeing each other, I guess you could sort of say, "in the flesh". As usual it's a bit hard to think of what to say when you physically talk to someone you've been interacting with online and in text for such a long time, but soon enough we were talking about what was going on in our respective households and about our favourite stuffed animals. /bounce
Throughout the week I was struggling to get up early because my body was probably in this epic sleeping mode. After having so little sleep the past few weeks, I was sleeping pretty hardcore this week. At least until Thursday, which is when I headed out and saw grunge/alternative rock band Violent Soho with my friend Dylan. Since hearing their music a year ago I was so keen to see them, because of their sound being so like Nirvana and The Smashing Pumpkins, two of my favourite rock bands of the 90s. I wasn't quite sure what to expect, but I was blown away by Violent Soho's performance. It was loud, it was heavy, and it was better than their recordings. It was just what you'd expect from a band of their calibre and certainly of their style. Naturally, photos on my photoblog, a couple below. /eee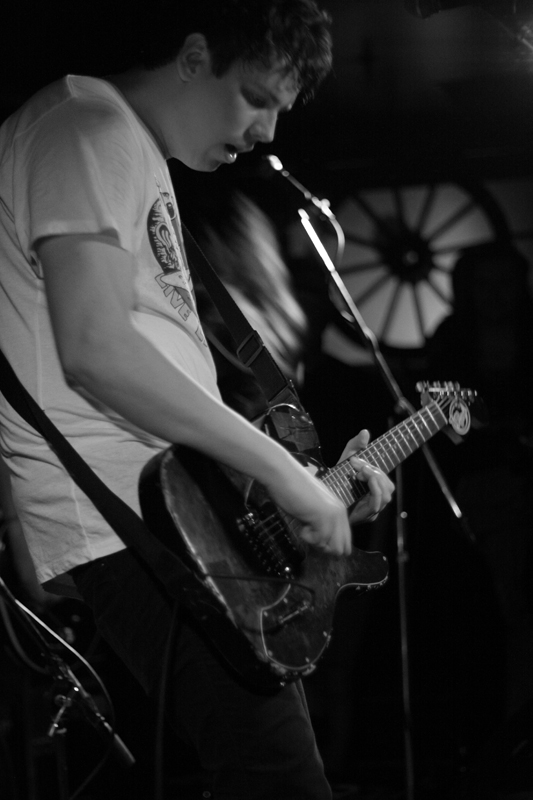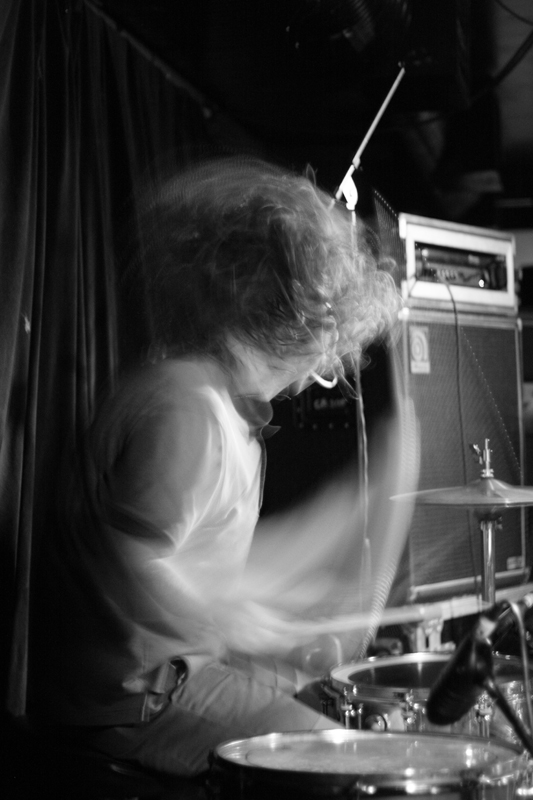 Recently I've been thinking of getting a new camera because my camera is a little outdated and its maximum ISO is very low (1600) which makes it difficult to take photographs in low light (that's why I've just been shooting in black and white) – and that's where I take most of my photos. I don't think I'll be getting a new camera very soon, but I've been doing research so I know my options. I'm sticking with Canon, and I've got lenses that are fine. I'm just in need of a new camera body. Most new camera bodies have video recording now, but I'm not at all interested. I just need higher ISO – and greater megapixels would be a plus too, of course. I'm not that picky.
On Friday night James and I went to see Ron Pope perform an intimate set in a small venue in the city. It was lovely; I had been to the venue before but to see some rock bands. I knew James would like the venue because it was cosy and there were couches and seats, and I knew he'd like the show because Ron Pope has that kind of acoustic pop music that James doesn't mind seeing live. I remember hearing about Ron Pope over a year ago from Ida, and simply falling in love with his music. I took a few photos and got a photo with Ron Pope and his supporting artist and close friend, Cam Nacson (from Australia!) at the end. They are both wonderful artists, charismatic and very friendly. Ron kept saying that he was mind blown about all these things he found out about Australia, about our native animals and prime minister, not to mention the distance he had travelled from his home in New York.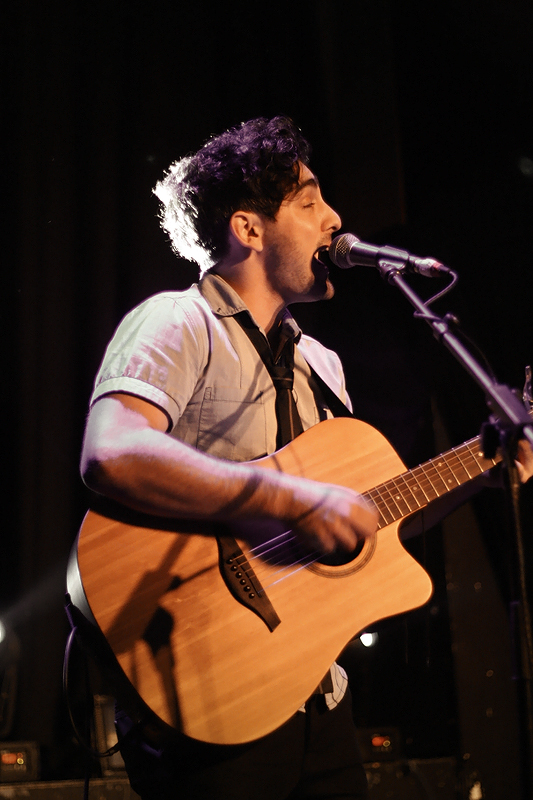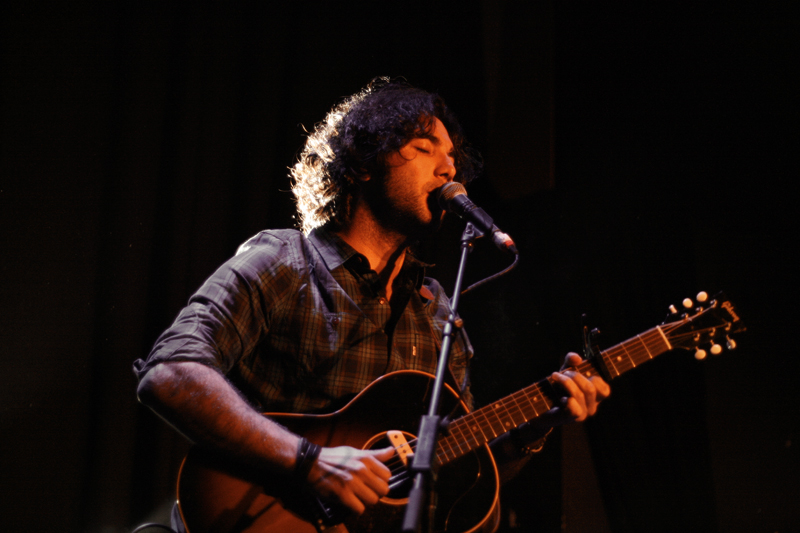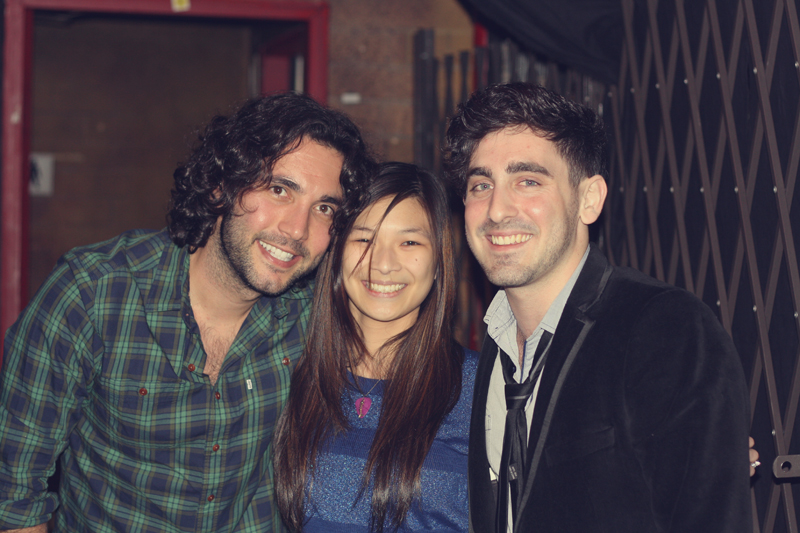 Yesterday my mum and I went shopping to look for some coloured jeans. I'm after purple and turquoise, but we were disappointed to find that all the stores we went to didn't have purple, or didn't even have a great range of coloured jeans. Oh well. I have a pair of red jeans and that'll do me for now. We also bought some new dinnerware, Corelle dinnerware to be exact – break and scratch resistant and very long lasting. We were shopping for so long that it was 4:30pm by the time we got hungry and realised we hadn't eaten. The food court was closing up and a lot of the food was gone, so we went to the supermarket to buy some salad instead. My mum and I asked the lady at the deli for some forks, but she apologised and said she didn't have any.
"Aw, but we really wanted to eat these… are you sure you don't have anything?"
"You could go to the food court and ask for some forks?"
"They're closing already though. Do you have something like… skewers, anything?"
They were both laughing and I was grinning. The kind lady ended up giving us some skewers, so there my mum and I sat on the bench outside, eating Greek and potato salads from microwave-safe plastic containers with skewers. XD
Anyway, as a final note… I'm cleaning up a lot of my websites and cleaning out my room, having not been able to clean my floor in eight months for being so busy… and I've cancelled a lot of projects, let a lot of web things go. I'm calling this change Project Simplify Georgie, and you can follow my other blog to peek at my progress. It won't be much, and I'll summarise it here anyway – but it's mostly about making my life simpler and stress-free. :)
:love: