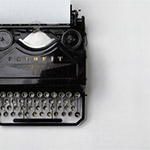 It's been a while since I have written a Things I Miss post, and I have been thinking of so many things lately. I find that when I talk to Nick, we always come across things from our childhood or from our past, and we start a lot of sentences with "Do you remember…"
Today, though, I'm writing about something that I completely forgot about until recently when I was chatting with my friend Rachel. It's called A Letter to a Domain, and was a series of letters I wrote on an occasional basis (basically any time I felt like it), starting in 2009.
The quaint thing about these letters was that I wrote them to various domain names that I owned: expressing my thoughts about them, their purpose or their planned purpose, or even ones that I had let expire and wished I hadn't. As a domain name addict, the letters were amusing but fitting to my personality, and I was even more amused that people enjoyed reading them.