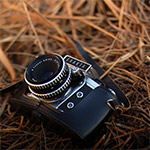 Today I am interviewing my good friend Seb, who takes pretty much all of my Fashion Friday photographs. I have known him since we started university and were in the same classes. I have written his name as "Lord Seb" because of his entry in my phone's contact list. To make things interesting, a while ago I had asked people what details they wanted to put for their contact information in my phone. I found myself adding titles to each person, and Seb became Lord Seb.
He has written a "short" autobiography:
If I were to have an achnemesis, it would be bios. I never know what to say in them, you know? Anyway, I'm Sebastian, friends call me Seb and more recently Sebbu and sometimes Potato because I LOVE potatoes (and maybe look as delicious as one, hah), originally from Peru but living in Sydney, Australia for the last ten years. I love music, but can't neither play or write about it, but I do take photos of it from time to time. And things make me feel old even though I'm really not.
[...]