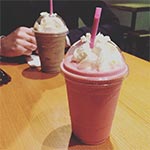 August was an alright month – Nick and I kicked it off by going to a 70s/80s disco, which wasn't as awesome as I thought it was, but was still pretty cool. I got a new top retainer/plate earlier this month which I have been wearing at night, while still wearing my old bottom one as much as I can to fix my crooked teeth.
Nick and I saw John Oliver live on the 31st. He was purely hilarious. I love the guy. We were hoping to bump into him but a girl leaving work at the theatre said that he was staying at the hotel next door so doubted he would come out. Ah well.
I had a couple of emotional trips in August but I think things are looking up from here.
The three things I'm most proud of from August are:
Wearing my new retainer/plate every night since I got it on the 6th August.
Approaching Fiona about giving a talk at a future meetup. She gave me a lot of encouragement and convinced me that my ideas were very good ones. I look forward to speaking at

SydCSS

one day!
I deployed my updated blog design, which got some good feedback. I am just very proud with the changes I made and how I have improved the look of my blog.
The three things I'm most grateful for from August are: