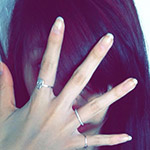 Bob Marley isn't my name. I don't even know my name yet. —Bob Marley
I've gone solely by Georgie for the past few years. I haven't always been called Georgie, but it's always been me. My parents have always called me Georgie, apart from when my mum is a little bit more than annoyed and calls me by my full name.
I have heard stories from people who changed their names because their names were just "not them". Famously, television host Andrew Günsberg changed his name from Andrew to Osher. A lot of celebrities change their name once they become famous. I'm sure Elton John didn't want to be known as Reginald Dwight, and Iggy Azalea didn't like her birth name, Amethyst. But that aside, Georgie is more or less a nickname for Georgina.
The same way you'd call Nicholas, Nick; Timothy, Tim; Benjamin, Ben; Samuel, Sam. [...]